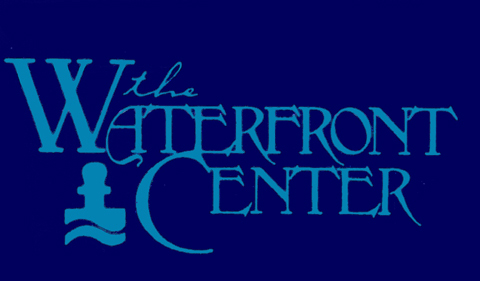 Printer Version
The Waterfront Center announces winners of the 2017
"Excellence on the Waterfront" Program
The Excellence on the Waterfront Awards Program was initiated in 1987 with grants from the National Endowment for the Arts Design Arts Program and the National Marine Manufacturers Association. The honor awards were developed to recognize top quality design and development work. Entries are accepted from around the world for comprehensive plans, built projects and student work. The Center also recognizes citizen's efforts through a Clearwater Award named for the non-profit group of that name working to clean up the Hudson River in New York.
2017 Excellence on the
Waterfront
Jury Members: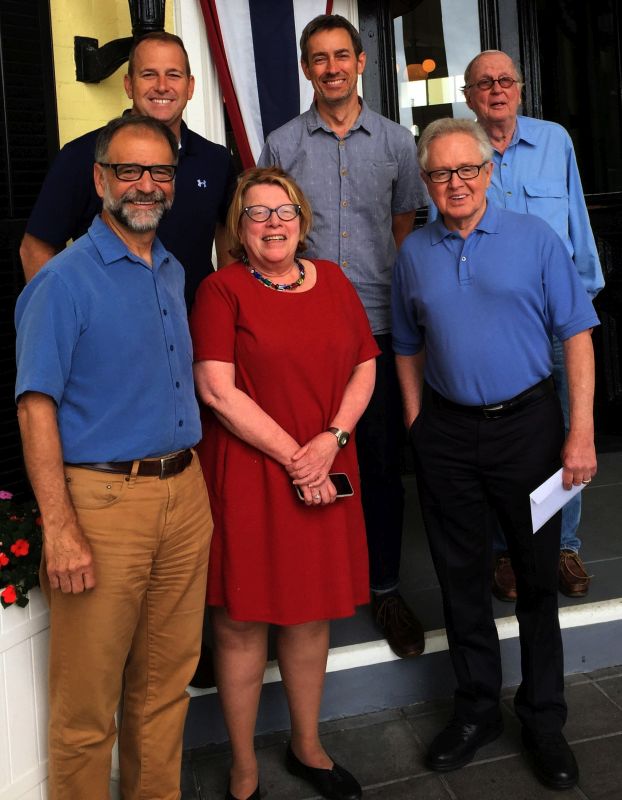 The 2017 Jury: from l-r: Chair: Bill Wenk, principal Wenk Associates, Denver Colorado;
Michael Zaleski, president and CEO, Riverfront Recapture Inc., Hartford, Connecticut;
Donna Walcavage, principal, Stantec, New York, New York;
Phillip Musegaas, vice president programs and litigation, Potomac Riverkeeper Network,
Washington. District of Columbia;
Thomas Corcoran, president (retired), Delaware River Waterfront Corporation,
Philadelphia, Pennsylvania;
also pictured: Dick Rigby, co-founder, The Waterfront Center, Washington' District of Columbia

2017 Waterfront Center Award Winners
HONOR AWARDS:
Category: Top Honor Project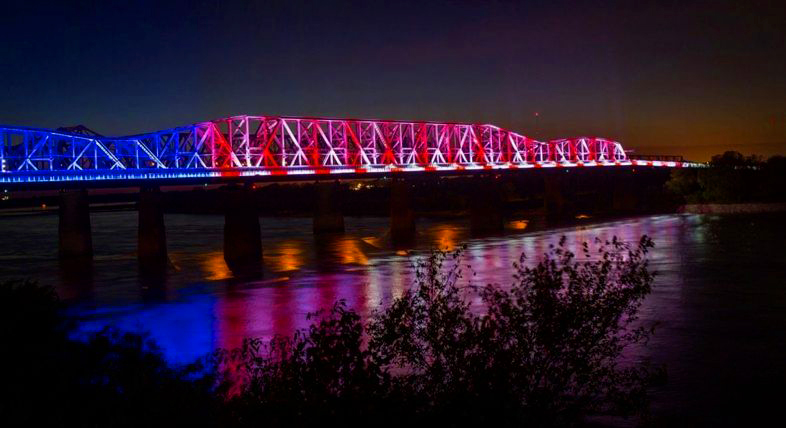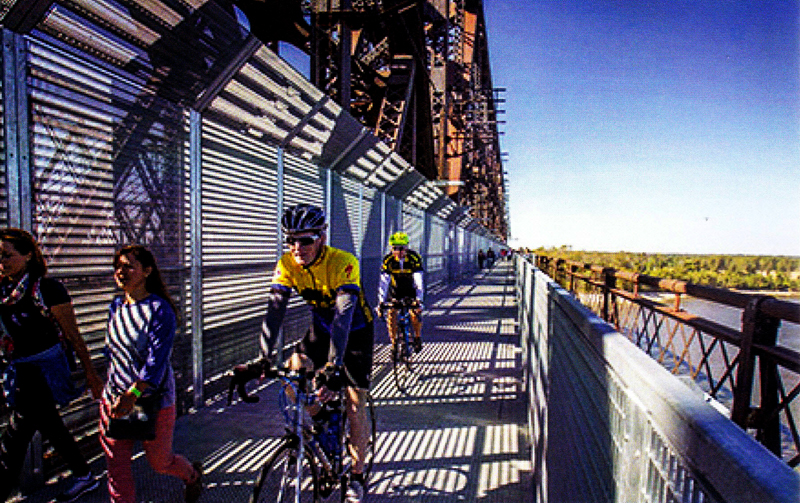 Entrants: Charles McVean, McVean Trading and Investments LLC
Harry Pratt, Ailen and Hoshall
Friends of Our River, a non-profit volunteer organization
Project Description
Big River Crossing is the longest active rail line/public bicycle and pedestrian crossing over the Mississippi River. The Harahan historic railroad bridge, built in 1916 to accommodate growing commercial rail traffic between Memphis, Tennessee and Memphis, Arkansas was originally a railroad-only bridge. Over time wooden planks or wagon ways were bolted onto each side ofthe bridge to serve wagons, carts, eventually even cars. When an adjacent four-lane highway bridge opened over the river in 1949, the planks were removed, returning the Harahan to rail traffic only. Today, the Big River Crossing bike and pedestrian pathway uses the north wagon way alignment. Over 80,000 LED lights covering the bridge produce nightly patterns and configurations that can be programmed to commemorate specific civic events.
Bridge design, engineering and project management faced multiple challenges: coordination between two states, two counties, two cities, and two state departments of transportation; and compliance with US Coast Guard, Army Corps of Engineers, Federal Highway Administration, the Tennessee Historic Preservation Office, and Union Pacific Railroad guidelines.
At a cost of approximately $28,000,000, Big River Crossing is part of a $43 million 10-mile connector project between Main Street in
Memphis, Tennessee, and Broadway Avenue in West Memphis, Arkansas. It is a critical component of the Memphis "green renaissance" - a connected system of public parks and greenways throughout the south Memphis waterfront. lt is also part of the Big River Strategic Initiative, a collection of projects, including Delta Regional Park and the Big River Trail, designed to celebrate the Mississippi, connect its surrounding landscape and create new experiences that will foster greater appreciation and stewardship of
this river region.
Since opening in late 2016, over 150,000 runners, cyclists and pedestrians have used the bridge, cementing its status as both an historic
icon and a new 21st century landmark along the Memphis riverfront.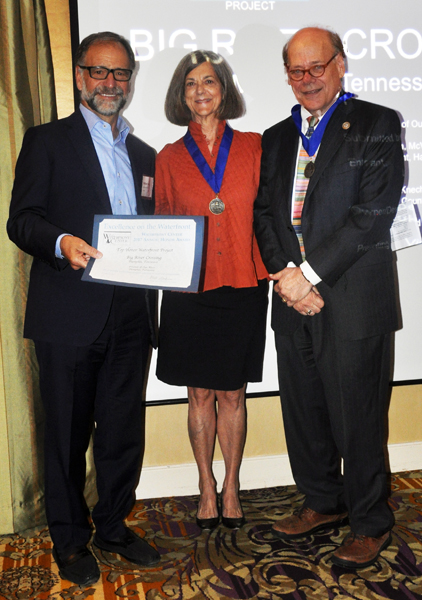 Virginia McLean and Representative Steve Cochran, receive the award
PROJECT HONOR AWARDS:
Category: Park/Public Works Honor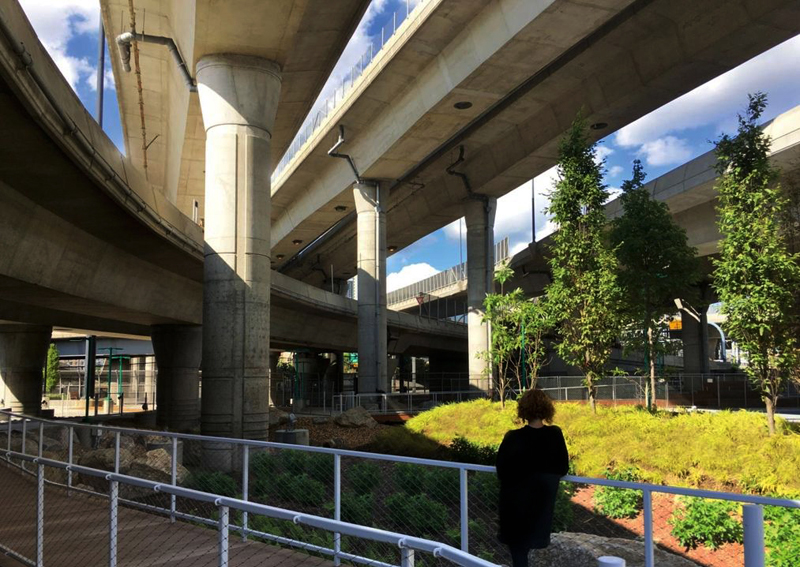 Entrants:
Dan Adams and Marie Law Adams, Landing Studio, Somerville, Massachusetts.,
and Robin Blatt-Eisengart, Massachusetts Department of Transportation, Boston
Project Description
This innovative 1/2-mile installation deals with a common problem in cities - the "no man's land" under highways. In this particular project, it also prevents access to an equally neglected city waterway. The project is the pilot for a statewide initiative begun by MassDOT to better use such spaces for ecological and urban performance.
Infra-Space 1 emphasizes more efficient stormwater management, better maintenance access and public uses that create a ."park like" environment under the roadway. This installation includes a new stormwater management technique, a promenade, event space and supporting infrastructure for performances.

Highway runoff is now diverted into a managed landscape of circular dissipation basins and filtering plants that flows beneath a
meandering boardwalk. Leaves, debris and detritus are visible during the day and signs explain water flow around the site.
New bicycle and pedestrian paths create direct connections through the site and programmable lighting illuminates them for safe passage.

The 8 acres also include a dog park, sports court, a waterfront plaza, "art rooms" with electric outlets for exhibits, and pedestrian/bike connections to Fort Point Channel. Funding was provided from nearby parking lot revenues.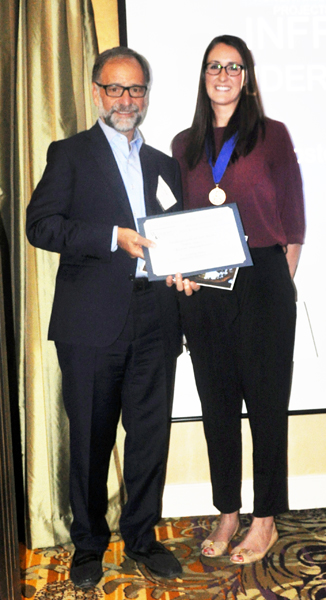 Alysoun Wright, Landing Studio receives the award
Category: Artistic, Cultural, Educational Honor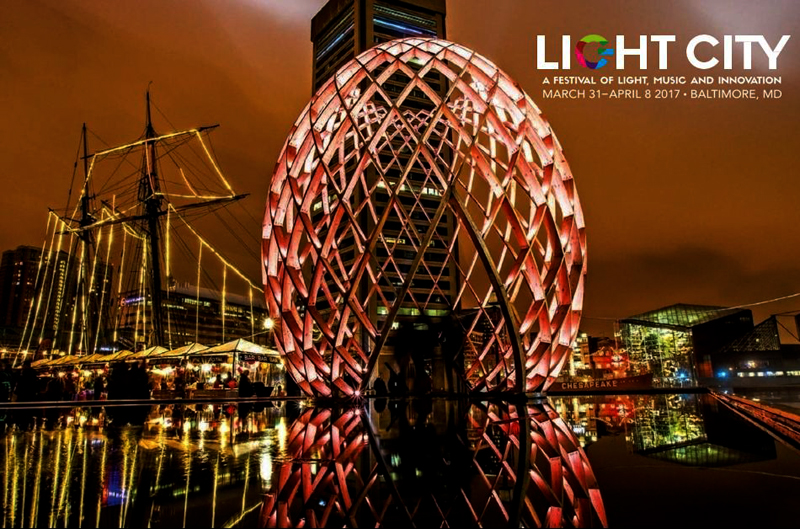 Light CityFestival of Light, Music, and Innovation
Entrants: Ashley Molese, Baltimore Office of Promotion and the Arts
Bill Cole, Baltimore Development Corporation Baltimore, Maryland
Project Description
Light City is a two-week entertainment festival taking place along Baltimores lnner Harbor. Held during the spring, it includes light in-
stallations, a lecture series, live music and performances, food and beverage venues, youth and neighborhood activities. 2017 is the event's second year.
This year 58 light installations and projections decorated the inner Harbor's 1.5-mile trail. They included illuminated sculptures,
projections and interactive displays such as Pool (rainbow discs responding to movement), Impulse (15 LED sea saws) and Voyage (300
floating "paper boats"). Other venues included public art (22 pieces), concerts (50) and more than 100 performances.
An independent jury selects the festivals light installations through a global competition. This year jurors from Baltimore, Pittsburgh, Houston and New York selected 20 finalists from a pool of 150 global applicants - 10 from Baltimore and 10 from Israel, Belgium, Lebanon and France. The artists received $1,275,000 in fees and commissions.

During the six-day festival, lectures and discussions covered a range of topics, from health and food to art. Over 2,000 business
leaders. community advocates and innovators participated.
This year's event cost $4 million, all raised from outside sources by the Baltimore Office of Promotion and the Arts. A truly spectacular event, Light City is free and open to the public. Over 470,000 visitors attended the 2017 festival.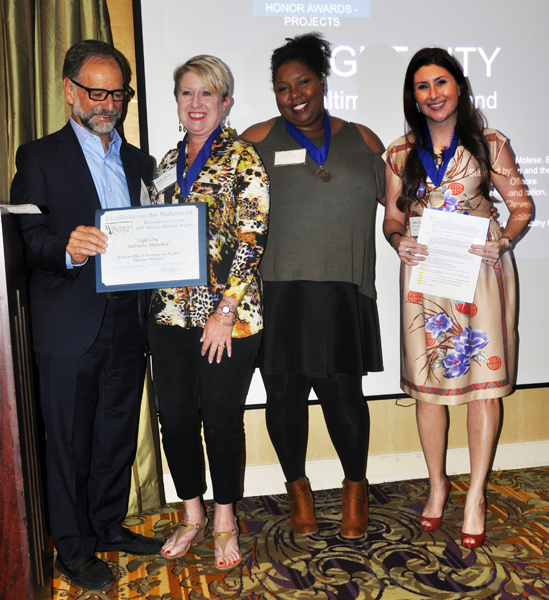 Ashley Molese and Kathy Hornig receive the award
Category: Commercial/Mixed Use Honor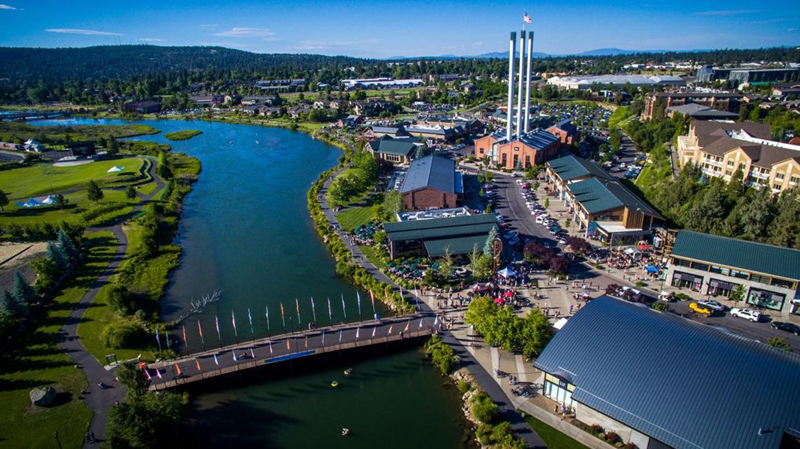 Old Mill District, Bend, Oregon
Entrants:
Bill Smith, Old Mill District, Bend, and Carol Mayer-Reed, Mayer-Reed Inc., Portland, both Oregon.
Project Description
Until 1950, Bend was home to the largest pine lumber mills in the world, all located near or along the Deschutes River. ln 1994, the
last mill closed, leaving behind a large scale degraded landscape and a sawdust-clogged river.
Today the former mill lands - Old Mill District - is a vibrant, mixed-use waterfront destination. On both sides of the river it facilitates a prospering recreation, tourism and lifestyle economy that employs over 5,000 people. One hundred acres of open space, a 3-mile stretch of walkable public riverfront and a pedestrian commercial district provide shopping, dining and river access in a beautiful eastern Oregon context. Re-purposed historic structures and new buildings mimic the historic forms, proportions and materials of the former industrial complex to maintain its character. The historic powerhouse and three remaining 206-foot high smokestacks signify the district and complement downtown Bend.
The reclaimed riverfront includes restored buffers for fish and wildlife habitat. Three miles of walking and biking trails on both sides of the river connect to downtown and the regional trail network. River activities include tubing, rafting, paddle boarding, swimming and fly fishing. Nearby 36-acre Riverbend Park provides a launch site.
In addition to its recreation and commercial opportunities, the district interprets the area's history, hosts art and music festivals and holds large amphitheater events (capacity for 8,000 people). As a "lifestyle center" it draws 3.6 million visitors a year in all seasons.

What's remarkable about this project is its private investment. The developer spearheading the redevelopment used no public monies,
grants, tax abatements or subsidies of any kind. Instead, he invested $4.5 million in the land and. over time, $105 million in environmental cleanup, infrastructure and redevelopment of historic and new buildings - a total exceeding $165 million. His lofty vision has created a vibrant sustainable district that honors the Deschutes River and enhances downtown Bend.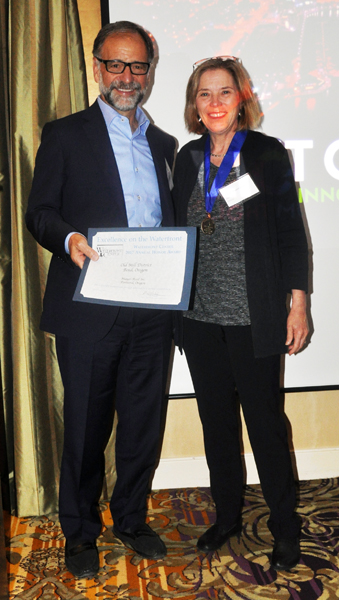 Carol Mayer-Reed, FASLA, receives the award
Category: Park, Walkway, Recreational Honor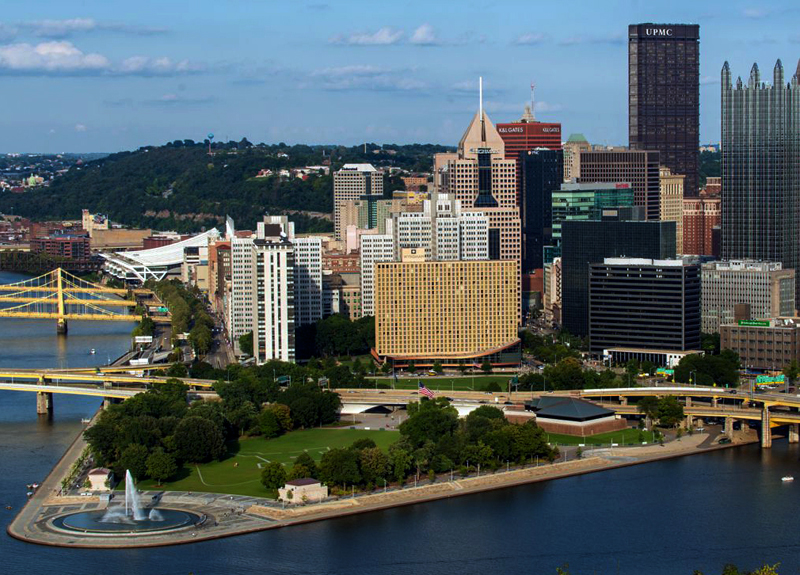 Point State Park,Pittsburgh. Pennsylvania
Entrants:
Marion Pressley, Pressley Associates Inc., Boston, Massachusetts,
and John P. Jaskolka, Department of Conservation and Natural Resources, Prospect, Pennsylvania.
Project Description
Point State Park sits at the confluence of the Allegheny, Monongahela and Ohio Rivers, the historic site of French and British forts during the French and Indian Wars (1754-1763), and the tip of Pittsburgh's "Golden Triangle." After languishing as a slum in the 1940s,
the site was rebuilt as a park from 1954 - 1974 to commemorate its history and to provide passive recreation activities. The park was completed in 1974 and in 1975 designated a National Historic Landmark because of its association with Forts Duquesne and Pitt. ln spite of its historic significance and strategic location at the "Forks of the Ohio", it again languished, unable to respond to growing demands for active recreation and public riverfront space.
Today, after a seven-year, $38 million renovation, Point State Park has become a major public space in Pittsburgh, and an attractive icon along its riverfront. The redesign provides greater riverfront access and flexible space and infrastructure for events. A new cafe provides multiple food services and interpretive elements. Monuments, plaques, markers, and traceries of fort foundations throughout
the park commemorate its historic importance.

The 100-foot fountain at the tip of the park has been rebuilt. Original peacock sprays and a 200-foot single jet are again
operational. The fountain plaza is now 12-inches higher to avoid flooding, permit seating and to enhance the significance of this
focal point at the Forks of the Ohio. LED lights illuminate the fountain at night to dramatize its location and visibility. The 141 mile Great Allegheny Passage (GAP) bike and pedestrian trail now terminates here.
Over 2 million people visit the park per year, with thousands enjoying it during warm weather, Park staff also conduct environmental education, interpretive and recreational programs throughout the year to promote appreciation, understanding and stewardship of the site and rivers.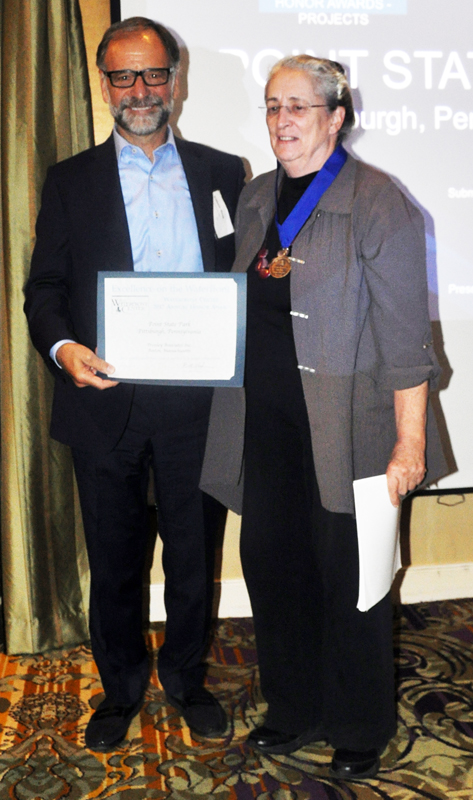 Marion Pressley, Pressley Associates Inc., receives the award
Category: Park/Walkway/Recreational Project Honor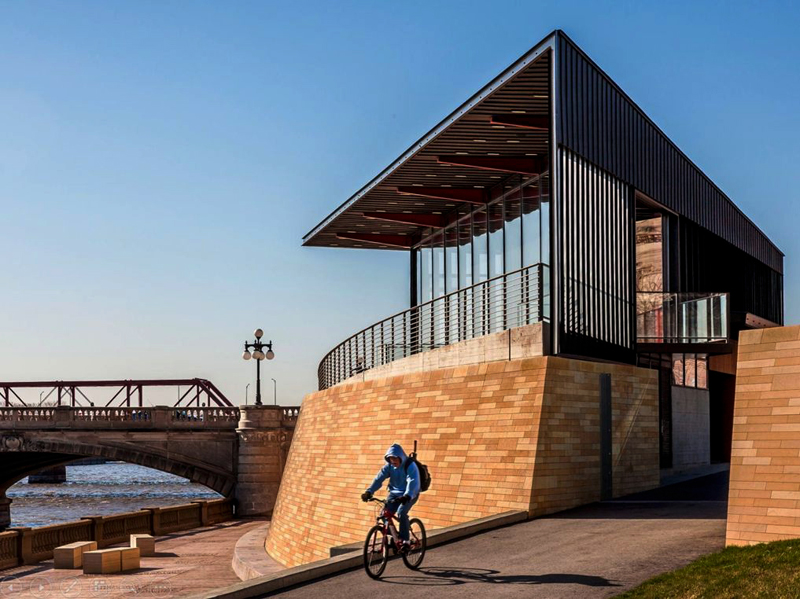 Principal Riverwalk Pavilion, Des Moines, Iowa
Entrants:
Paul Mankins, substance architecture (cq),
and Pam Cooksey, City of Des Moines Engineering Department, both Des Moines, Iowa
Project Description
This 2,200-square foot pavilion and plaza occupies a dramatic place along the Principal Riverwalk in Des Moines. The building houses an upper-level glass cafe, lower level public restrooms and hand wash fountains, and uses geothermal heating and cooling, daylight harvesting and LED lighting. Floor to ceiling windows on the riverfront facade provide unobstructed views ofthe river and
longer views to the east and south. A series of large-scale ceramic art works by artist Jun Kaneko, called Dangos, has become a Riverwalk icon.
The triangle-shaped building sits adjacent to the Riverwalk recreation trail and promenade and is the architectural companion of the Riverwalk Pump Station across Court Avenue Bridge (a 2016 Waterfront Center Honor Award recipient designed by the same architect). In the eyes of one juror it was the best building in the entire awards competition.
Named after its insurance company sponsor, Principal Riverwalk is a $50 million publicprivate collaboration dedicated to revitalizing the Des Moines River as a major civic corridor through the city.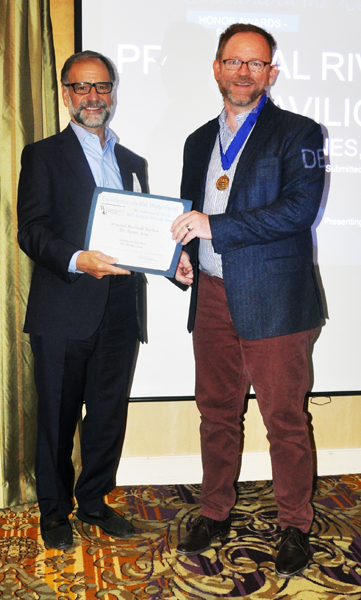 Tim Hickman, Substance Architecture, receives the award
Category: Park/Walkway/Recreational Project Honor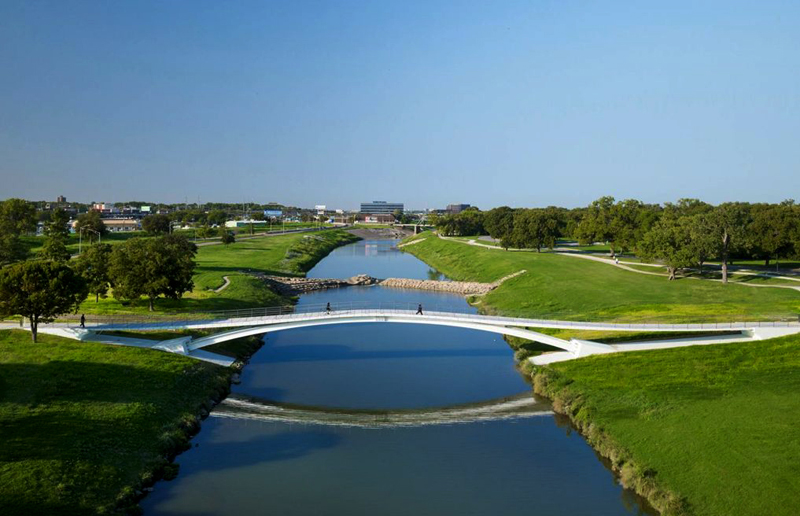 Phyllis J. Tilley Memorial Pedestrian Bridge, Fort Worth. Texas
Entrants:
Miguel Rosales, Rosales + Partners, Boston, MA,
Stacey Pierce, Streams and Valleys, Fort Worth, TX
Project Description
It ls not often that a pedestrian bridge is termed "gorgeous" and "sculptural." Yet the 2017 jurors used them to describe this bridge over Fort Worth's Trinity River. The Tilley bridge is not only a pleasure to look at but is, according to its designers, the first arch supported stress ribbon bridge in the U.S. The result is a slender, elegant profile complementing the adjacent historic Lancaster vehicle
bridge and the serene river landscape below it.

The Tilley Bridge has a central steel arch supporting a stressed ribbon at mid span and precast concrete planks. It is 366 feet long, 12.9 feet wide and cost $2.5 million, said to be half the cost of same size bridges of traditional design. The bridge is built to withstand
a 500-year flood, which could overtop the structure by more than 12 feet. Soft blue and white lighting distinguishes its nighttime appearance. The designers employed an extensive public process during early design to explore various bridge solutions, and responded to citizens' request that the bridge be aesthetically pleasing.

Most importantly, the bridge connects the central business area of downtown Fort Worth with the city's arts district (West Seventh/Cultural District), its oldest park (Trinity Park), its extensive river trail system, and a new trail that terminates in downtown. New housing is developing in the vicinity of the bridge. As a result, the bridge has greatly enhanced appreciation of the Trinity River and Fort Worth's green spaces and walkability.
The bridge is named for Phyllis Tilley, a riverfront advocate and founder of the non-profit Streams and Valleys group, which contributed $250,000 toward its construction.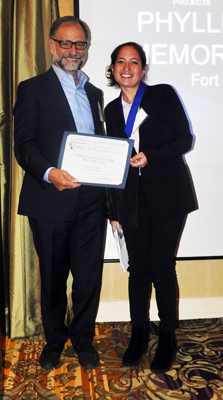 Nadia Westcott, Rosales + Partners, receives the award
Category: Long Range Plan Honor

Master Plan for the Burlington Beach Regional Waterfront Park,
Entrants:
Cal Brook, Anne McIlroy, Toronto, Ontario, Canada,
Stirling L. W. Todd, The Regional Municipality of Halton, Oakville, Ontario, Canada
Project Description
The Halton Regional Waterfront Parks program recognizes the significant environmental, economic, cultural, and recreational importance of the Lake Ontario (and the Burlington Bay) shoreline to residents of the Halton Region and the province. The program
aims to maximize public access to the Halton Waterfront by increasing the amount of well distributed public space, and by providing
recreational, cultural and tourism opportunities along the Halton waterfront.
In response to the programs aims, the master plan forthe Burlington Beach Regional Waterfront Park will create a premier waterfront park located in downtown Burlington along the Lake Ontario shoreline. The park will be approximately 35 hectares in size and include two existing city parks, Spencer Smith Park and Beachway Park. The master plan identifies activity areas in and between them, designed as a series of contiguous 'places' focused on visual and physical access to the lakeshore and restoration and beaches and dunes. It identifies six character areas to be developed and programmed over time to create varied and continuous waterfront experiences.
Spencer Smith Park, an existing formal downtown Burlington Park anchored by Brant Street Pier, will serve as a festival place and
be upgraded with an extensive promenade.
The Living Shoreline will encourage exploration of the natural dunes from a meandering boardwalk. It will also feature a First Nations interpretive area and fire circle.

The Strand, an active beach area, will provide swimming, beach sports, barbecue and picnic areas, food options and washrooms. The upper dune area will be restored and a limited access trail will provide spectacular views of Lake Ontario.
Wind Beach is a natural area. Access will be limited with clearly marked paths and a low impact boardwalk for birding and wildlife observation.
The Commons is open space designed to serve as the park's recreation and cultural hub. A large pavilion and cultural area will host a variety of attractions and needed event space.
The Skyway and Federal Pier will anchor Burlington Beach on its southern edge with upgraded seating, public art, interpretive signs, and views of Great Lakes ships moving through the port's adjacent canal.
The Master Plan weaves these distinct areas together via a shoreline trail that will traverse the entire length ofthe park. and iconic beacons placed at regular intervals along the shoreline. On site parking will be minimal. A shuttle service will link 1,800 downtown parking spaces to the park. The plan also recognizes the need for a more sensitive approach to park maintenance and servicing as well as a significant commitment to education and awareness on the part ofthe governing bodies. The estimated cost of improvements is
$52 million, to be completed over time.
Once complete, this regional waterfront park will be an extraordinary resource for downtown Burlington, the adjoining city of Hamilton and the entire Halton region.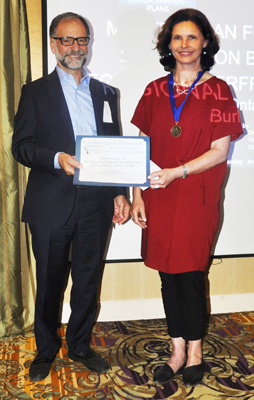 Anne McIlroy, receives the award
Category: Long Range Plan Honor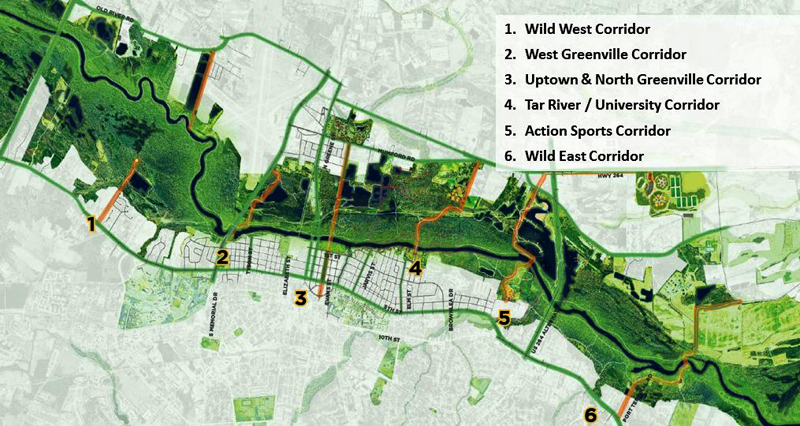 Tar River Legacy Plan, Greenville, North Carolina
Entrants:
Ron Sessoms, Rhodeside & Harwell, Alexandria,
Marco Morrison, City of Greenville Recreation and Parks, Greenville, North Carolina
Project Description
The Tar River flows through the heart of Greenville, North Carolina. As in many communities, over time the city neglected its river,
which in turn resulted in a flood-prone, hazardous corridor that separated its neighborhoods from the city core.
Through an 11-month intensive planning and public engagement process, designers and community members identified opportunities
for renewed appreciation and use of the 7-mile waterfront. Focus groups, interviews with neighborhood representatives, local development interests, citywide and regional advocacy groups, and outreach to major institutions such as East Carolina University, resulted in exciting ideas for the rivers revitalization as an important civic resource.
Legacy Plan goals include making the riverfront a special place for people, creating great destinations, using the river as a catalyst for economic development, connecting neighborhoods to the river through improved access, protecting, enhancing and interpreting the river, and creating multi-modal access to and along the river.

Specific objectives focus on:
1. Attracting and retaining young professional families, university students and retirees
2. Revitalizing core city neighborhoods
3. Protecting significant environmental resources
The plan describes design and marketing concepts, such as signature river crossings, using the region's reputation as an outdoor, sports-loving community, and developing "green jobs" on the river to support the local economy. lt also identifies areas for development.
The jury praised the Legacy Plans readability and graphics.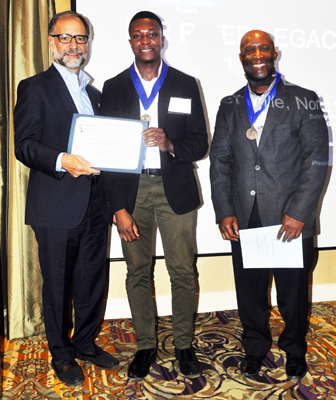 KRon Sessoms, Rhodeside & Harwell, Alexandria,
Marco Morrison, City of Greenville Recreation and Parks, Greenville, North Carolina, receive the award
Category: Clearwater Award, Citizen and non-profit group waterfront accomplishments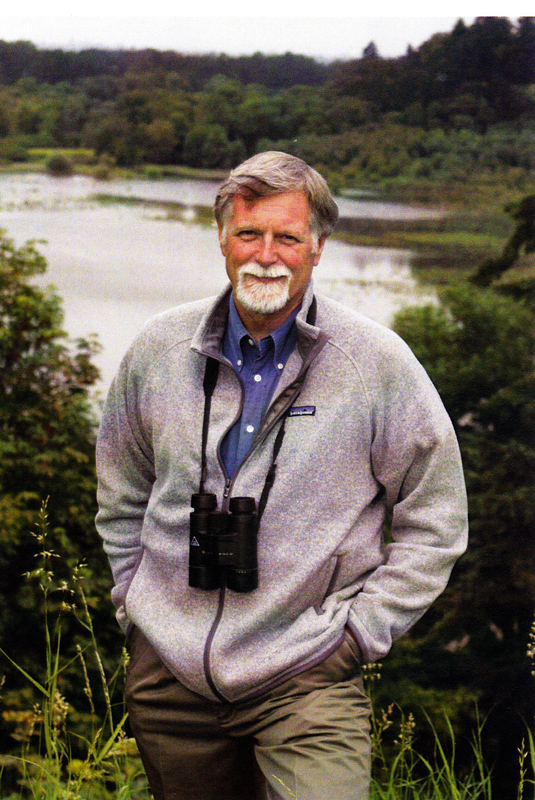 Mike Houck, Honorary Member ASLA,
Executive Director Urban Greenspaces Institute Portland, Oregon
Submitted by:
Chris Carlson, Steve Durrant, Seattle, WA
Project Description
For almost half a century Mike Houck has worked to ensure nature is integrated with the built environment in Portland, Oregon and its metropolitan region. Mike believes that unless we create cities that are both livable and lovable, it will be impossible to protect the rural and other non-urban landscapes. More resources must be dedicated to making our cities more livable through protection, restoration, and management of their water and urban green infrastructures. Unless people have ready access to nature, parks, trails, and
greenspaces in the urban environment and in the neighborhoods where they live, our cities will not be livable or lovable, and our larger landscapes will be vulnerable.
Mike has been engaged in local, regional, national and international urban greenspace issues since 1980 when he founded the Urban
Naturalist Program at the Audubon Society of Portland. He is currently Director of the Urban Greenspaces Institute, which he founded in 1999 to ensure that parks, regional trail systems, greenways and greenspaces are integrated with the built environment in the Portland-Vancouver metropolitan region. He is also co-editor of Wild in the City, a Guide to Portland's Natural Areas (2000); Wild on the Willamette, Exploring the Lower Willamette River (2003),The Routledge Handbook of Urban Ecology (2010); and Wild in
the City, Exploring The lntertwine (2011).

Other highlights of his ongoing career include:
- Since 1970, when he was a biology graduate student at Portland State University, he worked to promote the protection and restoration of what is now a 160-acre city-owned wetland, Oaks Bottom Wildlife Refuge. ln 1988 he oo-wrote the Oaks Bottom Wildlife Refuge Management Plan, which reulted in Oaks Bottom being declared the first official Portland urban wildlife refuge.
- Since 1979 Mike has worked with numerous partners to protect and restore the Willamette River's four-island archipelago in the heart of downtown Portland, known as Ross Island. Recently, he worked with a coalition of nonprofit conservation groups, paddlers and rowers to establish a slow-no wake zone near Ross island so that families can paddle safely in the island's Holgate Channel. He also helped secure a 45-acre donation of Ross Island to the City. The acreage hosts a bald eagle nest and great blue heron colony.
- In 1984 he helped Portland planners create the first Willamette River Greenway fish and wildlife habitat inventory as part of Portland's Willamette River Greenway Program.
- In 1988, after receiving a grant to create a "Metropolitan Wildlife Refuge," he worked with Metro, the regional government, and numerous nonprofit, governmental and grassroots partners to create Metro's 17,000 Park and Nature program.

- In 1992, he co-founded the national Coalition to Restore Urban Waters (CRUW), which focused on degraded urban waterways, particularly in underserved communities and communities of color.
- In 1994, he co-founded the Coalition For A Livable Future to ensure that affordable housing, social. environmental justice and conservation issues were integrated into Metro's Region 2040 regional growth management planning agenda.
- ln 2002 hejoined with Portland State University, U.S. Fish and Wildlife, Metro, and other partners to create the Urban Ecology Research Consortium which hosts the annual Urban Ecology and Conservation symposium at Portland State University.
-in 2007 he co-founded The Intertwine Alliance, a coalition of more than 160 nonprofit, agency, corporate and grassroots partners dedicated to expanding the region's park, trail and natural area system. He serves on its board of directors.
- In 2003-2004 Mike was a Loeb Fellow at Harvard's Graduate School of Design studying urban planning and natural resource protection.
- In 2010 Houck and David Maddox founded The Nature of Cities (TNOC) to provide an international platform of diverse ideas about cities as human, natural. and infrastructure ecosystems. TNOC curates a network of more than 650 international leaders working to
propel a transformative movement for cities.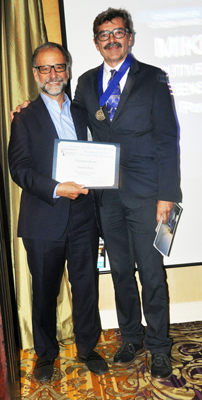 Steve Durrant receives the award for Mike Houck
Ann Breen and Dick Rigby are the co-founders and co-directors of the Waterfront Center, organized in 1981.
For additional information and photographs, contact:
Ann Breen
The Waterfront Center
PO Box 32129
Washington, DC 20007
202-337-0356 Fax: 202-986-0448
© 2007 The Waterfront Center
Content and photographs on this site may not be reproduced without express permission from The Waterfront Center.