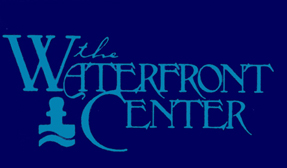 Urban Waterfronts 25
November 1-3, 2007, Boston, Massachusetts
With Pre-Conference Workshop, October 31-November 1, 2007
Conference Registration Form
Sponsorship and Advertising Opportunities

Conference Sponsorship Support
Check for updates: Conference Outline, Fees and Registration will posted.

The 25th annual international conference on waterfront planning,
development and culture will be held at the Seaport Hotel in Boston.

Conference Program
Our program is organized under three broad themes: Economic Development Issues, Public Policy Questions and Design Considerations offering three simultaneous tracks and a total of nine panels. Within the conference matrix there are sessions planned for those with an interest in "green" issues, historic preservation and water-related matters.
Besides the Friday keynote and Saturday finale addresses, the announcement and presentation of the 2007 Excellence on the Waterfront Awards will take place on Friday, November 2 at the hotel.

Optional Extra Events

• Pre-Conference Workshop: Showcasing the Boston Waterfront, October 31­November 1, 2007 (Requires a separate registration and additional fee; open only to Urban Waterfronts 25 attendees) To give attendees the chance for an in-depth understanding of the Boston waterfront, the local committee working with the Center plans an ambitious and varied program and afternoon tours.


• Get-Acquainted and Silver Anniversary Gala Dinners: Get to know your fellow attendees and renew friendships over one or both of these popular dinners. Price includes multi-course meal with wine, and includes tax and gratuities. Friday night we will fete our 2007 award winners and celebrate the Center's silver anniversary in style.


• Saturday, November 3, Afternoon Tours
Several interesting tours will be offered on Saturday afternoon.


Sponsorship Opportunities


Put your company, firm, organization in front of key decision makers from waterfront cities all across North American and abroad. We offer exhibit space as an integral part of the conference and other opportunities for sponsorship and advertising. Sponsors and supporters are featured in all the promotional materials. Advertisers can take a full or half-page ad in either color or black and white. All supporters are linked to our web site. Call or e-mail
the Center.
QUESTIONS? Contact the Waterfront Center, Telephone 202/337-0356 or Fax 202/986-0448
e mail: mail@waterfrontcenter.org
e-mail: mail@waterfrontcenter.org © 2007 The Waterfront Center
Content and photographs on this site may not be reproduced without express permission from The Waterfront Center.