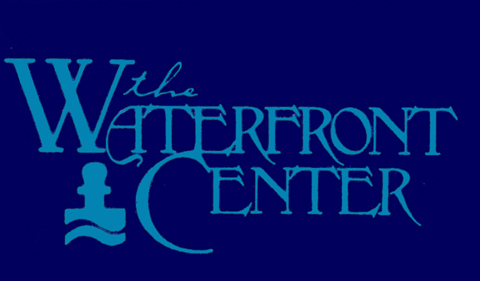 Newsletters
From time to time the Waterfront Center e-mails newsletters. The most recent will be posted here. If you wish to receive these newsletters by e-mail please send your e-mail address to mail@waterfrontcenter.org with a request to be added to the newsletter e-mail list. To be sure that the newsletter is not blocked by spam filters, add the Waterfront Center e-mail address to your e-mail address book.
In the River Action Inc. Eddy Magazine
May 2017 Newsletter
Waterfront Center Celebrates 36th Birthday
and the 30th Annual Awards Program
33rd Annual International Conference
The Waterfront Center was founded on May 1, 1981, almost 4 decades ago and we pause to thank everyone who has supported us over all these years. Plus we want to also acknowledge the people from all over the globe we have met at our conferences and in our consulting practice. We hope many of you will join us in Yuma, Arizona for our 33rd international conference on waterfront planning, development and culture, January 25-27, 2018. Yuma Crossing National Heritage Area is the co-sponsor.
Urban Waterfronts 33: WATER: The Defining Force - Challenges for the 21st Century will be headquartered at the Hilton Garden Inn and Conference Center. A block of rooms has been set aside at the rate of $139. The hotel overlooks the Colorado River and has a pool. An optional all-day pre-conference workshop will also be offered Thursday January 25.
The Excellence on Waterfront Awards Program was initiated in 1987 to recognize top quality waterfront projects and plans. This year's ceremony/mini-conference, reception and gala dinner will take place September 8 at the Churchill Hotel in Washington, D.C. Details will soon be featured on the website. We will plan a special gala in honor of the program's 30th anniversary.
The deadline for submittals: postmarked June 30, 2017
Recently on Planetizen's site I noted a job opening of possible interest to waterfront folk: Director of Planning at Boston Harbor Now. (employment@bostonharbornow.org). Boston Harbor Now is a relatively new non-profit bringing together two long-standing non-profits: Boston Harbor Islands and The Boston Harbor Association. Kathy Abbott is the executive director. Their address is 15 State Street, #1100 Boston, Mass. 02109.
Interested in city news? Check out newsletter@nextcity.org and you'll find lots of tidbits.
Waterfront Center Board Member News
| | |
| --- | --- |
| | David Benn sent this along: The partners and principals of Cho Benn Holback + Associates are pleased to announce that we are joining the acclaimed architectural firm of QuinnEvans Architects, effective May 1. Established in 1984, Quinn Evans is known for its award-winning civic, cultural, educational, and commercial building portfolio, with particular expertise in historic preservation and community revitalization. CBH+A will operate as Cho Benn Holback, a Quinn Evans Company, and we will remain in our N. Charles Street office. |
| | |
| --- | --- |
| | Fran Hegeler has joined SWA Group as corporate director of marketing and communications in their Bay Area office. Fran has served on our board from when she worked for Wallace Roberts and Todd in Philadelphia and later when she joined AECOM in San Francisco. She can be reached at fhegeler@swagroup.org. |
Al Copp and Dick Wagner - in Memoriam
I am sad to report the waterfront world has lost two more stalwarts. We honor their lengthy careers dedicated to waterfronts.
Al Copp was a major figure with a distinguished waterfront career in Baltimore working as a planner and president of the Charles Center-Inner Harbor Corporation.More recently he was a serious winemaker. His wife, Laurie Schwarz, is head of the Waterfront Partnership and was on hand to get the top honor for the Water Wheel. See obituary HERE
Dick Wagner, founder of the Center for Wooden Boats on Lake Union in Seattle, was a real pioneer in maritime education and wooden boats - their use and the craft of building them. The Center's educational programming was far-reaching. See Dick's obituary HERE. He and his wife received a well-deserved Clearwater Award. Go HERE and enter Wooden Boats into the search box for more detail.
Late April 2017 Newsletter
Important Marches Coming Up
Saturday, April 22 Earth Day and March for Science
Saturday, April 29, People's Climate March
Earth Day and March for Science are joining forces for events all around the country. We are hoping many of you will turn out in your community/region or here in Washington where a monumental crowd could well assemble.
We received notice from the Environmental Defense Fund and the Adirondack Council to join them on April 29. To register visit: edf.org/climatemarch or call 800 684 3322. Looks like there will be events not just in Washington but throughout the country.
BOSTON - Plans Afoot for "Jawdropping Park"
Our good friend Charlotte DeWitt from Boston sent us this link about plans for major new public space around the harbor. Boston was one of the early pioneers in the waterfront phenomenon and they just keep on rolling on. A non-profit group Trustees of the Reservations plans to spearhead this ambitious project.
Baltimore, another of those pioneering waterfront cities, just staged a nine-day Festival of Light, Music and Innovation (March 31-April 8). So when the aforesaid Charlotte emailed that she wanted us join her in Charm City to experience the festival, how could we resist.
We were only able to get a very small taste of this highly ambitious event now in its second year. Commissioned artworks by artists from around the world could be found mostly along the ART WALK around and near the Inner Harbor. Of course there was food, drink, music, stuff for children, educational programming and loads and loads of people. The real magic begins as darkness falls and the interplay of light and water comes fully to life. However pieces like this one installed around the pedestrian bridge between the Piers 3 & 4 by Belgian artist Tom Dekyvere using illuminated nylon fabric was awesome even in daylight, but after dark it was spellbinding especially with the music accompaniment. It reminded me of "cat's cradle" (remember that childhood game?) on steroids.
String sculpture

by Belgian artist Tom Dekyvere
'NEW WATER MUSIC'
Lake Pontchartrain, Louisiana
Ever ones to try a little waterfront adventure -- when we spotted a notice of a "nautical visual presentation" of composer Yotam Haber's "New Water Music" to occur Saturday evening April 8 we ventured to an area of New Orleans we had never been to. Thousands were on hand to witness the Louisiana Philharmonic Orchestra and hundreds of musicians perched on a flag-bedecked rusting old barge and several tents along the shoreline play the haunting piece. Lots of flags, headdresses, colorful sashes and costumes rounded out the scene.
One of the many musicians arrives for the performance
Orchestra leader conducts from a perch high above the water
Decorated shrimp boats were hired to perform a "ballet."
Part of the Shrimp Boat Ballet
The non-profit New Orleans Airlift artistic director Delaney Martin oversaw this unusual production.
An intriguing installation of fishing nets hanging from the underside of an overhead highway provided visual interest plus play space for kids and backdrops for selfies.
A number of exhibits were set up by non-profit groups involved in coastal/environmental/working waterfront issues. Nearby food trucks and bar were jammed. Our only quibble with this truly unusual undertaking was that the crowds were partying (hey its New Orleans) a bit much, drowning out the ability to really hear the music as we imagine it was meant to be heard. We only hope the event was recorded and could be played on a big screen somewhere.
Not sure what King George I who commissioned Handel's Water Music would have thought or whether the folks who flocked to the banks of Thames in 1717 were rowdy as well.
EXCELLENCE ON THE WATERFRONT AWARDS DEADLINE JUNE 30, 2017
April 2017 Newsletter
Important Earth Day Coming Up - Saturday, April 22
A double header is in the offing up and it's not baseball. Earth Day and March for Science are joining forces for events all around the country. We are hoping many of you will turn out in your community/region or here in Washington where a monumental crowd could well assemble. It may well be the women's march squared and that was unforgettable.
Trump's budget and related actions are disastrous for all of us who cherish environmental values and sound waterfront planning, development and culture. An historical footnote: When Dick and I worked for Dept. of Commerce/NOAA/Coastal Zone back in the day we wrote booklet called "Improving Your Waterfront: A Practical Guide" published in 1980. We compiled information on some 28 federal programs that offered assistance to localities and we know that waterfronts all across the national availed themselves of some of these grants and loans. Many of these programs/agencies face elimination or severe cutbacks. Very often the imprimatur of receiving a federal grant helped generate other sources of revenue. We need to try to save as much as we can. Let your voices be heard. At the end of this blast is a portion of a letter we wrote to a Washington Post reporter about the value of National Endowment for the Arts.*
Philadelphia's Waterfront - Patience Pays
As a native Philadelphian, when we first started the Center in 1981 and visited the waterfront there, I have to admit, the experience was less than wonderful. It was severed from the downtown by 17 lanes of highway (talk about an obstacle!) and Penn's Landing bunker-like architecture and detailing lacked luster.
Apart from ambitious programming that breathed life to it on weekends, little occurred. But in the past ten years or so things began to stir. In 2007 the University of Pennsylvania's PennPraxis produced a series of forums and published a Civic Vision for the Central Delaware that received a Clearwater award from us. In 2008 the Delaware River Waterfront Corporation published a Master Plan for the Central Delaware. The Corporation also recently invested in three Excellence on the Waterfront award-winning gems: Morgan's Pier, WinterFest and Spruce Street Harbor Park which have all been featured in past newsletters. You can check these projects out on our interactive database HERE.
Now after decades of lagging behind, the waterfront is poised for a huge breakthrough. I feel as if there should be a big drum roll: Mayor Kenney recently announced a $90 million plan to cover the highways between Walnut and Chestnut Streets and create a $225 million park. The 3-year construction is scheduled to start in 2020. Philadelphia will at long last gain a beautiful centerpiece park and a literal toe hold on the Delaware River!
Penn's Landing park capping
Camden - Prison to Public Realm Plus Much More
Across the river from downtown Philly, sits the Camden riverfront which had a waterfront park back in the '80s, an aquarium, kids play area, a ferry and a battleship museum. It also had - along with many other waterfronts - a state prison.
Former New Jersey State Prison in Camden NJ
In 2009, the prison buildings were torn down to make way for a four-acre park which the State Economic Development Authority will undertake.
This park is only a small part of the picture: EDA president also said the agency wants to take advantage of recent developments: a groundbreaking for the new American Water headquarters, under construction; the Liberty development, which includes proposed housing, restaurants, and a hotel; and a proposal last week by three major South Jersey firms, including the insurance brokerage Conner Strong Buckelew, to build a $245 million office complex there. So there are big things in the works on both sides of the river!
Excellence on the Waterfront Awards Deadline: June 30, 2017
Waterfront Center Indebted to NEA - a Bit of History
While NEA is the most popularly known for its funding: theater, fine and applied art, literature, film, dance, opera, orchestras and the like -- all of which are very important to us as a nation. BUT I don't think people are aware what an extremely diversified mission it has had. This a very important point to drive home. The Center is a case in point. Our mission is about urban planning, design and execution, helping communities and educating them about the tools they need to accomplish the complex and lengthy process of improving their waterfronts, balancing the economic, ecological, social, recreational and aesthetic considerations.
The Waterfront Center was founded as a non-profit educational entity on May 1, 1981 -- 35 years ago and counting. Its mission has been -- and is still today -- to help communities make the wisest uses of their waterfront assets in the long-term public interest, through its varied programs.
We owe a great debt to the NEA that funded three early projects of ours.

Three grants ranging from $5,000-$7,500 grants from the Endowment served as critical seed money, affirmation and recognition in our formative years that enhanced our credibility nationally. The programs/research the Endowment funded have had long-term impacts as outlined below. Big bangs for little bucks!
•

The Waterfront Center's Annual International Conference
Since 1983, the Waterfront Center has hosted the premier annual waterfront conference that has brought together thousands of attendees from all parts of the country/world who are interested in learning more about current practices and initiatives. What distinguishes the Center's conferences is that the presenters and attendees are by and large practitioners -- the "doers" that make waterfront transformations happen. The Endowment funds assisted us in launching this meeting and the publication of the proceedings.
•

Excellence on the Waterfront Awards Program
In 1987 with a grant from the National Endowment for the Arts, The Waterfront Center established the "Excellence on the Waterfront Awards Program." This is the only awards program that recognizes top-quality waterfront work around the world. Over 400 projects, plans, citizen's effort and student work have been recognized for their achievements. The Waterfront Center is close finishing inputting all the annual award winners from the past years into a unique searchable database that is posted on its Web site and thus freely available to all.
• Caution: Working Waterfront: the Impact of Change on Marine Enterprises
(The Waterfront Press: 1985) Ann Breen and Dick Rigby
A third NEA grant helped support the research, writing and publishing of a monograph describing the importance of retaining what the authors' termed the "working waterfront." The issue is still very current where the pressure of the marketplace is driving up waterfront property values that threaten small marine enterprises such as boatyards, commercial fishing docks and marinas. A related advocacy stand of the Center is the felt importance of retaining, or interpreting, components of the industrial past, put to new uses if the industry has closed. Old gantry cranes and a host of other artifacts have been incorporated in many waterfront redevelopments.
March 2017 Newsletter
JOIN US IN YUMA, ARIZONA!
Hard by the Colorado River.
Last month co-directors Breen and Rigby travelled to Arizona to advance the meeting planned for next January. They conducted a community workshop there over twenty years ago and were amazed at the changes. Charlie Flynn, executive director of the Yuma Crossing National Heritage Area, our co-sponsor squired Ann and Dick around and they met with staff to begin lining up events for the meeting. They came away enthused about introducing the waterfront community to a new part of the world.
The Waterfront Center's 33rd Annual International Conference
In cooperation with the Yuma Crossing National Heritage Area.
"Challenges for Waterfronts in the 21st Century:
Too Much Water or Too Little?"
The conference will feature two simultaneous tracks with 12 speakers each, plus opening reception, keynote presentations and conference luncheon. Lots of fun optional social events are being planned.
Track One: Featuring the Colorado River's issues past, present and future.
Track Two: Featuring an array of speakers and topics covering the national and international urban waterfront scene.
On Thursday, January 25 an optional workshop, will include an all-day in-depth briefing about Yuma's amazing riverfront transformation and a field trip to the Imperial Dam passing through the vast areas where from November to March 90 percent of the country's leafy greens, including lettuce, are harvested.
A glimpse of what you'll see and learn about:
East Wetlands Park, 400 acres cleared of invasive species and replaced since 2004 with over 200,000 cottonwood, willow and mesquite trees. Features a 3.5 mile hiking trail.
Along the trail a glimpse of the historic Ocean to Ocean Bridge seen through the trees
Sunrise Point Park, developed by the Quechan Indian Tribe, overlooks a restored marsh and 40 acres of native cottonwoods and willows.
From this vantage point you get a appreciation for the wide open spaces with the mountains in the distance.
Pivot Point Interpretive Plaza, marking the exact spot where the first train entered the Arizona Territory in 1877. Features a large steam locomotive. Preserves the concrete pivot on which a bridge turned to allow steamships to pass.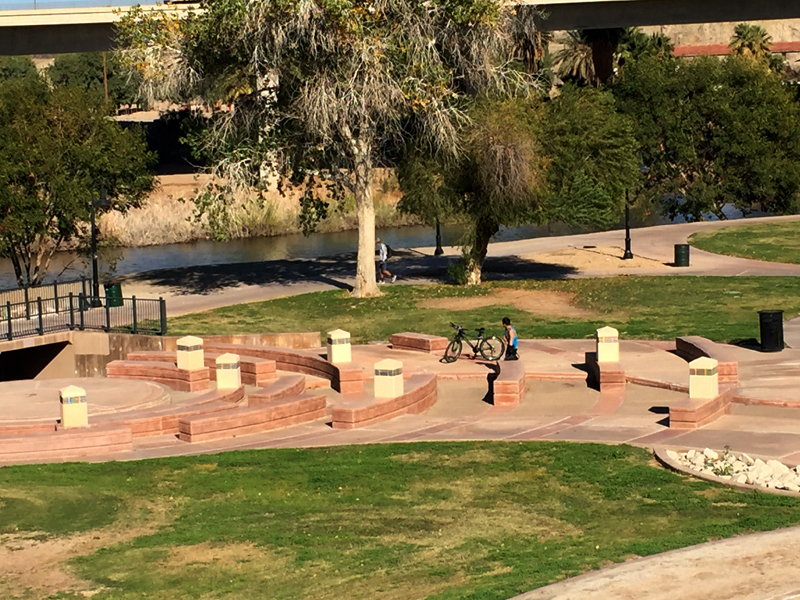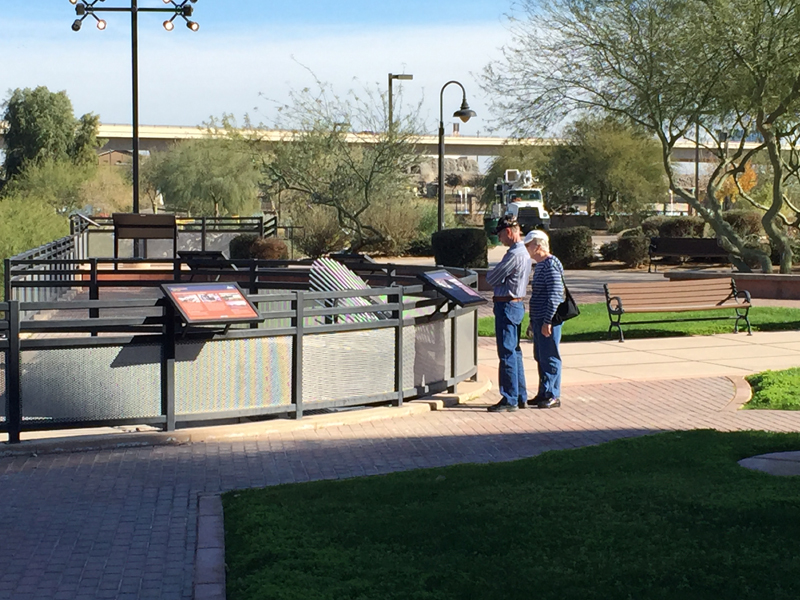 Pivot Point plaza gently slopes towards the river Intrepretive signs explain the history of the area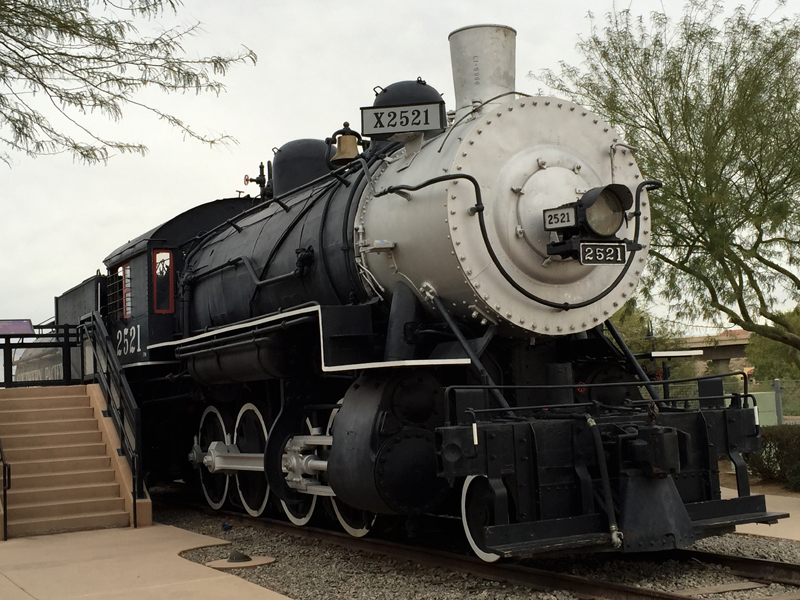 1907 Baldwin Steam locomotive is located on the exact spot where the first train entered the Arizona Territory in 1877
West Wetlands Park, site of the former city dump, being converted into a 110-acre riverfront park, including a lake, boat launch, beaches, hummingbird garden and"Castle Park" built with design ideas of local children.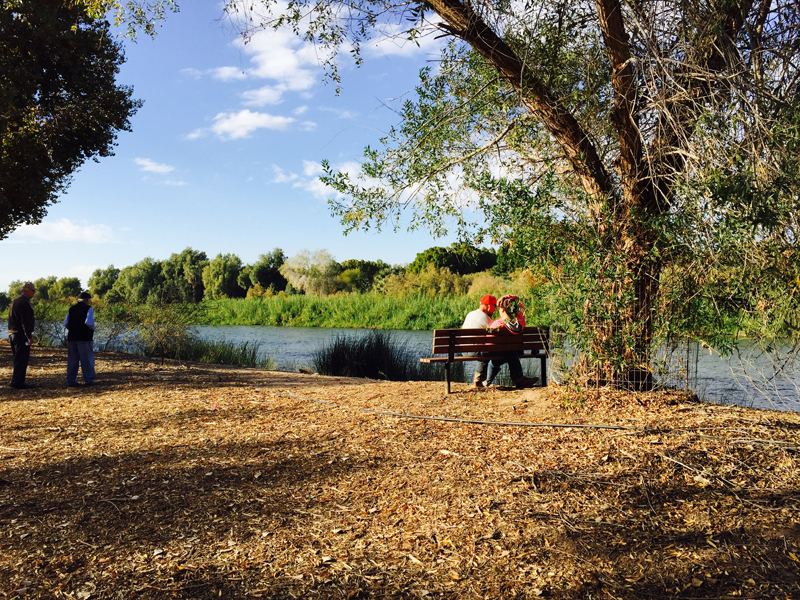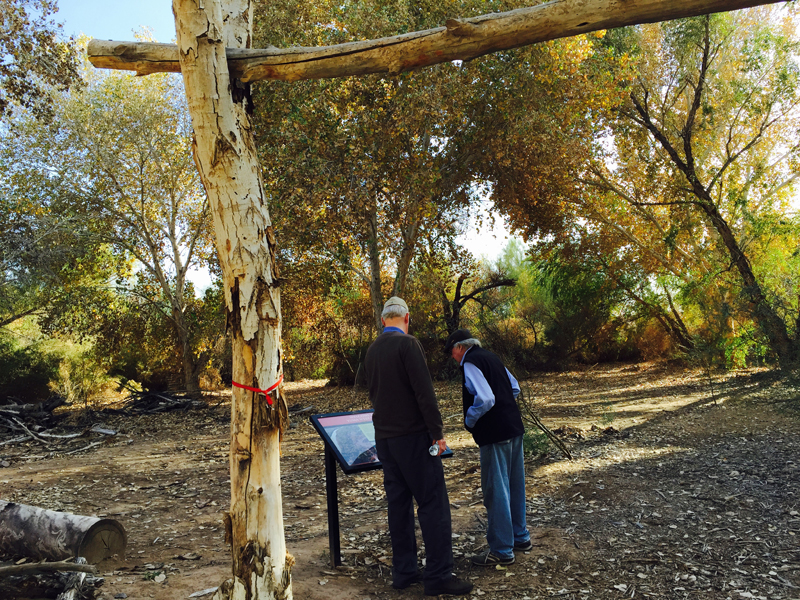 Couple enjoy a quite moment along the river in the West Wetlands Park Charlie and Dick take in one of the interpretive signs
found in the outdoor environmental classroom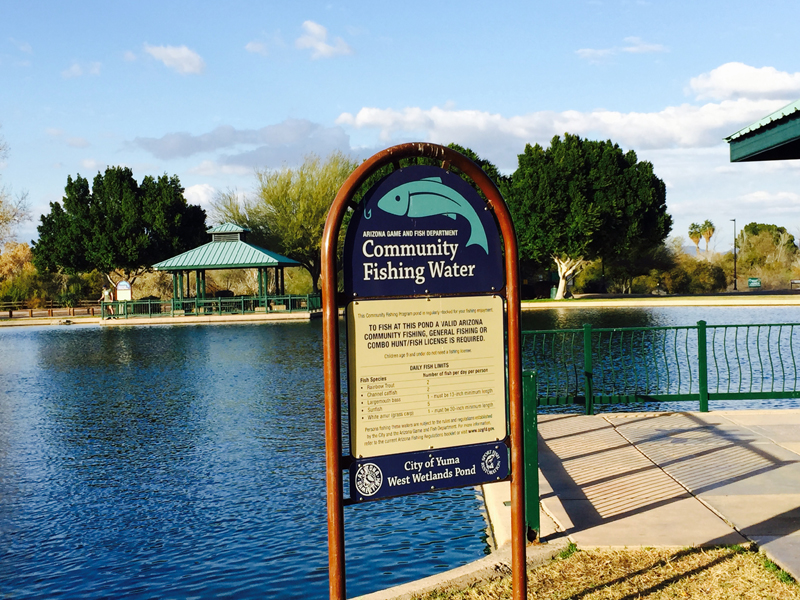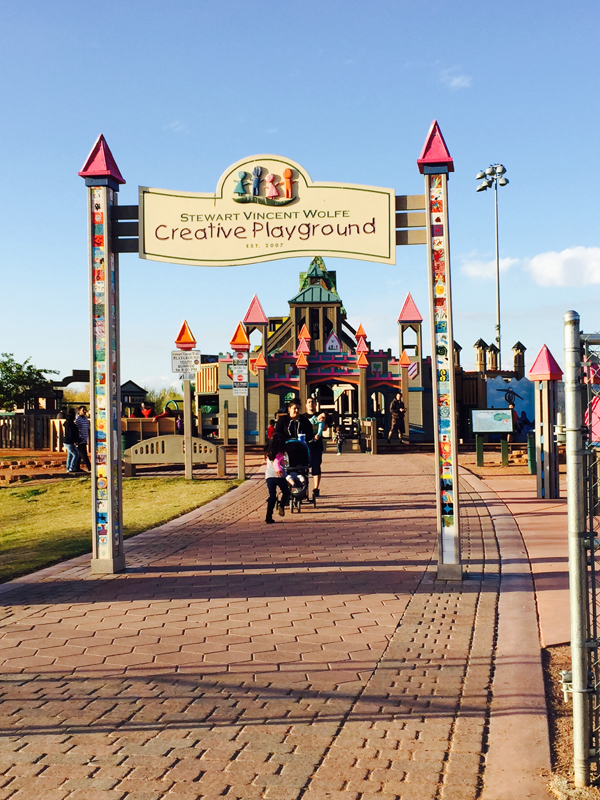 A picturesque lake attracts anglers, picnickers, sun worshipers "Castle Park" is a very popular gathering spot for families
and model boat enthusiasts among many
COME TO THE CONFERENCE - MAKE IT A HOLIDAY!
Shake off the winter blues: Yuma is the sunniest spot in the U.S. – average January temperature: 70 degrees!
Yuma is steeped in the history of the old West and lots more to see and learn about including:
• Historic Quartermaster Depot is a beautifully landscaped state park with 19th Century adobe structures. The depot's spacious storehouse will be the venue for our Friday Gala Dinner - a colorful Mexican feast with mariachi music.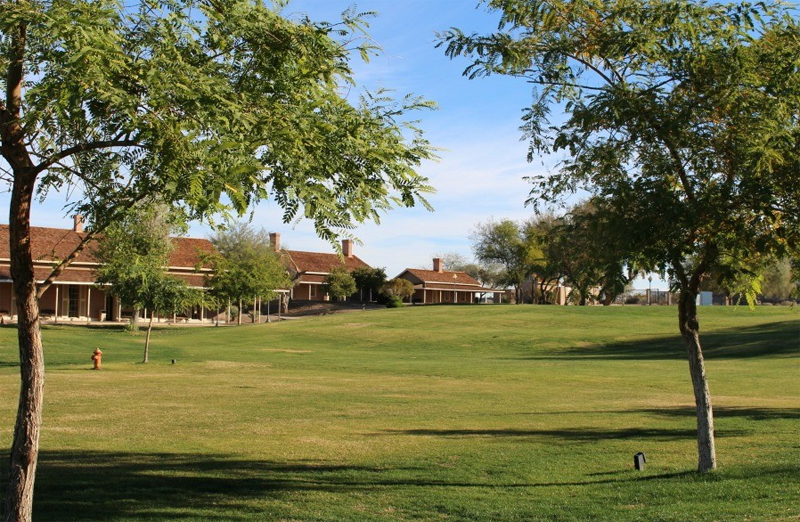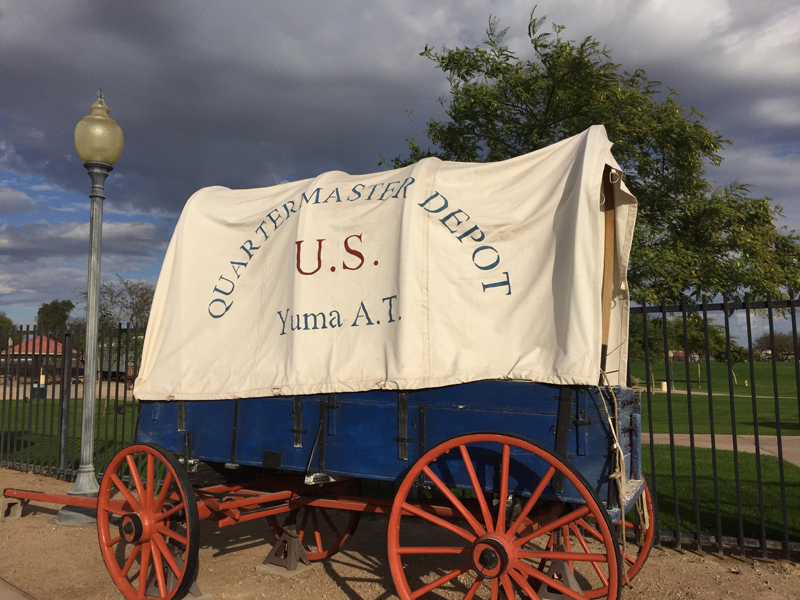 Quartermaster Depot Grounds Quartermaster Depot Wagon

TheTerritorial Prison, state historic park opened in 1876 and housed over 3,000 prisoners. The stone-walled cell blocks will be the site of a special candlelit dinner Thursday night.
• Medjool Yuma Date Festival all day Saturday Jan. 27, 2018, on Main Street. Enjoy a delicious "date shake."
• Saguinetti House, Museum and Gardens – 19th Century adobe home, historic site and gift shop downtown on Madison Ave.
• Lutes Casino is Arizona's oldest pool hall with eclectic décor and great southwestern bar food.
• Three National Wildlife Refuges can be found in the greater Yuma area.
Fish and Wildlife Refuges Near Yuma
February 2017 Newsletter

"WATERFRONT EXCELLENCE"
Powerpoint presentation of the Top Honor Excellence on the Waterfront Award Winners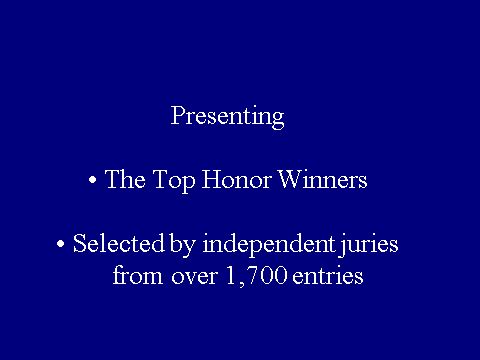 The Center is pleased to announce that this powerpoint presentation with over 300 images of top honor winners selected by independent juries was featured at the WaterEdge Symposium in Auckland, New Zealand last November and is now able to be viewed on the Center's website HERE
Special thanks to Stewart McKenzie for making this available to everyone. He is also the person behind our interactive database of close to all of the winners - to date a universe of well over 300. So, if you want to delve more deeply into any of the top winners or winners in general read the instructions HERE. The geography includes 16 foreign countries, six Canadian provinces and at least 33 states. This unique waterfront resource is freely available and we thank those friends of the Center who contributed to the projects.
2017 Awards Deadline: June 30, 2017
Waterfront Alliance Annual Conference
See Awards Entry Form HERE
Measuring Our Harbor: Strong, Healthy and Open
May 7, 2017 - 9:00 to 5:00
Aboard Hornblower Infinity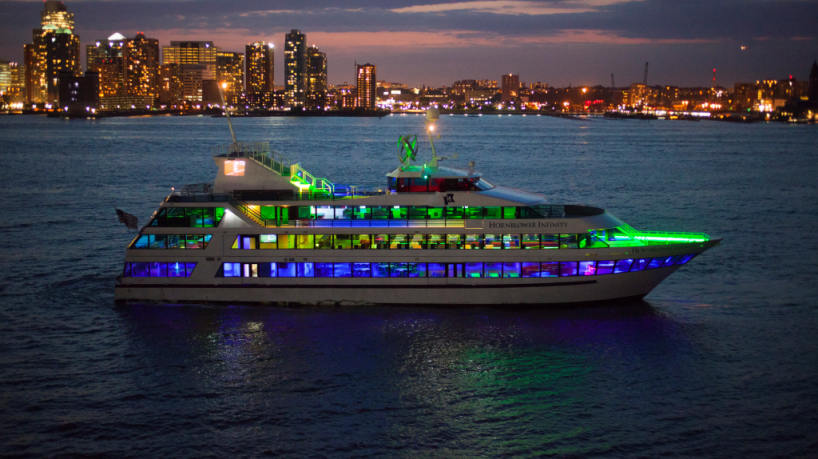 If you want to catch up on what's new in the New York region's waterfronts this is the meeting for you. For more information go to the Waterfront Alliance's website. Varied rates with an early bird at $120 that ends 3/15. Government and non-profit rate is $75.
Upper Mississippi River Conference

River Action, Inc., an organization many of you may remember from our joint conference in the Quad Cities several years ago, held their annual meeting this past October to address issues raised by America's Watershed Initiative Report Card for the Mississippi River watershed. Participants at the meeting were challenged to come up with action items for each of the following goal areas:
Ecosystems, Flood Control and Risk Reduction, Transportation, Water Supply, Economy, Watershed-wide indicators and Recreation. It should be noted that the Upper Mississippi basin received a grade C which was the highest of the River's sub-basins. This 10-page report outlines the priority objectives identified to "raise the grade." One action recognized by every sector was the need for education and outreach. An update on the Action Agenda will be given at the 2017 Upper Mississippi River Basin Conference. You can download the report from River Action's website.
Groundhog Day 2017 Newsletter
Whether he sees his shadow or not, February 2 signals spring is not so far away which is always cause for a celebration
2017 Awards Ceremony, Winning Presentation
We will hold the Awards Ceremony and Reception at The Churchill Hotel in Washington, D.C. September 8, 2017. An optional gala dinner will follow. Our 2016 attendees really enjoyed the 20-minute presentations by the winners to give more insights into their work so we will repeat this format. Details will be updated and posted.
Postcard from the North of North Island, New Zealand
Prior to joining up with the WaterEdge Symposium in Auckland last November, co-directors Breen and Rigby were joined by long-time board member, Charley Norris who was game to drive us all on the wrong side of the road to re-visit places we had been to together over twenty years ago. We had fond memories of these towns and should your travels take you to this northern most part of the country we recommend visiting them as well as the fantastically beautiful Bay of Islands.
Whangearei. our first stop, is located on the Hatea River and has a charming redeveloped Town Basin waterfront that is even nicer than it was on our first visit. Shops, cafes, bars and restaurants enliven the scene. One waterfront perch tempted us to stop for a pint of good Kiwi beer.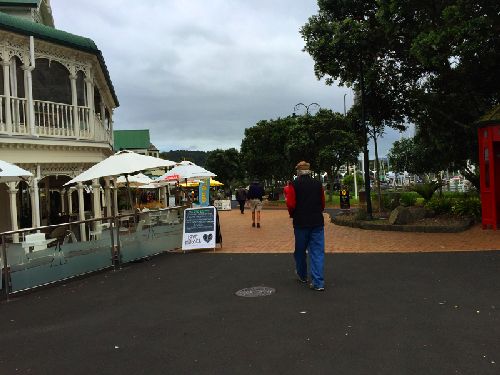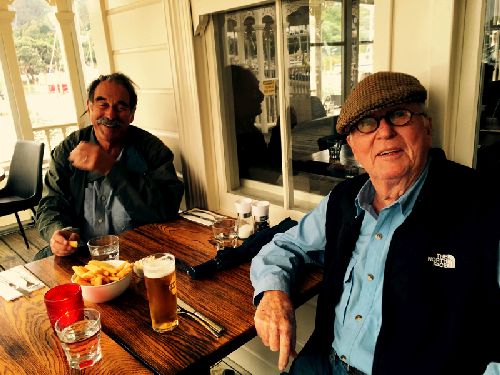 Whangearei Waterfront Charles Norris and Dick Rigby and a Kiwi Beer
New to us was the expanded, extensive river walk that includes public art installations, interpretive signage and lovely plantings. One sees a group of warehouses behind park-like setting at the start of the walk close to town center.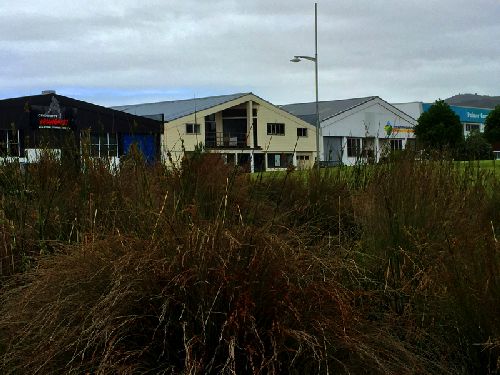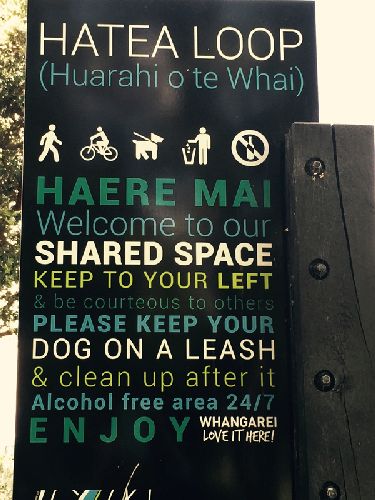 Warehouses Behind the Park Do's and Dont's on the River Walk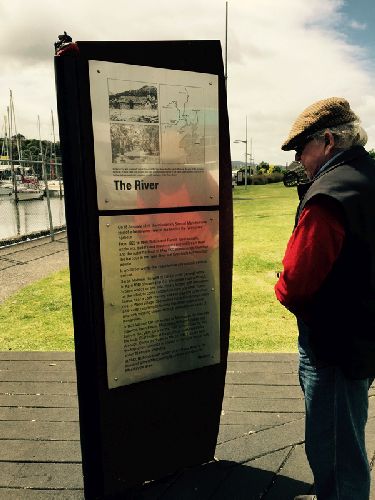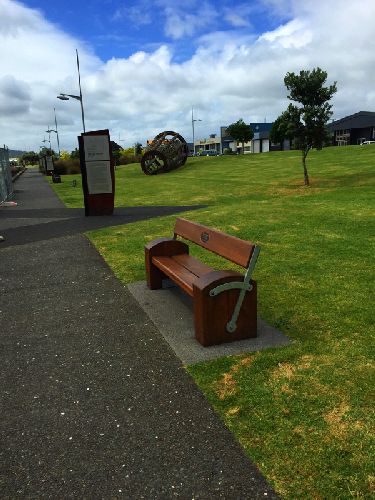 River Walk Sign River Walk Seat and Art Installation
A new pedestrian bridge with sail-like shade structures makes a loop walk possible and doubles as a place to hold events like this Saturday Flea Market.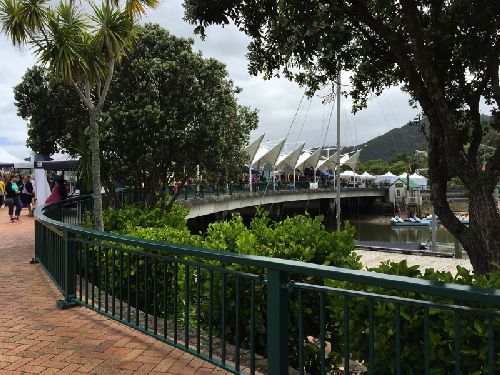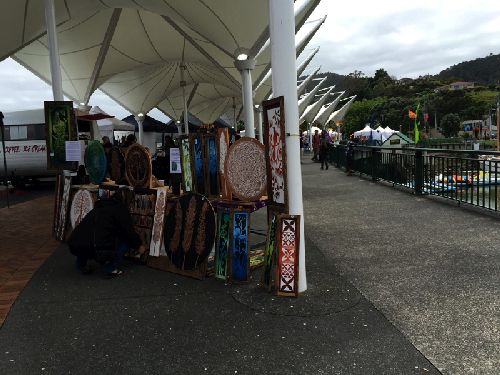 Pedestrian Bridge Flea Market
En route to and from Whangarei we stopped at a very inviting Welcome Center. Not only did they have tons of tourist information and helpful people, there was a small shop, an indoor and outdoor cafe.
The attractive restrooms had baby changing facility and a place to shower. Attention to detail is evident in this handsome red security gate and the etched glass roof celebrating the pongo or silver fern tree. Those fronds and tree trunks are actually steel sculptures.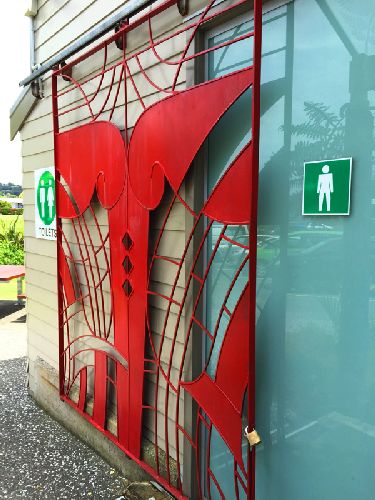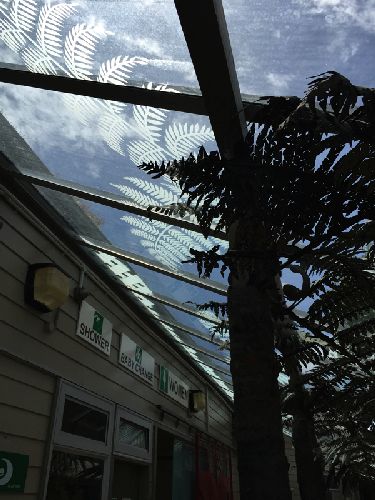 Restroom Door Etched Glass Roof
Our other small town is the somewhat isolated Russell that is popular with tourists who flock by ferry from nearby Pahia. Back in the 1830s this peaceful, charming place was full of swashbuckling whalers and sealers with the reputation as the "Hell Hole of the Pacific." You'd never guess it now. We enjoyed our return to the Duke Of Marlborough restaurant expanded and much-refurbished. A terrific meal and view of the water were thoroughly enjoyed on a fine spring-like evening! Definitely worth the trip.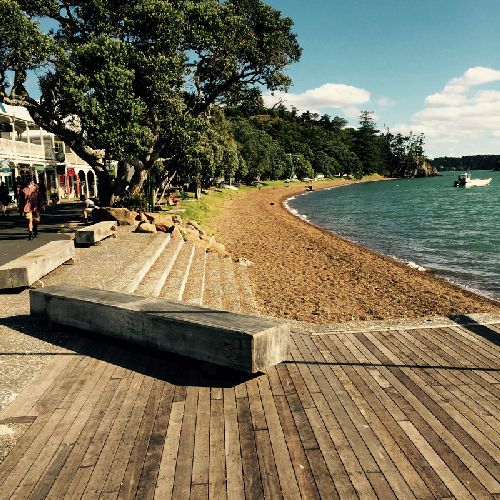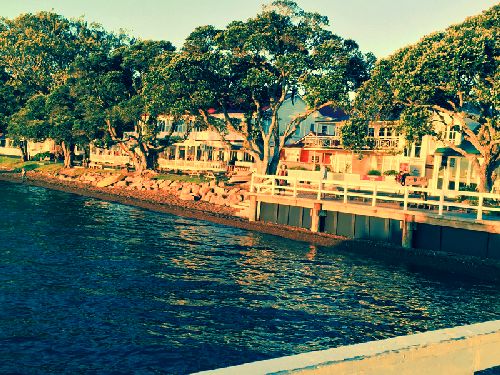 Russell Waterfront Beach Russell Main Street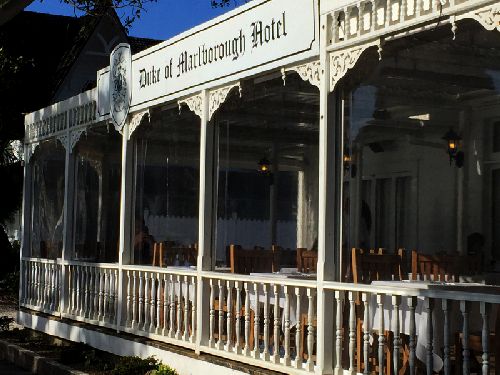 The Duke of Marlborough Hotel
January 2017 Newsletter
2016 Winter Solstice Newsletter
Winter Solstice Greetings
Wishing everyone a happy turning of the year. Celebrate this day of little light with lots of candles and winter feasting today and in the coming weeks. To all our waterfront colleagues and friends: a very merry, happy holiday season!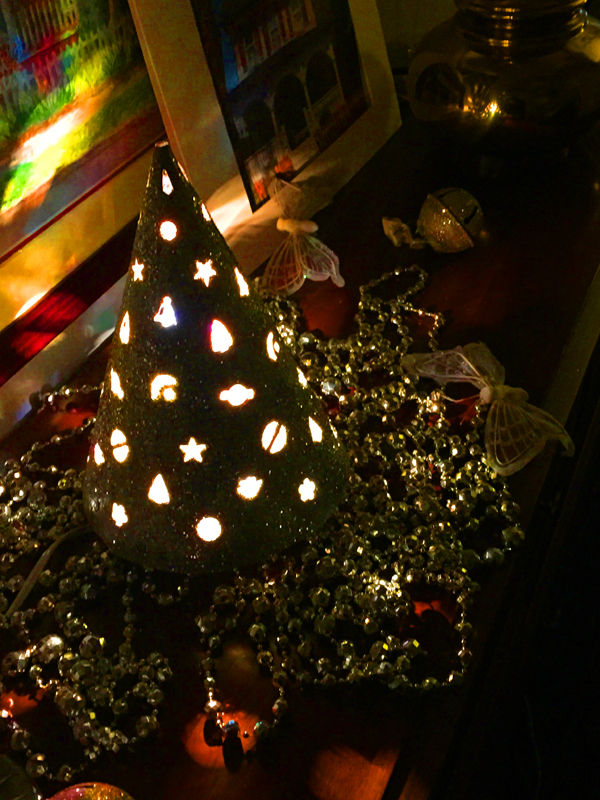 December 31st Fast Approaches
As you contemplate you year-end charitable donations, please keep the Center in mind. We have lots of exciting projects including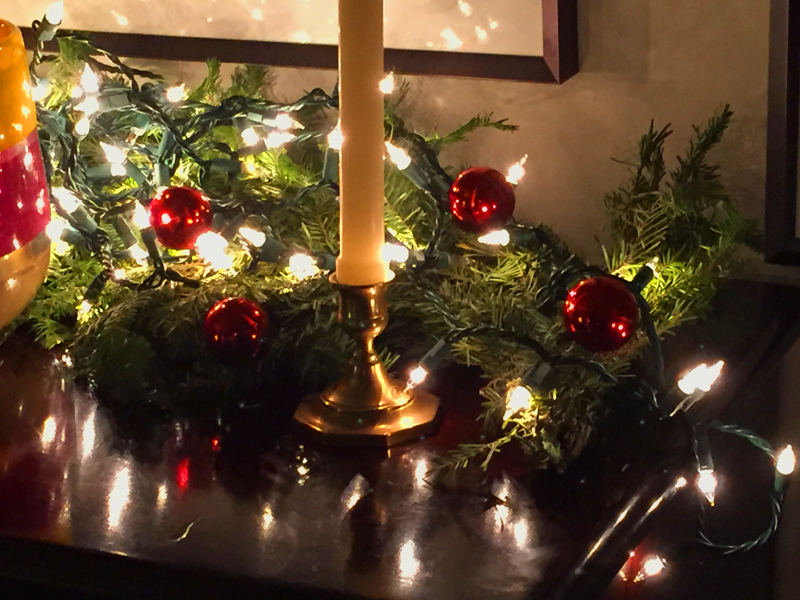 Mid December 2016 Newsletter
Waterfronts Reborn Trailer Now on the Web Site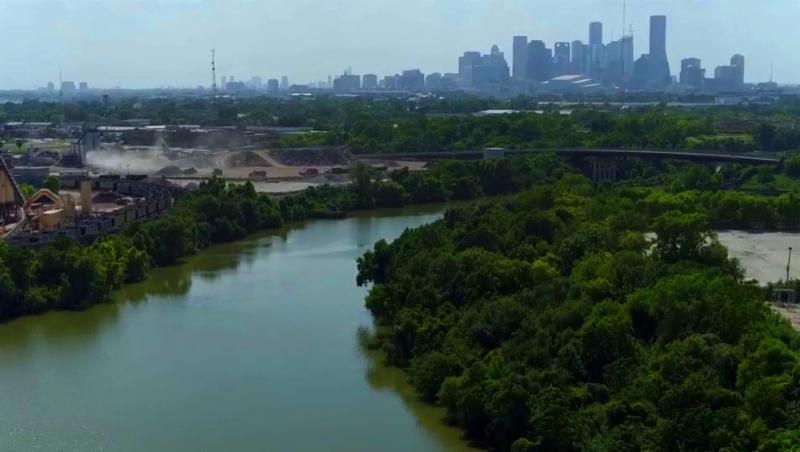 The Trailer for the planned hour-long documentary film is now up on our web site. The 12-minute film executed by the documentary filmmaker Jon Dann features Buffalo Bayou in Houston, Texas in particular the new Buffalo Bayou Park. The Park received an Excellence on the Waterfront honor award this year, see HERE. The Center and the film team our currently considering 4-5 other cities as case studies for inclusion in the full length film and are actively fundraising. Waterfronts Reborn will soon have its own page to encourage donations and keep you updated. Pictured below is a portion of the walkway with the imaginative night lighting that follows the moon phases from blue to white during each month. Note that these light fixtures can withstand the severe flooding the bayou withstands.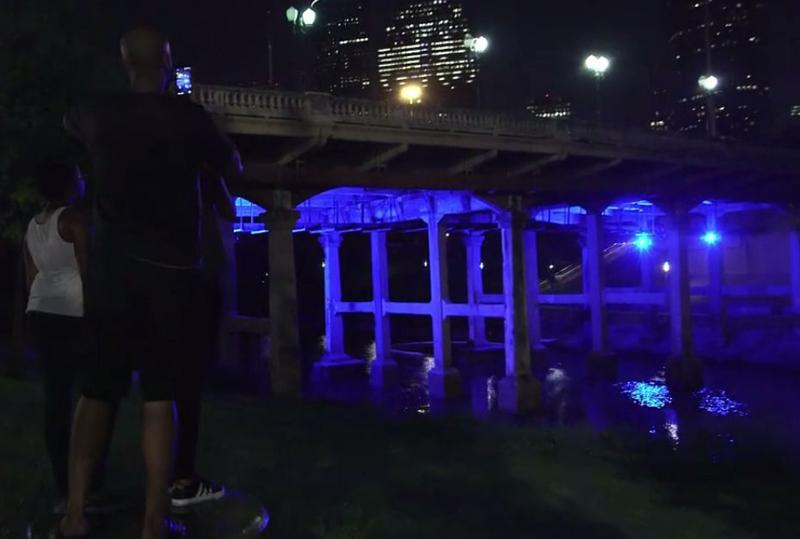 Buffalo, New York Rejuvenation
If you don't already subscribe to City Links, we recommend it as a good source of urban information.

HERE

is a link to a recent very upbeat story.
We absolutely love the idea that embraced the old silos rather than tear them down. So many cities over the years have destroyed them. Bravo!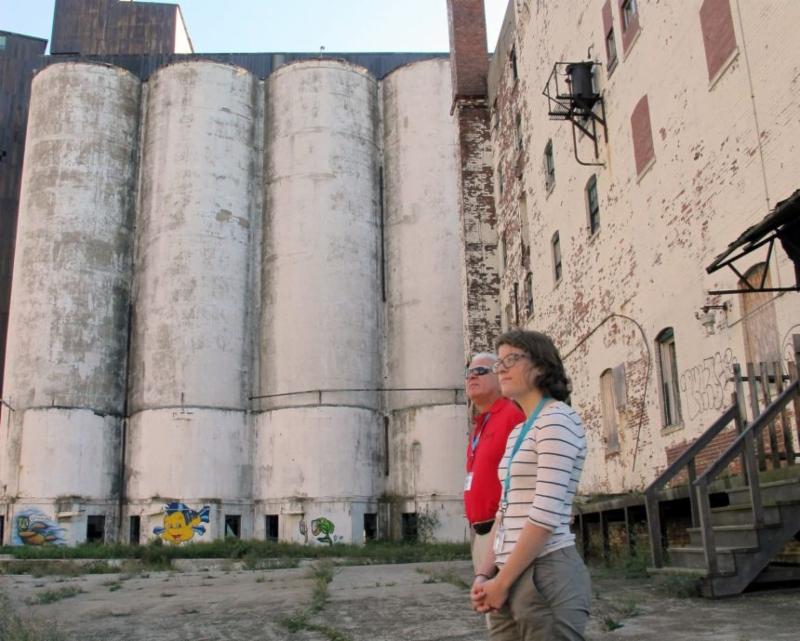 Co-director Breen recalls going on waterfront business in 1979 and hearing the then mayor talk about his vision for the waterfront. Several plans and attempts to fulfill a waterfront dream over the years have occurred but it seems at last to have come true! Center awarded a plan "Horizons Waterfront Acton Plan" in 1993 and more recently in 2009 "Erie Canal Harbor Project." Visit the interactive database and enter Erie Canal into the Search button to learn more about the 2009 project.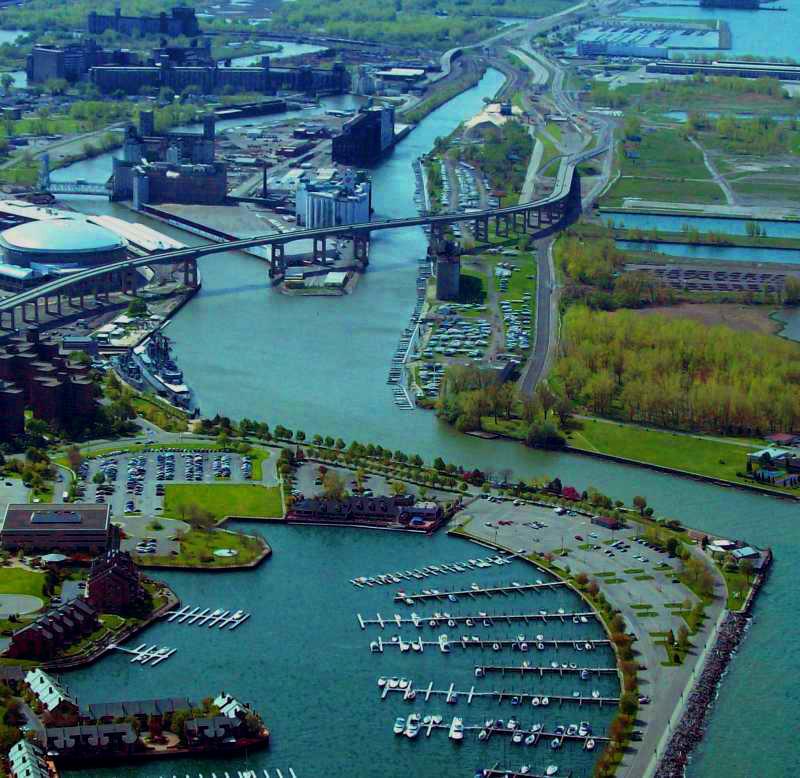 Ring, ring, ring in he joy of the season. Just a reminder to not forget the Center as you make your year-end donations.
We appreciate any help you can give us. Wishing you and yours a joyous holiday! Below is a miniature waterfront scene that is part of Philadelphia's Morris Aboretum's extensive magical model train exhibit to delight children of all ages.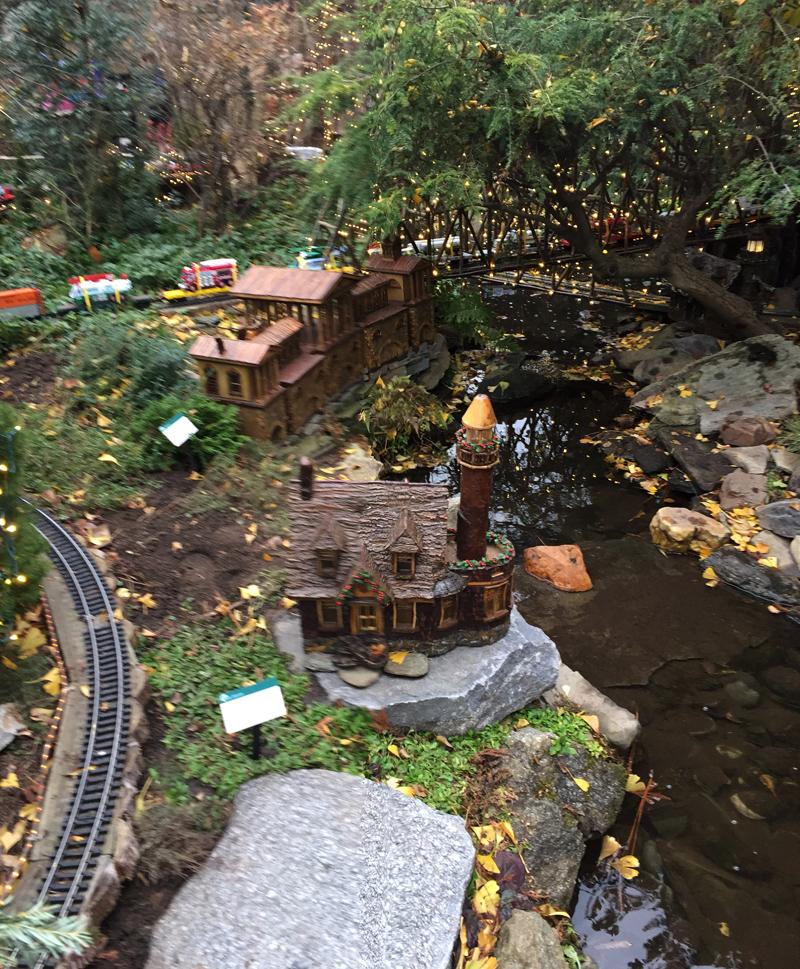 33rd Annual International Conference
The Waterfront Center is planning the 33rd Annual International Conference on Urban Waterfront Planning, Development and Culture on
January 26 -27, 2018, Yuma, Arizona.
In collaboration with Yuma Crossing National Heritage Area."Challenges for the Waterfronts in the 21st Century: Too Much Water or Too Little?" Optional pre-conference workshop featuring Yuma Crossing, January 25.
Conference headquarters: Hilton Garden Inn on the Riverfront.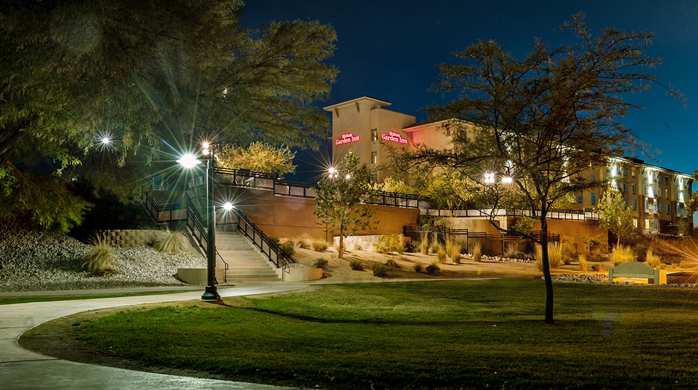 Early December Newsletter
Consider the Waterfront Center for Your Year-End Donations
B
etween Black Friday, Cyber Monday and Giving Tuesday I am sure you have been besieged. We would like to throw the Center's hat in the ring as you begin to think about your annual contributions to the non-profit world.
With so many projects ongoing, we need your help:
• The Documentary Film - the trailer of Waterfronts Reborn will soon be on our website. We are beginning to fundraise for the hour-long version.
• The Interactive Data Base of the Excellence on the Waterfront Award Winners - close to being finished. It is a unique resource freely available on our website.
• The 30th Annual Excellence on the Waterfront Awards Program. Details will be available in January.
Thank you in advance for any contribution. Send checks to:
The Waterfront Center
PO Box 53351
Washington, DC 20009
Water Edge Symposium
Auckland, New Zealand
November 15-17, 2016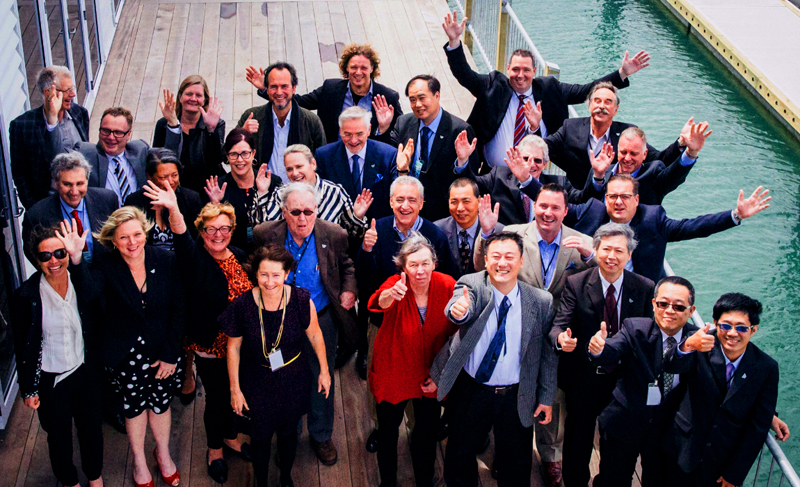 Co-Directors Breen and Rigby ventured to Auckland for the Water Edge Symposium a few weeks ago. Our hosts from Panuku Development went all out to achieve a stimulating assembly of participants from around the world.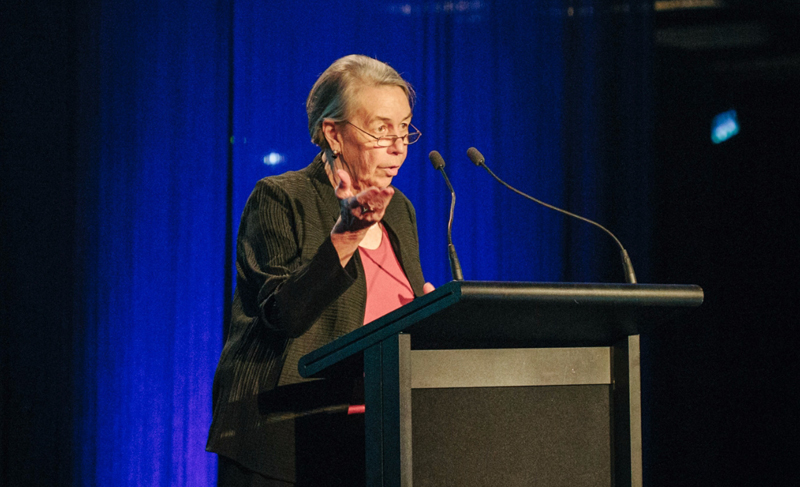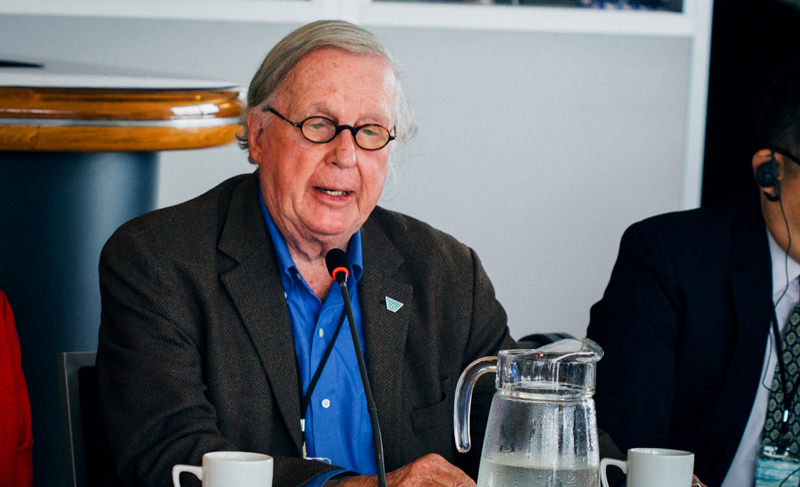 Ann Breen Dick Rigby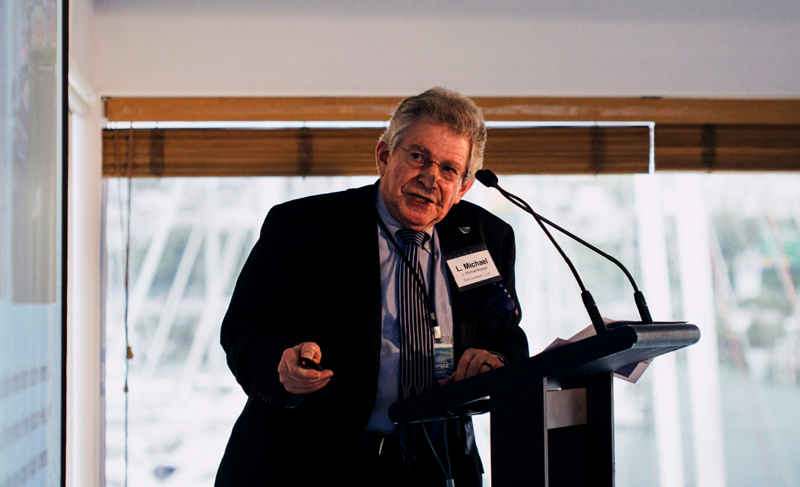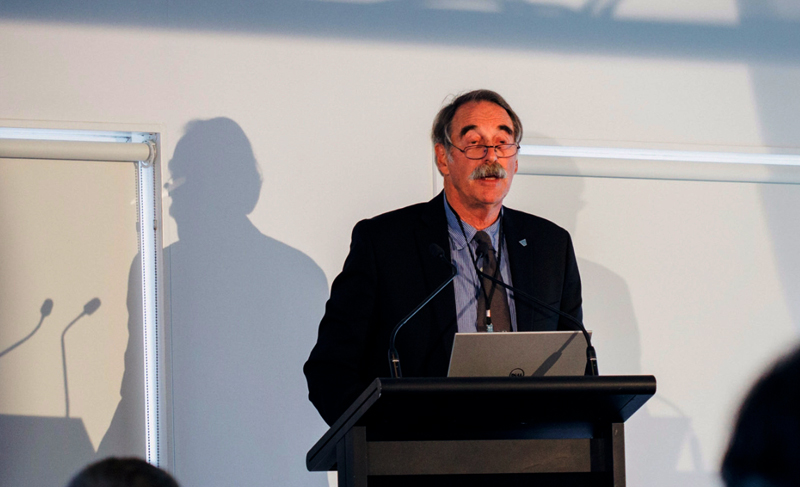 Michael Krieger Charles Norris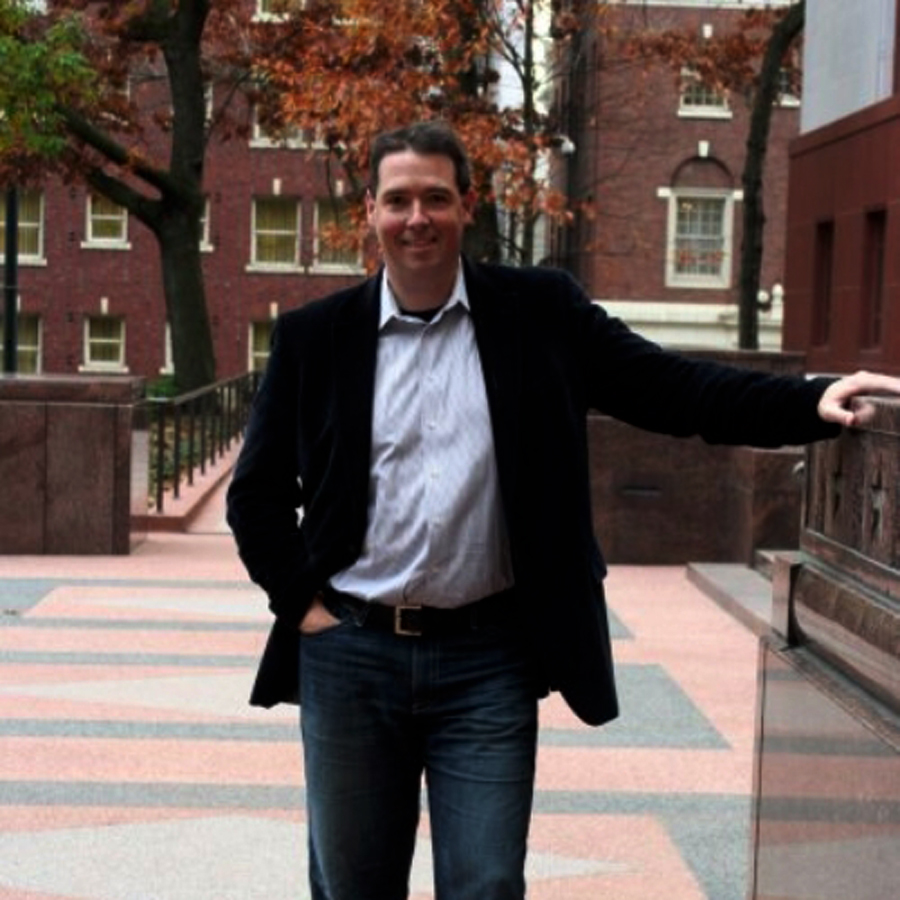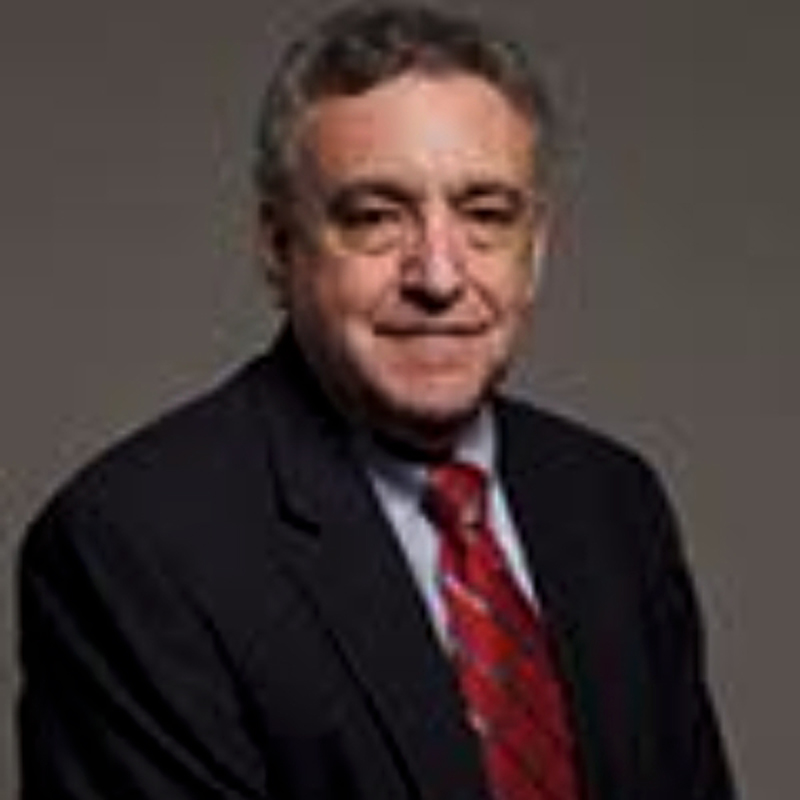 Joel Mills Barry Hersh
Not only was it a productive meeting professionally, but Panuku also made sure we had a really fun time from the traditional Maori welcoming ceremony and festive, chef-prepared lunch to the very special gala dinner complete with Maori dancers, a string quartet and a talented opera singer to entertain us. The food selections were outstanding. The Center premiered a powerpoint of the Excellence on the Waterfront top honor winners from 1987 - 2016 that ran continuously during the dinner and was well received. We plan to put this show up on our website so others can enjoy.
The Waterfront Center Presentation Dinner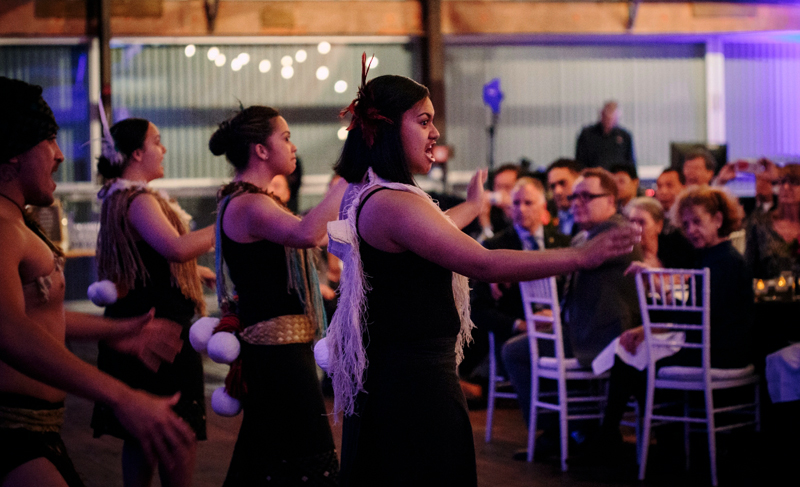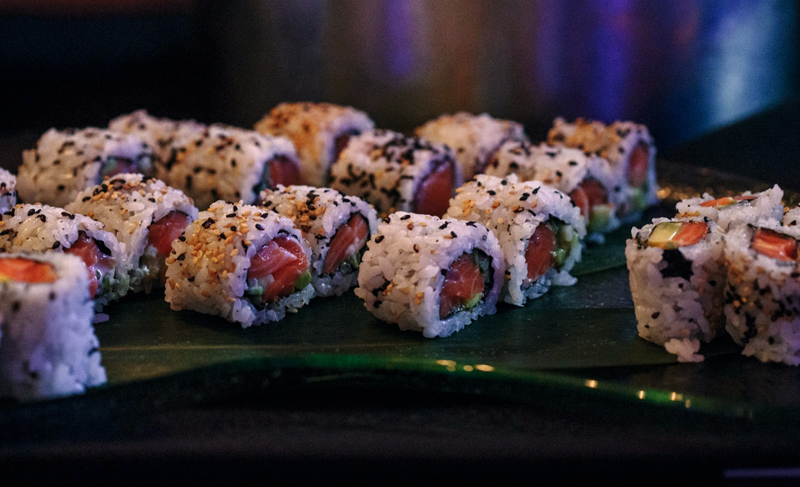 Maori Dancing Food
November 2016 Newsletter
Ann Breen and Dick Rigby will be showing a powerpoint featuring the 50 top Excellence on the Waterfront top honor winners 1987-2016 at the wind-up gala dinner.
Excellence on the Waterfront Awards Ceremony and Gala Dinner
On October 21 all ten Excellence on the Waterfront award winners came to Washington to accept their awards and also made 20-minute presentations to an appreciative audience. They were feted at a festive gala dinner.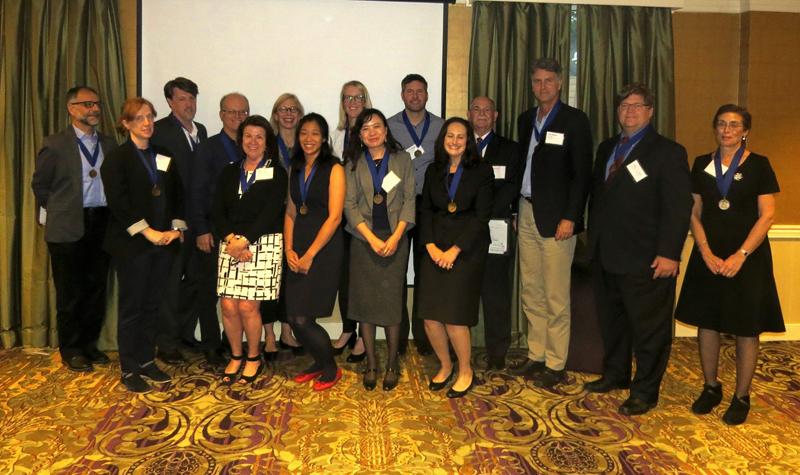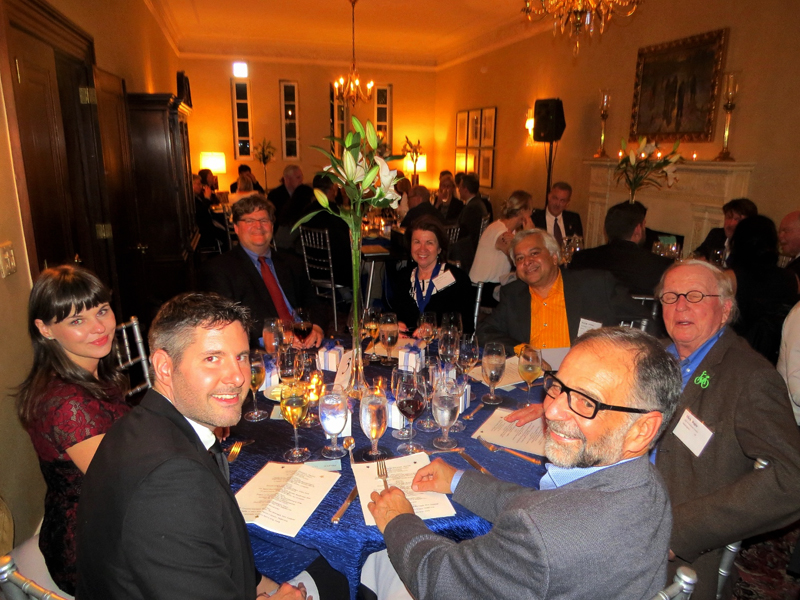 Mid October2016 Newsletter
29th Annual Excellence on the Waterfront Awards Events
October 21, 2016 - Churchill Hotel, Washington, DC
Visit HERE for details. There is still time to sign on and be part of an exciting meeting and awards ceremony.
EPA's Office on Water Announces Grants
EPA has awarded $1.3 million to 22 organizations in 18 states to revitalize urban waters and surrounding communities. Visit water headlines to learn more.
Summer may be over but some folks are busy planning ahead to increase swimming opportunities on their waterfronts.
The Charles River Conservancy a non-profit based in Boston recently raised $25,000 through the Indiegogo crowdfunding campaign to help install a permanent swimming pool in the Charles River. See HERE for details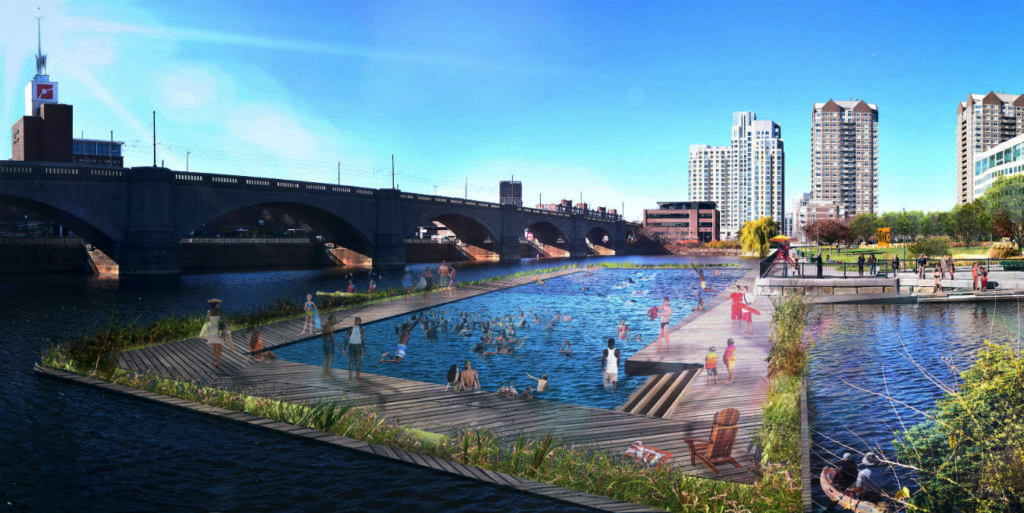 The Brooklyn Bridge Park installed a highly popular pop-up pool on Pier 2. The pop-up will be continued for another season to allow time for the park to come up with a permanent facility. The article referenced The Floating Pool which was docked on the Brooklyn waterfront in 2007. It was the brainchild of one of our founding board members, Ann Buttenwieser who received an Excellence on the Waterfront honor award in
2007
for the project.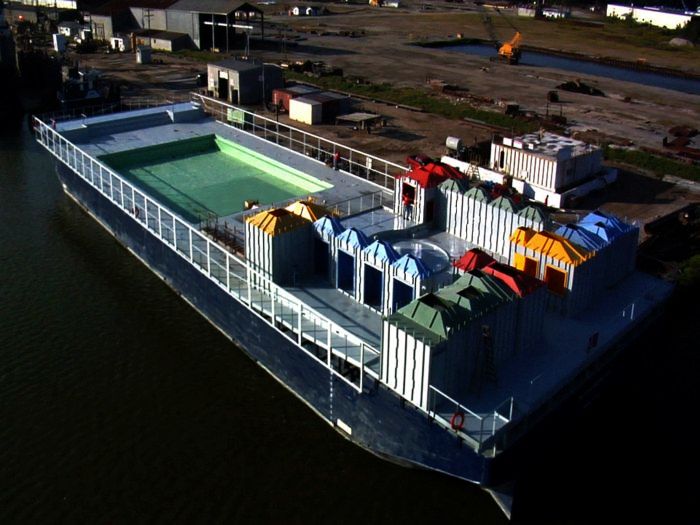 Brooklyn Bridge Park Popup Pool
The Waterfront Alliance's September 30 Waterwire ran a article in their newsletter about ambitious plans to install large water filtering pools in the river to give New Yorkers plenty of chances to jump in. The project, +POOL was conceived by Ding-Ping Wong who hopes that within four years the concept can be fully tested, the funds raised and come into being realized.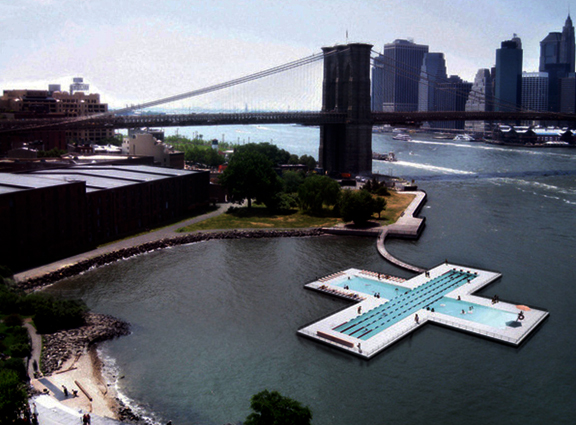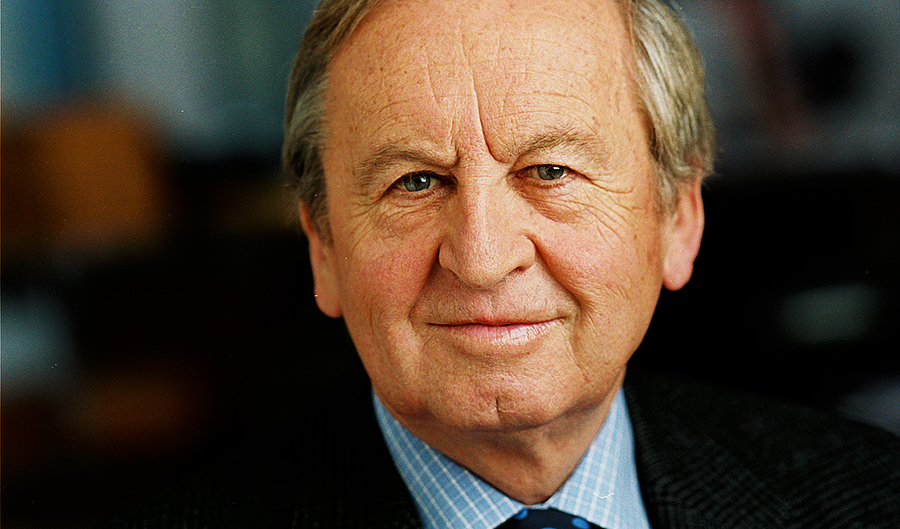 We were saddened to learn of the recent death of a great supporter of the Waterfront Center. Not only did he generously support our conferences, he spoke at a number of them and received four Excellence on the Waterfront Honor awards including Top Honor for the restoration of the Roebling Bridge/ Delaware Aqueduct in 1990.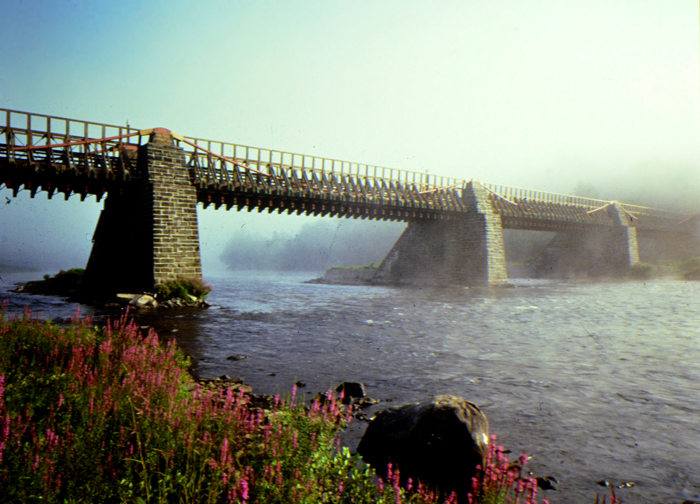 The Roebling Bridge/ Delaware Aqueduct
He was a partner in the New York firm, Beyer Blinder Belle noted for their preservation, restoration and contextual designs. In 1991 the firm received an honor award for their work on the Ellis Island Museum of Immigration.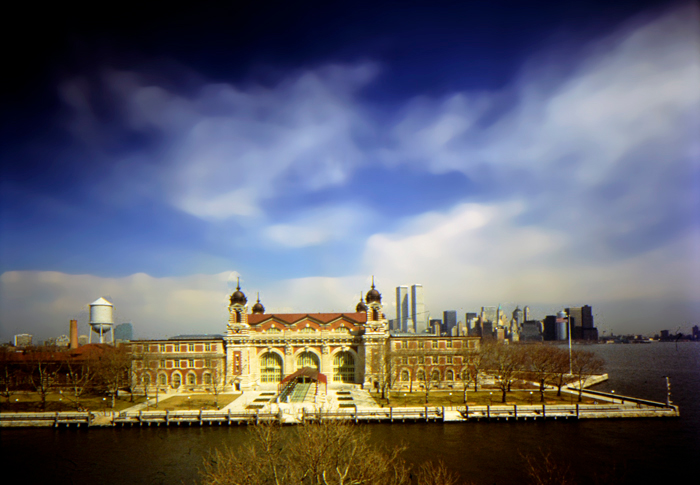 Ellis Island Museum of Immigration
In 1995 the New York State Canal Recreationway plan was recognized and in 1998 the firm received honors for a Governors Island Land Use Study.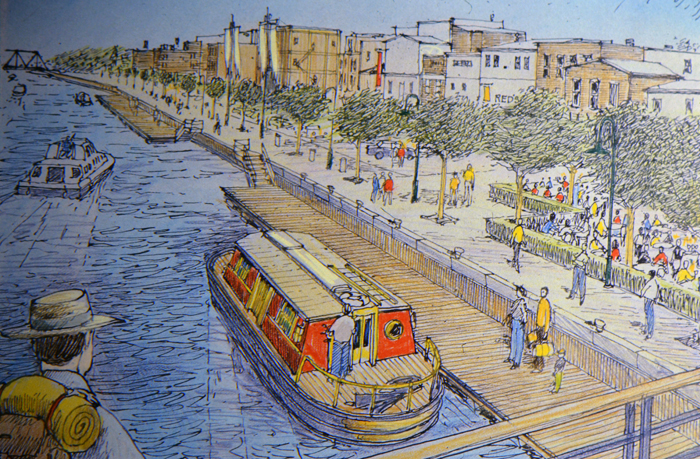 New York State Canal Recreationway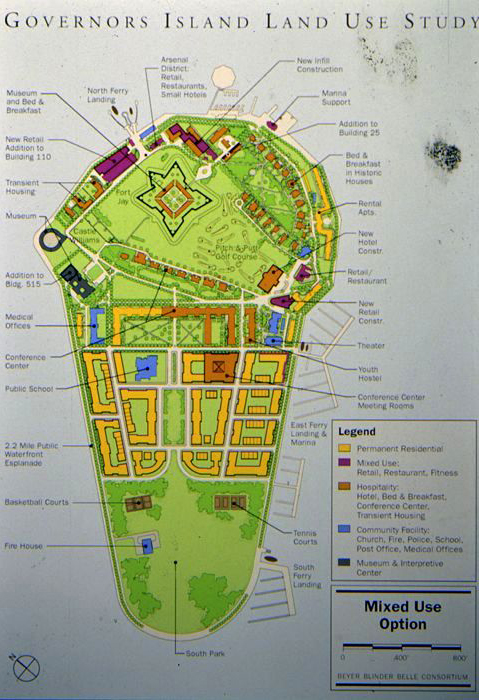 Governors Island Land Use Study
Visit the interactive data base to learn more about all these projects The firm's work on Grand Central Station was universally praised. John Belle was an unassuming and very gentle soul. We were privileged to have known him.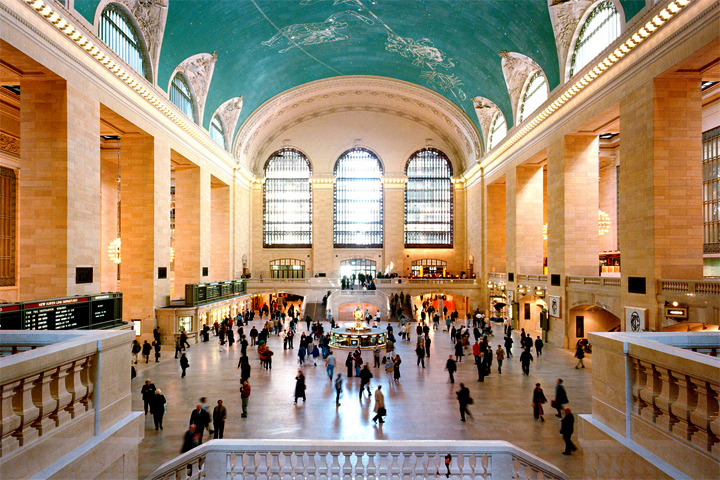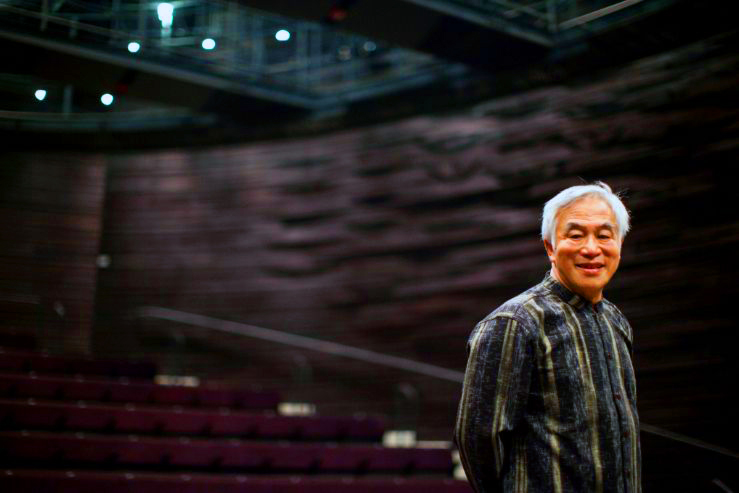 We were equally sorry to hear of the Hong Kong-born Canadian architect, Bing Thom's death earlier this month. Anyone who has visited Washington and ventured down to Arena stage in recent years has seen how he transformed the theater complex into a breathtaking landmark that virtually doubled the space. And for those of us who love river views, the enormous windows in the lobby area enable visitors to gaze out over Washington Channel.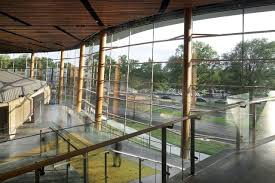 Bing Thom's firm won two honor awards from the Center. In 1990 the beautifully designed False Creek Yacht Club/Anderson's Wharf is very nearly in the waterfront as the building is cleverly located tucked under a bridge in downtown Vancouver.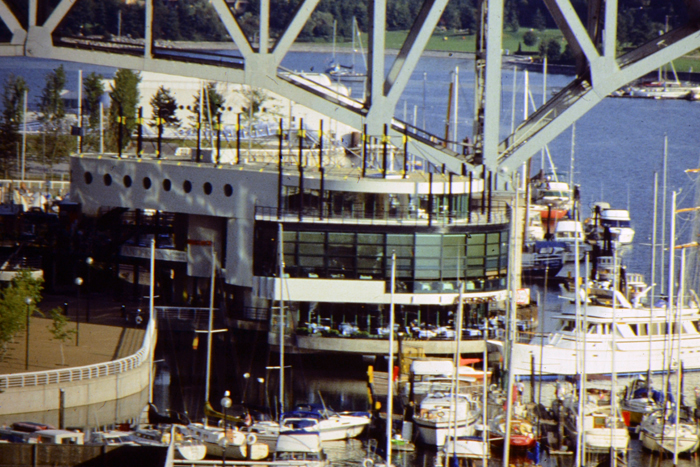 Bing Thom, another genial soul was on hand at the conference in 2005 to receive his award for the Trinity River Uptown Plan for Fort Worth, Texas.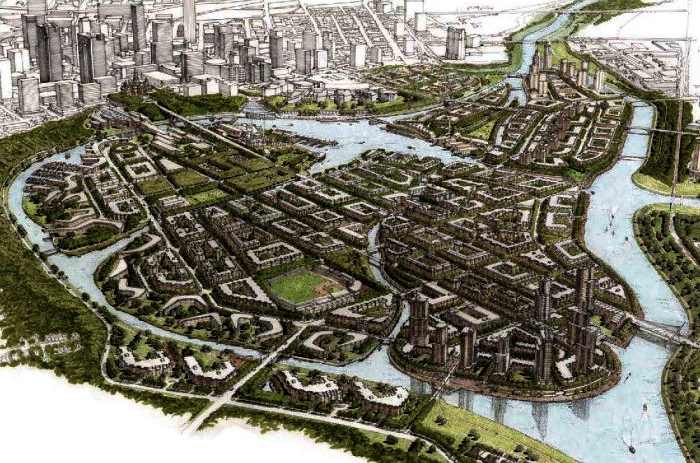 Trinity River Uptown Plan
Late September 2016 Newsletter
29th Annual Excellence on the Waterfront
Mini-Conference, Awards Ceremony and Reception
1914 Connecticut Ave. NW,Washington, D.C.
All ten Honor Award winners will be on hand to receive their awards and make presentations.
Go HERE to check out the program and sign up. It is a real bargain at $50.00 and includes the reception.
Gala Dinner Celebration in Honor of 2016 Winners and the Center's 35th Anniversary. This optional event is described on the website and promises to be a exciting evening. Dinner at 8:00. 2101 Connecticut Ave. NW, Washington, DC.
Indianapolis Uses Creativity to Focus on It's Waterways
Indianapolis through the Center for Urban Ecology and public artist Mary Miss/City as Living Laboratory has launched a terrific program that merges sciences and the arts to foster understanding and appreciation of the six waterways running through the city including the White River. Some of you may remember Mary Miss who made a presentation at our annual conference in 2011 in New York.Her work is also integral to Honor Award Winners:
South Cove in Battery Park City (1993)
Historic Third Ward Riverwalk in Milwaukee (2005).
Visit her website: marymiss.com to learn about extensive career and work.
Visit Streamlines.org to learn more about the Indianapolis program that engages the public through visual arts; dance/movement; poetry and music to peek people's interest and curiosity about the many aspects of improving their waterways and engage in the science of water systems. Many events are held to engage the community.
Chicago's New Riverwalk to Get Addition:The Jetty
An ambitious six-block portion of the Riverwalk along the Chicago River designed by Sasaki and Ross Barney Architects won an honor award this year and the project will be presented October 21 at our mini-conference.
An exciting innovation will be part of the addition called the Jetty to be opened in October. Underwater structures designed to provide fish habitat were inspired by similar features constructed in the Port of Rotterdam and made possible by a $175,00 grant from the Fish and Wildlife Foundation. Besides the Sasaki fish-focused features, submergent wetlands will be incorporated and attract birds and insects.
Mid September 2016 Newsletter
HEAR FIRST HAND FROM OUR 2016 AWARD WINNERS! Friday, October 21, 2016
1:30 – 7:00 p.m.
The Churchill Hotel
1914 Connecticut Ave. NW
Washington, D.C.
Attendees at the 29th annual Excellence on the Waterfront Awards ceremony and program are in for a very informative and festive mini-conferenc - at a bargain rate - $50.00 including the awards reception. Go to www.waterfrontcenter.org to see a line-up of our stellar speakers and sign-up information.
Information on the optional Gala Dinner that evening celebrating the 2016 honorees as well as the Waterfront Center's 35th Anniversary can be found there as well. We will be debuting the trailer for the planned documentary film "Waterfronts Reborn" during the evening. Filmmaker Jonathan Dann will be on hand.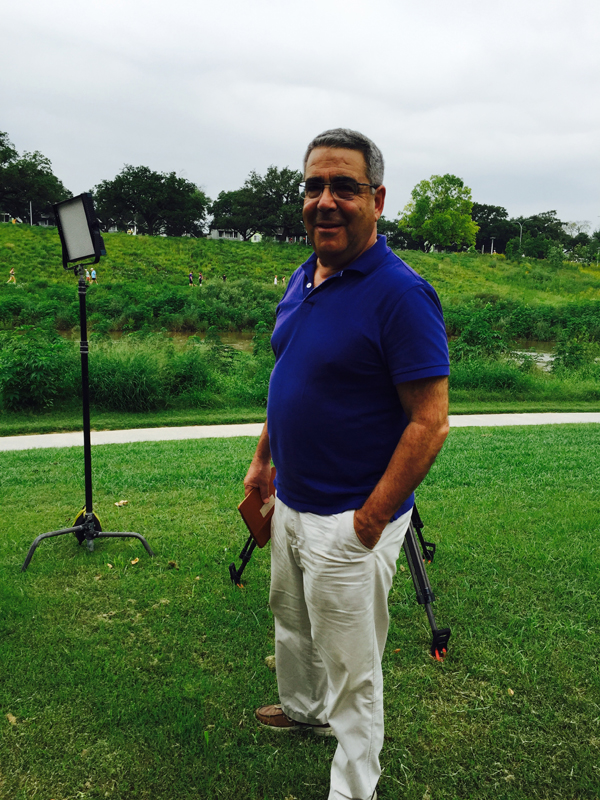 Jon Dann on location in Houston on the banks of the Buffalo Bayou, subject of the trailer.
HOTEL SPECIAL RATE CUT-OFF IS SEPTEMBER 19.
NOTE: previous communications gave wrong phone number. It has been corrected below.

We have blocked a number of rooms at the hotel from October 20 - 23 at special rate of $169 s/d or $189 for Jr. Suite. The cutoff is September 19. Make your reservations directly with hotel to make sure we get credit towards the block: 202 797 2000 and mention you are with The Waterfront Center. The rooms have been recently renovated.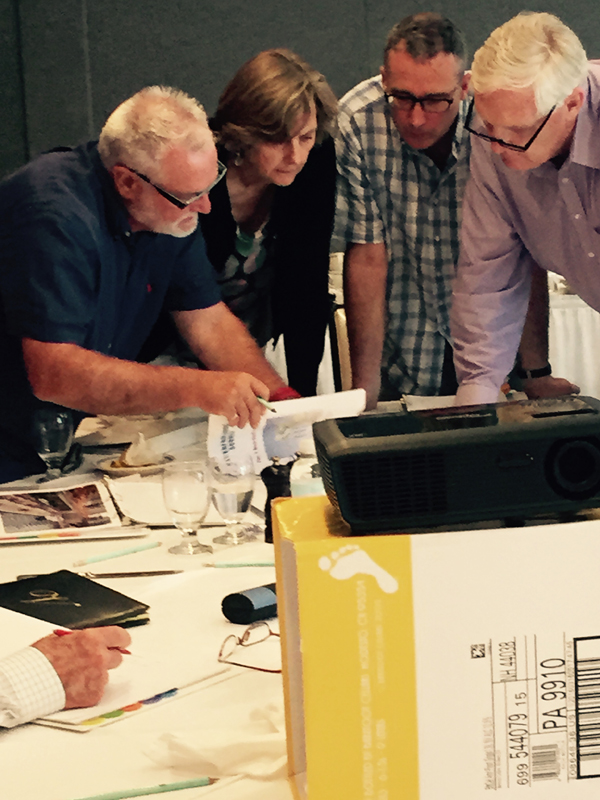 Thanks again to our 2016 Jury shown here hard at work.
Left to right: Werner Plessl, Hamilton, Ontario, Canada; Kim Mathews, New York, NY; Ray Gastil Pittsburgh, Pennsylvania and Jury Chair, Charlie Flynn, Yoma, Arizona.

9TH ANNUAL UPPER MISSISSIPPI RIVER CONFERENCE
"Raising the Grade"
October 13-14, 2016
Moline, Illinois

Our friends at River Action are doing it again. Two days of a fulsome program dealing with a wide variety of watershed issues. And the annual catfish fry is always fun! Conference Hotel: Radisson in Moline and conference is at the iWireless Center a close walk to the hotel. Contact: riveraction.org/umrc for more details and registration.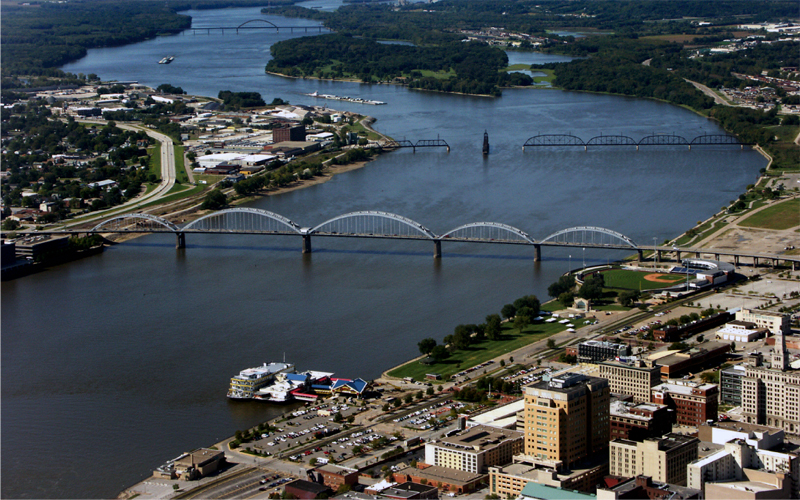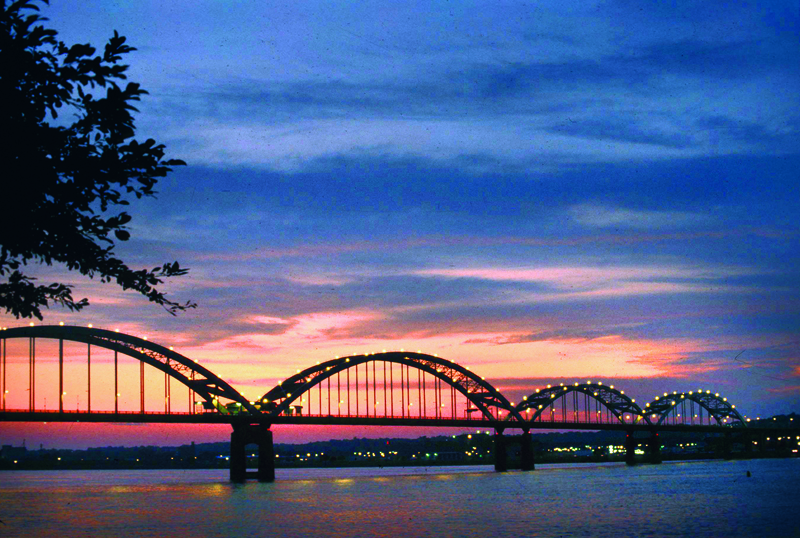 Early September 2016 Newsletter
Jane Thompson
1927 - 2016
The waterfront and design worlds have lost one of their bright lights. Jane had a rich and varied career -- much of it spent devoted to waterfront planning and development. With her husband, Ben Thompson, their firm, Benjamin Thompson & Associates, they opened a number of "festival marketplaces" that had captured cities imaginations. Faneuil Hall in Boston, Harborplace in Baltimore, South Street Seaport in New York, Bayside in Miami. See the New York Times obituary here.
In 1993 Jane chaired our Excellence on the Waterfront Awards Jury that took place in Barnstable at Ben and Jane's summer place. The jury was memorable not only for the Thompson's hospitality but also the beauty of Cape Cod and notably the fact that it was an all-woman jury.
Working as principal of Thompson Design Group she undertook an extensive master plan for the Buffalo Bayou in Houston. We worked with her and the team on the community participation aspect in the early days. Houston experienced a devastating flood while they were in the midst of the planning. Jane then had to study up and become an expert in flood issues. The Master Plan for Buffalo Bayou & Beyond received an Excellence on The Waterfront honor Award in 2002. She and her partner Pratap Talwar worked on master plans for Chicago's Navy Pier, Long Branch, New Jersey and Cleveland's North Coast.
Jane gave presentations at a number of our conferences, the last being in Washington in 2012. We were privileged to have known her as a friend and colleague for many, many years. She was a brilliant, forthright individual, her interests were far ranging but

apart from her highly professional side,

she was slightly irreverent and

lots of

fun to be around. We will cherish our memories of dinners and parties together and her wonderful smile.
We will be dedicating our October 21st Mini-conference and Awards Ceremony to her memory. It is most fitting that the Buffalo Bayou Park will be receiving Top Honor. We are only sorry she won't be hand for the festivities.
29th Annual Excellence on the Waterfront
Awards Announcment and Mini-Conference
1914 Connecticut Ave. NW,Washington, D.C.
We have blocked a number of rooms at the hotel from October 20 - 23 at special rate of $169 s/d or $189 for Jr. Suite. The cutoff is September 19. Make your reservations directly with hotel to make sure we get credit towards the block: 202 297 2000 and mention you are with The Waterfront Center. The rooms have been recently renovated.
SIGN UP FOR THE CONFERENCE TODAY ONLINE HERE
OR E-MAIL mail@waterfrontcenter.org
OR CALL 202 337-O356 AND WE CAN TAKE YOUR INFORMATION.
1:30 Welcome Remarks and Water Ceremony
2:00 Announcement of Excellence on the Waterfront Honor Awards with presentations by the winners about their projects following acceptance of the award.
Charles Flynn, executive director, Yuma Crossing National Heritage Area, Yuma, Arizona, presiding

Confirmed speakers as of 09/01/16

Clearwater Citizen Award:
The Ernst Trail Group, Meadville City, Vernon Township, Pennsylvania.
• Chicago Riverwalk/ State Street to LaSalle Street
Chicago, Illinois, Representative from Chicago Department of Transportation.
• Daylighting the Saw Mill River, Van der Donck Park
Yonkers, New York, William Kuhl, principal, Saratoga Associates, New York, New York
• Menomonee Valley Industrial Center and Community Park
Milwaukee, Wisconsin, William Wenk, principal, Wenk Associates, Denver, Colorado
•

Prinicipal Riverwalk Pump Station
Joshua Baker, substance architecture, Des, Moines, Iowa.
BaJiZhou, Changsha, Hunan Province, China, Xiao Zheng, principal, SWA Group, Chula Vista, California
• St. Patrick's Island Park
Calgary, Alberta, Canada, Barbara Wilks, principal, W Architecture & Landscape Architecture, Brooklyn, New York
•

Sims Sunset Park Material Recovery Facility
Brooklyn, New York, Representative from Selldorf Architects, New York, New York
• The Rockaway Boardwalk Reconstruction
Rockaway, Queens, New York, Project Manager and Architect
• A Vision for the Willamette Falls Legacy Project – Top Honor Plan
Oregon City, Oregon, Mike Zilis, principal, Walker Macy , Portland, Oregon
• Buffalo Bayou Park - Top Honor - Project
Houston, Texas, Scot McCready, principal, SWA Group, Houston, Texas
6:00 Champagne Reception to Celebrate the 2016 Honorees
7:30 Gala Dinner honoring the 2016 Winners and the Center's 35th Anniversary
August 2016 Newsletter
ANNOUNCING
2016 EXCELLENCE ON THE WATERFRONT AWARD WINNERS
CONGRATULATIONS to one and all
We are pleased to announce this year's winners selected by our interdisciplinary jury that met in Cape May, N.J. July 29 and 30. We publicly thank them for generously giving of their time and talent.
We also thank all of those who submitted entries. As is always the case, much good work was not selected this year but we will be encouraging folks to re-enter in 2017 - our 30th awards program!
The 2016 Jury: from l-r: Ray Gastil, planning director, City of Pittsburgh, Pittsburgh, Pennsylvania; Kim Mathews, principal, Mathews Nielsen Landscape Architects, New York, New York, Charles Flynn, executive director, Yuma Cross National Heritage Area, Yuma, Arizona, jury chair and Werner Plessl, executive director, Hamilton Waterfront Trust, Hamilton, Ontario, Canada.
NEW FOR 2016! Since the the October 21st awards event is being expanded to half a day so the attendees will not only witness the awards ceremony, but also hear first-hand presentations by the winners, we decided to publish the list to give you a sneak peak. Several of the winners have already responded that will attend and present. We will give a list of the presenters in future blasts and list them on the web site. This promises to be a very interesting mini-conference. A champagne reception will wind up the day at The Churchill, a boutique hotel on Connecticut Avenue.. Fee will include conference attendance and the reception.
The 2016 "EXCELLENCE ON THE WATERFRONT" awards program, organized by the non-profit Waterfront Center of Washington, D.C., features 10 winning entries from a universe of 48, plus one citizen's award. This year's jury, meeting in July in Cape May, N.J.. made two Top Honor selections. They are:
A Vision for the Willamette Falls Legacy Project
City of Oregon City, Oregon, Top Honor Plan. Submitted by Ken Pirie, Walker Macy, Portland, Oregon, and Chritina Robertson-Gardiner, City of Oregon City, Oregon.
Houston, Texas, Top Honor Project. Submitted by Kinder Baumgardner, SWA Group and Anne Olson, Buffalo Bayou Partnership, both Houston, Texas
Honor Awards in alphabetical order:
Chicago Riverwalk/State Street to LaSalle Street
Chicago, Illinois. Submitted by Gina Ford, Sasaki Associates Inc., Watertown, Massachusetts and Carol Ross Barney, Ross Barney Architects, Chicago, Illinois, and Michael Claffey, Chicago Department of Transportation, Chicago.
Daylighting the Saw Mill River, Van der Donck Park
Yonkers, New York. Submitted by William Kuhl, Saratoga Associates, New York, New York and the Mayors Office, City of Yonkers, New York.
Menomonee Valley Industrial Center and Community Park
M
ilwaukee, Wisconsin. Submitted by William E. Wenk, Wenk Associates Inc., Denver, Colorado, Dave Misky, Redevelopment Authority of the City of Milwaukee, and Corey Zetts, Menomonee Valley Partners, both Milwaukee, Wisconsin.
Principal Riverwalk Pump Station
Des Moines, Iowa. Submitted by Paul Mankins,, substancearchitecture and Pam Cooksey, City of Des Moines Engineering Department, both Des Moines, Iowa.
BaJiZhou, Changsha, Hunan Province, China. Submitted by Xiao Zheng, SWA Group, Laguna Beach, California and Xi Yun, Xiangjiang New City District Administration Commission, Changsha, Hunan Province, China
The Rockaway Boardwalk Reconstruction
Rockaway, Queens, New York. Submitted by Jonathan Goldstick, CH2M and Dan Colangione, New York City Economic Development Corp., both New York, New York
.
St. Patrick's Island Park
Calgary, Alberta, Canada. Submitted by Civitas, Inc., Denver, Colorado, W Architecture & Landscape Architecture LLC, Brooklyn, New York. and Calgary Municipal Land Corporation, Calgary, Alberta, Canada.
Sims Sunset Park Material Recovery Facility
Brooklyn, New York. Submitted by Annabelle Selldorf, Selldorf Architects, New York, New York., and Tom Outerbridge, Sims Municipal Recycling, Brooklyn, New York.
Clearwater Citizen's Award
The Ernst Trail Group, Meadville City, Vernon Township and Union Township, Pennsylvania. Formed in 1995, volunteers have worked to establish a recreational trail including a covered bridge built mostly with volunteer labor.
Serving on the 2016 jury were:
• Charles Flynn, executive director, Yuma Crossing National Heritage Area, Yuma, Arizona, jury chair.
• Ray Gastil, director, Department of City Planning, Pittsburgh, Pennsylvania.
• Kim Mathews, principal, Mathews Nielsen Landscape Architects, P.C., New York, New York.
• Werner Plessl, executive director, Hamilton Waterfront Trust, Hamilton, Ontario, Canada.
SIGN UP TODAY ONLINE HERE
OR E-MAIL mail@waterfrontcenter.org
OR CALL 202 337-O356 AND WE CAN TAKE YOUR INFORMATION.
29th Annual Excellence on the Waterfront
Half-Day Conference, Awards Ceremony and Reception
NEW FOR 2016! We are excited to announce that the October 21st awards event is being expanded to half a day so the attendees will not only witness the awards ceremony, but also hear first-hand presentations by the winners. This promises to be a very interesting mini-conference. A champagne reception will wind up the day at The Churchill, a boutique hotel on Connecticut Avenue. A press release announcing the winners will be mailed out in early August and the names of the presenters posted on our web site. Charles Flynn, executive director of the Yuma Crossing National Heritage Area, Yuma Arizona, this year's jury chair, will preside. Fee will include conference attendance and the reception.
Gala Dinner Honoring the 2016 Winners
and Celebrating the Center's 35th Anniversary
Be the First to See the "Trailer" for Documentary Film:
7:30 p.m.
2101 Connecticut Avenue NW
SOMETHING EXTRA SPECIAL! Gala guests will be the very first to see the trailer for the documentary film, "Waterfronts Reborn" that the Center is producing to celebrate it's anniversary. The filmmaker and producer Jonathan Dann has worked at the highest levels of network broadcasting (NBC. CBS, PBS, CNBC, A&E), collaborating with some of the most respected names in the business. Jonathan will be on hand to help introduce the film. Plans are afoot to create an hour-long documentary highlighting the urban waterfront phenomenon in general with four-to-five case studies. The trailer features the dramatic transformation of the Buffalo Bayou in Houston.
CHURCHILL HOTEL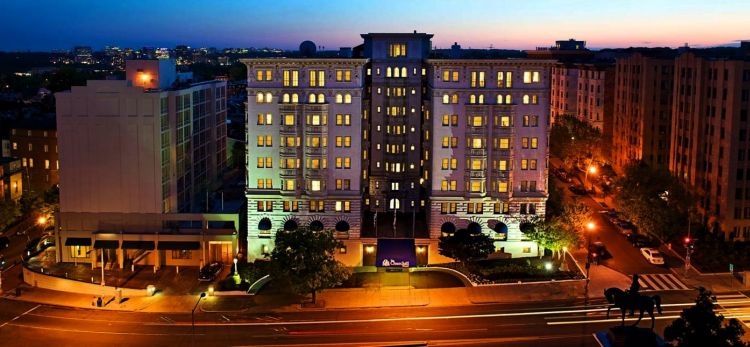 We have blocked a number of rooms at the hotel from October 20 - 23 at special rate of $169 s/d or $189 for Jr. Suite. The cutoff is September 19. Make your reservations directly with hotel to make sure we get credit towards the block: 202 297 2000 and mention you are with The Waterfront Center. The rooms have been recently renovated.
The hotel is conveniently located between two Metro stations (Dupont Circle and Woodley Park/ZOO), and served by a number of buses. Taxis run up and down Connecticut Avenue a lot.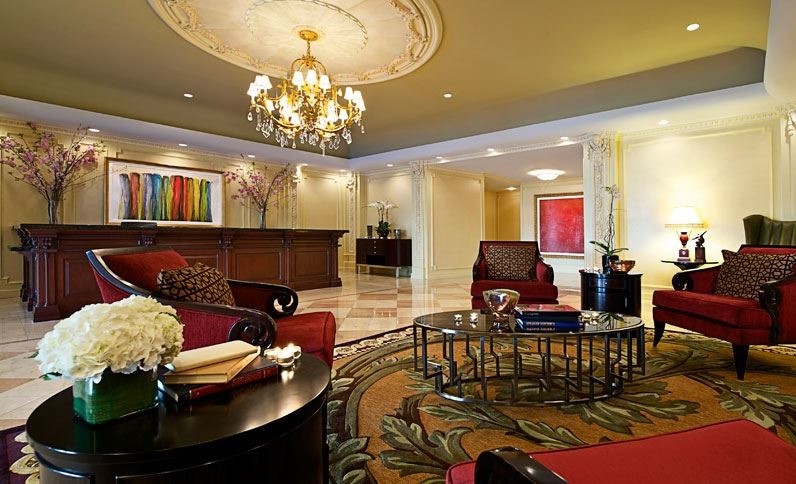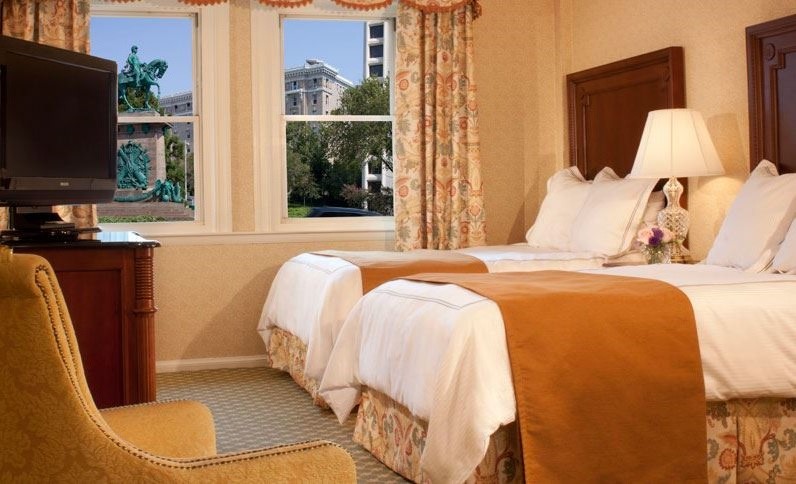 The Optional 35th Anniversary Gala Dinner will take place in a private room at the historic 2101 Connecticut Avenue apartment building in Washington, D.C.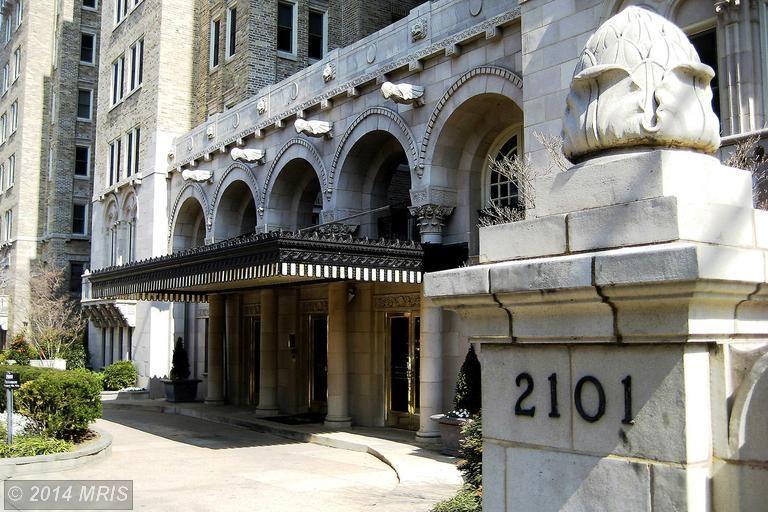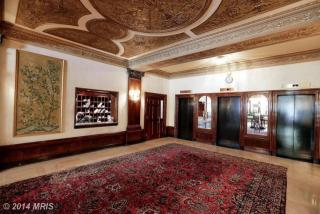 Late June 2016 Newsletter
AWARDS SUBMITTAL DEADLINE: JULY 1, 2016
Update on Waterfronts Reborn
The trailer for our proposed documentary film is well underway. Jonathan Dann, our producer, is working away and will go back down to Houston to do a bit more filming. We give everyone a heads up to join us October 21st in Washington for the 29th Annual Excellence on the Waterfront Awards half-day program featuring presentations by the winners, the ceremony itself, the champagne reception and the optional Gala Dinner. The trailer will be previewed for the first time and Jonathon will be on hand for all to meet. Details well be forthcoming on our website and in these e-letters.
Houston's Buffalo Bayou – a Showcase of Public Art
In the last e-letter we gave you a snapshot tour of the Buffalo Bayou as it weaves its way through downtown Houston. Along with the lush vegetation, flora and fauna, the miles of hike and bike trails, attractive pavilions and street furniture, the Bayou affords an opportunity to discover a variety of public art installations.
Below we give an idea of what you may encounter as you meander through:
It Wasn't a Dream, It was a Flood by John Runnels, 2014
Serving as gateway entry points these stainless steel canoe sculptures can be found at various eastward bayou access points.
Passage Inacheve by Linnea Glatt and Francis Thompson, 1990
This piece takes the form of a house but is completely open to the elements on all sides and is constructed of galvanized steel. Visual images highlight issues of human rights, freedom of expression and historic and contemporary concerns.
Spindle by Henry Moore, 1979
The cast bronze abstract sculpture was originally part of the artist's Spindle series placed in London's Hyde Park.
Tolerance by Jaume Plensa, 2011
The meditative human figures representing the seven continents of the world are composed of stainless steel alphabet letters from many languages. Resting on large boulders, quite visible from the roadway, the figures glow at night.
Monumental Moments by Anthony Thompson Schumate, 2015
"Listen" is one of a series of four-foot tall sculptures. The single word thoughts – Explore, Pause, Reflect, Listen, Emerge and Observe – are placed in unexpected areas along the bayou walkways.
Down Periscope by Donald Lipski, 2015
Through the Down Periscope, visitors can peer into the 87.500-square ' Cistern, a former City of Houston drinking water reservoir renovated by the Partnership. The Periscope can also be accessed online from anywhere in the world
Seven Wonders by Mel Chin, 1998
These 70' pillars dramatically enliven the wall of the Wortham Center that houses Houston's Ballet and Grand Opera facing the bayou. Hundreds of Houston school children drew pictures representing: Philanthropy, Medicine, Energy, Agriculture, Manufacturing, Technology and Transportation. These images were laser cut into stainless steel to form these giant interpretive sculptures that glisten in the sun by day and are dramatically lit up at night.
One of a number of interpretive photo plaques encased in the perimeter fencing in the 22-acre Sesquicentennial Park dedicated in 1986 along the Bayou next to the Wortham Center.
Designed by L'Observtoire and artist Stephen Korns, Buffalo Bayou's signature lighting transitions from white to blue as the moon waxes and wanes. It is not for nothing that Houston is the home of NASA and this imaginative and magical lighting pays tribute to that fact.
CHRISTO'S Newest: Floating Piers
Speaking of public art: Christo, who with his late wife Jean Claude, were famous for unfurling yards and yards of fabric wrapping all sorts of things opened his newest project on Lake Iseo in Italy's Lombardy region. "The Floating Piers" is a two mile walking connecting two small islands to each other and the mainland. (New York Times, Saturday June 18, 2016 by Elisabetta Povoledo: Christo's Latest Feat: Walking on Water").
The project will be free to the public until July 3. It was to have been open 24 hours but officials had to close the installation nightly due the massive crowds – more than 350,000 people had already converged as of June 22 or so.
Many may remember Christo and Jean Claude's 1983 work:

Surrounded Island

s in Biscayne Bay in Miami. What must be miles of brilliant pink fabric surrounded 11 islands contrasted with the bright blue water and made for quite a sight. The

Floating Piers

pits the bold orange walkways against the gray-blue water of the lake. The bay piece was more fluid and playful while the lake piece is geometric and abstract. However 'walking on the water' must be a treat!
- Excellence on the Waterfront Awards Deadline - July 1, 2016
- A Remarkable WaterFire Experience
- Harriet and Al Saperstein Celebrate
- Recent Article of Interest in LAM
Excellence on the Waterfront Awards Deadline - July 1, 2016
Unforgettable WaterFire Experience!
To truly comprehend WaterFire in Providence, Rhode Island one must fully appreciate the transformative intervention that occurred there, namely: the River Relocation, Riverwalk and Waterplace -- without which there would have been no "stage" for the spectacle.

Bill Warner , the architect behind the project was a great friend of the Center and made several presentations at conferences and workshops.

The project was awarded an Excellence on the Waterfront Award in 1994. I quote H.L. Parker who wrote at the time architect William Warner's death:
Talk about the right man at the right time. William Warner was the architect and planner who saw the big picture — the really big picture — back in the 80's when downtown Providence was a shabby dump. He could see that if we just pulled up the parking lots, pulled down the railroad bridges, redirected some rivers, moved a highway we might we might actually have something here. If the devil is in the details Warner must have sold his soul because every footbridge, lamppost, railing, arch, pier, balluster and bollard has been designed and integrated into a glorious whole. Nothing is ordinary. Everything is lovely and graceful. According to the Providence Journal,
...in April 1981 at Blue Point, a former oyster bar on North Main Street. A group of then-young architects, including St. Florian and Warner, disgruntled at what they saw as a lack of inspired planning at Providence's City Hall, sketched what became the layout of Providence's rivers on a linen napkin.

See illustration below.

"I went home and forgot about it," St. Florian said. Warner didn't. Ultimately, with work by engineers, politicians and officials at all three levels of government, the rivers were moved and parks and river walks built along them.
The riverfront and Waterplace Park could have been just another crumby, slapdash hodgepodge of individual projects, shoddy building materials, kickback scandals, and conventional design, but the vision of this one man led to something inspired and transcendent. Thank you William Warner.
WaterFire is the brainchild of artist Barnaby Evans What was conceived to have been a one-off performance piece is now a well-loved tradition on the Providence waterfront. It received an honor award from the Center in 2006. Evans and WaterFire International have created interpretations of WaterFire for a number of cities around the world, the first was in Houston, Texas to celebrate the opening of an early portion of the Buffalo Bayou park in 1998.
As it happens, we featured the Buffalo Bayou story in a recent blast LINK In another coincidence, WaterFire was set alight for two nights on the Tiber in 2013, from Ponte Sisto to Ponte Navona. See previous newsletter about the latest mural project of the group Tevereterno on the Plaza Tevere in that same area.
On May 28 we, along with Dick's daughter and granddaughter, found ourselves in Providence and at the invitation of Barnaby Evans, creator and artistic director of WaterFire, we found ourselves helped into one of the boats that weave their way around the braziers, were asked to pull on black tees and help light the fires. As we set off through the river and saw all the people lining the river edges, I could not help but shed tears thinking what Bill Warner had done for his city: embodying the best urban waterfronts have to offer, namely belief in the magic of water, the importance of a beautiful and a welcoming public realm enabling people to joyfully congregate. Indeed, the indelible experience will remain with me. And so I echo the sentiment: Thank you William Warner - and thenk you Barnaby Evans!
The boats loaded up with logs that will feed the fires along with captains and volunteer crew members.
Barnaby Evans welcoming everyone and giving direction.
A costumed performer lends a flavor of Venetian Carnivale.
The Flotilla sets out to weave their way among the braziers.
Crowds gather along the riverfront.
Co-director Dick Rigby lighting one of the braziers
Suddenly with music in the background, an unforgettable spectacle of water and fire!
Check out WaterFire's website for more information and the schedule of performances.
Saperstein's Celebrate Sixty Years!

Harriet and Al Saperstein recently joined their family and friends in Cape May, NJ to celebrate a special wedding anniversary. So we were lucky to have had a wonderful evening with them as they wound up their visit. Pictured below: Dick Rigby, Harriet, Ann Breen and Al.
Harriet and Ann met in 1978 at a conference in Hamilton, Ontario and have been friends ever since. Harriet devoted much of her career with the Detroit Department of Recreation to revitalizing the Riverfront there, raising many, many grants to help fund early park projects including Hart Plaza and Chene Park. Harriet has been a very loyal and active member of the Center's Board of Advisors, given numerous speeches at conferences over the years and undertaken consulting assignments.
Landscape Architecture Magazine June 2016 Issue
Features a 1993 Excellence on the Waterfront Winner

We were delighted to read a recent articles in LAM ("Still Here" by Jane Margolies, pp. 102-116) featuring the 30-year old South Cove in Battery Park City, a 1993 Honor award winner. From the outset, South Cove was a stunning yet intimate piece of waterfront. To quote from author Jane Margolies in the piece:
"South Cove - conceived at a time when the shoreline was a no-man's land - helped spark New York's rediscovery of its waterfront. It gave those who lived and worked in Manhattan a toehold on the river. It pioneered technical innovations and design features that influenced the development of parks and waterfront spaces up and down the Hudson and indeed all around New York."
During this era there was a movement afoot to make public artists integral to the design process. And so South Cove was a result of an interdisciplinary collaboration between landscape architect Susan Child of Child Associates, Boston, architect Stan Eckstut, Eckstut & Kuhn Associates, New York and New York public artist, Mary Miss.
Late May 2016 Newsletter
Houston's Buffalo Bayou
Glimpses of this Stunning Transformation
In 1999 - 17 years ago - Anne Olson, executive director to the Buffalo Bayou Partnership, hired The Waterfront Center to undertake some spot consulting. While they had accomplished the handsome Sesquicentennial Park and had a thriving cultural district nearby, the miles of the Bayou and its banks were overgrown, bleak and bedraggled. Only intrepid "river rats" would venture down. A few snapshots from the time show that this was less than a spectacular space.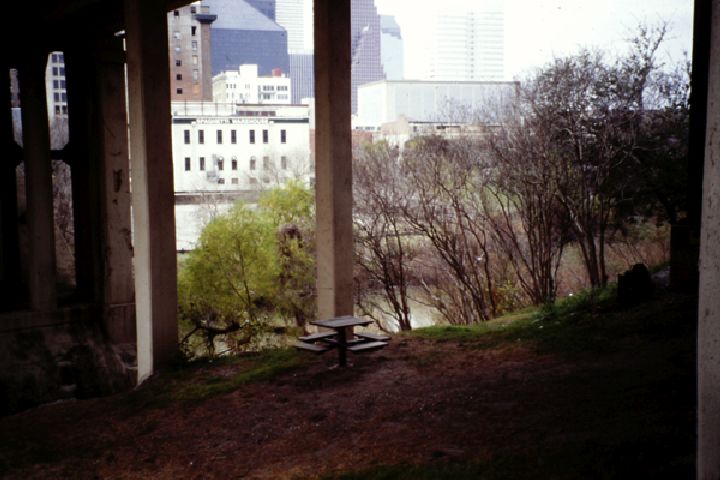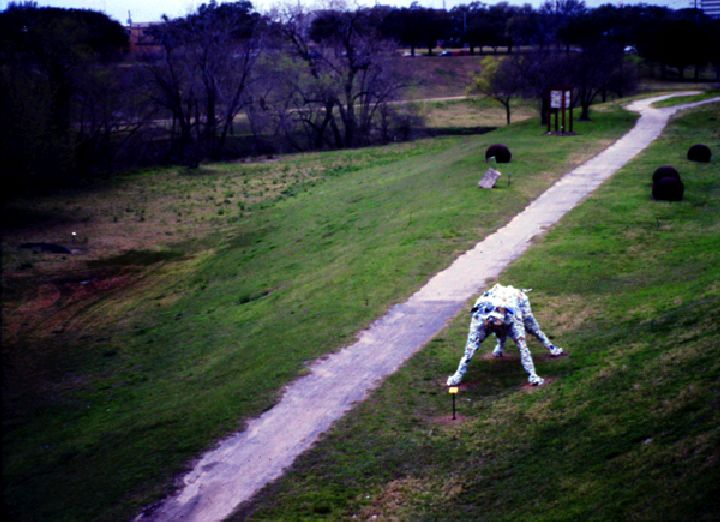 A rudimentary walking trail in place at the time
The Partnership subsequently commissioned a full-scale master plan, hiring the Thompson Design Group of Boston as their consultant. The landscape design was undertaken by the SWA Group of Houston.

A week ago, Center co-directors went to Houston to meet up with Jonathan Dann, the executive producer of our planned documentary: Waterfronts Reborn, to begin shooting the short trailer that will come first. Its case study will focus on the transformation of the Buffalo Bayou. See our home page for more details on Jonathan and the project. Anne Olson and her team were extremely helpful taking us all around to see what has been accomplished and help arrange logistics.

After our first day touring, we were amazed - to say the least - at the transformation. Buffalo Bayou is a stunning, nearly 10-mile, multi-acre piece of public realm running through the heart of Houston for its citizens to enjoy. The park is lush with vegetation; has lots of trails and pathways for multiple users; a variety of public art pieces; visitor centers, pedestrian bridges connecting both sides of the bayou; a dog park and nature areas.

The images below will give only a glimpse of what is to be seen. A subsequent newsletter will highlight the public art.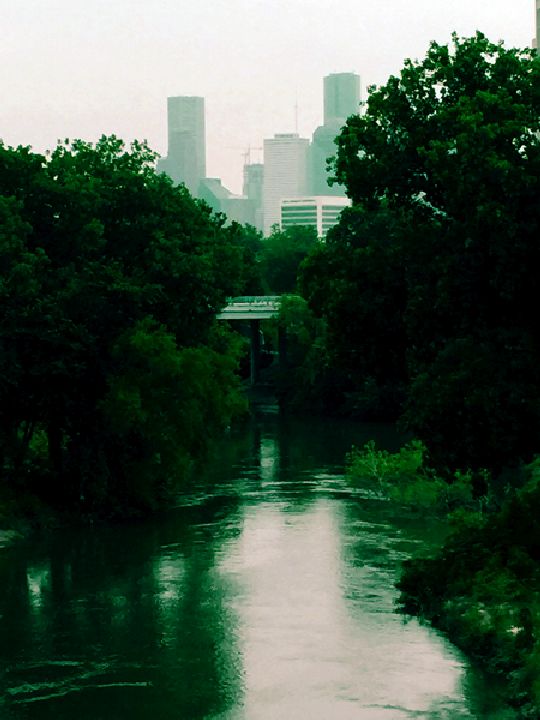 Buffalo's Bayou's lush green contrasts sharply with Houston's dramatic skyline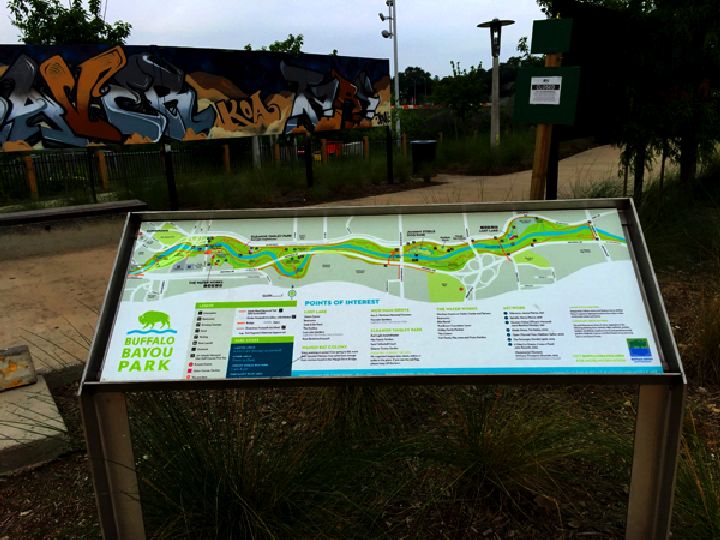 One of the many locational maps to be found throughout the park. This one near the Water Works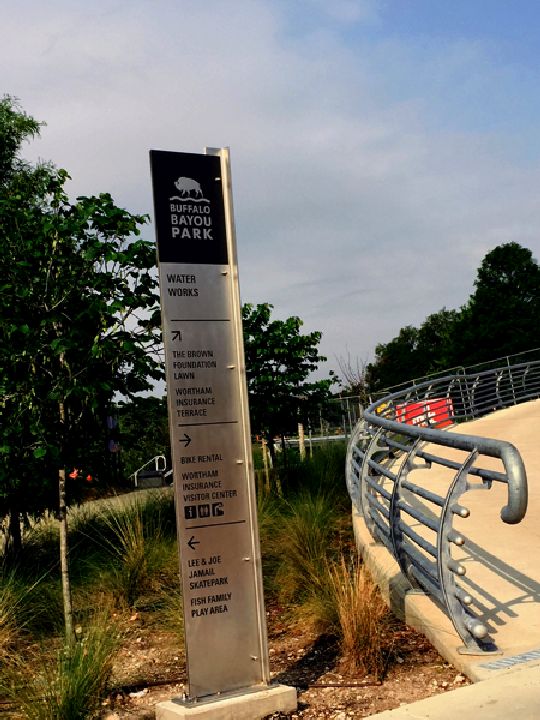 Directional sign near the access ramp that takes visitors up to the shaded porch on the second floor of the Wortham Insurance Visitor Center. Note the balustrade design carried out through most of the park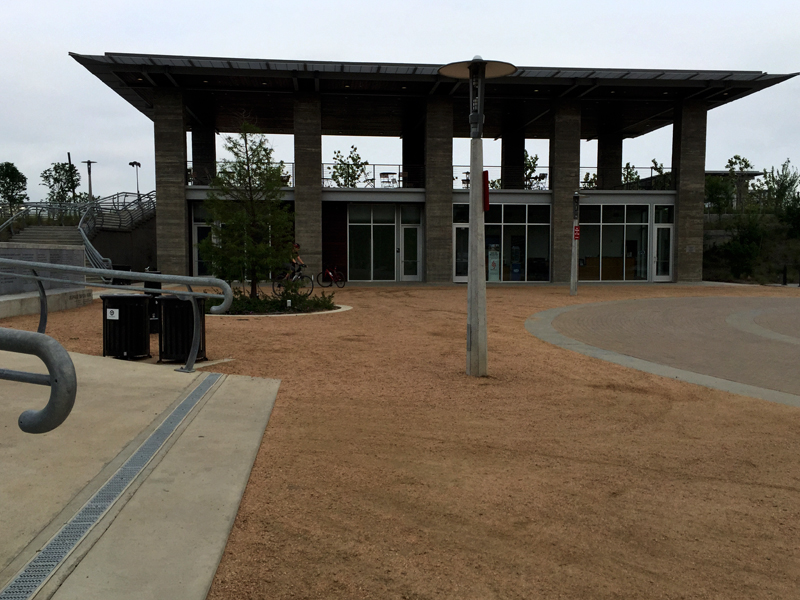 The Visitor Center houses rest rooms, information office and bike rental and was designed by Page Architects of Austin.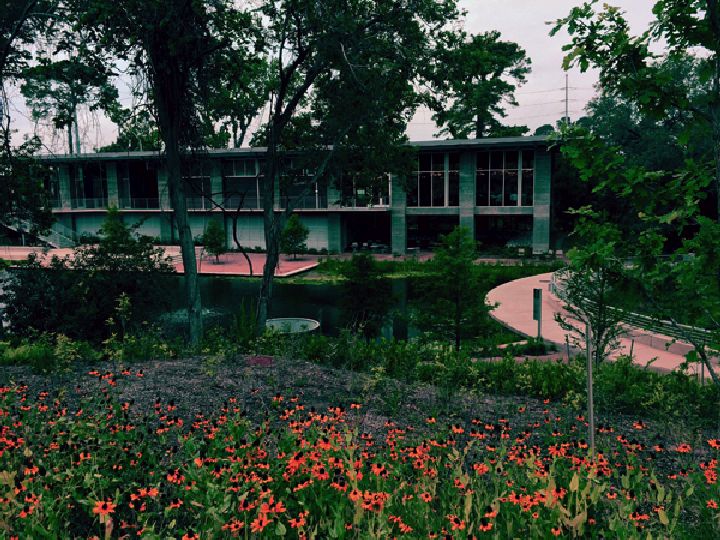 The Lost Lake with Visitor Center in the background and beautiful plantings in the foreground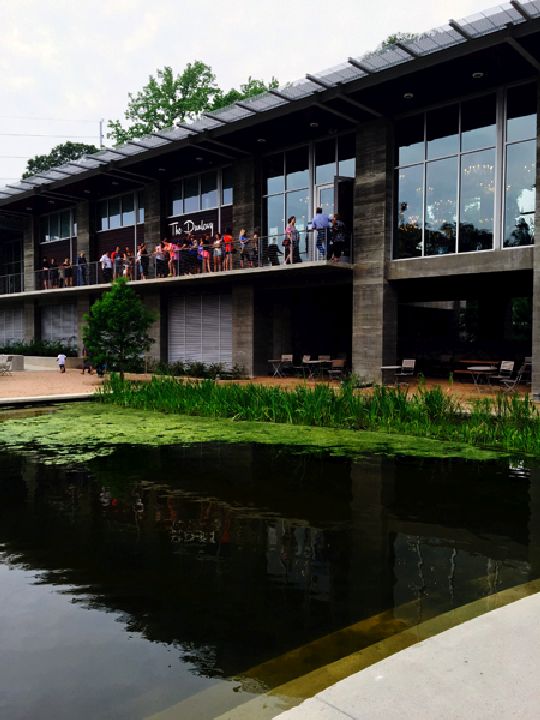 The Lost Lake Visitor Center houses a restrooms, paddle boat rental and the popular Dunlavy - a fun spot where we enjoyed lunch with Anne Olson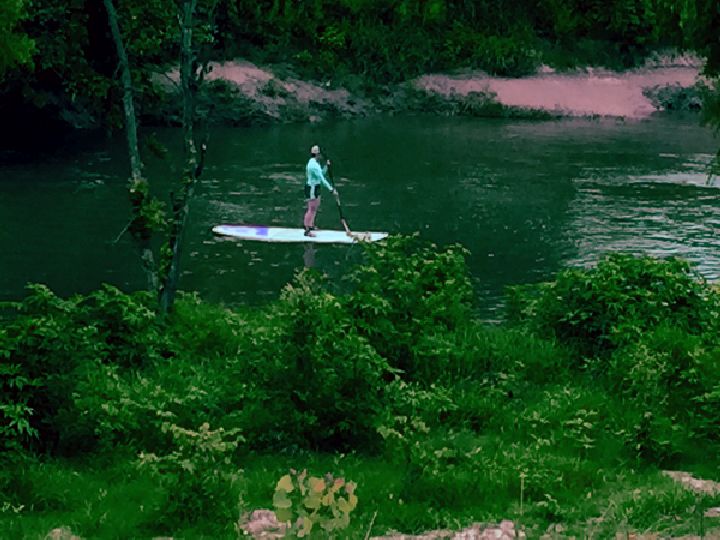 Boating on the Bayou - a popular pastime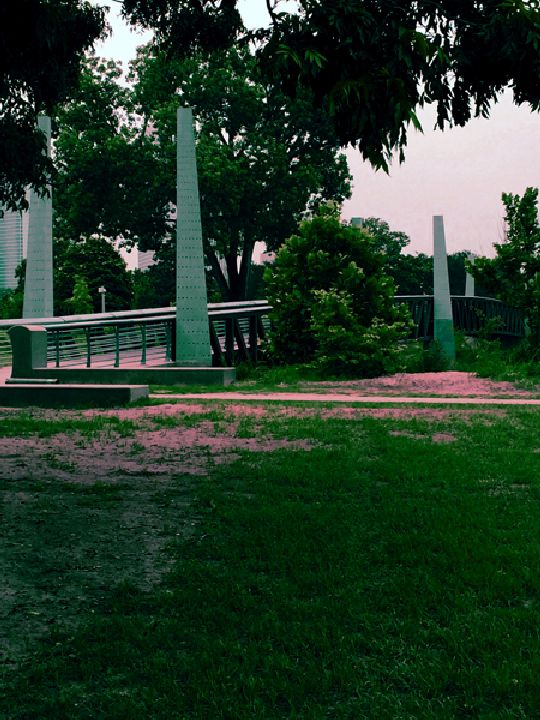 One of the pedestrian crossings popular with cyclists, joggers and walkers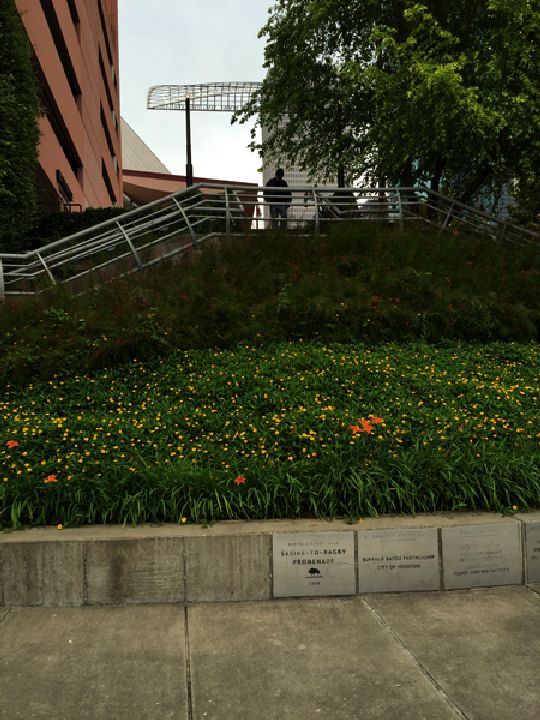 One of the major park entrances - this one to the Sabine Promenade. A glimpse of local artist John Rummel's stainless steel boat sculptures can be seen at the top of the stairs. Several versions of the boat sculptures welcome visitors at park entrances throughout the park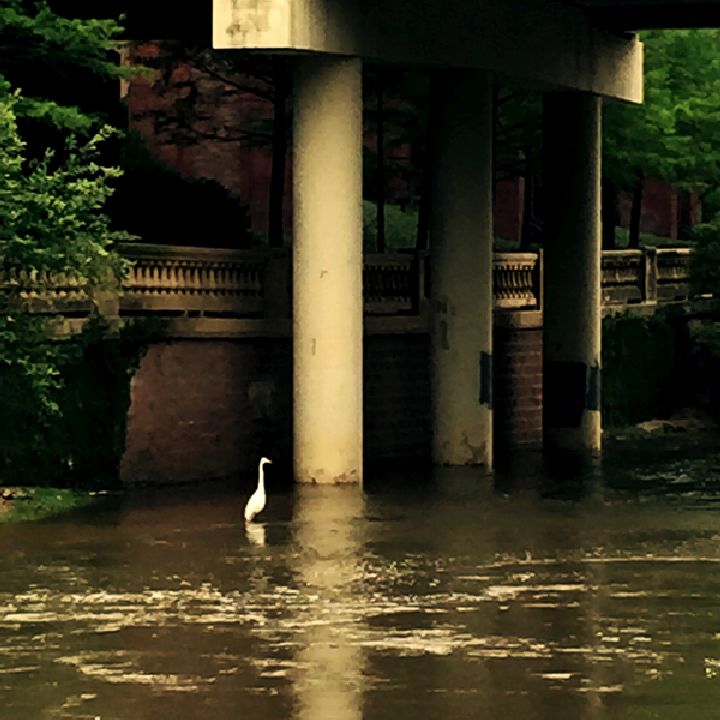 Sighting of a heron near Sesquicentennial Park. Birds, ducks, butterflies, and dragonflies are among delights to be spotted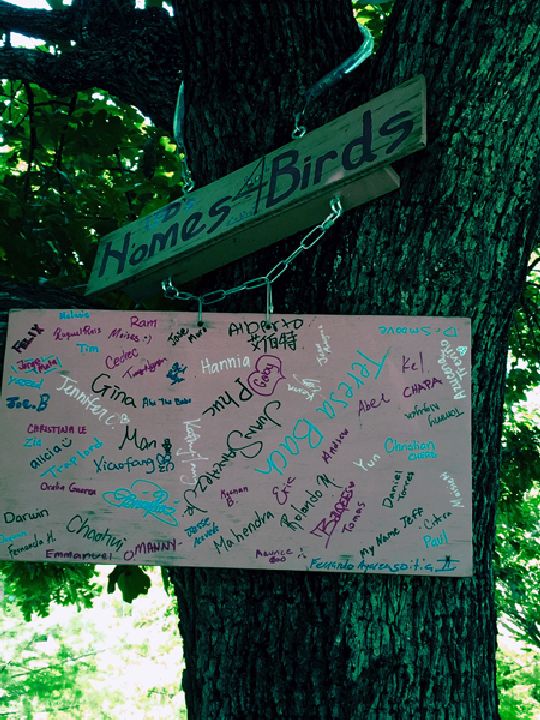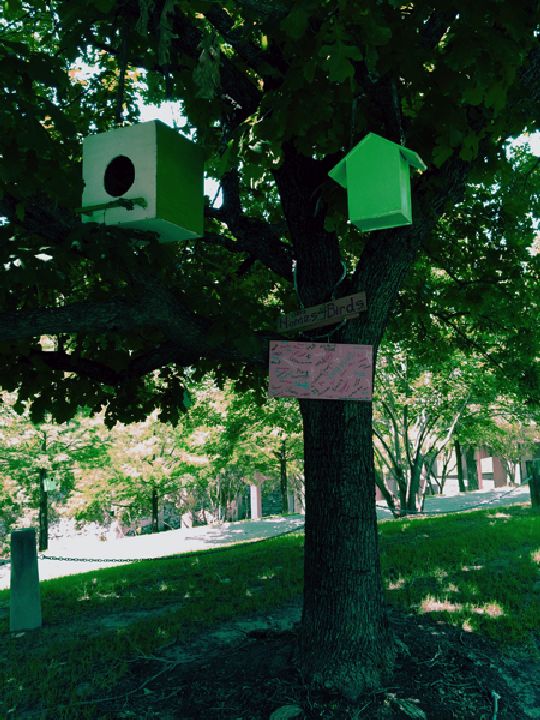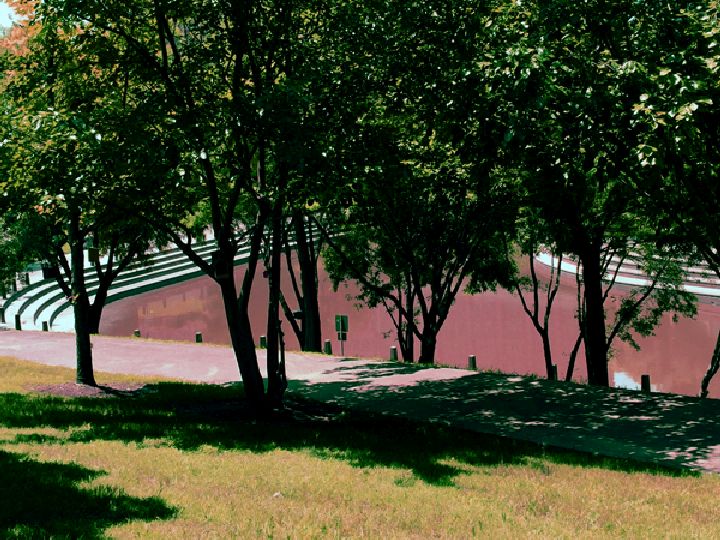 A fun discovery was this homemade sign accompanying the handcrafted birdhouses made by students of the University of Houston Downtown situated close by on the Bayou. Quite a number of them were found dangling in the grove of trees close to bayou and the University
May 2016 Newsletter
Excellence on the Waterfront Awards Program
Deadline for 2016 Submittals: July 1, 2016
Visit here for program details and entry form.
A Monumental Mural along the Tiber

In early October we shared images of our walk along the Tiber in an e-blast where we noted the graffiti and signs of neglect that we
observed. Sadly this historic riverfront has long been overlooked. But recent developments bode very well for the future. Artist Kristin Jones and creative group of people have founded an organization Tevereterno that plans to reinvigorate this ancient waterfront. They have adopted an area, Piazza Tevere, located between Ponte Sisto and Ponte Mazzini to be the site for artistic and cultural happenings to focus awareness on the river.
To quote from an article by Corielia Lauf: "To call Kristin Jones stubborn is an understatement. A decade ago, the American artist carpet-bombed Rome with plans for a frieze of monumental figures to be executed on the walls of the Tiber, with a novel technique of water-based dirt removal over stencil, leaving the silhouettes shining through the cleaned surface lines. She succeeded, and with a mix of grit and optimism, began a long campaign to salvage the Tiber banks, an area prone to human degradation and the frequent rise of this mythic but polluted river. Her figures were inaugurated with a party and procession, and thus was born a public art space on the Tiber." The group now has a 19-year lease on the piazza.
Tevereterno's latest accomplishment is artist William Kentridge's impressive 1,640-foot-long mural "Triumphs and Laments," that features a procession of 80 silhouetted figures from mythology, history and modern times. It so happened that our friend, art historian Richard Spear was in Rome for the celebration and agreed to let us share his photos with you. For more detailed information: Cornelia Lauf: "Locating William Kentridge's Massive Mural in the Roman Landscape" and Elizabeth Povoledo's article in the New York Times (April 26, 2016) " A Roman Legion of Volunteers Retakes the Tiber.".
If your travels take you to Rome by all means, descend one of the many steep stairways to experience this extraordinary public artwork. We sure would. Who knows you might run into a happening as well.
photo credit Richard Spearh
photo credit Richard Spearh
photo credit Richard Spearh
photo credit Richard Spearh
photo credit Richard Spearh
photo credit Richard Spearh
photo credit Richard Spearh
photo credit Richard Spearh
Late April 2016 Newsletter
Excellence on the Waterfront – Ten Reasons to Enter!
Get your waterfront project/plan worldwide recognition!
The winning entrant and their project or plan:
• are announced at a ceremony in Washington, D.C. on October 21, 2016, attended by practitioners like yourself;
• are asked to give a short presentation of your undertaking, with images;
• are celebrated at a champagne reception that follows;
• are treated to a gala dinner in a private room for winners, jurors and past winners;
• are included in a special illustrated 16-page booklet that you receive with your certificate;
• are featured on the Center's website showing images of the ceremonies and the winners accepting their awards, and
• are also included on the Center website's interactive database that will soon depict the nearly 400 + projects that have won awards since 1987 – a unique resource freely available to anyone interested.
Your award is then announced to the following:
• The Center's press list of 600+,
• An e-mail list numbering in the thousands,
and included in a special e-blast devoted to the 2016 Excellence on the Waterfront award winners.
Entering is simple: a two-page narrative that addresses judging criteria and 20 images. That is all that is required! Additional information such as articles, endorsement by local officials, additional photos are welcome, provided they fit into a three-ring binder. Full details here and entry form here on our Web site.

DEADLINE: POSTMARKED BY JULY 1, 2016!

An interdisciplinary jury of varied geography and city sizes will convene in Cape May, N.J., in July. They will spend a full day-and-half reviewing the entries and selecting a limited number of winners. In most years, a Top Honor project and Top Honor plan are picked.
As the saying goes, you've got to take part to win!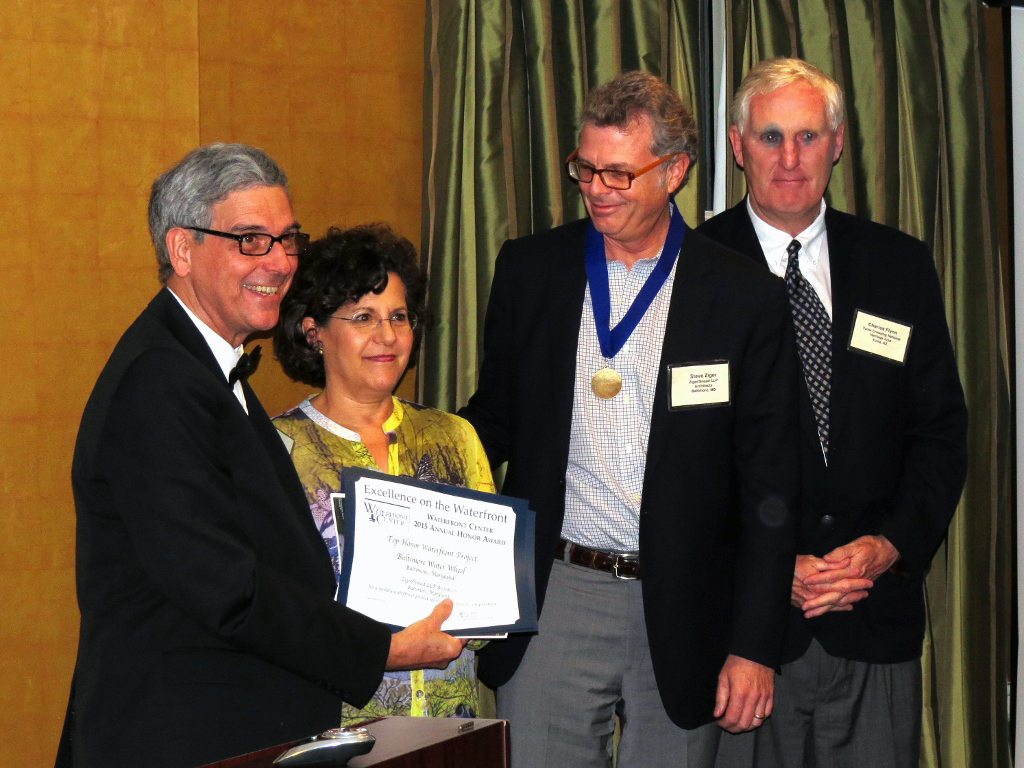 left to right: Jeff Parks, ArtsQuest Foundation, Bethlehem, Pennsylvania, the 2015 Jury Chair presenting the top honor award to Laurie Schwartz,
Waterfront Partnership of Baltimore and Steve Ziger, Ziger Snead both of Baltimore for the Water Wheel. Looking on is Charles Flynn,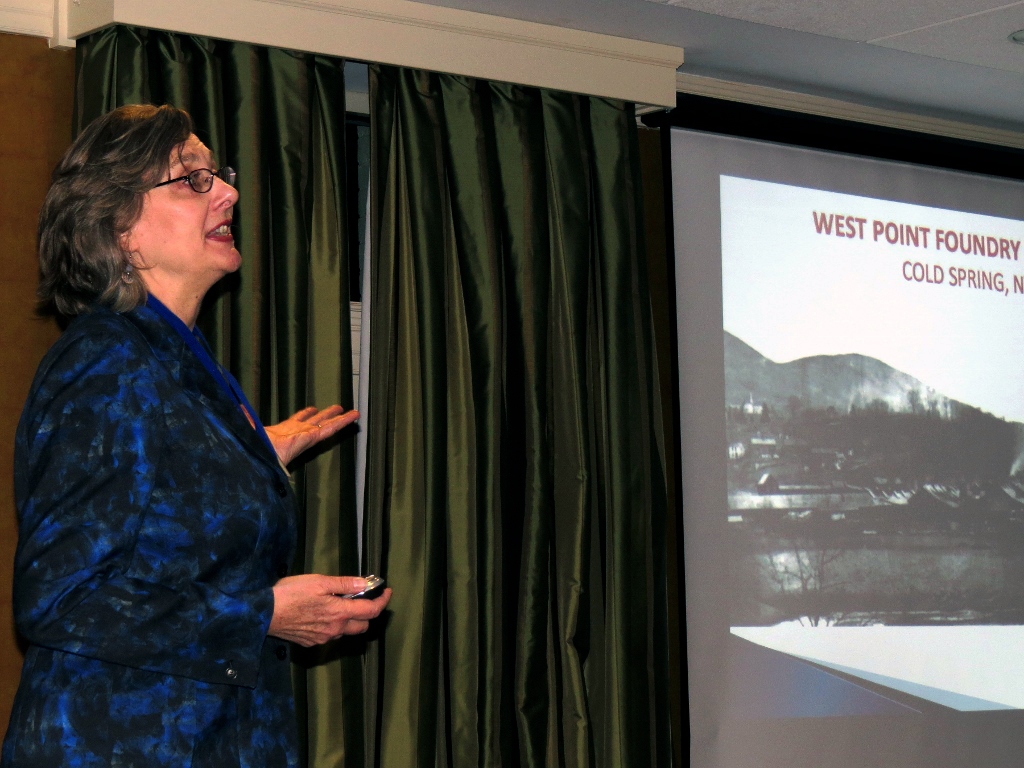 Landscape architect, Kim Mathews, Mathews Nielsen, New York, who received a 2015 honor award
for West Point Foundry Park making a presentation to the assembled attendees.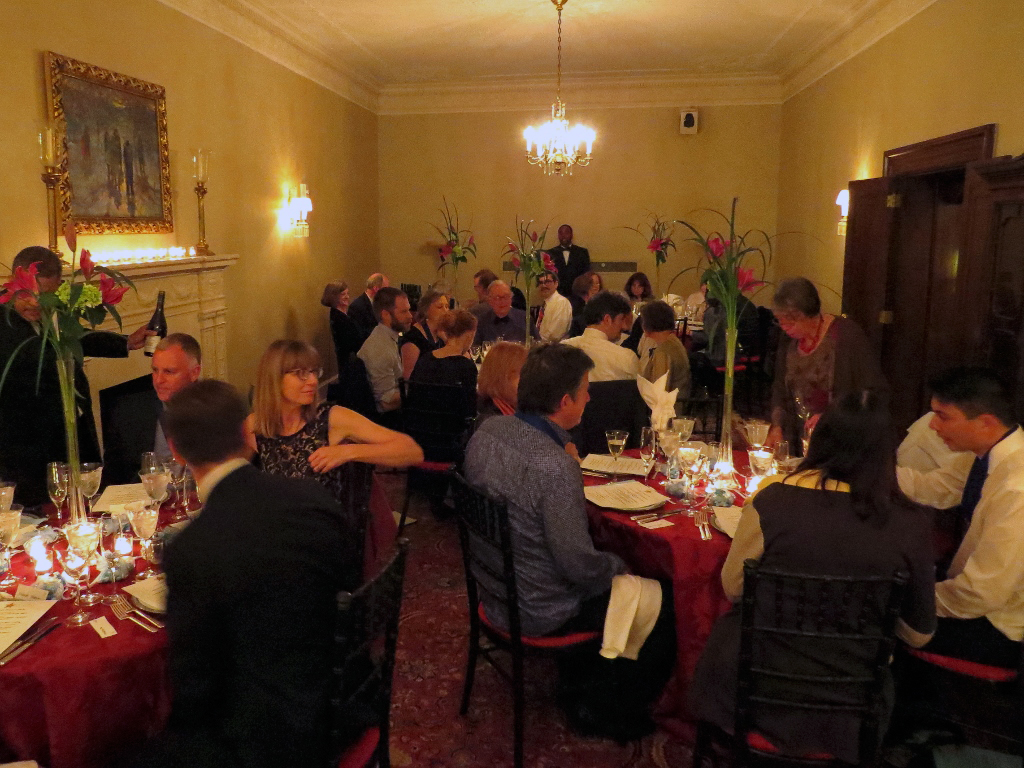 Winners being feted at the 2015 Gala Dinner in their Honor.

April 2016 Newsletter
Peter Stanford 1927 - 2016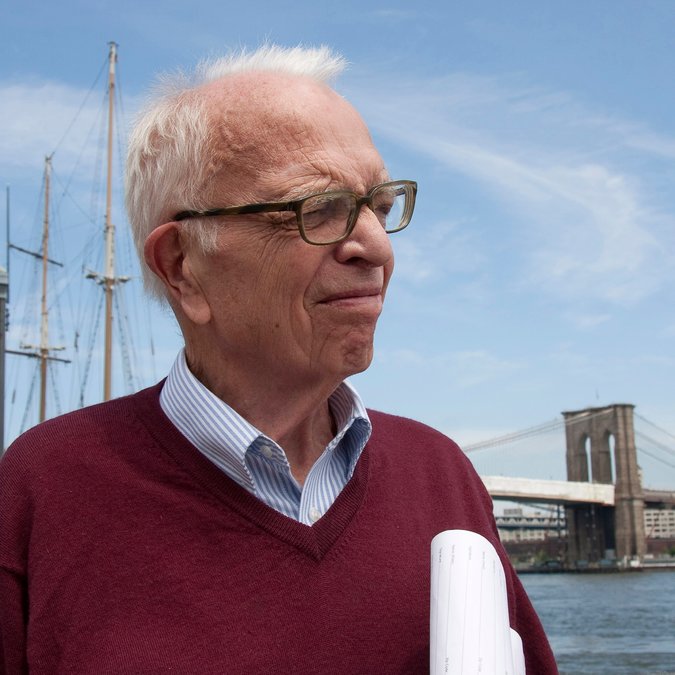 Peter Stanford
Norma and Peter Stanford
We were saddened to hear of the death of Peter Stanford, a stalwart of the maritime preservation world, on March 24 at the age of 89. We were privileged to know this visionary, courageous person. He dedicated his life to historic vessels and the maritime preservation field. He was one of their leading lights. See the New York Times obituary. Among his significant accomplishments, along with his wife, Norma, was founding the South Street Seaport Museum; championing the effort to save the South Street Seaport District;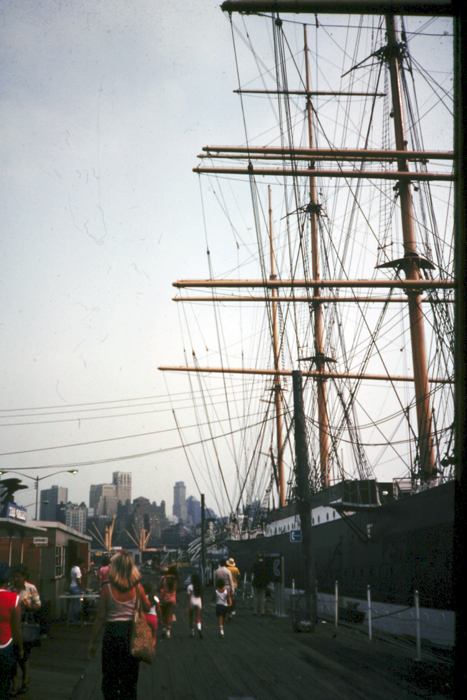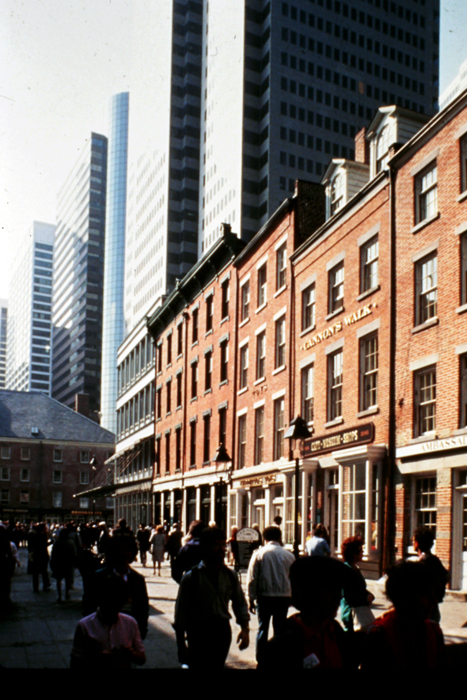 Historic Vessel Docked at one of the piers Some of the historic fabric found in the Seaport precinct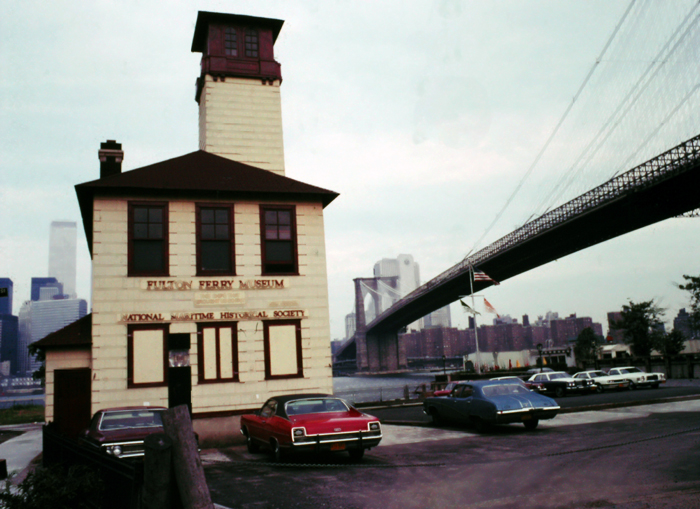 Peter Stanford co-founded the National Maritime Historical Society
He was co-founder of the National Maritime Historical Society, their headquarters were first located at Fulton Ferry Landing -- not far from Olga Bloom's Bargemusic; and oversaw their publication, Sea History. he was known for sleuthing, finding and rescuing battered historic vessels and transforming them into visitor attractions; working with disadvantaged youth teaching them maritime skills; instrumental in founding the World's Ships Trust and co-founder Operation Sail 1976 - the breath-taking event that brought tens of thousands to waterfronts up and down the east coast - treating them to the magnificent parades of sail but also first hand glimpses of the nascent waterfront redevelopment phenomenon.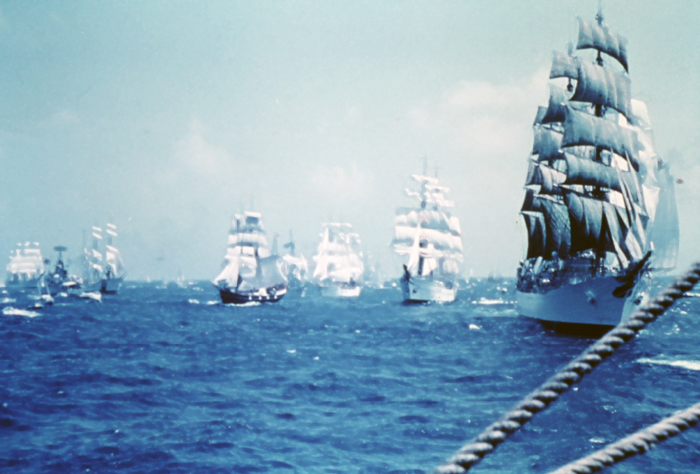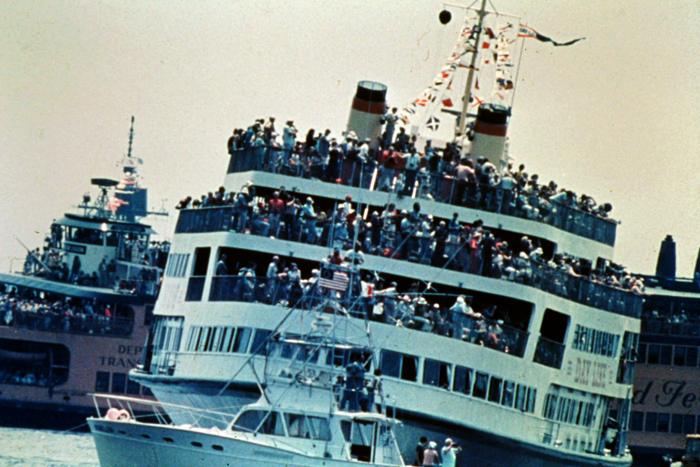 The Spectacular Parade of Sail in New York Harbor during OpSail '76 People jammed onto one of the many boats from which to get a closer look
Readers of this newsletter may recall we reviewed he and Norma's book, "A Dream of Tall Ships," that can be found on our website.
The Center was actively involved with many members of the maritime preservation community in our early years and we did a lot of networking with Peter. In 1984, we conducted a workshop, where Peter was a major speaker and moderator at two sessions devoted to the subject. We enjoyed attending a number of his meetings. He was a great leader, a dynamic and forthright speaker and a wonderful, unique character in every sense of the word. The maritime community globally will miss him.
2016 Excellence on the Waterfront Awards
We are pleased to announce our 29th interdisciplinary jury who will convene in Cape May, New Jersey in late July. As always, we are grateful for these individuals to volunteer to give of their time and talent.
Charles Flynn, executive director, Yuma Crossing National Heritage Area, Yuma, Arizona, jury chair
Kim Mathews, principal, Mathews Nielsen Landscape Archtiects, P.C., New York, New York
Werner Plessl, executive director, Hamilton Waterfront Trust, Hamilton, Ontario Canada
Mason Sears, president, SF Marina Systems, USA, Portland, Maine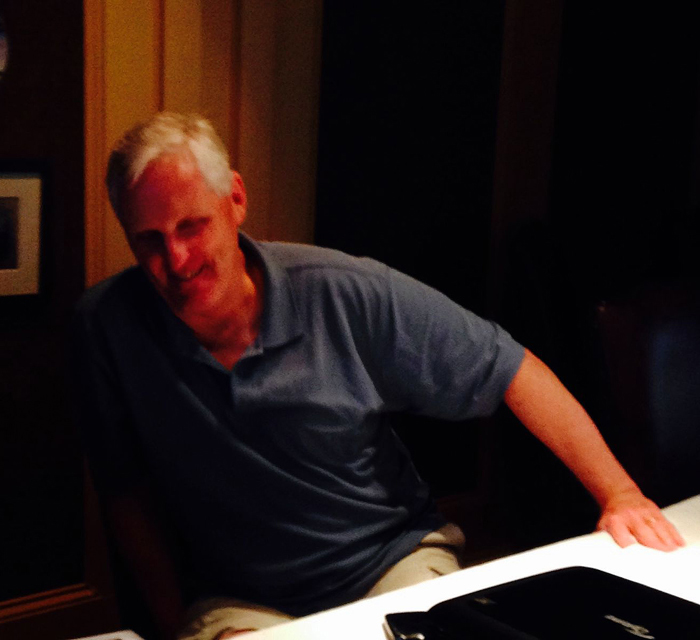 Charley Flynn, jury chair, pictured here served on the 2015 panel
Reminder: Deadline for submittals is July 1, 2016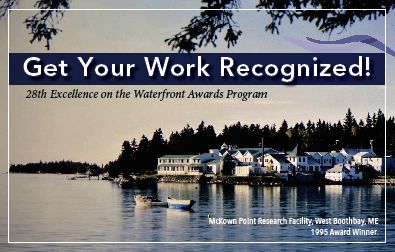 Save the Date: October 21, 2016
Awards Event Expanded, Washington, D.C.
The 29th Annual Excellence on the Waterfront Awards Ceremony will be expanded to include a half-day mini- meeting. We will announce the winners in August and plan to have each winner, as they able to attend, make a 20-minute presentation on their award-winning work. This builds on last year's experiment with much shorter presentations. This new format we think will make for an exciting afternoon. Stay tuned to the website for further information on registration. The Ceremony will be followed by a reception as usual and an optional gala dinner celebrating not only the 2016 winners but the 35th Anniversary of the Waterfront Center.
The Excellence on the Waterfront Interactive Database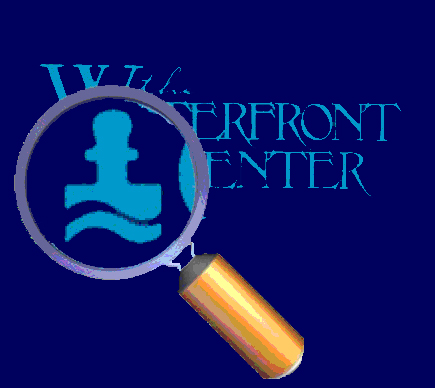 February 2016 Newsletter

Sylvia McLaughlin
We received news that the legendary Bay Area activist died earlier this year at the age of 99. Sylvia who received a Clearwater award in 2002 and was a familiar face at a number of our annual conferences. She also served as an Excellence on the Waterfront juror in 2004. Sylvia is pictured below at our 24th annual conference in Portland, Oregon along with a delegation from Kitakyushu, Japan who were receiving a Clearwater award given to the Tobata Women's Association for their inspirational: Women's Quiet Battle for Blue Sky and Clear Water.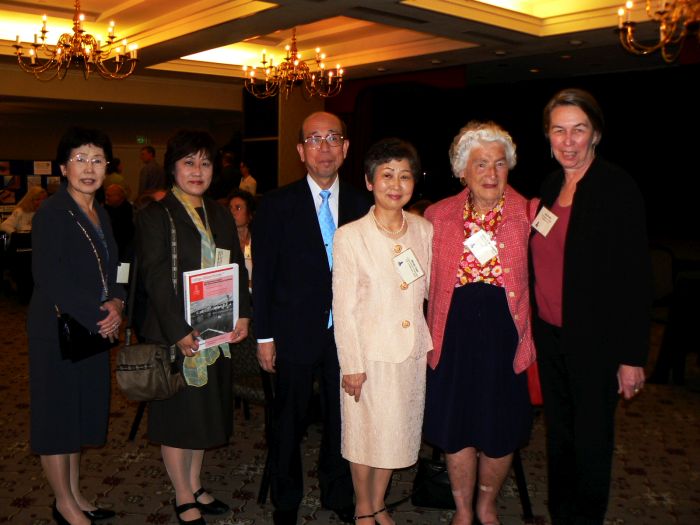 left to right: Mituko Izaki, Tobata Women's Association, Miyoko Morofugi, Waterfront Environment,
Honorable and Mrs. Koichi Sueyoshi, Kitakyushu, Japan, Sylvia McLaughlin and Ann Breen.
She and her colleagues were credited with saving the San Francisco Bay and helping to gain passage of the legislation that led to the Bay Area Conservation and Development Commission. She was very supportive of the Center and we are grateful to her for her advice. We will all miss her.
Excellence on the Waterfront Awards Deadline and Ceremony
This year's deadline for submittals is July 1, 2016. Details on the program and registration forms can be found on our website here.

The announcement and presentation of the awards will take place on October 21, 2016 at The Churchill Hotel in Washington, D.C. This year's event will be more like a half-day conference. Registration will begin at 1:30. After accepting their award each winner will give a 20-minute presentation about their project or plan. A reception honoring the winners will follow at 6:00. The optional gala dinner will top the evening off. Details will be found on the website in March.
Excellence on the Waterfront Interactive Database
Thanks to Stewart McKenzie, we are well over half way to installing all of the Center's awards made since 1987!. We urge you to try using it! For example you can type in Sylvia McLlaughlin, Oakland or Kitakyushu and you will see what's there about those Clearwater awards.
Jack London Square, Oakland
Last summer we were visiting Oakland and took the occasion to re-visit Jack London Square, one of the true pioneers in the waterfront redevelopment phenomenon. This mixed use commercial work undertaken by the Port of Oakland was formally dedicated in 1951 and needless to say has changed over time.*

We have been to Oakland and Jack London Square on a number of occasions over the last 30 or so years --including conducting a community workshop there in 1995 and holding our annual conference in there in 2000. Sandy Threlfall of Waterfront Action won a Clearwater award for the Junior League Study cited below as well as for an interactive map project spearheaded the local committee.

Our impression from many years ago was of an isolated, rather sterile environment, due in no small part that an active rail that separated the area from the city, plus its distance to the core of Oakland. However, the iconic container cranes that inspired George Lucas (Star Wars) have lent real drama close the scene for many years.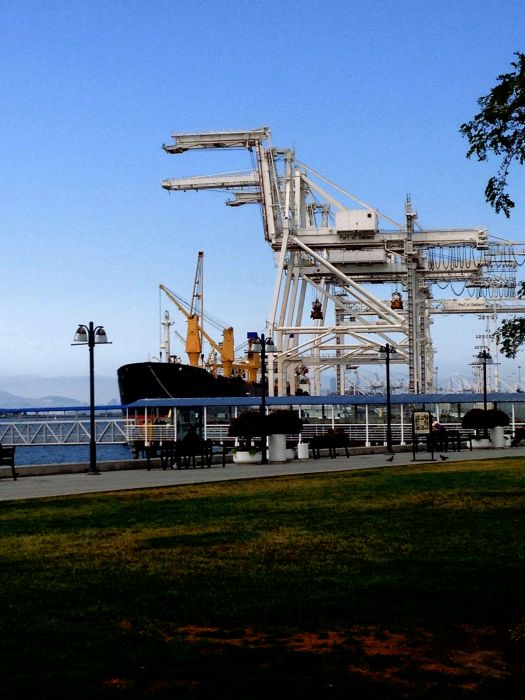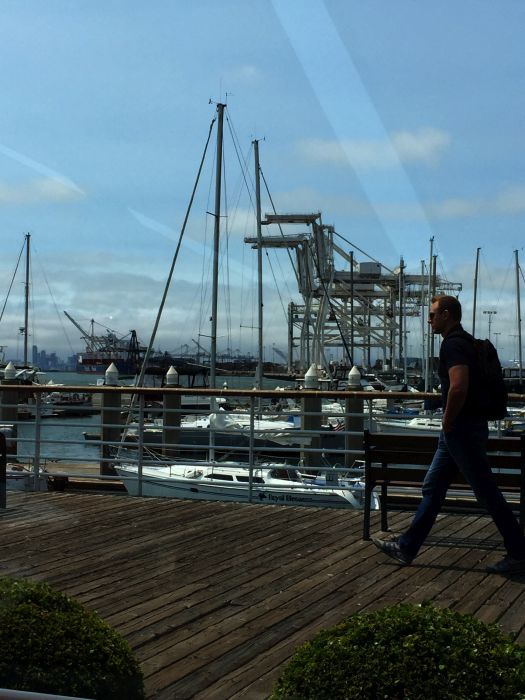 The current atmosphere of Jack London Square is vastly different. The cafe and restaurant scene is bustling, lots of boating and marinas, waterfront walkways, two hotels, a busy outdoor market, tons of events, shopping and entertainment and a very attractive and colorful streetscape, along with public art. Also there is a shuttle bus that takes you to the downtown and ferry service to Fisherman's Wharf in San Francisco and Alameda, increasing accessibility. Below we offer snapshots from the present with a few from the past.

You can't not go to the Heinhold's First and Last Chance opened in the 1880's - if you can squeeze in. First visit there was only the indoor option. Today you can sit outdoors increasing the options.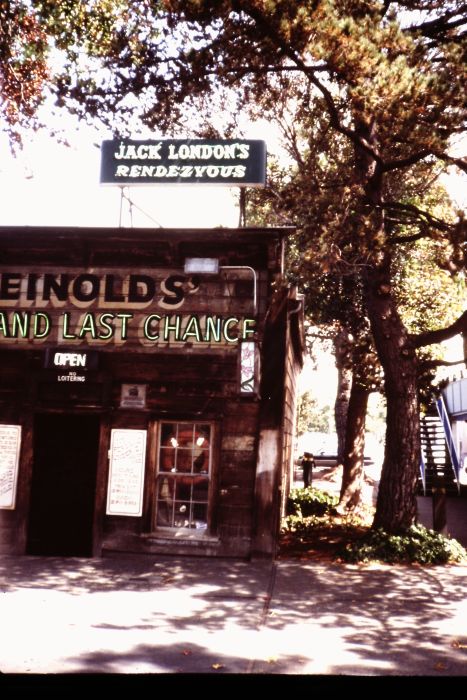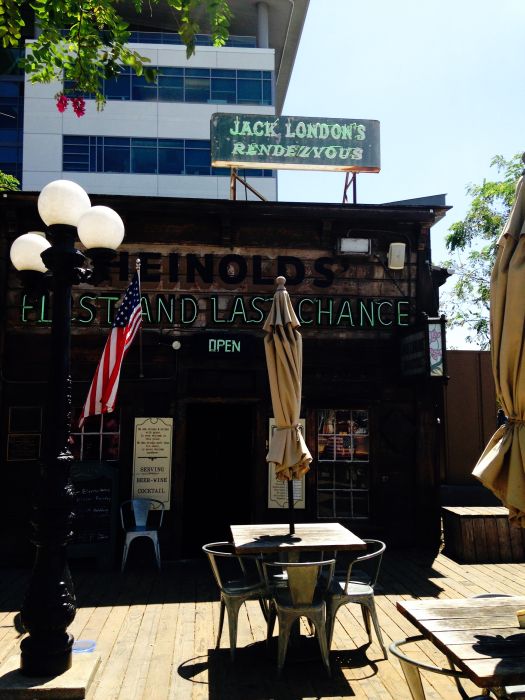 The outdoor cafe scene is greatly expanded and enhanced.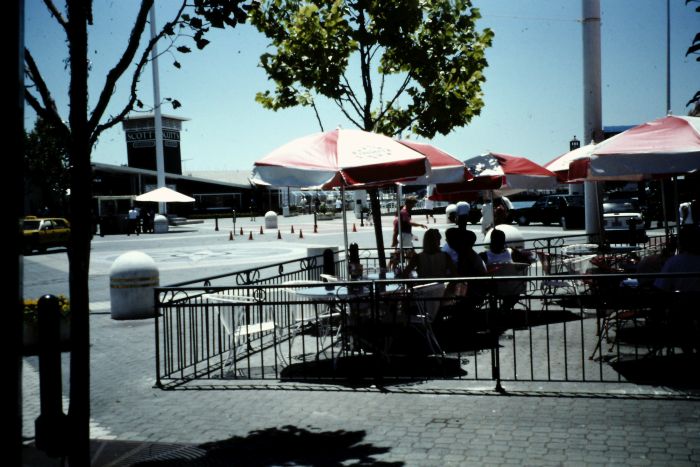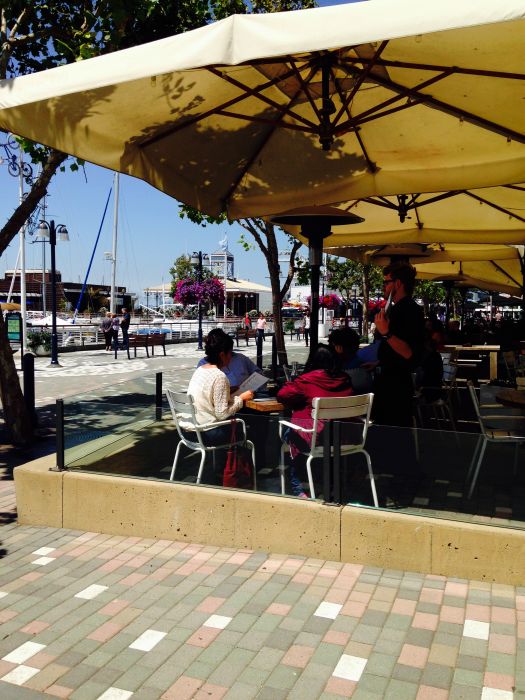 The Public Marina on the waterfront offers fuel, showers, berths/tie-ups, showers and an attractive public restroom on the ground floor. These sorts of facilities are often less than attractive which makes this a standout. The restroom is also convenient for walking or biking the Bay Trail which runs along most of the edge of the waterfront here.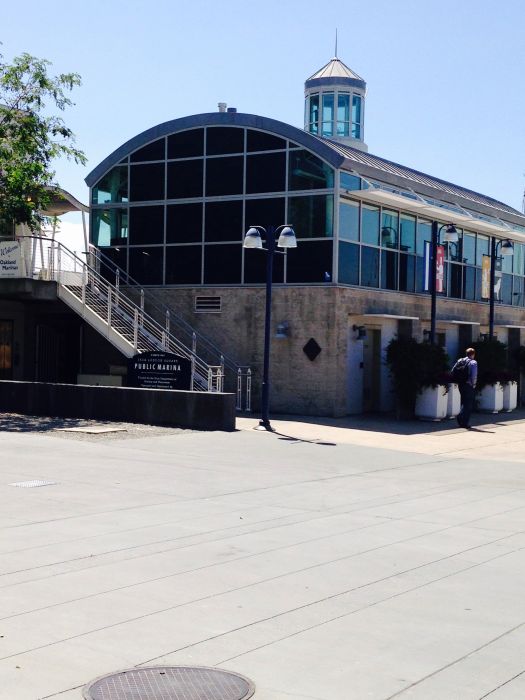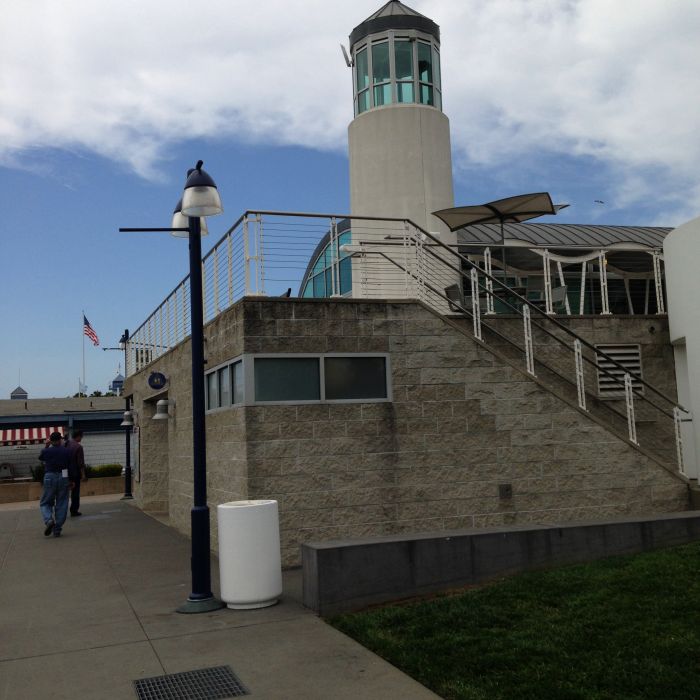 We would say the improvements in the public realm have played a major role in re-invigorating the now 61-year-old Jack London Square. No dowdy dowager this. Flower Power! Kudos to the maintenance staff. Note the bicycles climbing up the street lights!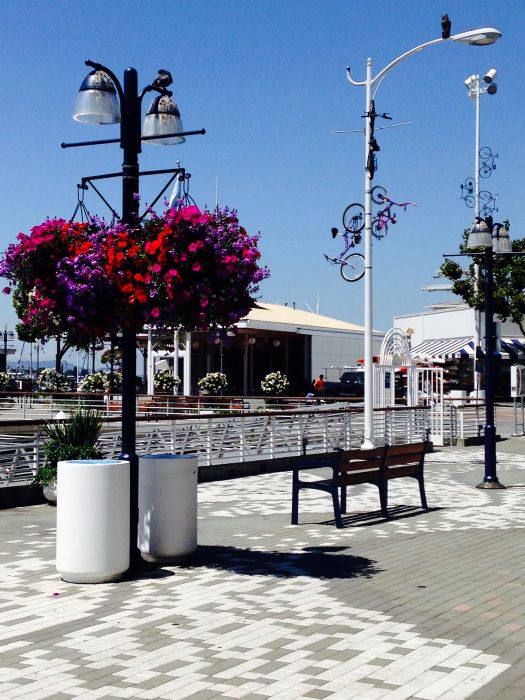 *References: Arthur Cotton Moore et. al. : Bright Breathing Edges of City Life. 1971 and The Waterfront: A Study Report of the League of Women Voters of Oakland. 1993
January 2016 Newsletter
2016 Excellence on the Waterfront Awards Program
Deadline for Submittals is July 1, 2016 (postmark). Details and application forms are up on our website here.

SAVE THE DATE: 2016 Awards Ceremony, Reception and Gala Dinner: October 21, 2016, Washington, D.C. Details on the program and social events to follow.
Regent's Canal - A Wintry Stroll
London's Regents Canal, once an industrial workhorse, has undergone a major transformation. Thirty or so years ago it was little more than a towpath, where anglers set up their stools, bikers and walkers used it but not in huge numbers. It was slightly unkempt with butterfly bushes, wildflowers and weeds along the banks where narrow boats tied up. Things have been gradually changing and in December when we ventured from King's Cross Station down to the canal, we came across offices, housing, cafes, restaurants and a very popular walking/biking trail. Below are some images we wanted to share as the sun was beginning to set around 2:00 in the afternoon. It was the only sunny day we had in two weeks in England! Visit here for more information and very sunny photos!

One of the sights was a first for us: a book barge, "Word on the Water." It is moored at the base of amphitheater-style seating so one can imagine performances that may be held at the base of the steps. We wished we weren't on a schedule so we could have had a look inside!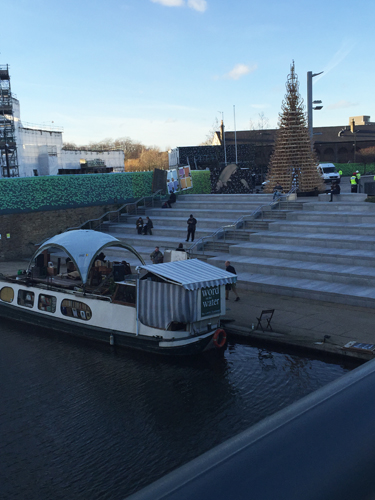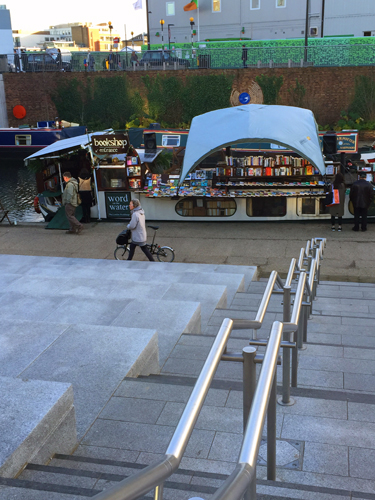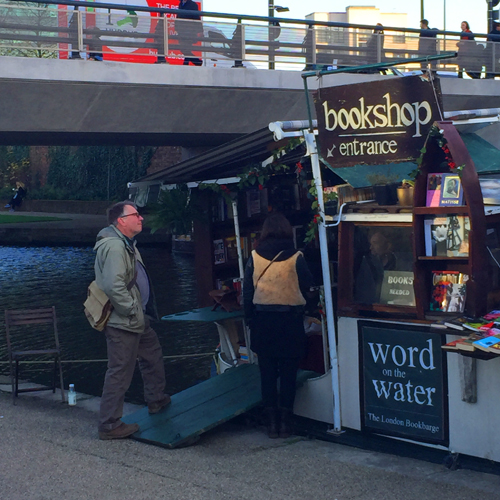 Public art enthusiasts won't be disappointed as evident from the big and little fish we discovered as well as this sweet "shhhhh" poem.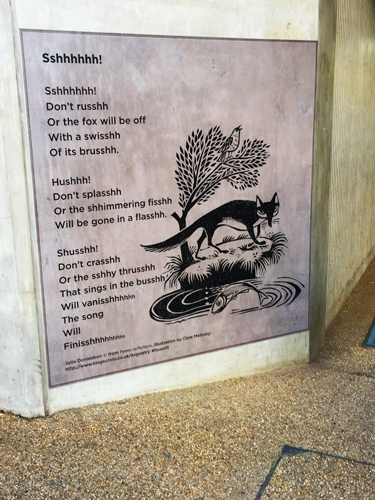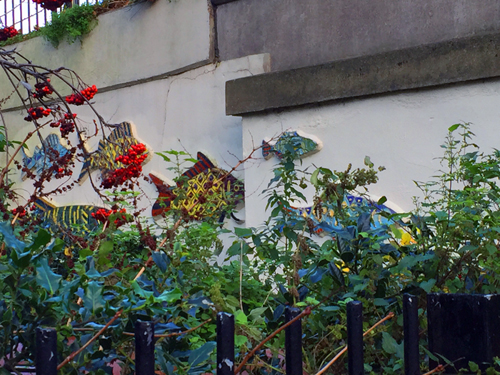 One of the great features of this 9-mile canal is its abundant flora and fauna aptly described on an illustrated interpretive sign. We were lucky to come across the real thing when these swans and birds came into view. Further along was another sign explaining floating wetlands.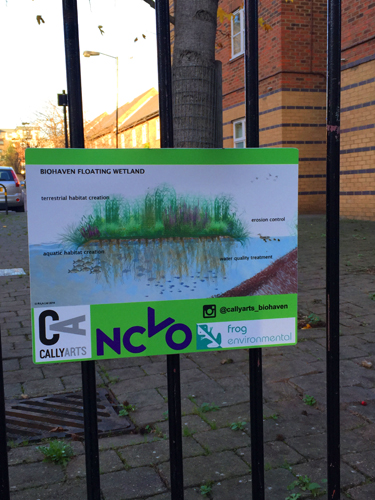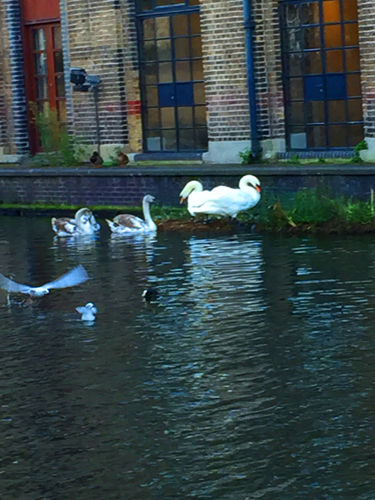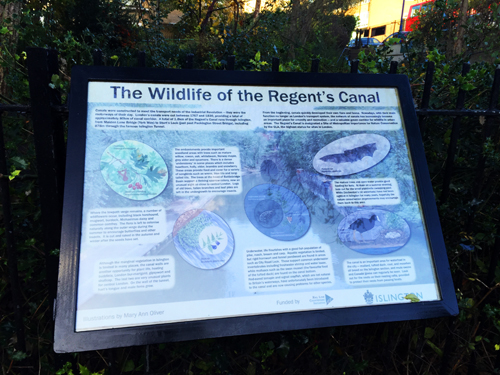 The images below give you an idea of the built environment -- from spanking new offices/apartments, to renovated older buildings and infill. Have no clue about the Roman columns -- historical reference or maybe an Italian restaurant in the works. We could not get close. Plus, you spot the typical and often very colorful narrowboats that enliven the scene.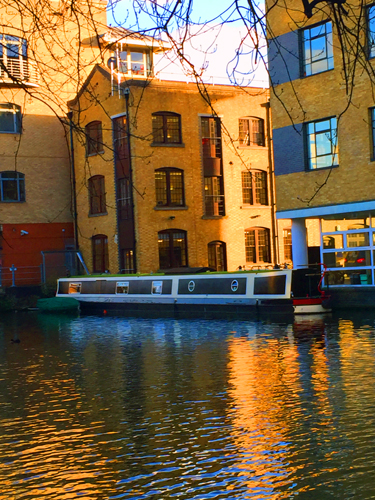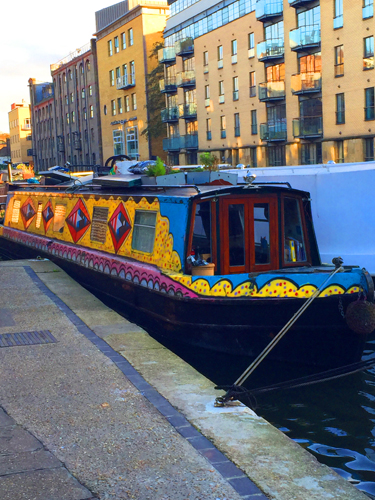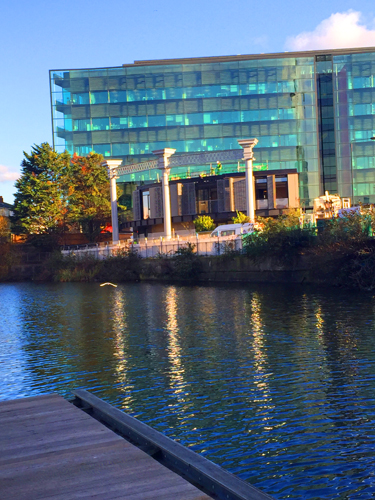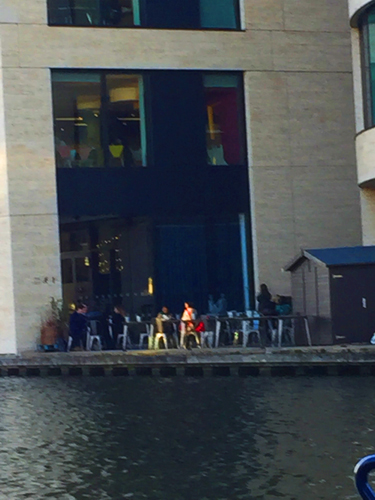 Our meander was interrupted by the Islington Tunnel where we had to exit and save further sections for another trip. Dick seen examining the helpful way-finding signage.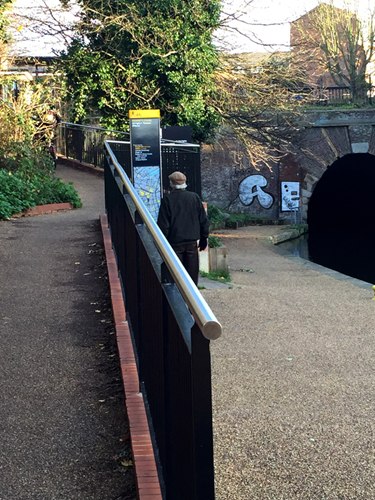 Late October 2015 Newsletter
Countdown to 28th Awards Ceremony
Awards ceremony and reception, Friday, November 6, 2015
The Churchill Hotel, Washington, DC
Awards Gala Dinner Friday, November 6, 2015
2101 Connecticut Avenue, Washington, DC


SteelStacks, Bethlehem, Pennsylvania - An Oh WOW Story!

Bethlehem Steel was one of the industrial giants of the 20th Century. Jeff Parks, then director of a nascent music festival, knew Bethlehem's future depended on more than the steel plant which closed in 1995. The year before Jeff invited Ann Breen to come to Bethlehem to make a presentation and she took the picture of the plant below from across the Lehigh River.
Some 20 years later, Jeff, now retired executive of ArtsQuest, invited Ann and Dick Rigby to collaborate on a project in nearby Allentown. This gave them the golden opportunity to finally see the spectacular SteelStacks Jeff had shown in his presentation at Urban Waterfronts 27 in Seattle.These colossal ironworks could have been left to in ruins are now the iconic centerpiece of an 11-acre arts campus that opened in 2011. Over a million visitors have enjoyed over 1,750 performances of all kinds in the various venues. The Musikfest has grown up and is the largest free music event in the country. While SteelStacks today is not technically a waterfront project per se, it is so fabulous, we had to share this story with you and encourage you to visit ArtsQuest web site to get more information and imagery. Below are some photos to give you a taste of the visit to help you appreciate Ann and Dick's enthusiasm for this remarkable achievement.

Dick Rigby and Jeff Parks, founder of ArtsQuest and now with ArtsQuest Foundation
examine one of the attractive interpretive signs about the blast furnaces.
YSteelStacks version of the 'high line' enables visitors to get up close with these incredible structures.
Talk about patina - every photographers dream
SteelStacks Visitor Center skillfully joins the old with the new. The interior houses numerous exhibits,
an area to watch film, a souvenir shop also houses ample restroom facilities used during the many events
ArtsQuest's handsome multipurpose center houses, performance spaces, 2 movie theaters,
food vending and function rooms.The orange steel balcony pays homage to steel. Orange
is the color of choice because Bethlehem steel was used in the construction of
San Francisco's Golden Gate Bridge.
This takes "Food Truck" to a new and different level - This food vending operation adjacent to the concert venue,
celebrates the history of Mack Trucks that were manufactured in the area for years.
New York's
Open to the Public after 127 Years!
We haven't mentioned waterfront restaurants since back in the day we had a print newsletter but this is certainly a special case. Anyone who has trooped around the tip of Manhattan has no doubt seen this once vacant historic pier structure jutting out into the harbor and wondered if anyone would ever fix it up. The building was slated to be demolished in the 1960s but lack of funding put that plan on hold.Thanks to our board member from Sydney, Di Talty, (pictured below) we learned that it had been rejuvenated, opened as a restaurant and we met there recently for a memorable lunch.
The 1884 building, placed on the National Register in 1975, has been restored - and beautifully so - into a fantastic eating/drinking emporium with drop-dead views of New York's harbor and the Statue of Liberty. Two long, long bars take up the first floor with raised table seating for pub food along the windows. The pier's apron is outfitted with picnic tables and umbrellas which must be very well-used in good weather. Historic maps, prints and memorabilia are displayed throughout. The second floor is devoted to fine dining and private events as well as two handsome bars at either end. One can get a very clear view of the Merchant Mariner Memorial pictured below. So, if you are down Battery way, stop in for a beer and oysters downstairs or wine and dine upstairs in style. Visit:
www.pier.com
Merchant Mariners Memorial by the sculpter Marisol Escobar was installed in 1991.
The 1,000 pound installation as seen through one of the many windows in Pier A.

​
Speaking of Food....
Anthony Bourdain Has Plans for New York's Pier 57
As described in a Sept. 30 article in the New York Times, "Parts Now Known," the peripatetic culinary guru plans to create megamarket for international cuisine for about 100 of retail and wholesale food vendors to be known a Bourdain Market. It is envisioned as akin to Pike Place Market in Seattle. Reporter Florance Fabricant mentions that a public park is planned for the roof, to be home to the Tribeca Film Festival for several weeks each year. The Hudson River Park Trust is planning a restaurant on the roof. Promises to be a happening place!
Early October 2015 Newsletter
Late August 2015 Newsletter
Upper Mississippi River Conference and Student Summit
The $16 million-dollar SeaGlass carousel, developed by the Battery Conservancy, constitutes a 3 1/2 minute experience where riders sit inside 30 spinning 10-to-14 feet high fiberglass fish with ever-changing colors and direction. Nothing short of fanciful from the pictures and descriptions found in the Friday, August 14 New York Times article by David Dunlap: " A Whirling School of Mechanized Fish." (pages C-19 and C-26). Warrie Price, president and founder of the Battery Conservancy, pushed for 12 long years to put this happy and fanciful facility in place. She hired Claire Weisz and Mark Yoes who drew up "a magical ride to the bottom of the ocean." George Tsypin of the George Tsypin Opera Factory who was the set designer of the musical "Disney's Little Mermaid was given the task of translating the vision into reality.
REMINDER: AWARDS CEREMONY, RECEPTION AND GALA DINNER - NOVEMBER 6
July 2015 Newsletter
DATABASE UPDATE
LONDON, ONTARIO LAUNCHES COMPETITION FOR ITS RIVER THAMES
Brook McIlroy, Toronto and Thunder Bay
Civitas, Denver
PWL Partnership, Vancouver
Janet Rosenberg Studio, Toronto
Mid-June 2015 Newsletter
Mid-May 2015 Newsletter

River Action, known for making so many incredible things happen in the Quad Cities, has just launched a Kickstarter fundraising project to help raise a portion of the needed funds for our exciting current project, First Bridge! River Action is hoping to build a pedestrian/bicycle bridge using the historic, original railroad embankment from the first railroad bridge to cross the Mississippi River using Kickstarter, a crowdfunding website.

Here is the direct link to our project page:

This is the time we need your help in spreading the news about this Kickstarter fundraiser. Please share our project with email friends, social media friends, family, friends, and acquaintances. The only way we will be successful with Kickstarter is for all of us to talk, talk, talk about it; share, share, share about it; and let everyone we come into contact with to know how excited we are about it! Word is spreading fast!

For more information: rails to trails, spring summer.15 "Rolling on the River" by Amy French.

Get YOUR work recognized. We already have two entries.

2015 Excellence on the Waterfront Jury Members will meet in July in Cape May, New Jersey. We look forward to greeting:

Jeffrey Parks, Chair, ArtsQuest Foundation, Bethlehem, Pennsylvania

Collette Crepelle, principal, Eskew + Dumez + Ripple, New Orleans, Louisiana

Charles Flynn, executive director, Yuma Crossing National Heritage Area, Yuma, Arizona

Anne McIlroy, principal, Brook-McIlroy, Toronto, Ontario, Canada

William Wenk, principal, William Wenk Associates, Denver, Colorado

May 2015 Newsletter

On May 1, 2015, the Center celebrates its 34th anniversary and what a run it has been. We look back on 32 conferences, 10 or more topical workshops,18 years of print newsletters, 26 Excellence on the Waterfront awards programs, three books and several booklets and 100's of consulting assignments -- all of which enabled us to be in touch with the ever-expanding waterfront world. Urban waterfronts are by no means passé. If anything, the field is expanding all over the globe. We have met and worked with so many wonderful people who are dedicated to improving their cities along varied waterbodies in countless ways. It has been our privilege as an educational organization to document and share information with you. As we turn the calendar to begin our 35th year, we thank and treasure all of our friends and supporters -- many of whom have been with us since 1981 -- through these many years. Old friends and new, we hope to see many of you in November here in Washington.

In the last blast, we had fun with some of the statistics among the nearly 400 winners and posed the following questions. Now we'll let you know the results:

California; Massachusetts; New York and Washington.

British Columbia or Ontario?

Australia; China and United Kingdom.

Following in the footsteps of two really smart and capable George Washington University students, Deirdre Clark (now getting a Phd. at the University of Iceland and Ewelina Czapla (now a lawyer hard at work here in D.C.) we introduce Jiangnan (Louise) Lu, an undergraduate civil engineering student who will be joining us in May and helping mainly with researching and verifying the contact information on the awards database project. She is part of the Women's Leadership Program at GWU -- one of 80 women chosen from a pool of 3,000!

Stewart McKenzie continues to work away up there in Somerville. Meanwhile Ann has completed the task of first selecting from thousands of slides those to be digitized, then downloading the 700 images that were digitized, sorted them by year and refiled them for the archive. Only about 100 remain to be scanned manually. The end IS in sight.

April 2015 Newsletter

March 2015 Newsletter

February 2015 Newsletter

January 2015 Newsletter

• Award News

• Jacksonville RFP

• Tribute to John Lentz

We just took another tally: the Excellence on the Waterfront interactive data base, when complete,will document nearly 400 winners!

The years 2005 - 2014 already on line. We encourage winners in those years to double check we have all the information entered correctly.

We have rolled up our sleeves and dug into the slide files from 1987 - 2004. We took 500 images to a company nearby to digitize them, so a big step has been taken. Stewart will then be able to enter another 8 years.

Deadline: Entries must be postmarked by July 1, 2015.

Jury Chair for 2015 is Jeff Parks, former executive director of ArtsQuest in Bethlehem, Pennsylvania.

This in from Doris Goldlstein of Jacksonville:

I was glad to have attended the waterfront conference in October and met so many people with whom I discussed our plans to redevelop the

Jacksonville Landing on the St. Johns River. The Jacksonville Downtown Investment Authority has posted an RFP for the project, with proposals due on February 18:

Earlier this month we were saddened to learn of the death of John Lentz who was a great personal friend and loyal supporter of the Center. Many of you will remember he and his wife Judy dutifully overseeing conference Book Stores. For most of his career John was a senior loan officer at the Export Import Bank of the United States. However, his real passion was whitewater, wilderness canoeing. He undertook 21 major Canadian paddling expeditions, plus two in Siberia. He was a member of the Explorers Club since 1963. He authored a wonderful book "Tales from the Paddle" which was reviewed in our Wintertime Reads newsletter and revealed just how daring, difficult and dangerous his trips were - but extremely rewarding experiences of the beauty found in these far reaches of Canada.

Besides volunteering at the annual conference, he made at least one presentation at a waterfront conference here in DC. He had fun bringing some of his beloved Potomac River - a river he enjoyed canoeing on - to the conferences water ceremony.

Early December Newsletter

Urban Waterfronts 2014 Presentations/Events and Annual Awards Ceremony on the Web

If you missed our 32nd annual conference in Washington and Baltimore and the Awards Ceremony or if you were there and want to re-visit some of the presentations, go to our web site and find a wealth of information and images. Thanks to Stewart McKenzie for making all this material available in such a timely fashion.

MAJOR Progress on the Interactive Awards Data Base

The project enters a new phase now as all the visual material from 1987 - 2004 came in the form of slides that need to be digitized. Also, verifying contact information gets harder as we go back in time. But we've come a long way: we are ten years down with 20 more to go.

Remember the Center - Donate Today

As you make choices about your year-end charitable gifts, please keep the above-mentioned educational project in mind. We are relying on the waterfront community around the world to help make this invaluable information -- documenting 380+ award winners -- a reality! As we have said more than once: "We will make this happen come hell or high water." But we do need your help!

Our address:

The Waterfront Center, PO Box 53351, Washington, DC 20009

To chill out after Urban Waterfronts 2014, we ventured down to Old San Juan where we had not been in 20 years. We basked in warm weather and wandered the many colorful streets of this charming city. Needless to say, we zeroed in on the waterfront and want to share some of the varied images with everyone.

October Newletter

Every community strives to create distinctive waterfront areas, both large and small, beloved and frequented by the public. Imagination and creativity are essential. Our panelists will tackle the je ne sais quoi that goes into remarkable placemaking – design details, public art, special lighting, landscape treatments, unusual materials, understanding heritage – all this and more.

Late September Newsletter

The Waterfront Center Final Conference Program and Speaker Biographies

We are pleased to present what we think will be an engaging and informative program drawing on projects and geography from around the world. The speakers are all committed, seasoned practitioners sharing a passion about waterfronts and waterfront issues. They will be eager to share their experiences and answer your questions. We are looking for a lively, interactive dialogue!

Urban Waterfronts 2014: Making Connections

Final Program

Panel One: Resiliency – The New Imperative

Sea level rise, floods, hurricanes, and violent storms have impacted waterfront cities around the world. The panelists, drawing on their varied experiences from the aftermaths of earthquake activity in Christchurch, New Zealand, Katrina's flooding in New Orleans and post-hurricane Sandy in New York and New Jersey, will address how communities, designers and government programs have recovered and planned for the future.

Moderator: Barry Hersh, N.Y.U. Schack Institute of Real Estate, New York, N.Y.

Post Sandy: Rebuilding by Design: Brie Hensold, senior associate, Sasaki Associates, Watertown, Massachusetts

Addressing Multiple Crises in Christchurch: Rod Marler, general manager development, Waterfront Auckland, Auckland, New Zealand

Lessons from Katrina and Strategies for the Future: Colette Crepell, principal Eskew+ Dumez +Ripple, New Orleans, Louisiana

Panel 2 – Genius Loci – The Art of Creating Special Places

Every community strives to create distinctive waterfront areas, both large and small, beloved and frequented by the public. Imagination and creativity are essential. Our panelists will tackle the je ne sais quoi that goes into remarkable placemaking – design details, public art, special lighting, landscape treatments, unusual materials, understanding heritage – all this and more.

Moderator: Ed Freer, principal, Smith Group JJR, Madison, Wisconsin

The Art of Making Things Distinctive Down Under: Stuart Niven, Melbourne, Australia

Philadelphia's Riverfront Pop-Ups – Loaded with Personality: David Fierabend ,principal, Groundswell Design Group, Hopewell, New Jersey

Reflecting on Decades of Placemaking: Douglas Campbell, principal, Campbell & Campbell, Santa Barbara, California

Panel 3 – Deciding on the Right Mix

Whether it is a large swath of shoreline frontage with multiple acres or just a few, each community must grapple with what is the right mix of uses or maybe even just one. Our panelists with years of experience in the field will reflect on their work with civic leaders, private interests, design professionals and the community in finding the right solutions. Ideally the right mix enriches each community's waterfront respecting the environmental aspects as well as cultural and commercial considerations while avoiding cookie-cutter approaches. Speakers will touch everything from massively day-lighting a river in Pueblo, Colorado to projects on Lake Union in Seattle and Port Angeles, Washington, among others.

Moderator: Mike Krieger, Of Counsel, Dunn & Lambert, Mahwah, New Jersey

Historic Arkansas Riverwalk of Pueblo – Transformational and Catalytic: Don Brandes, principal, Matrix Design Group, Denver, Colorado

Lessons from Northwest Waterfronts: Mark Hinshaw, principal, LMN Architects, Seattle, Washington

Yuma's Colorado Riverfront Offers a Little Bit of Everything: Charles Flynn, executive director, Yuma Crossing National Area, Yuma, Arizona

Panel 4 : Let's Celebrate ! The Special Role of Festivals and Events

Ray Bradbury once observed: "The peculiar thing about festivals and celebrations of course is that before they begin you often say: Why bother! And when they end you ask what in hell was that about? But once they have started and once they are in full feather-fling and eruption, what a lark!"

Lots of planning and hard work go into creating memorable happenings of all kinds for people to enjoy their waterfront – in an out of the water. Fireworks, films, races, educational events, clean-ups, big bands, silly parades, bagpipes, bugles, bikes, barbeque contests, Octoberfests, dancing, singing, you name it – all in the name of "public happiness." Gain insights into the behind-the-scenes world of organizing, marketing, and managing these events from some of the best in the business.

Moderator: Jim August, CEO, The Forks North Portage Partnership, Winnipeg, Manitoba, Canada

Tips and Tidbits from Festivals Large and Small from Around the World: Charlotte DeWitt, president, International Events, Boston, Massachusetts

From Dragon Boats, Bass Tournaments to Bagpipes – What It Takes to Fill Out a Calendar: Joe Marfuggi, executive director, Riverfront Recapture, Hartford, Connecticut

Lots of People, Lots of Love on the Detroit Riverfront: Karen Slaughter-DuPerry, Projects/Community Outreach Executive, The Detroit RiverFront Conservancy, Detroit, Michigan

Meet Our Speakers - Panel 3: Choosing the Right Mix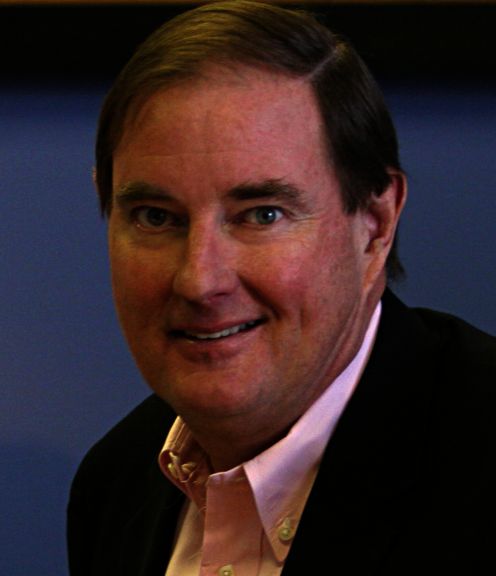 DONALD H. BRANDES, JR.
Don Brandes was the founder and president of Design Studios West, Inc. In 2012, Matrix Design Group, Inc. (Matrix) acquired Design Studios West, Inc. As Vice President, Shareholder and Director of Urban Design and Landscape Architecture Don actively leads all multi-disciplinary projects and is responsible for project programming, conceptual planning and design, and final project design review. Don's planning and design passion continues to focus on urban design, waterfront design, resort and land development, and complex mixed-use downtown development projects. His book, "Developing Difficult Sites, Solutions for Builders and Developers", is published by the National Association of Home Builders (NAHB) in Washington DC. Don holds a Master's degree in Landscape Architecture and a Bachelor's degree in Political Science from the University of Colorado. In 2008, he won an Excellence on the Waterfront award for the Historic Arkansas Riverwalk (HARP) of Pueblo.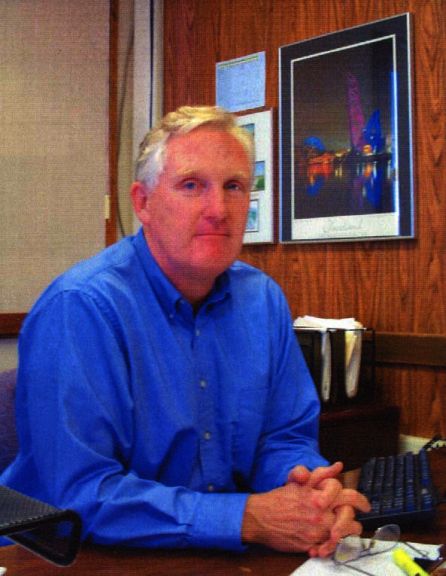 CHARLES W. FLYNN

Charles Flynn has served as the Executive Director of the Yuma Crossing National Heritage Area Corporation since its inception in 2000. Under his leadership, the Heritage Area is guiding $100 million of public and private investment along the Lower Colorado River. Flynn graduated from Stanford University in 1974 with a BA/MA in American History. He worked for Mayor Edward Koch of New York from 1974-1981. From 1981-1993, he served as CEO of a family-owned resort in western Pennsylvania, during which time he also served on City Council in Meadville, Pa. From 1994 to 1999, he led a $25 million riverfront redevelopment project in Wheeling, West Virginia. He is married to Ann Walker, and they have two children -- Brendan, age 25 and Adam, age 22.
MARK L. HINSHAW

Mark Hinshaw is the Director of Urban Design for LMN Architects in Seattle. For over twenty-five years, he has been responsible for a wide range of projects in large cities, suburban centers, and small towns. From 1982-1990, he was Principal Urban Designer for the City of Bellevue, WA, helping guide its transformation from a nondescript collection of strip centers to an intense, mixed use, transit-oriented urban center. Hinshaw lectures widely on the subject of urban design at conferences and workshops. Between 1992 and 2004, he wrote a regular column on architecture and urban design for The Seattle Times. His has authored two books: Citistate Seattle: Shaping a Modern Metropolis (1999) and True Urbanism: Living In and Near the Center (2007).

Early September Newsletter

August Newsletter

July 4th Newsletter

The Waterfront Center 2014 Conference Brochure

The Water front Center 2014 Conference Brochure is on the website see http://www.waterfrontcenter.org/PDFs/2014Brochure.pdf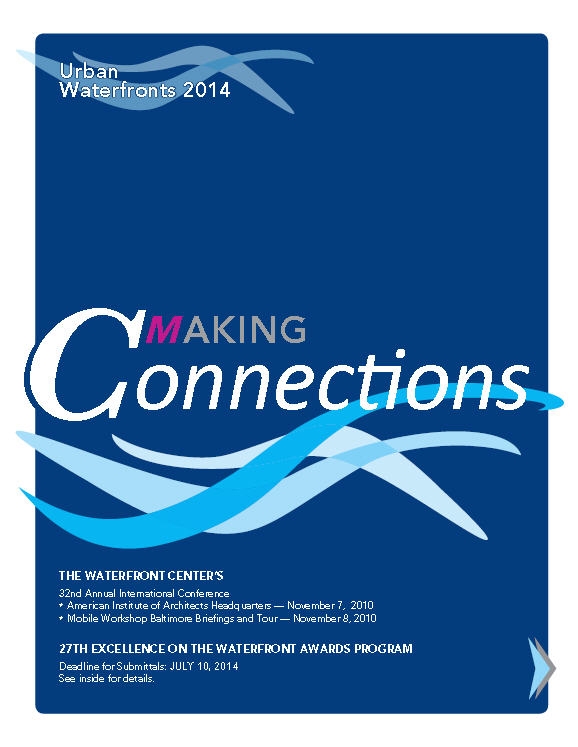 The Waterfront Center 2014 Awards Submission Deadline
Changed to July 10, 2014
May Day Newsletter
May Day 2014
The Waterfront Center Celebrates 33rd Anniversary

As we reflect on 33 years, we did take on some challenges and faced disappointments that all non-profits do, but we feel extremely grateful for all the wonderful individuals we have met and communities we have been privileged to serve.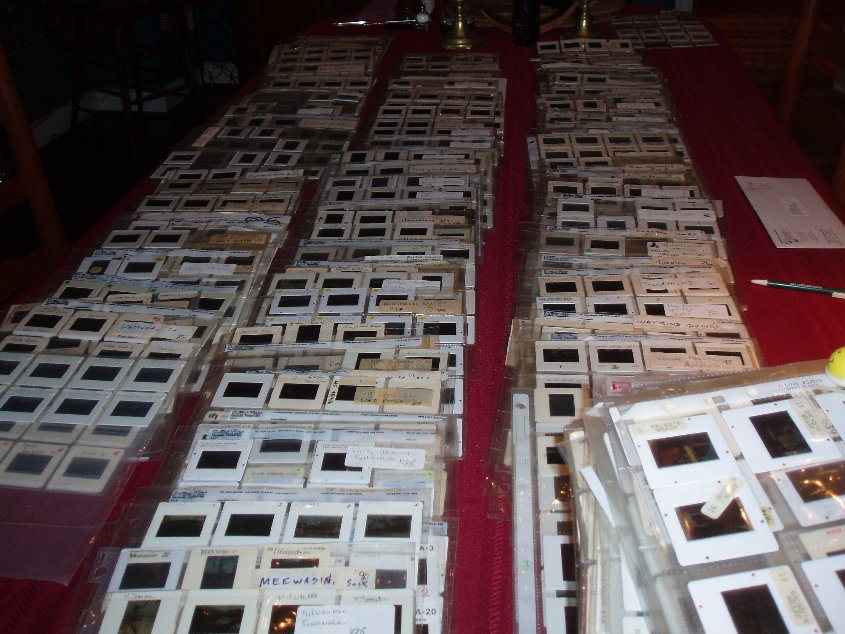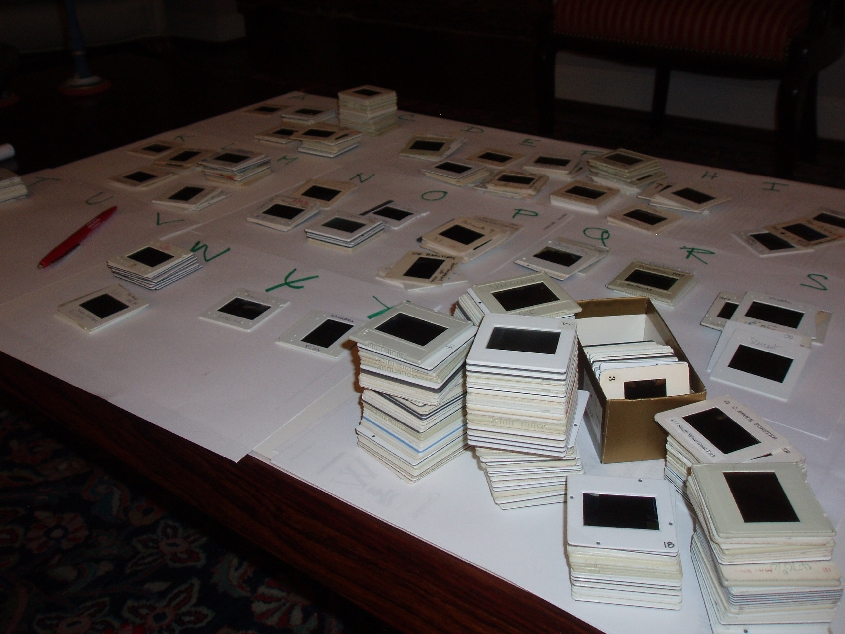 ​
Don't forget the awards deadline: July 1 and hope to see you at the conference!
Late April Newsletter - Aukland II
​

The Cloud's interior provides an enormous amount of space. When we visited they had set up table tennis and indoor games. At the far end, providing spectacular views from air-conditioned spaces that are used for meetings, receptions and social events.


​

Ample space has been provided at the foot of the wharf for public access and enjoyment. Waterfront Auckland and their designers have really done a great job of providing imaginative and comfortable seating for people to relax, soak up the sun and take in the views. These lounges are but on example. Another cruise ship and Prince's wharf can be seen in the background.

​

Queen's Wharf Communter Ferry Terminal is slated to be replaced with newer facilities nearby. Once removed it will open up views of the historic Ferry Terminal Building.

​

Shed 10, constructed in the early part of the 20th Century, stands in testimony to the maritime history of the wharf. Today it serves as an embarkation and debarkation facility for the cruise ships. The beautifully restored interior also is used for various kinds of events. A similar Shed 11 has been dismantled and remains in storage until a new use can be found for it on the wharf.

​

The metal cut-out of a woman in her Sunday best circa 1915 and accompanying historic photo is one of number of similar interpretive features - both artistic and educational - alongside Shed 10.

​

Close to the entrance of the Queen's Wharf is this clever, container-themed information booth.


​

The Wharf is home to all manner of temporary happenings. What better way to celebrate our last evening than visiting the pop up "cafe" tasting some famous New Zealand wines by Stoneleigh amidst an exhibit of landscape greenery.
Early April Newsletter

The 2012 awards jury selected Jellicoe Street, North Wharf Promenade and Silo Park on Auckland's waterfront to receive top honor. After first-hand inspection last month, we are happy to report it IS a real winner. Our first evening in Auckland we wandered down to the waterfront and witnessed everything in full swing. A crowd was gathering to watch a movie projected on a preserved silo;there were food carts and trucks; picnic tables; kids playing in the playground, splashing in the splash pool, and people milling about generally enjoying themselves. This part of the waterfront boasts both fabulous public realm and waterfront industry cheek by jowl. The overall design deftly celebrates the industrial heritage incorporating artifacts along with modern urban design. Care was taken to make the project sustainable.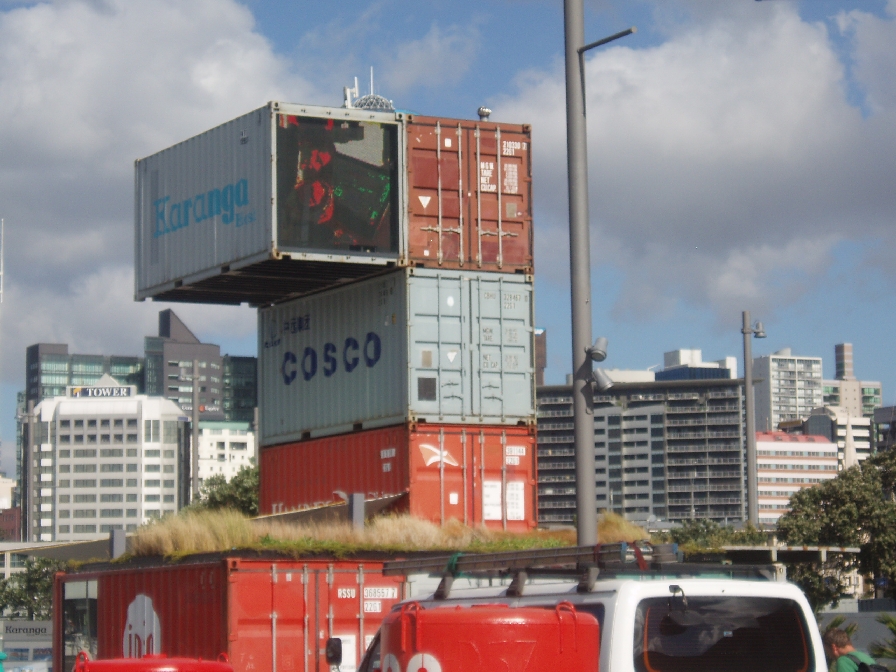 The Karanga kiosk, one of several such installations using containers, is perhaps the most elaborate. Features include a large TV screen, an interactive interpretive center and a green roof. Another container was fitted out with a children's library and lots of comfortable seating.




Informal seating near the children's library.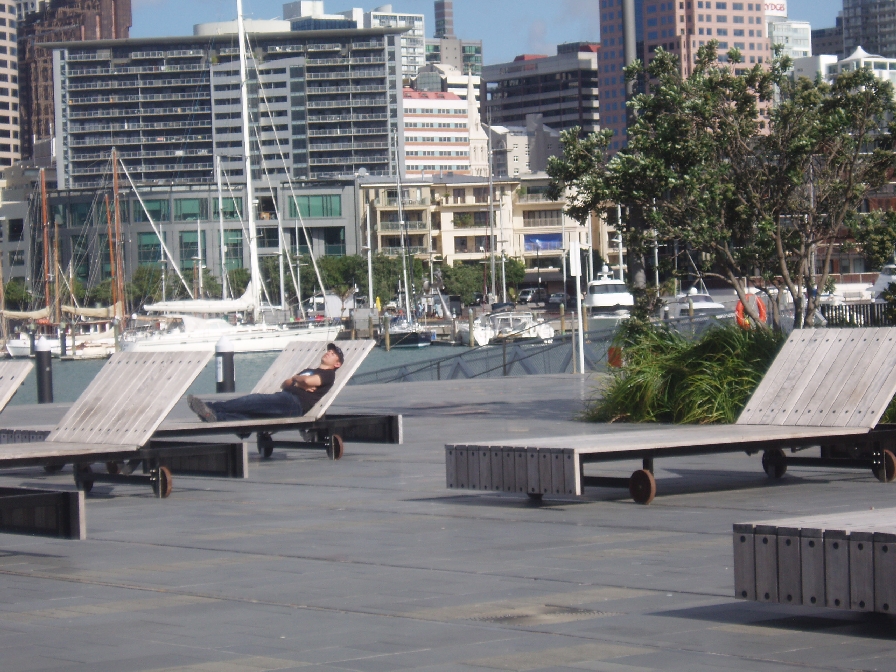 Sleek movable chaise lounges provide a nice spot to take in the sun. Viaduct Harbour and housing in the background.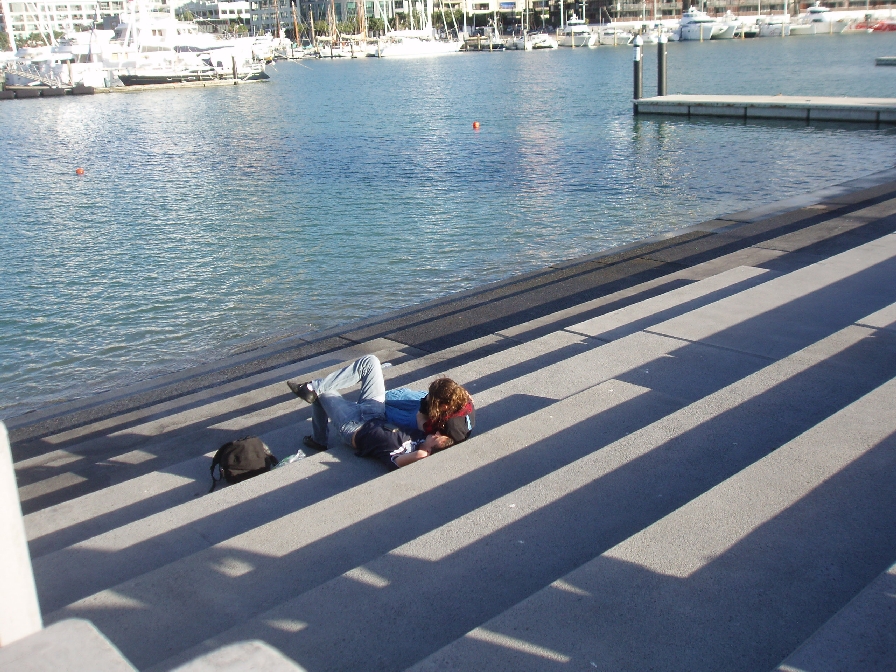 Not far from the Karanga plaza and kiosk is a set of steps allowing folks to relax or maybe dip their tow in the water.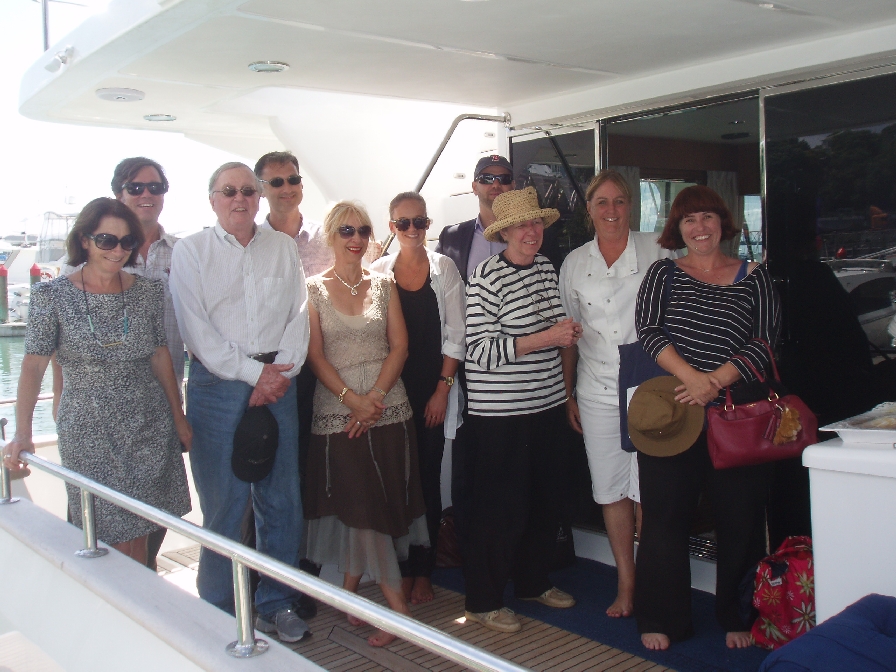 One of the best ways to take in a waterfront is from the water and our trip was made all the more pleasurable in the company of some
of Waterfront Auckland's terrific and fun-loving staff. L. to R. Brenna Waghorn; Alan Gray; Dick Rigby; Mathew Twose; Gail Mazur; Ashley Vivier; Ralph Webster; Ann Breen; Jo Warren and Frith Walker.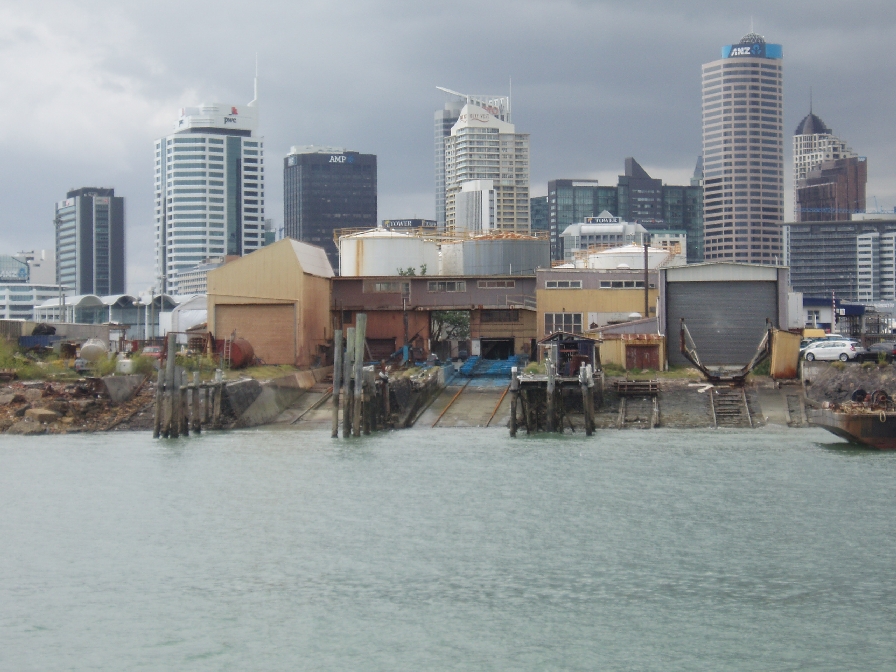 And one of the chief benefits of poking around in the harbour was spotting these truly funky old slipways that give a real authentic note. Let's hope they don't completely disappear.
Co-Director Breen Visits the Toronto Waterfront
A Tribute to Pete Seeger
January2014 Newsletter
Wintertime Reads Newsletter
Wintertime Reads for Water Rats!

Two New Books about Boats and a Reminder of a Classic Comment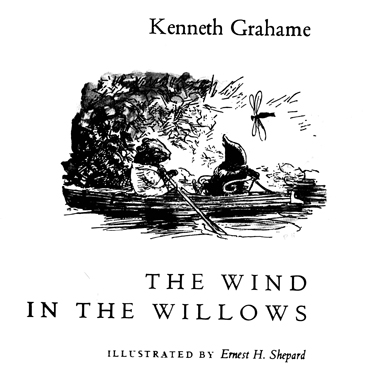 The Wind in the Willows by Kenneth Grahame and illustrated by Ernest H. Shepard.
The classic book for children - young and old. An excerpt:

Mole inquires as he is about to get into Rat's boat: "Is it nice and all that?"
"Nice? It's the only thing, said the Water Rat solemnly...Believe me, my young friend,
there is nothing - absolutely nothing - half so much worth doing as simply messing about
in boats. Simply messing," he went on dreamily: "messing -- about -- in -- boats; -- messing."


The following just-released books take "messing about with boats" to a whole new level: one about wilderness canoeing and the other about seafaring ships and more. Both depict big doses of passion, perseverance, desire for exploration, adventure and a love of history. And above all these are about amazing people.
This winter, curl up by a fire, take some exceptional journeys and
vicariously delve into some mighty rough eddies, shoals and unknown waters -- real and figurative.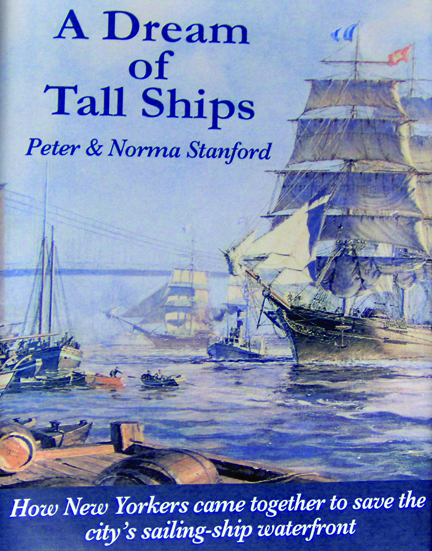 A Dream of Tall Ships: How New Yorkers Came Together to Save the City's Sailing-Ship Waterfront by Peter and Norma Stanford.
Hardcover, 596 pages with color and black and white illustrations. $34.95, plus shipping. Published by Sea History Press. 914 737 7878.
The publication of this book about South Street Seaport could not be timelier as the future of this historic corner of New York is embattled once again (see references below).

Peter and Norma Stanford chronicle an astounding 11-year saga that began in 1965 with a Sunday walk around Fulton Street Fish Market and the spotting of a schooner with a Gloucester pedigree that sowed the seeds of their dream of creating a seaport museum complete with a small fleet of sailing ships to capture the glory days of the East River port. The boldness of the vision and the complexity of the tasks involved are remarkable. They wanted to create a museum, save an historic district with its old buildings PLUS find old ship hulks to overhaul and bring to New York. Whether or not you are a sailor of any stripe, you will relish Peter and Norma's love of ships and sailing and the descriptions of arduous reconstructions, Mayor's cup races and tall ship visits -- never mind the thrill of seeing their own restored ships arriving from points as far as Argentina. All described with a richness of vocabulary as well as humor evident throughout. When the Argentine full rigged Libertad arrived in New York the captain eschewed the bureaucracy and defiantly berthed at South Street, our authors comment that it was an act that served as" a strong testament of the seamanly, stand-together spirit that defies pettifogging jacks-in-office."

If you love cities, historic preservation and waterfront authenticity you'll appreciate their passion for fighting to keep Schermerhorn Row, built in 1811, from a wrecking ball, including the idea of selling "air rights transactions" -- a new idea at the time -- and generally trying to create a place of human scale in the shadow of towering Wall Street. Then there are descriptions of travels including the waterfront of San Francisco where they were inspired by the mission and accomplishments of the San Francisco Maritime Museum. Its founder Karl Kortum became a great ally. It was Karl who found them the Wavertree in Buenos Aires that led to trips there. It was out of respect for Karl's work that Peter added becoming president of the Maritime Historical Society to his to do list in the summer of 1970 to which an astonished Norma, aware of their already full plate, relented "Oh, what the hell."

The story includes a behind-scenes look at establishing and maintaining a non-profit organization; setting up the Pioneer Program of sail-training school for teen-age youth; organizing festivals, events and educational programs. One of the great characters in the book is their good friend, the garbage hauler, Joe Cantalupo, who famously said: "Other museums are for people, or about people...This museum is people." And the scads of people who vividly parade through these pages come from all walks of life: old salts to old money, museum experts to bartenders, folk singers to painters, from a mayor to a tugboat fleet owner and scores of volunteers. A lot of good times were had whether in waterfront bars like Sloppy Louie's, the historic India House (attendees at our New York conference will remember our dinner there), or aboard ships celebrating accomplishments big and small. We'd like to raise a glass of bubbly to salute the telling of this story by one tenacious, terrific team, Peter and Norma. You will too.

South Street Seaport Update

The intervening 37 years have seen many ups and downs in South Street which would take a rather long article to detail. Most recently, post hurricane Sandy, a lot of repair and reconstruction has gone on. The museum happily reported its reopening and return of some of the ships. However, a new battle is raging over future land uses in the area. For updates: saveourseaport.org and refer the December 3 e-newsletter Waterwire from the Metropolitan Waterfront Alliance (waterfrontalliance.org) "The Battle for South Street Seaport."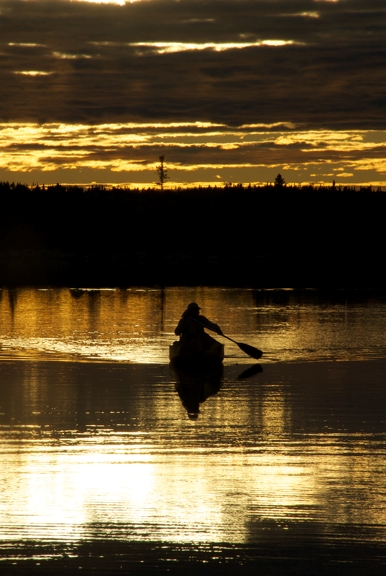 Tales from the Paddle: A Canoeist's Memoires of Wilderness Trips in Canada and Russia by John W. Lentz (available from Amazon).
Hardcover, 223 pages with color illustrations and appendices. $25.00.

Author John Lentz, in this exceptional book, chronicles his 21 major expeditions of adventure canoeing in the wilderness areas of northern Canada as well as Russia. Choosing a series of vignettes, rather than a long narrative, the reader leaps from one tale to the next entering a world full of real life exploration, discovery and a host of interesting characters. His first wilderness trip nearly was his last due to hypothermia but he was rescued by fellow canoeists - a harrowing account. To the uninitiated the sheer physicality involved is incredible - portaging long distances with heavy gear, scouting and gauging the how's and where's of navigating the dangerous rocks and whitewater, enduring cold, getting plenty wet and paddling, paddling, paddling. He describes the beauty of the landscapes and encounters with all sorts of wildlife: muskox, the ever-present insects (Northwest Territories Air Force), an astounding sighting of a massive herd of caribou, all manner of birds as well as a close call with a mother bear and her cub. History threads its way through the tales. John, a great lover of history, has collected 2,500 volumes on Canadian wilderness and refers back to the journals of some of the early explorers as these modern-day paddlers retrace some of their predecessors' paths. One such journal led to the discovery of a cache of1820's artifacts. John details anecdotes, many of them humorous, with customs officers, airplane pilots, Johnny Smallboy and other Native Americans, Misha, a Russian guide, to name a few. He describes with great affection his intrepid fellow companions, many of whom became lifelong friends. At the the first Wilderness and Canoeing Symposium in 1986, a few dozen of his fellow paddlers gathered in a friend's living room, today 500 gather in a Toronto auditorium. In the appendices John lists his major trips, his published work and a suggested reading list.

He quotes a poem written by his friend and fellow traveler, George Luste, that is most fitting:
'We came to the North with canoes
and the summer sun...
and were swallowed into the land...
so immense...so lonely...
so barren...so beautiful.'
Early December Newsletter
November 2013 Newsletter
September 2013 Newsletter
Urban Waterfronts 2013 and Upper Mississippi River Conferences: Creative Collaborations
THREE WEEKS TO GO. Sign up today.
Waterfront Walks - AB/DR
Conference Early Bird Deadline
Less than two weeks left to SAVE:
Urban Waterfront 2013 and Upper Mississippi River Joint Conferences
Early Bird Deadline for Registration and Special Hotel Room Rates AUGUST 24


A Walk along a Portion of the North Shore beside Pittsburgh's Ohio and Allegheny Rivers

In mid-May we joined our friend and former board member Arthur Ziegler along with his colleague Mike Sriprasert both of Pittsburgh History & Landmarks Foundation for a stroll along the Ohio and Allegheny across from the downtown. We walked from the relatively new Rivers Casino, past the Science Center and the popular baseball stadium ending at the foot of the Fort Duquesne Bridge. Below are some images we took along the way. First up on the river side of the casino is a grassy, stepped down amphitheater. The casino went to some effort to afford river views with a glass curtain wall. Unfortunately, since the amphitheater was first installed, large metal stadium seating units have been erected -- which may be there because of the popularity of the venue and may be only temporary -- but they are an unsightly intrusion.


The stretch of riverfront's walkway along the shoreline was an early installation dating to the l980's, so it is no doubt ripe for some sprucing up in the future. A very large sculpture of the city's beloved Mr. Rogers is rather unfortunately positioned high above the walkway (seen on the left of the photo). One wishes for a tribute to his highly imaginary world in the manner of the Alice in Wonderland installation in Central Park or Peter Pan in London's Kensington Gardens or a more modern whimsical interpretation. It would be grand to have a space that kids could actually touch and interact with. If such a place doesn't exist, maybe there is still room in Pittsburgh.


We were a little dismayed to see the lack of visual access along portions of the walkways. One little way station has a cement wall blocking views for anyone sitting on the benches provided.

A newer installation exhibits more interesting paving treatment and a handsome bench although it faces away from the river.

The only real possible cafe scene occurs upland on the first floor of an office building. A large grove of trees obscures most of the views of the river. Given the beautiful river and the dramatic downtown skyline, it is all the more a pity.

A handsome way-finding map of the riverfront and a very attractive pier affording access over the river

Next time we are in Pittsburgh we'll continue our explorations.



In mid-July we journeyed to the City of Brotherly Love to meet up with our good friends
Nick Falk of Urbed, who many of you may have heard at previous conference (pictured below) and Esther Caplin who were over from London.
It being a hot, humid summer day we decided to take a trip to visit Morgan's Pier (221 N. Columbus Blvd.) for lunch and check it out. The beer garden on a pier sits below the Ben Franklin Bridge with commanding views of the Delaware. The low-key facility with a lot of recycled materials cleverly used for walls, tables, planters and decoration is very welcoming.


Details include: traditional beer garden linden trees, lots of plantings, colorful umbrellas and cushions, cooling misters set up the the bar areas, booths and picnic tables that all blend together for a comfortable, casual waterfront experience. In addition to the excellent food available from the kitchen, beer and beverages from the bard, hot dog and ice cream vendors were on deck. At night it must be magical with the lights playing off the water. You can't beat the feeling of being over water. Above all it's low-key fun, even a little funky, and we need that on our waterfronts. We'll go back sometime and try it again. Designer David Fierabrand of Groundswell Design was pleased we enjoyed ourselves and recommends his new installation in Center City: the Pop Up Beer Garden (313 S. Broad St.)


Sign up and Save Money. Stay tuned for new program additions and corrections that will be posted on our web site
in the next week along with the latest program information.
Summer Solstice Newsletter
June Newsletter
Boston Newsletter
May 2013
April 2013
Gloucester's Harborwalk – a Real Treat
In early April, Sarah Garcia, harbor planning director, City of Gloucester, Massachusetts gave directors, Ann Breen and Dick Rigby, Center Board Member, Charles Norris and Center webmaster, Stewart McKenzie and his wife Ricki a tour of the new HarborWalk in the city and along the harbor. This innovative interpretive walkway offers 42 "story moments" that share the history and contemporary culture of this historic seaport. Illustrations and explanation panels are mounted on granite piles. Added features include maps and the ability to use your smartphone to send a vintage photo postcard to friends and family. With your phone you can also access recordings of everything from poetry readings to bird calls. Visit www.ghwalk.org. The HarborWalk was designed by Cambridge Seven Associates, Inc. , an early sponsor of Urban Waterfronts 2013 to be held in Davenport September 26-28. Sarah Garcia will be making a presentation at the conference, Saturday, September 28 about the city's issues with protecting and enhancing this historic working waterfront.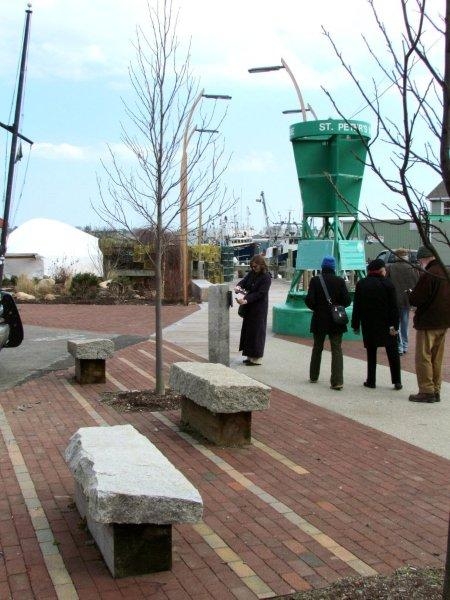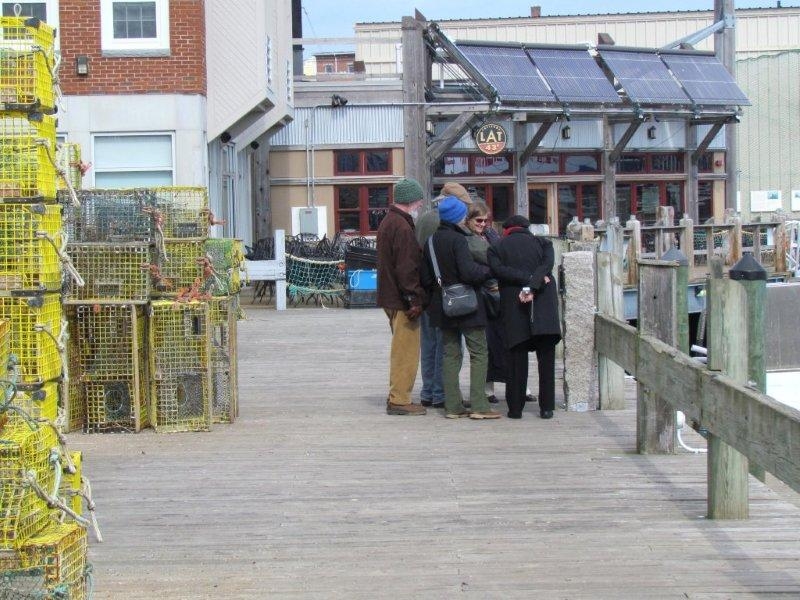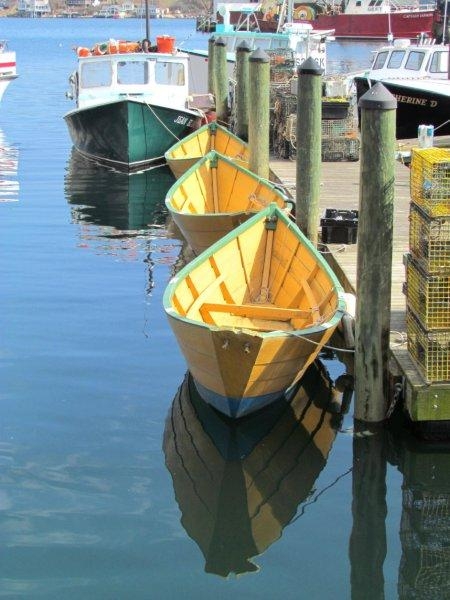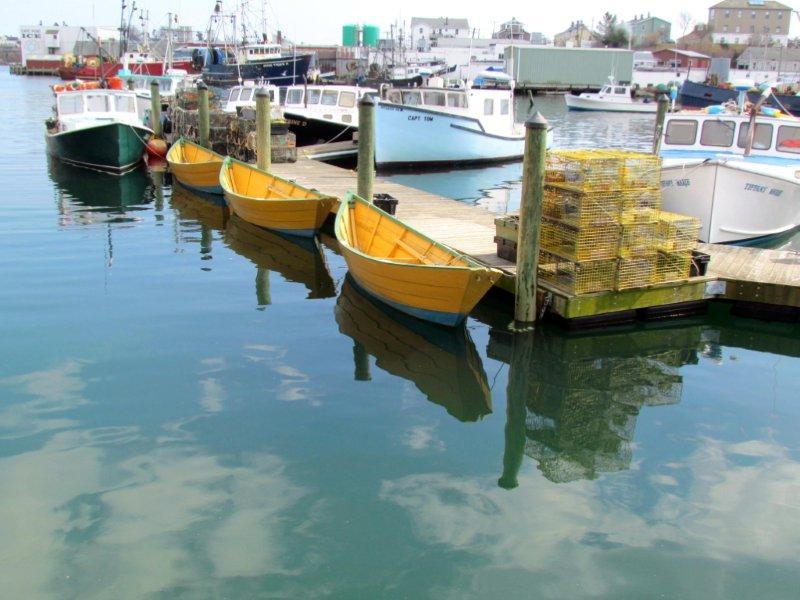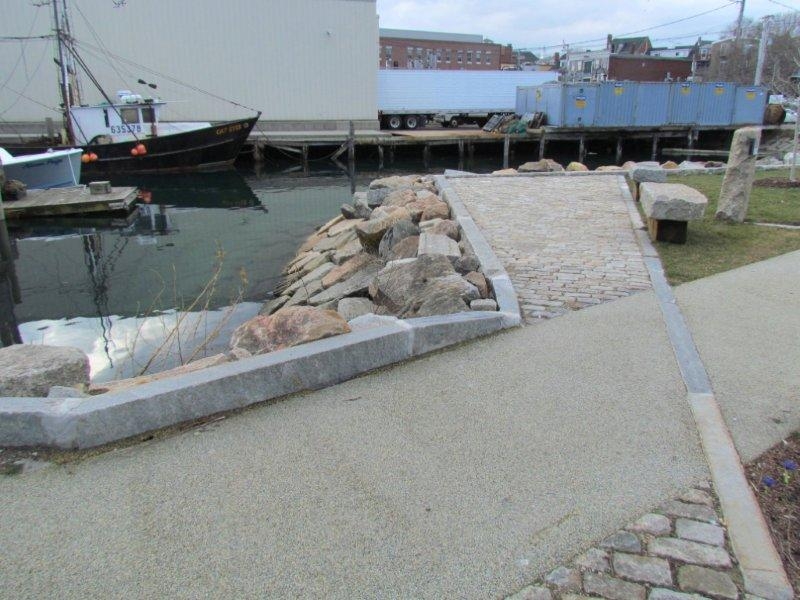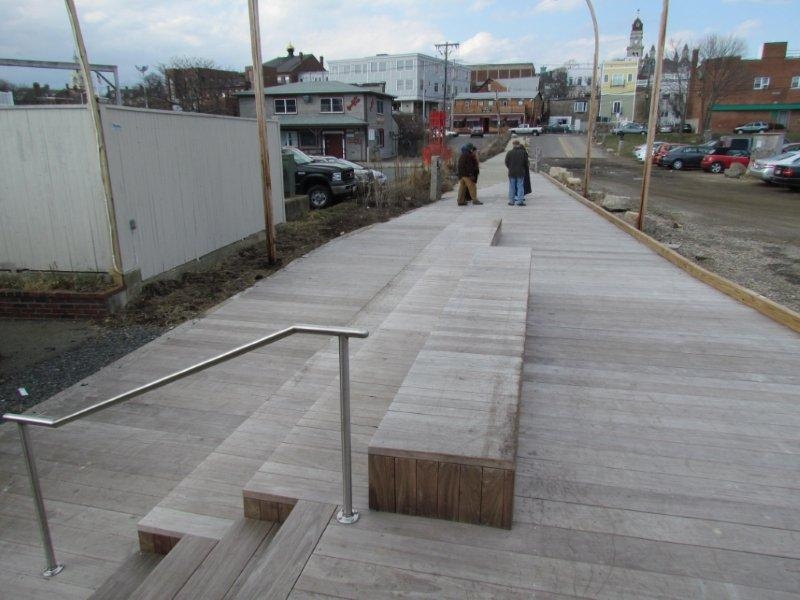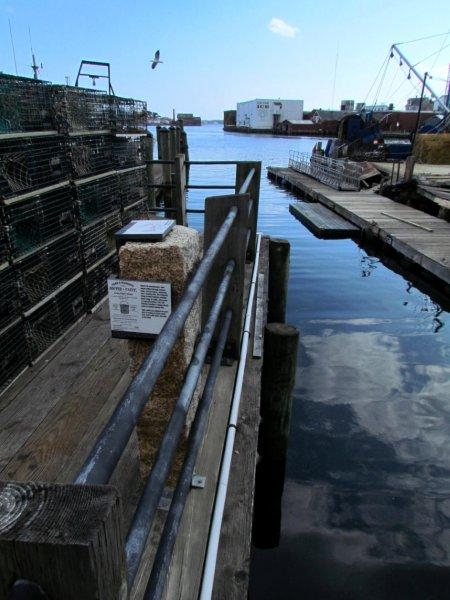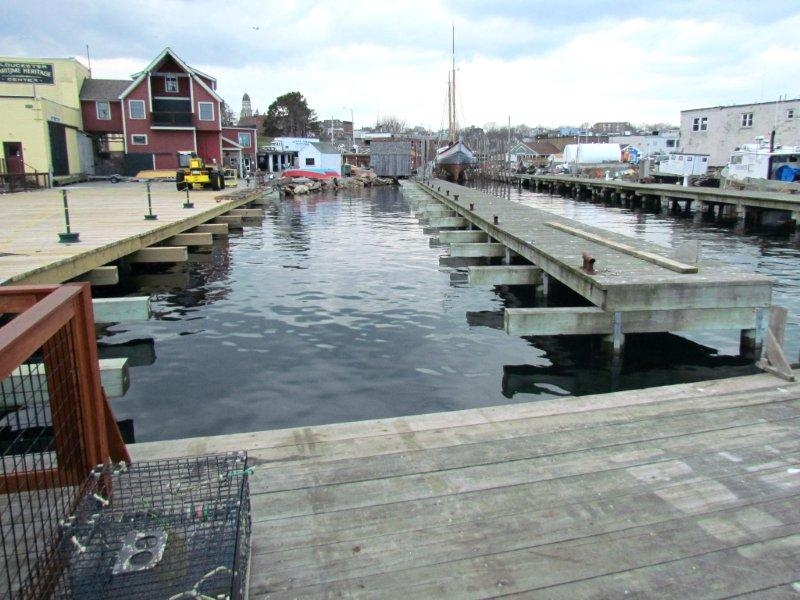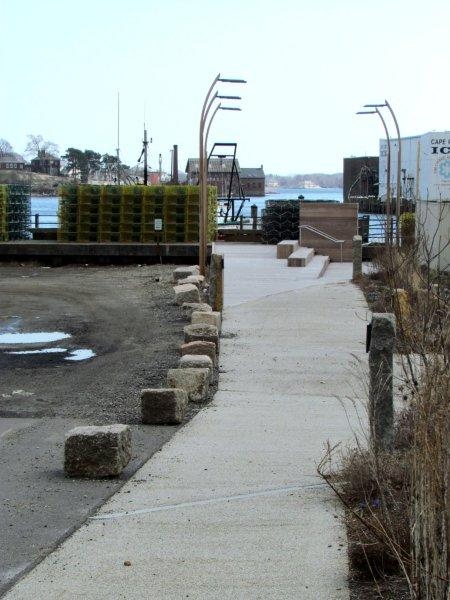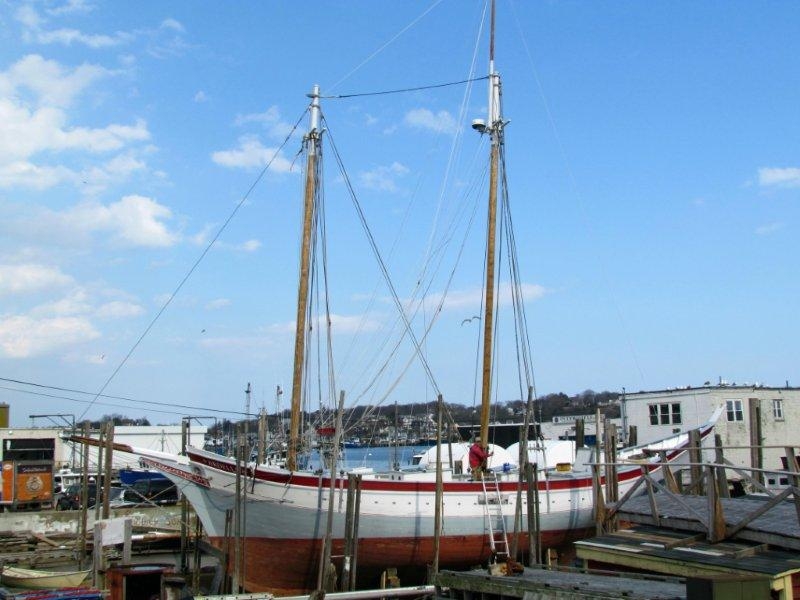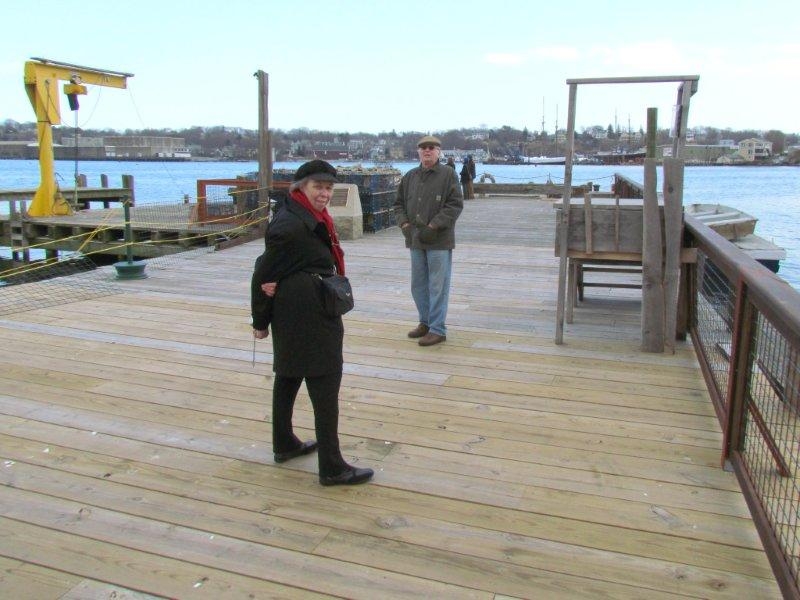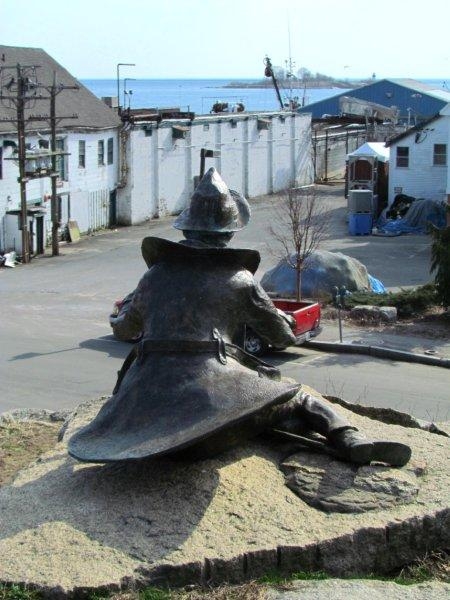 Photographs by Charles Norris
March 2013
WATERFRONT CONFERENCE PROGRAM SET -- SPEAKER SUGGESTIONS WELCOME, DEADLINE MARCH 25

The Center conference opens Thursday night, September 26, and runs to Saturday afternoon, the 28th. In addition to our diverse program lineup, the conference will offer an opening Water Ceremony, two receptions, the conference luncheon, Continental breakfasts and coffees– all included in the low conference registration fee. The first announcement of the 2013 "Excellence on the Waterfront" honor awards comes Friday afternoon, Sept. 27, followed by a champagne reception. There will be tours offered on Saturday afternoon as well.

The program lineup is as follows:

• Creative Collaborations – Getting to Yes with Multiple Players

• The Mixed-Use Waterfront – Complex Undertakings in Cities Large and Small

• The Public Realm and the Role of Cultural Attractions – Waterfront Attractions for the People

• The Working Waterfront – A Favorite Topic of the Waterfront Center for 30 Years

• Environmental Considerations and Solutions – Design With Nature, or Else!

Sessions will be held at the Quad Cities River Center in downtown Davenport. It is connected to the two conference hotels: The Hotel Blackhawk and the Radisson, which are offering special conference rates until August 24.

Creative Collaborations is the title of the joint conferences of the Center and River Action Inc. of the Quad Cities. Its conference opens Wednesday afternoon, Sept. 25 with a reception, exhibits and a catfish fry. Its sessions run Thursday and Friday mornings and will cover the recreational river, the working waterfront, riverfront development and the Mississippi watershed, plus tours on Thursday afternoon .
A joint admission allows delegates to attend both conferences.

The conferences will provide a chance to take aboard the significant accomplishments along the Quad Cities riverfronts of the last 30 years, including a river trail connecting eight communities, an educational facility in a marsh, a 25-year-old bridge lighting well ahead of its time plus a major way-finding program and public art installations.