After years of often contentious negotiations Mayor Bhalla announced in December 2022

that

the City of Hoboken had officially acquired the 5-acre Union Dry Dock waterfront property. The City's ownership of Union Dry Dock will now allow for the development of a park at the site and connect the final piece of an entirely publicly accessible waterfront that has eluded Hoboken for decades. More information on the long process that lead to this acquisition can be found

HERE.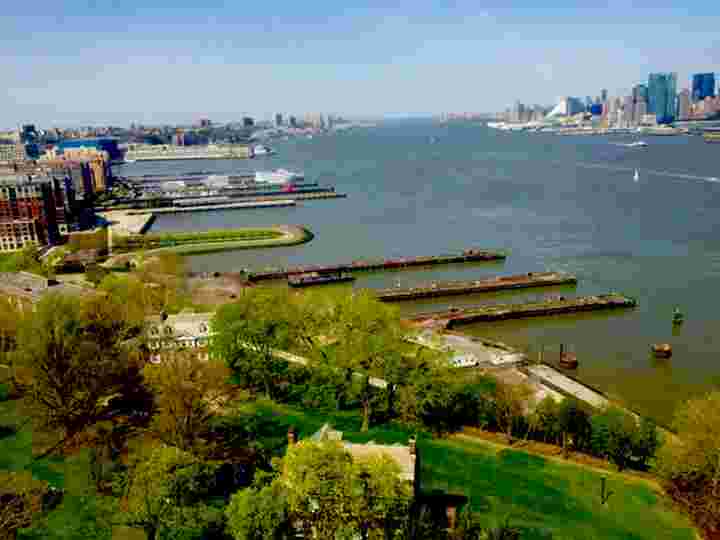 Union Dry Dock Hoboken NJ


With control of the Union Dry Dock property, the Bhalla administration will initiate a public planning process to determine the public amenities and features that will be located within the waterfront park. The administration released a request for proposal (RFP) to solicit professional design firms to present options for the design of a public park at the property. The firm will be tasked with working with the administration and conducting a robust public process that will solicit community input from residents, similar to Hoboken's other open space projects. The RFP can be seen

HERE

.


World Water Week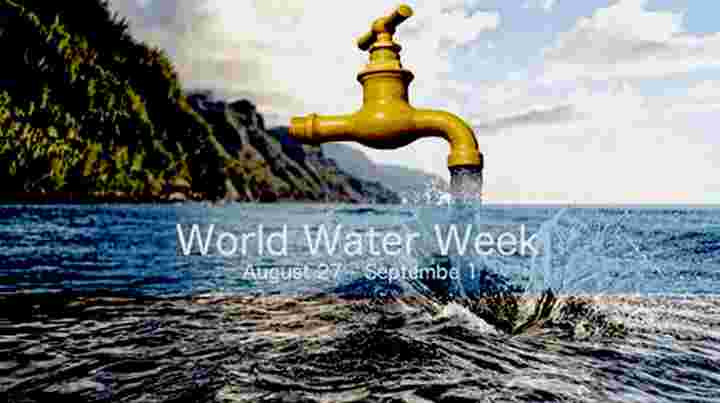 World Water Week is the leading conference on global water issues and has been held every year since 1991. The 2022 conference took place between 23 August and 1 September with live presentations in Stockholm and virtual presentations online. Organized by the Stockholm International Water Institute (SIWI), the non-profit event is co-created with leading organizations and attracts a diverse mix of participants from many different professional backgrounds and every corner of the world, -5,400 participants in 2022.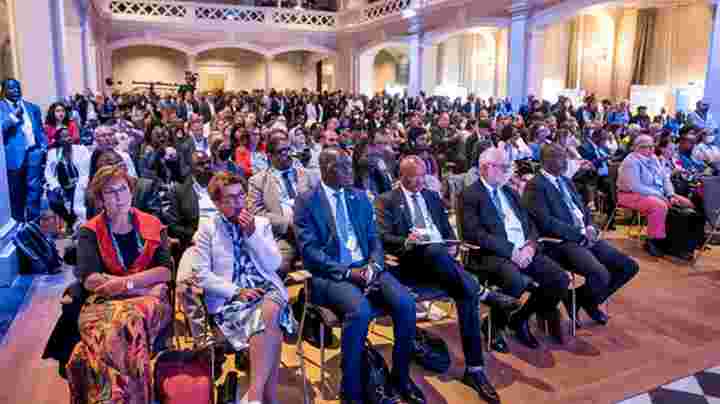 The conference discusses solutions to the world's greatest water-related challenges, with topics ranging from food security and health to agriculture, technology, biodiversity, and the climate crisis. The theme of World Water Week 2022 was 'Seeing the Unseen: The Value of Water', with a focus on the diverse aspects of water, how others view and value water, and to help uncover water's full value to society. The Conference sessions are now available online HERE.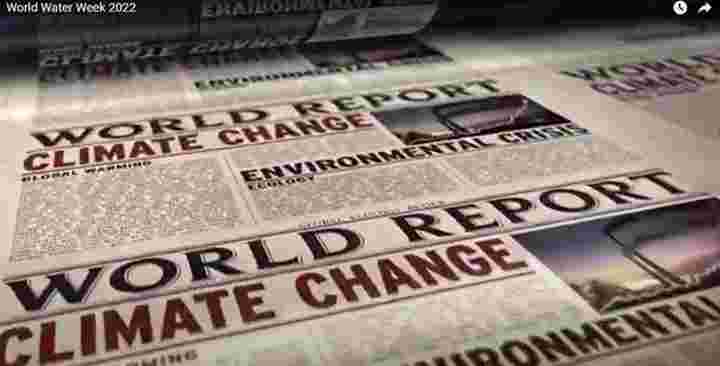 Videos of World Water Week sessions are available HERE
Thematic Scope 2022
The world's freshwater is under unprecedented pressure from fast-rising temperatures, populations, and consumption patterns. To address this global water crisis and climate chaos, World Water Week 2022 focused on how we value water.
Valuing water is a tool for achieving societies' aims and contributing to a more sustainable, peaceful and secure future. It is also a politically-charged topic with implications for global trade, business models, political systems and international law. How we value water touches on fundamental social, cultural and spiritual values. It paves the way for more peaceful, stable, healthy and prosperous societies and a more sustainable future for the entire planet.
World Water Week web page can be seen HERE and will show information about the 2023 conference scheduled for August 2023. It also includes a sign-up link to their newsletter. Videos of the 2022 conference presentations can be seen HERE.
World Water Week 2023 will take place on 20-24 August and will focus on innovation at a time of unprecedented changes when new thinking is very much needed. The conference will have a program which draws on the latest scientific knowledge and experiences from around the world. We will explore new ways for how water can be a powerful tool to address the water crisis, global heating, biodiversity loss, poverty, and many other water-related challenges. World Water Week 2023 will also be an important forum for following up on and advancing the commitments made at the UN Water Conference in New York.
The 2023 Thematic Scope will be Seeds of Change: Innovative Solutions for a Water-Wise World. Explore the 2023 theme .
World Water Week 2023 will focus on innovation at a time of unprecedented changes. Human activities have triggered a global water crisis where we have for the first time crossed the safe planetary boundary for water. Yet this is only one of multiple interlinked crises; in addition, we must simultaneously tackle climate change, biodiversity loss, and poverty. Water is at the core of all these threats, which also means that it is one of the most powerful tools to find solutions.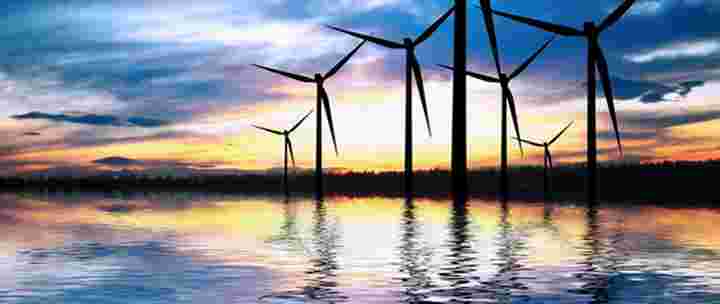 Water and Wind, Tools for the Future

Habitat Day Urban Rivers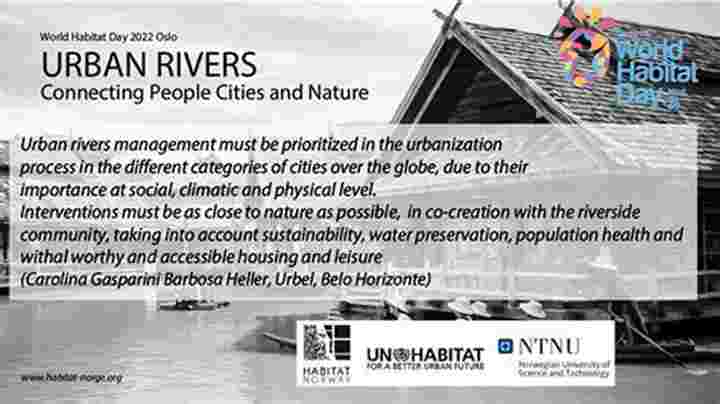 In October 2022 Habitat Norge held a conference on Urban Rivers as part of World Habitat Day. The conference sessions can be viewed HERE.
Throughout history, rivers have been a central feature in the development of human societies – many of our towns and cities are associated with rivers. This relationship has developed because of their social and recreational value to communities as well as for the opportunities they present for economic development. Rivers provide important natural refuges and corridors between adjacent green spaces, for both people and wildlife.


Harbor Place Baltimore
What should David Bramble do with Harbor Place? The implosion of Harborplace,
Klaus Philipsen, FAIA. The full article can be see HERE.
A few years ago when the Harbor Place pavilions showed some signs of getting tired, few people thought it would take more than what then operator Ashkenazy proposed in UDAAP session #216 on November 12, 2015: An architectural face-lift for the two pavilions and a few new tenants. The discussion at the time revolved around a few renderings by the architects MG2 showing steel frames, rooftop signs and new wood paneling.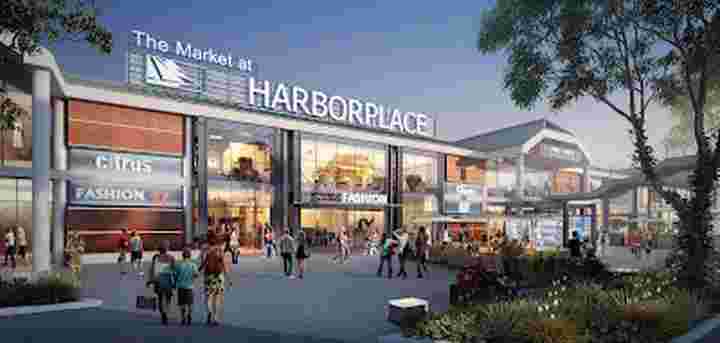 MG2 Architects
UDAAP presentation rendering 2015 (MG2)
Fast forward seven years, and it is possible that the pavilions will be razed entirely. No longer is the debate simply about dressing up the pavilions but whether they should be replaced with new structures, or even highrises.
None less than the Mayor himself announced the latest chapter of HarborPlace in his State of the City speech on April 5, 2022: Baltimore's fastest growing development firm, MCB Real Estate is the one to pick up the pieces. Since then the matter is hashed out in bankruptcy court while speculation about what could happen next is rampant.

David Bramble, CEO of MCB keeps mum about what he wants to do until the i's are dotted and the t's are crossed in his purchase agreement. He promises a listening session and public input as soon as there is court approval, a process that will be led by Adam Genn who used to work for Weller Development. MCB is expected to finalize the deal with IVL, the receiver of the Ashkenazy property soon.
Bramble himself called HarborPlace "Baltimore's front porch", a somewhat awkward image considering that nobody could ever tell exactly what was front and what back on those pavilions which face Baltimore's main boulevards (Light and Pratt Street) but also the water.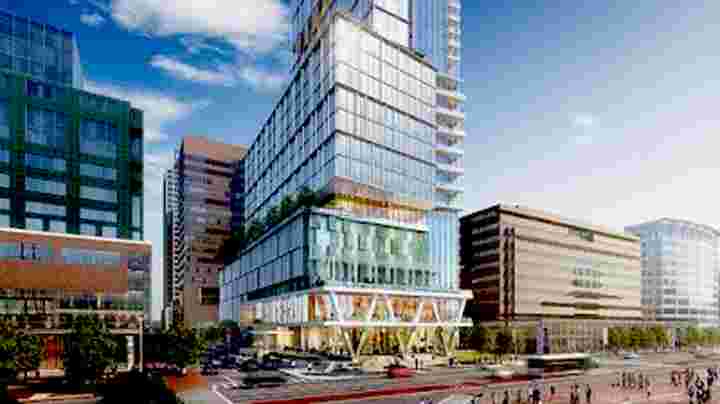 Rendering of what could happen on 300 East Pratt Street, another MCB site. (HKS Architects)
Greenland Ice
New research is the first to use satellite data from space to measure water that melts off the Greenland ice sheet during the summer.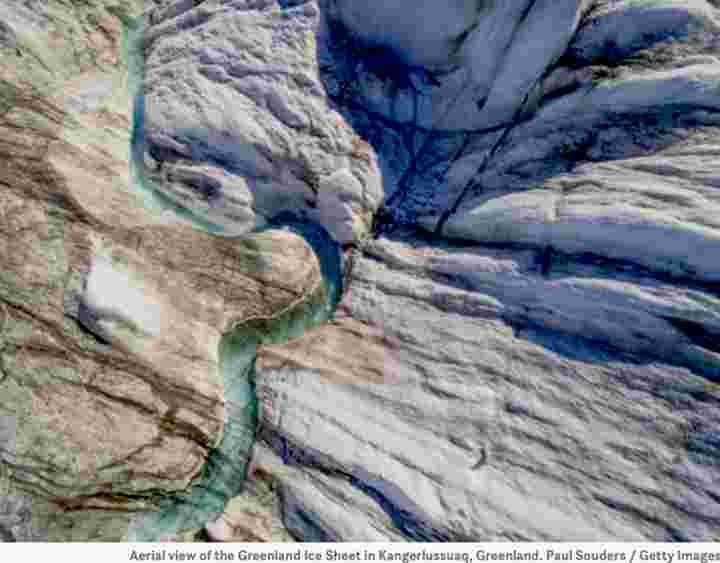 Olivia Rosane published a paper on new research by the Centre for Polar Observation and Modelling (see HERE). This study measures the water that melts off the sheet during the summer months from space.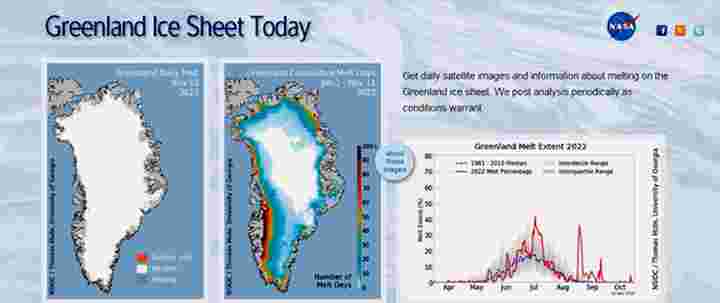 Olivia writes "the Greenland ice sheet contains enough water to raise sea levels by 17 to 23 feet. While this would take at least one thousand years, a new study has found that meltwater from the vulnerable ice sheet is already increasing flood risk around the world.
The new research, published in Nature Communications, is the first to measure the water that melts off the sheet during the summer months from space.
"Here we reported that the runoff of surface meltwater from Greenland raised the global sea level by one centimetre [approximately 0.4 inches] during the past decade," study lead author Dr. Thomas Slater, a Research Fellow in the Centre for Polar Observation and Modelling at the University of Leeds, tells Treehugger in an email. "While that sounds like a small amount[,] each centimetre of sea level rise will increase in the frequency of storm-related flooding in many of the world's largest coastal cities and will displace around a million people around the planet."
Sponge Cities
There is a new catchphrase in urban planning that affects waterfront affairs – "Sponge Cities". The concept has been mainly adopted in China where sixteen cities have been designated to make plans to adopt sponge city principles.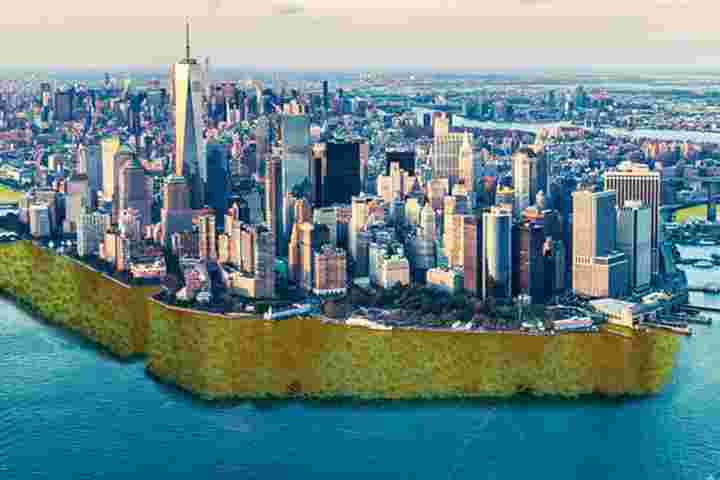 The NYC Sponge by
Anand Kumar
Yichun Xu from the Shanghai studio of Chapman Taylor defines sponge cities in her paper on the subject (see HERE) as follows:
A sponge city is an urban area which has been designed to cope with excess rainfall using a variety of techniques.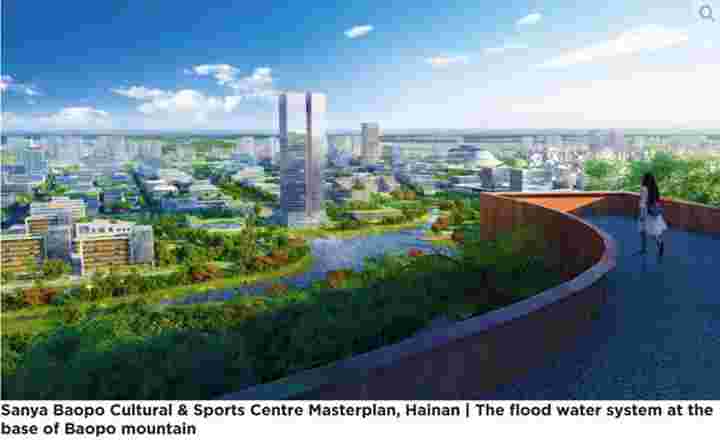 Reducing the number of hard surfaces and increasing the amount of absorbent land, particularly green space, can make a significant difference in reducing the severity and frequency of flooding events. Supplementing this approach with efficient channeling and storage systems can help to counter the frequency of water shortages, which can be particularly acute in large cities.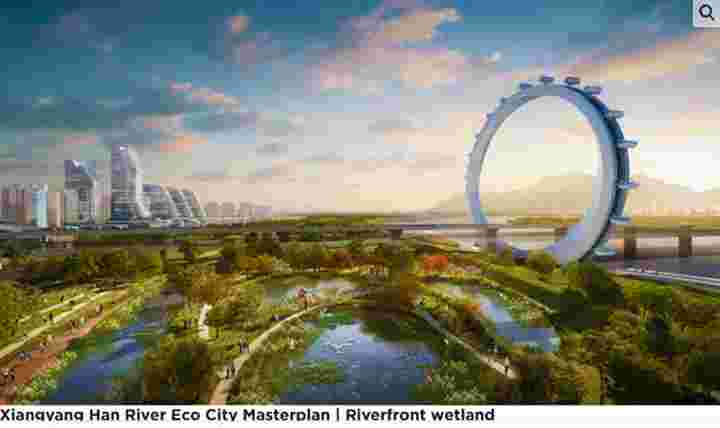 Other measures can include:
The provision of rooftop green spaces.

The storage and harvesting of rainwater.

Building roads with porous surface materials.

The use of water-intensive plants and trees.

Creating land basins to hold excess water.
Introducing more ponds and lakes which can hold some of the excess water.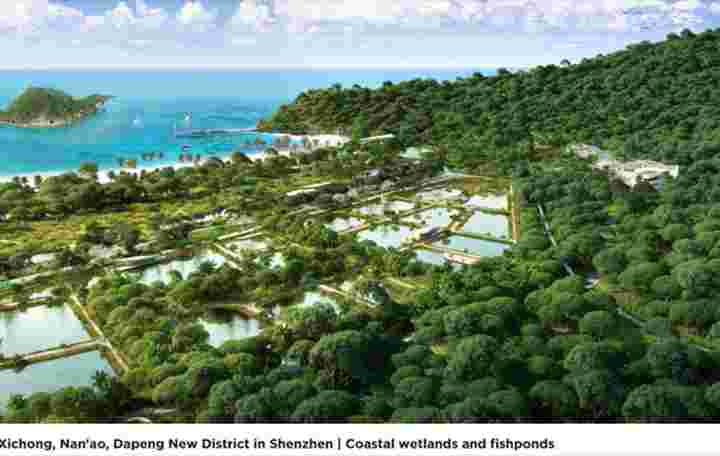 The concept is not really new. The provision of vegetated open space in river floodplains and coastal areas has long been known to mitigate flooding and erosion, though not always practiced, but this collection of water management practices into a memorable name could help to realize more of these practices on the ground.
Massachusetts Sea Level Affecting Marshes Model (SLAMM)

SLAMM is a mathematical model developed by Warren Pinnacle Consulting, Inc., to simulate the potential impacts of long-term sea level rise on wetlands and shorelines. Data representing elevation, tidal range, accretion, erosion, and freshwater parameters (among others) are used to model the dominant processes involved in wetland conversion (e.g., salt marsh becomes tidal flat, or inland freshwater marsh becomes tidal freshwater marsh) and other forms of shoreline modification.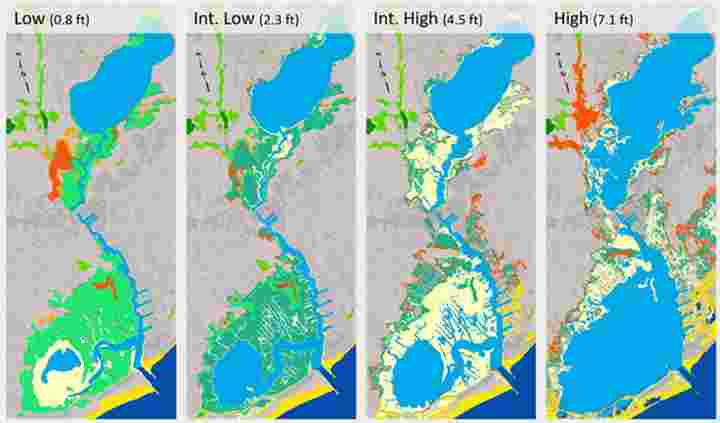 Sample maps of SLAMM results show potential wetland distribution in 2100 for Parkers River, Yarmouth, under the four sea level rise scenarios. Green and orange colors indicate marsh or swamp, yellows indicate tidal flat or beach, and blues indicate open water.
The Los Angeles River in Flood
More information abpout this model can be seen HERE.
Remaking the River That Remade LA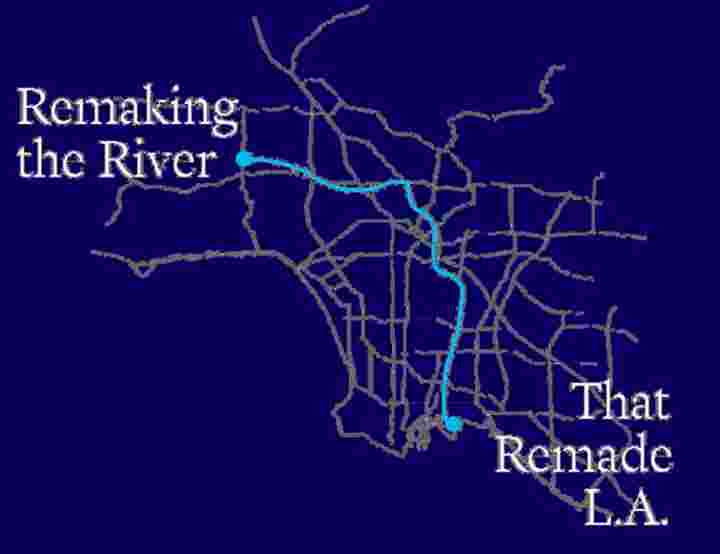 Michael Kimmelman, the architecture critic of The New York Times, wrote an article about the remaking of the Los Angeles River. The full article can be read HERE.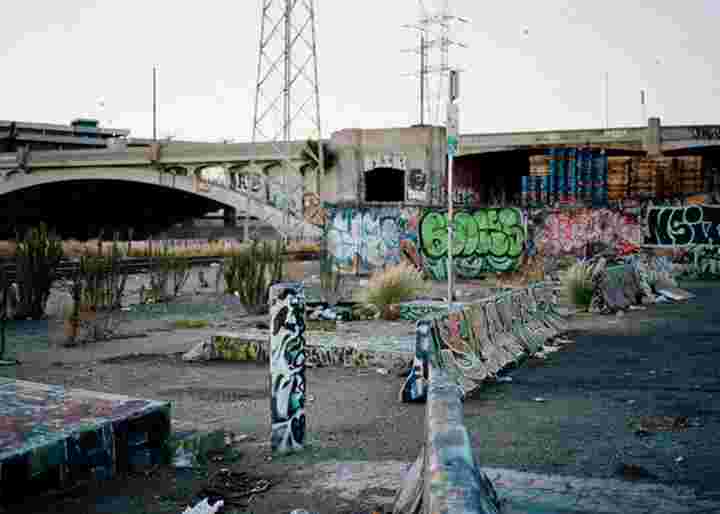 The Los Angeles River Photo by Adali Schell
At 51 miles long, the Los Angeles River is one of America's largest infrastructure projects. Angelenos live, work and play along it, but know little of its origins nor its role in protecting them from devastating flood waters.
The Los Angeles River was never a storybook river of the kind that, like the Hudson or the Seine, we associate with great cities. It was an arid, Janus-faced watercourse — most of the time hardly more than a shallow, burbling brook, which ran underground in places and occasionally turned bone-dry. But with heavy rains, it was prone to flooding, occasionally gaining the full, deadly force of the Mississippi or the Colorado and violently overreaching its low banks.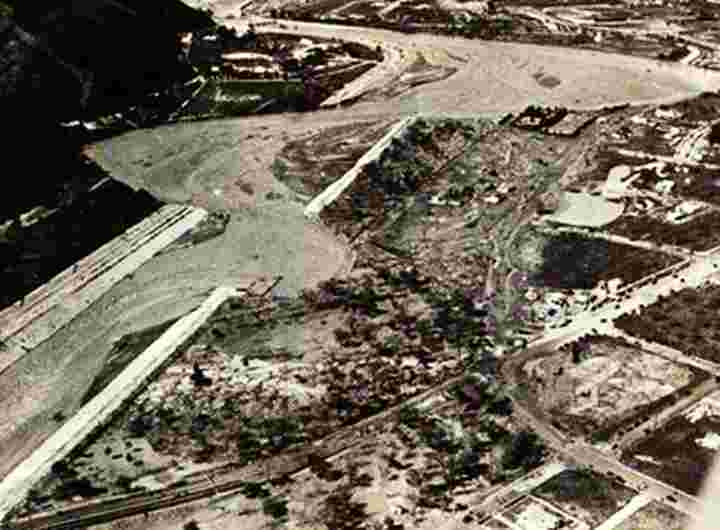 The Los Angeles River in Flood
In June, the Los Angeles County Board of Supervisors approved the first new master plan for the river in more than a quarter-century. Like all master plans, it lacks legislative teeth and has its share of detractors. But it is the most ambitious vision for the river since the channel was constructed, forward-looking and socially minded — a blueprint for encouraging legislators, private developers and community groups to come together around financing and new laws.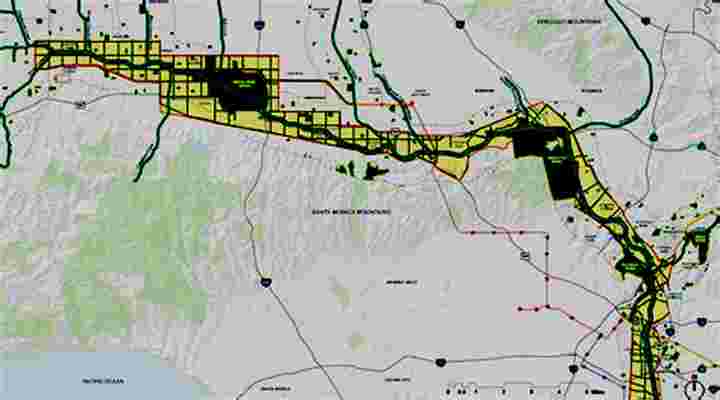 LA River Master Plan
Among the projects the master plan endorses is a proposal by the architect Frank Gehry for that southern stretch of the river. Collaborating with the landscape architect Laurie Olin and the engineering firm Geosyntec Consultants, Gehry imagines building platform parks levitated above the concrete channel at the river's confluence with the Río Hondo and a new $150 million Gehry-designed cultural center beside the parks.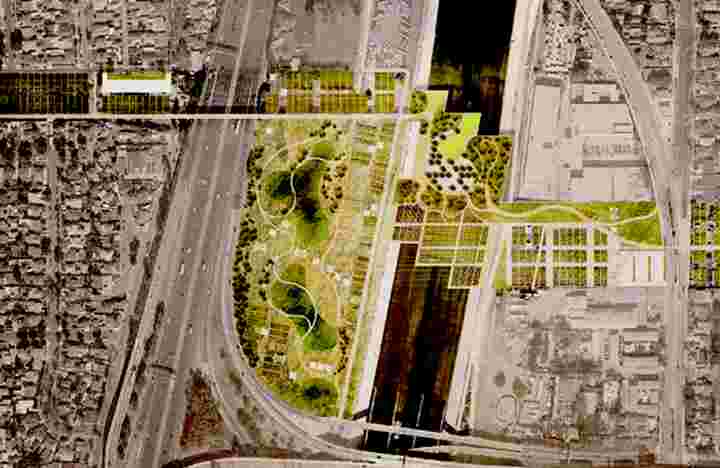 Proposed Frank Gehry and Laurie Olin elevated park over the LA River
Some of the opposition to the master plan and to Gehry's proposals comes from environmentalists who are pressing for a more natural version of the river. Among the naysayers is a venerable organization called Friends of the Los Angeles River,(FOLAR). FOLAR stated that the goal should not be building decks over the concrete channel but looking at removing it, installing permeable pavement and capturing more storm water.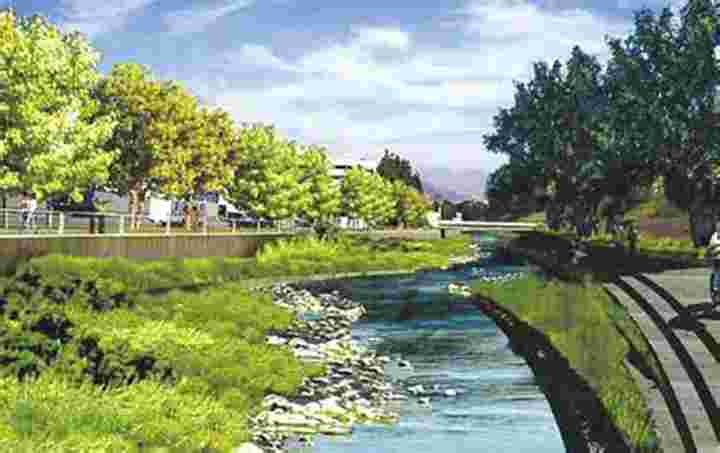 Friends of the Los Angeles River reclamation preference
Just as FOLAR doesn't believe that the county and Olin have fully considered alternative scenarios, the county and Olin insist FOLAR is ignoring the basic science. For his part, Gehry told me he also hoped to remove the concrete but the facts didn't allow it. I thought, Well, the river runs through all these different communities, maybe we could make a great park out of it if we got rid of the concrete — which seemed a beautiful idea, a 51-mile garden — and so we worked on that plan for two years, pro bono, because I simply refused to believe it wasn't possible. He and his partner on the project, Tensho Takemori, couldn't figure out how to engineer the concrete away.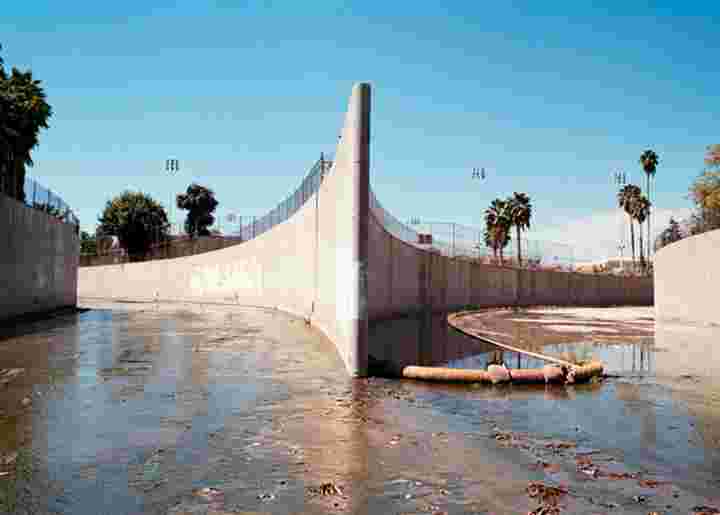 LA River channels Photo Adali Schell
The Waterfront Center
October 2022 Newsletter
In 1981Ann Breen and Dick Rigby founded the Waterfront Center, a non-profit organization, to promote good waterfront planning and design. A short video, see HERE, illustrates the ways in which the Waterfront Center has pursued this promotion. Over the years the Waterfront Center has become a major influence in the improvement of city waterfronts in many countries, championing the transition from decaying waterside industry to vibrant mixed-use waterfronts.
In January 2022 Ann Breen died after a short illness to the dismay of her many admirers. After the first shock of their loss, they began to discuss what could be done to continue the formidable organization that Ann had created, how Ann's methods of bringing an inter-disciplinary review of the best waterfront planning and design could be continued into the future.
The Waterfront Center website (see HERE) is a digital archive of much of the Waterfront Center's work and will continue to be posted, but this records the past and the discussion has centered on the future. This newsletter is the first step in continuing the work of the Waterfront Center. Waterfront Center Correspondents have agreed to contribute news of waterfront events and reports of Waterfront Center activities quarterly and to distribute these as a newsletter and on the website. If you would like to add content to these newsletters or wish to be added to the distribution list contact Kathy Wine or Charlotte De Witt HERE.
This is the first of these quarterly newsletters.
The Sydney Opera House lit up for Vivid Sydney
Vivid Sydney is an annual celebration of creativity, innovation, and technology, which transforms Sydney for 23 days and nights. In 2022, for its 12th year, Vivid Sydney fused art, innovation, and technology in collaboration with some of the most boundary-pushing artists, thinkers, and musicians of our time.
Visit HERE for details
The St. Louis River Corridor Initiative in Minnesota invests in public park and trail improvements from Lincoln Park to the Fond du Lac neighborhood. The overall goals of the Initiative are to support the natural environment, enrich neighborhood quality of life, attract new home buyers, establish new visitor destinations, and stimulate appropriate development. Initiative projects are funded in part by $18 million in bonds, collected through the ½ and ½ tourism tax approved by the Minnesota Legislature in 2014. These funds will leverage additional dollars through community partnerships and grants.
For a comprehensive review of the Initiative, including project updates, please see our St. Louis River Corridor Initiative 2021 Progress Report.
St. Louis River: Superior Waterway
St. Louis Major Watershed
The call of the wild may be no stronger anywhere in the lower 48 states than the headwaters of the St. Louis River. Beginning in the Laurentian Uplands, where small streams divide in three directions toward Hudson Bay, Lake Superior, and the Mississippi River, it's a land of timber wolves, moose, and Canada lynx. Wood turtles, sturgeon, walleye, northern pike, bass, bluegill, black crappie, channel catfish, and 163 species of breeding birds call the river home, savoring lush wetlands and wild rice lakes that led the Ojibwa people to settle the region.
This 194-mile river, which drains 2.4 million acres of Minnesota's northern forests and wetlands, remains the primary reservation fishery for the Fond du Lac Band of Lake Superior Chippewa. Below the reservation, it flows through the magnificent Jay Cooke State Park and into a rare freshwater estuary between the twin ports of Duluth, MN, and Superior, WI, where it enters Lake Superior as the largest U.S. tributary of the entire Great Lakes system. The lower St. Louis is the only river in the state with whitewater rafting opportunities.
See the Progress Report HERE.
Three Finalists Chosen for Lake Monona Waterfront
The Lake Monona Waterfront Design Challenge (see HERE) is a competition to create a visionary, inclusive, and environmentally focused master plan for 1.7 miles of shoreline and 17 acres of Madison Wisconsin's foremost public lakefront. The Design Challenge process started in March 2022.
The Lake Monona Waterfront Ad-hoc Committee completed its evaluation of fourteen design team RFQ submissions and five interviewed teams. The top scoring teams are Agency Landscape and Planning, James Corner Field Operations, and Sasaki. The experience and expertise the selected teams bring to the master planning process are significant, with each team providing a unique perspective on plan development. The Ad-hoc Committee is reviewing the design challenge scope of services, and once finalized, the City will contract with each team to participate in the challenge. More details on the scoring can be seen HERE.
USA TODAY ANNOUNCES DETROIT RIVERWALK AS THE BEST RIVERWALK IN AMERICA
Friday, May 6, 2022
DETROIT, Michigan, (APRIL 22, 2022) -The Detroit Riverfront Conservancy is excited to announce the Detroit Riverwalk has been named Best Riverwalk in the 2022 USA TODAY 10Best Readers' Choice Awards contest. It is the second year in a row that the Detroit Riverwalk has been recognized as the Best Riverwalk in the country.
"We are thrilled to be voted number one for the second year in a row," said Matt Cullen, board chairman of the Detroit Riverfront Conservancy. "This is going to be a big year for us as we break ground on new projects, mark the completion of our East Riverfront vision and make plans for our 20-year anniversary in 2023, so it is incredibly rewarding to be able to celebrate the Best Riverwalk honor during this special year."
"The entire Detroit Riverfront Conservancy team is proud to be recognized again on this national level," said Mark Wallace, president and CEO of the Detroit Riverfront Conservancy "This honor is also very exciting because we are being recognized as the Best Riverwalk based on the votes submitted by people throughout our community who voted for us. Detroiters love their riverfront."
For more details see HERE
Green Bay National Estuarine Research Reserve
Green Bay, Wisconsin, is the world's largest freshwater estuary and the concept of siting an NERR in the Bay has been in discussion for some years. New National Estuarine Research Reserves are designated through a six-step process that typically takes 4-6 years to complete. The first step was taken with a letter from the Governor's office to NOAA on March 25, 2019. A response from NOAA was issued July 19, 2019, advancing the initiative and completing step one of designation. The Green Bay NERR is currently in step two of the designation process, the evaluation of potential sites. This stage includes broad-reaching public outreach and stakeholder engagement; establishing the criteria used to select a site; the determination of candidate sites; and the nomination of a final site to the National Oceanic and Atmospheric Administration (NOAA). See the Site Selection & Timeline for more details.
Upon designation, the Green Bay NERR would be the third National Estuarine Research Reserve within the Great Lakes, and the sole representative for the Lake Michigan-Huron biogeographic region. Existing NERRs within the Great Lakes include the Lake Superior National Estuarine Research Reserve, established in 2010 and located in Superior, Wisconsin, and Old Woman Creek NERR, established in 1980 along the Ohio shoreline of Lake Erie.
For more information see HERE.
Candidate Areas for the National Estuarine Research Reserve
BOOK REVIEW: WATER ALWAYS WINS by Erica Gies
| | |
| --- | --- |
| Water Always Wins See HERE | |
How do we survive in an age of drought and deluge? Water Always Wins by Erica Gies is an examination of the critical waterfront issues that cities are facing and offers hopeful and innovative solutions that are happening around the world to address disruptive climate change.
It begins with current problems that we are creating with water and then moves into a "Slow Water Movement" of nuanced solutions. Examples are not comprehensive, but intended as a solid range of efforts being made in the US, Canada, Iraq, UK, India, Peru, China, The Netherlands, Kenya, and Vietnam. Every coast is unique, but all face common challenges.
As a science journalist, Erica spans the globe to cover the natural and cultural histories of water use. She offers ancient lessons from Peru such as the use of amunas to extend water supply in the dry season. With an historical perspective, she outlines the long term negative effects in controlling water such as building seawalls and megadams.
Inca Amunas Photo by Borgen Magazine
Erica advocates for alternative solutions to let water flex and be its true nature. Humans are inclined to build seawalls to protect from incoming seas that require constant and costly maintenance, but natural coastal ecosystems such as tidal marshes, barrier islands, coral reefs, estuaries can sustain themselves.
In Vietnam, salt water is moving up the Mekong Delta due to lost mangroves, sea level rise, and upstream dams. In response, Vietnam is diversifying crops and restoring mangroves.
After years of significant flooding in China's cities, landscape architect, Yu Kongjian has led several projects with his firm Turenscape that aim to slow water. China's leaders have adopted a "Sponge City Revolution" to make room for water in cities.
Sanya Mangrove Park, an Example of Turenscape's Sponge Cities
As a global leader in water management, The Netherlands has created an Agenda of International Water Affairs to share their expertise with other governments around the world. They are not advocating for Slow Water to replace engineered water systems, but rather to have natural systems augment what has been done. The Dutch have a long history of building dikes (levees) to protect low lying land and are experts at understanding the consequences and need for changing approaches. In the mid-1990's, they adopted a Room for the River program to remove or lower dikes to reconnect some stretches with their floodplains. In 2017, they updated their Water Law to "manage" risk from floods rather than simply prevent them.
In recognizing the importance of wetland restoration for decades, San Francisco Bay restoration is well on its way to restoring more than 90% of its wetlands lost to development. However, with the acceleration of climate change, tidal marshes are only the first line of defense so a further comprehensive approach is needed.
San Francisco Bay Restoration
There is much more in this book to learn from for planning and advocating for the future of urban waterfronts.
- Diane Norris
Apres Nous le Déluge
Some Postdeluvial Thoughts
By Stewart McKenzie Waterfront Center WebMaker
The Giant, Photo by PRK Network
When Ann Breen and Dick Rigby first started the Waterfront Center in 1981 the main issue was how to promote public access and mixed waterside uses in urban waterfronts. Typically, access to the water's edge in American cities was blocked by decaying waterfront industry, rotting piers, abandoned warehouse , and disused railroads.
Now, forty-one years later, this issue has largely disappeared, and the value of urban waterfronts has been clearly recognized. Now the main short-term issue is how to protect public water access and waterfront open space uses from fierce competition to develop the water's edge for profitable private uses.
Looming over these short-term issues however, is the much greater problem of global climate change. The heating of the planet is causing sea level rise and increased storms and floods. These problems will increase in the future. In the past these issues have received some consideration in the Waterfront Center awards process but many of the projects that have received awards will be underwater in our children's lifetime. When judging future waterfront plans and projects, the durability of siting clearly needs to be a major consideration.
This paper looks at the gravity of the sea level rise and flooding problems worldwide, identifies ways of monitoring the problems both regionally and locally, discusses criteria that can be used to assess the degree to which plans and projects can withstand future flooding, and proposes that the Waterfront Center should adopt as its primary future mission the promotion of sustainable waterfront plans and projects that can survive climate change.
The Gravity of the Problem
Greenland Sea Ice Melting Photo by CNN
The Greenland sea ice is melting. If all global carbon dioxide emissions were stopped tomorrow global sea level would rise about a foot from Greenland meltwater. With continued CO2 emissions and ice melt from Antarctic ice and glaciers, sea level rise could be 3.5 to 7 feet by the end of the century. Historically the world's major cities have developed on coasts or major rivers for mercantile ship access, and all are vulnerable to sea level rise. If all the ice caps melted, the world would look like the map below, the dark land areas being underwater.
Map created by Richard Weller, Claire Hoch, and Chieh Huang
And the map of North America could look like this:
Gordon- Michael Scallion MATRIX INSTITUTE
Before sea level rise itself becomes a problem, however, global warming is being manifested now in an increase in increased frequency and severity of storms and floods. The year 2022 floods have vividly illustrated just how inconvenient this truth has become. What is clear is that climate change is a global problem now, and that any waterfront planning and design must incorporate an understanding of future flood and sea levels.
2022 floods
Over the years the Waterfront Center has become an influential voice in waterfront planning and design. There is an opportunity now to use this voice to promote "resilient" waterfront projects and plans that can withstand the flooding changes that will certainly come from global warming.
Monitoring Floods and Sea Level
Predictions about the extent and rate of increase of sea level and flooding vary depending on the model used and the rate of carbon emission reduction.
Possible Sea Level Rises
Current expectations are that the most likely trend is the intermediate, with a sea level rise of about three feet. The observed rate of global warming, however, has, to date, exceeded the fastest predicted rate so this expectation may be low. On a pathway with high greenhouse gas emissions and rapid ice sheet collapse, models project that average sea level rise for the contiguous United States could be 7.2 feet by 2100 and 13 feet by 2150.
There are a number of websites that have general predictions of sea level rise (see Appendix) and two that offer detailed interactive displays of sea level rise and coastal flooding. These offer useful tools when considering the resilience of waterfront projects and plans.
Criteria For Waterfront Climate Change Planning and Design
The Waterfront Center currently has six criteria when judging waterfront plans and designs: Sensitivity of the design to water, Quality and harmony of design, Civic contribution, Environmental, Enrichment, and Degree of difficulty. Given the importance of flooding and sea level rise, a seventh criterion should be added: Resilience to climate change. This criterion should be given great weight since, unless proposals can resist future inundation, their other virtues are irrelevant.
What resilience means in the context of waterfront plans and projects will vary but there are some general guidelines. First and most important is location. One of the great planning mistakes of the past was to place development in the path of future flooding. In almost all future scenarios, for example, the barrier islands of the Atlantic US coast will be under water. No amount of beach restoration or raised structures will save them. It was always folly to build on these shifting sand bars. Native American predecessors did not even pitch teepees on them. There is also a great reckoning coming for New Orleans - elevating levees cannot forever protect the city against rising sea level and the preference of the Mississippi River for an easier path to the sea.
If waterfront projects must be placed in the path of future flooding to offer protection for past development that cannot be moved, there are solutions but they are temporary and very expensive. The Thames barrier in England protects against flooding of the London subway system, but at a cost of almost two billion dollars. To build flood barriers for Boston Harbor would cost between $6.5 billion to $11.8 billion. A general rule should be to avoid building in future flood prone areas and to preserve these areas for wetlands, beaches, dunes and other storm mitigation measures.
Example of Climate Change Resilience Plan
The Waterfront Center has included some awards in the past to plans that clearly address the flooding increase associated with climate change. In 2011 an award was given to the Dutch city of Nijmegen for a plan titled Room for the River Waal. This is a good example of the kind of project that this paper recommends for future promotion.
Plan and aerial view of flood storage for the River Waal