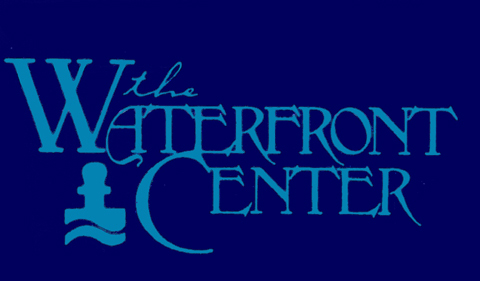 Printer Version
The Waterfront Center announces winners of the 2014
"Excellence on the Waterfront" Program
Click here to see the 2014 Awards Presentation
The Excellence on the Waterfront Awards Program was initiated in 1987 with grants from the National Endowment for the Arts Design Arts Program and the National Marine Manufacturers Association. The honor awards were developed to recognize top quality design and development work. Entries are accepted from around the world for comprehensive plans, built projects and student work. The Center also recognizes citizen's efforts through a Clearwater Award named for the non-profit group of that name working to clean up the Hudson River in New York.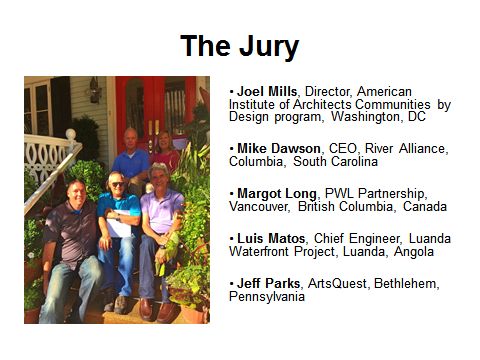 2014 Awards Jury
Excellence on the Waterfront
2014 Jury Statement
This year's awards jury distinguished itself by spending the better part of Thursday, July 24, reviewing plan submissions. This was the first time the entire jury of five members reviewed plans in advance of the official convening of the jury on Friday. There were nine such entries, with two selected for Honor Awards.
There were over 50 total entries, with seven projects chosen, one Clearwater Award for citizen activism and one Student Award. As in past years, the selection process as it nears the final choices, is challenging. The practical result is that much good work is passed over. This is why the Waterfront Center encourages re-entries from the three previous years. There were a number of these this year, some ending with awards.
This year's award winners provide a clear and inspirational message to the rest of us. Today, the prevailing narrative about our waterfronts today is characterized by fragility. We face unprecedented challenges on our waterfronts. Sea level rise and the effects of climate change present our waterfronts with an uncertain future the world over. In addition, many of our municipalities are broke and broken, and public resources are limited. Anyone who has worked on waterfront projects understands the struggle. We face an uncertain future.
Collectively, our award winners present us with a wholly different and hopeful narrative -one characterized by positive transformation. These award winners demonstrate that we can still be visionary and dream big things for our waterfronts. They show us that our waterfronts are only constrained by the limits of our imagination and that we can transform even the most constrained waterfronts to be meaningful places. This year's awards celebrate an abil­ity to overcome seemingly intractable challenges with inventive design, partnerships and hard work, and investments in the future. They provide us with profound narratives about the hope we invest in the future of all our waterfronts. We trust you will be as inspired by their stories as our jury has been by them.
The 2014 jury was conscious of the importance of context in its selections. The result is an interesting mix of large and small, East, Midwest and West in the U.S. and Canada, plus three winners from overseas.
With the addition of the 2014 winners, the Center's interactive awards database will have 380 entries on its website. Prototypes of four years of entries are now available. Each proj­ect or plan entry includes multiple images, a project description, juror comments and cur­rent contact information, with cross references by type and geography. When completed, the Center believes, the database will contribute an outstanding and unique information source to global development and design communities especially as it reflects best prac­tices from 1987 to present day. This was a conscientious jury, hard-working and serious in its approach. The Waterfront Center wishes to express its gratitude to the 2014 jurors, who donated their time, talent and travel to make the 27th annual awards program possible.
2014 Waterfront Center Award Winners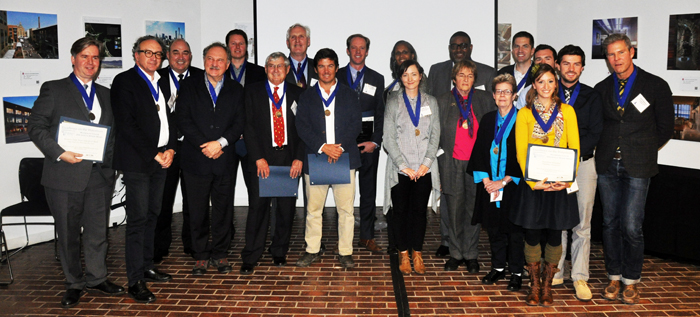 Front row left to right: Michael Koontz, Michel Trocme, Ed Freer, Howard Deardorff, Fred Phillips, Amber Hill, Harriet Saperstein, Di Talty, Laura Renekamp and David Fierabend.

Back row left to right: Peter Drummond,Hayden Smith, Charles Flynn. Murray Fisher, Karen Slaughter-DuPerry, William Smith, Todd Bronk, Robert Brady and Michael Coyle.

Top Honor Project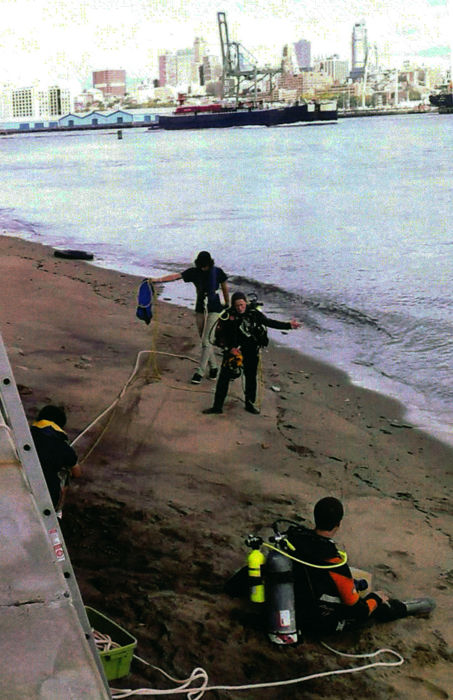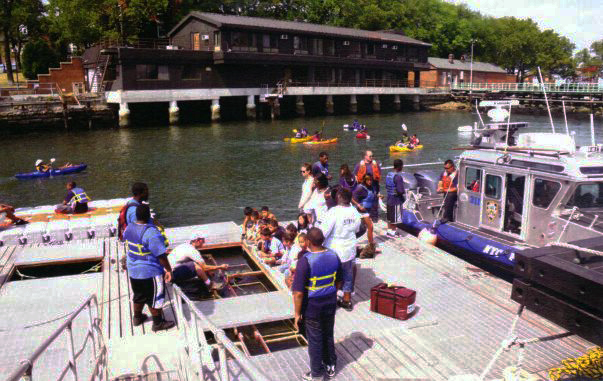 Marine and Science Technology 'MAST' Center, Governors Island, New York
Entrants: Lorraine Grillo New York City School Construction Authority and Murray Fisher New York Harbor Foundation New York, New York
Project Description and Jury Comments
In 2002, the Urban Assembly New York Harbor School opened as the city's first maritime high school. Funds for the "MAST Center" came from the non-profit New York Harbor Foundation and earmarks from City Council. For its first eight years, the school was located in Bushwick, Brooklyn, at the former Bushwick High School. Even after moving to Governors Island in 2011 , students were cut off from direct water access. The "MAST Center" created a waterfront facility reusing a former Coast Guard small boat station cantilevered over the harbor, which provides di­rect water access for students. This location has also allowed a water circulation system which supports marine science and aquaculture, the school's oyster dock is nearby. A third building is planned so the school can accommodate 300 additional students, but the MAST Center's pro­gramming is already having a transformational impact on the educational experience. The facility is enabling 450 students to gain access to a unique education designed around marine sciences and environmental stewardship. The school "attempts to relate every aspect of its curriculum to the water," using the harbor as an "outdoor laboratory." Students are on the water twice a week engaging in activities ranging from building boats, to sailing and diving, to leading the Billion Oyster Project, a ground-breaking initiative to re-stock the harbor with a billion live oysters during the next 20 years. The school's aquaculture program was certified in May by New York State, the first and only such program in the state and one of few at the high school level in the country. Students come from every borough in New York City. Over 90 percent are African-American or Hispanic, and 75 percent qualify for free lunch programs.
Perhaps the MAST Center's greatest sign of success is its impact on these students. Only 15 percent of incoming freshmen can swim, but 85 percent pass a swim test by graduation. At the former Bushwick High School, just 22 percent of students graduated. At the Harbor School, 70 percent graduated in 2009, and over 90 percent of graduates went on to college. The school's impact is nothing short of transformational. It is producing more than successful students -it is producing the stewards of our future waterfronts.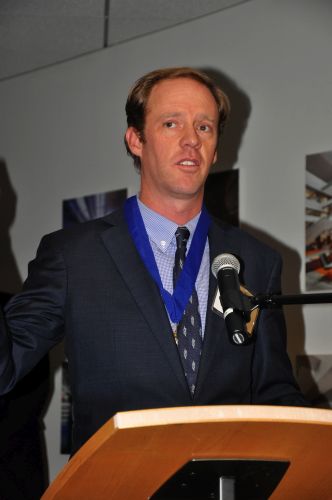 Murray Fisher receives the award
HONOR AWARDS:
Category: Plan Honor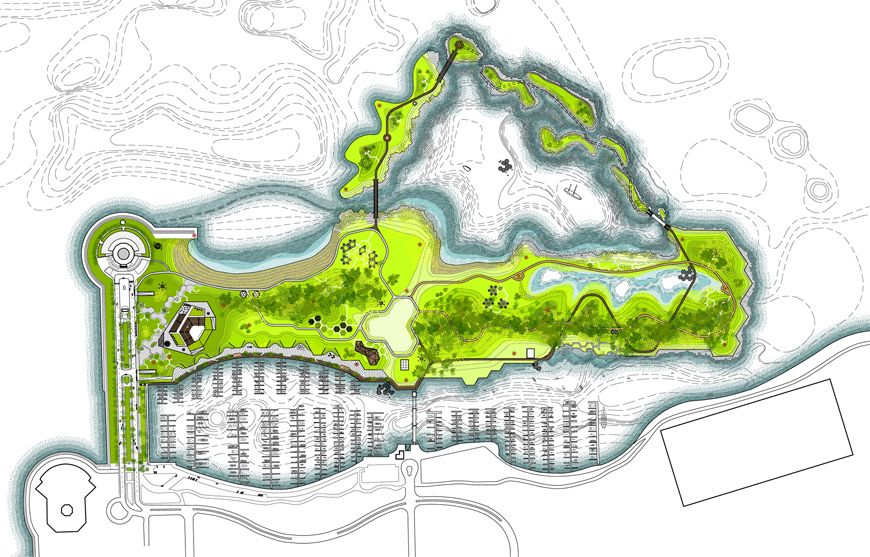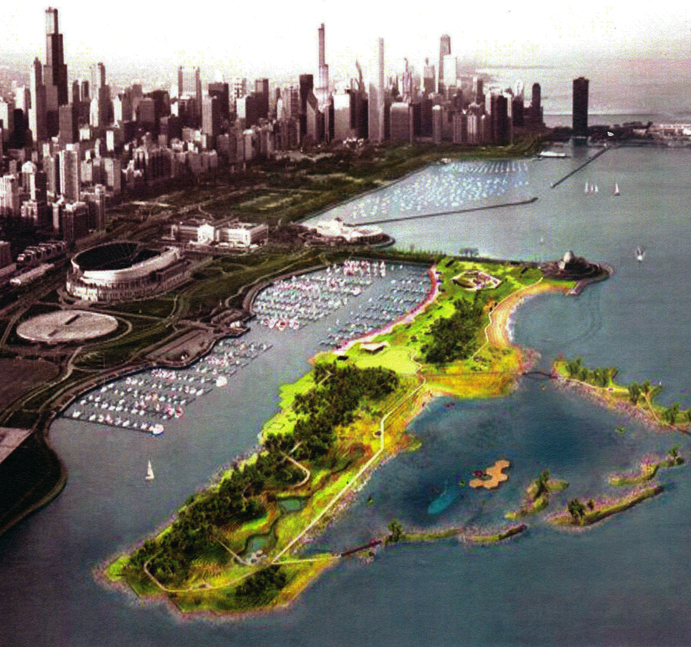 Northerly Island Park Framework Plan Chicago, Illinois
Entrants: Gia Biagi Director of Planning and Development Chicago Park District and Gregg Calpino JJR LLC Chicago, IIlinios
Project Description and Jury Comments
The city of Chicago has a legacy of great civic plans and projects, from the World's Fair to Millennium Park. The city is often associated with Daniel Burnham's famous statement, "make no little plans."
The Northerly Island Park Framework Plan firmly embraces the city's tradition of bold visions for its future. From 1947 to 2003, Northerly Island served as the location of an airport (Meigs Field), which prevented public access. In a controversial dramatic turn of events, Mayor Richard M. Daley ordered runways demolished at Meigs Field, in the name of Homeland security. The Northerly Island Framework Plan represents the fulfill­ment and expansion of a vision presented over 100 years prior. Burnham's original 1909 "Plan of Chicago" proposed the creation of Northerly Island as a lakefront park. The Northerly Island Framework Plan conceives the area as "a Millennium Park of Nature," featuring nature­based recreation and sustainable practices that are particularly notable. The plan also presents development of a major multi-purpose public space close to the center of a great American city.

A significant aspect of the plan is its phased implementation over the coming decades. Four major areas, ranging from active, urban uses to natural/passive areas and from woodlands and prairie to wetlands and waterfronts will be devel­oped. The plan's most dramatic feature is a reef which will result in a protected shoreline and a quiet, 50-acre lagoon. The jury found the plan to be complex and ambitious. Its environmental emphasis marries ecology with recreation and an incredible public venue and civic space.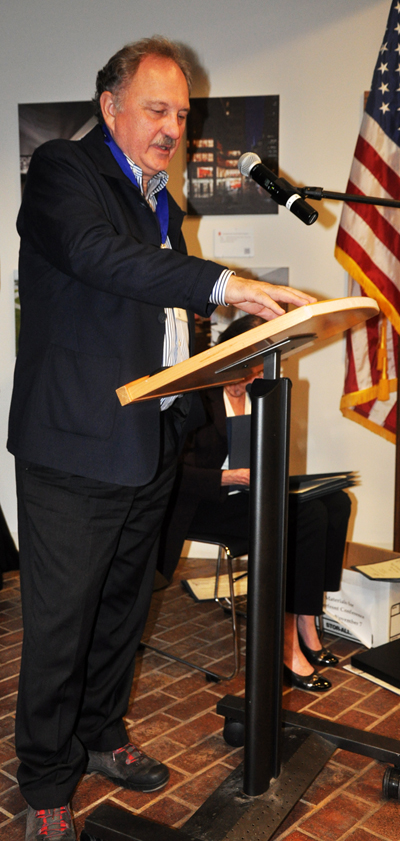 Ed Freer receives the award
Category: Plan Honor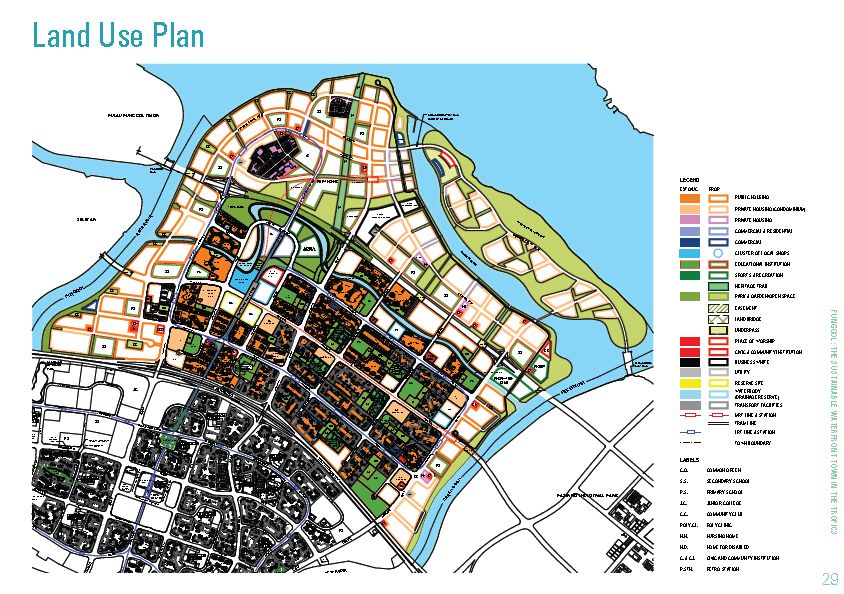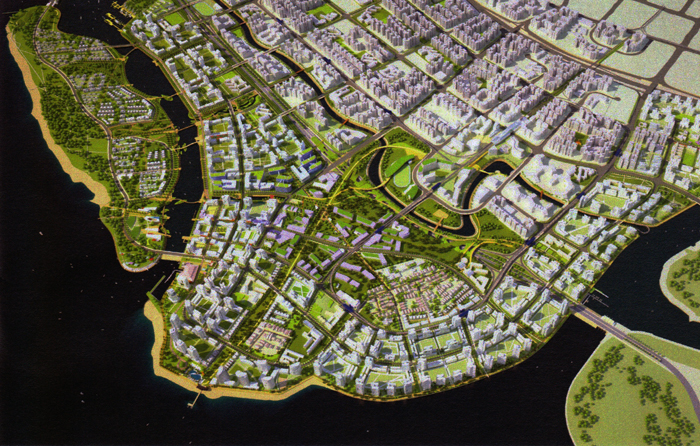 Punggol, The Sustainable Waterfront Town in the Tropics
Entrants: Dr. Chong Fook Loong, Housing and Development Board Singapore and Michel Trocme Urban Strategies Inc. Toronto, Ontario, Canada
Project Description and Jury Comments
The jury felt that this plan is an important example for emerging nations of the world of how to tackle a complex set of variables in a creative way. Conceived as a waterfront eco-town, Punggol is designed to serve as a 'living laboratory' for new unfolding ideas in sustainable development. The plan includes a ma­jor emphasis on the waterfront's key strategy of em­ploying a canal that provides a waterway through the community. The new community began to take off several years ago, with about 25,000 units of public housing built by 2012 and another 20,000 public and private units under construction.
The plan builds on Punggol's seafront and rail transit. It expands the town center, bridges an express­way, and provides a variety of attractions including a nature reserve, arboretum, marina and recreational piers. The Punggol plan is in some ways unique to Singapore because of its governance system and growth patterns. Nonetheless it provides a model for thoughtful, sustainable development in countries with high population growth in waterfront communities. The jury saw the master plan for Punggol as a big step toward that end which is sure to gain notice in this part of the world.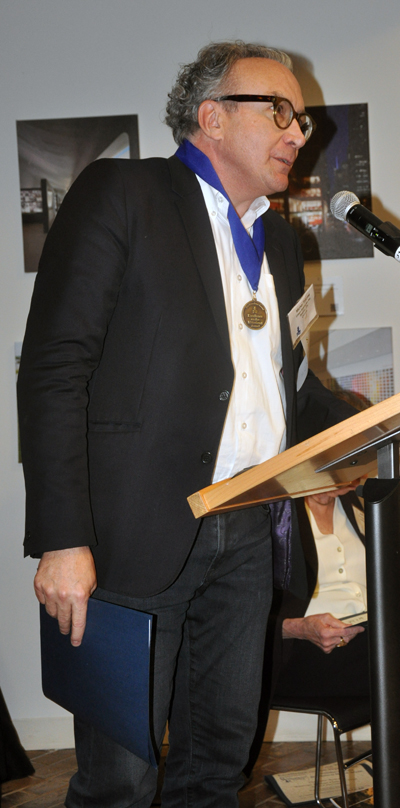 Michel Trocme, Urban Strategies Inc. Ontario, Canada accepting the award
PROJECT HONOR AWARDS:
Category: Park/Walkway/Recreational Project Honor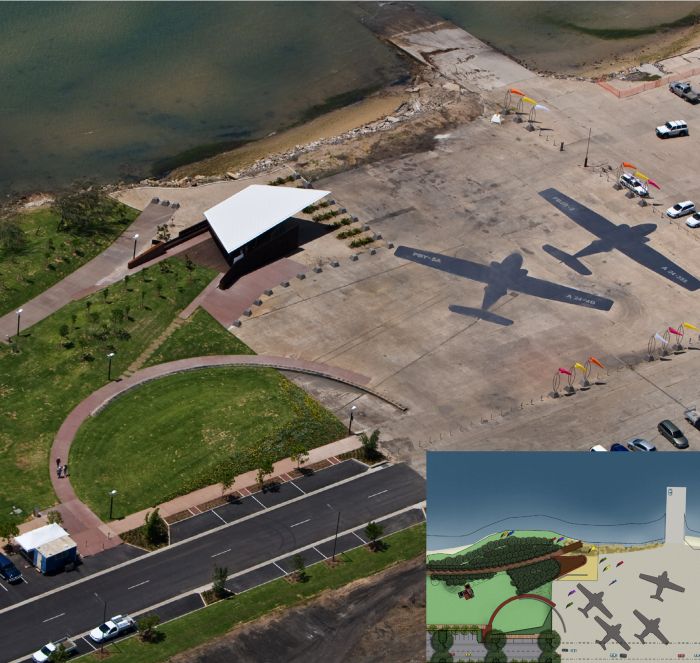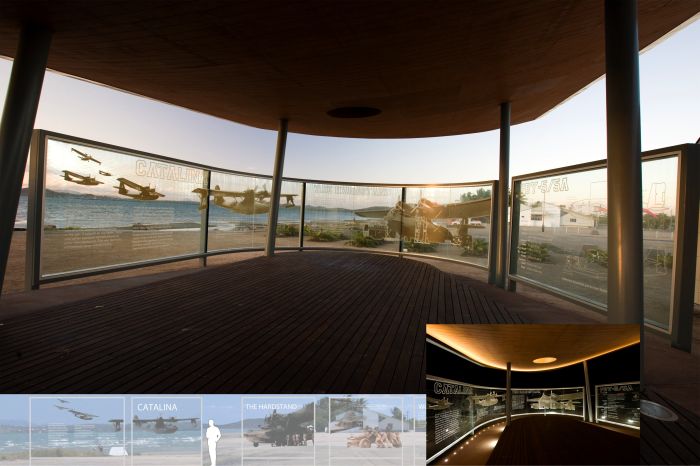 Bowen Foreshore Redevelopment Bowen, Queensland, Australia
Entrants: Stephen White Tract Consultants Pty Ltd., Brisbane, Queensland and John Finlay Whitsunday Regional Council, Bowen, Queensland, Australia
Project Description and Jury Comments
Known locally as "Front Beach", the Bowen Foreshore lies at the foot of Bowen's main street and the town's business district. Despite its prime location, the area was under used for years and its rich history unap­preciated. The project (in planning from 2004 to 2008), incorporates the site's history as a World War II military post and aircraft servic­ing base. Among its features: a "Catalina Interpretive Centre" with a wartime memorial and ceramic printing on curved glass; an inter­pretive pavilion which serves as an events center and multi-purpose facility and; pavement details that reflect area agriculture and the historical significance of the city. There are play areas, picnic fa­cilities and unobstructed beach access. Unique vegetation was included to make the area comfort­able, as it is exposed to strong off­shore winds and a harsh subtropi­cal sun. The jury liked the diversity of the site and how the landscape design works with its context, in­cluding saving trees to help cope with the climate.
The project has become "the undisputed focal point of Bowen" and a major attraction for tourists and local residents. The jury felt that this project is a great model for how smaller communities can embrace their history, climate and location to create a valuable resource for residents and visitors alike.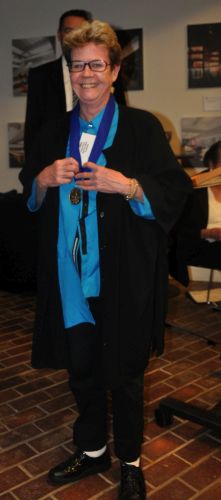 Di Talty accepting the award
Category: Park/Walkway/Recreational Project Honor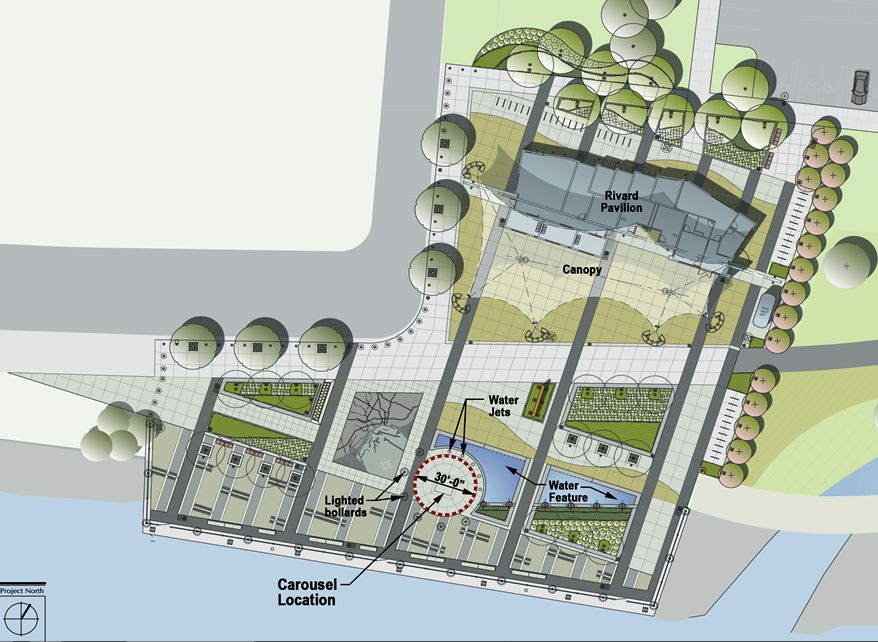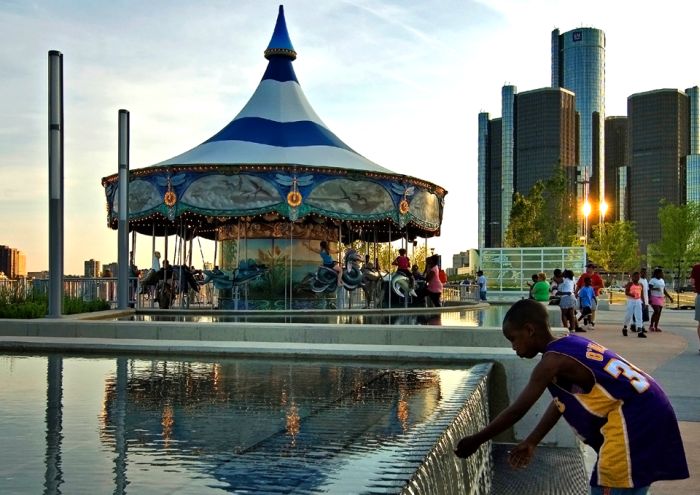 Entrants: Faye Alexander Nelson, Detroit RiverFront Conservancy Detroit, Michigan
Project Description and Jury Comments
Today the Detroit Riverwalk is, effectively, the bright cap­stone to a riverfront revival that stretches over 40 years. It is one of the waterfront move­ment's stellar stories. With the multiple attractions and strong design that the conservancy introduced, the riverfront is now a wildly popular, animated space, making an enormous civic contribution.
The area is a focus of pride for the residents of a city that is working to redefine its future. This is a story of persistence over time, overcoming ob­stacles and setbacks. Today's three+ miles of east riverfront draw three million visitors a year to an area that was once dominated by silos, piles of aggregate and an abandoned marina.
Representative of the dramatic turnaround is Rivard Plaza, once a parking lot that now houses a bright, river-themed carousel, cafe and bike rental shop, tables, chairs, seat walls, benches and reflecting ponds. Major programming occurs here, including free concerts in the summer sponsored by General Motors, a robust pub­lic art program and various lifestyles. Plans for work on the western riverfront include a 20­acre park. The significance of this project is notable given the city's broader struggle, and rep­resents remarkable perseverance, over decades, in the face of many challenges. It has produced a signature waterfront for the city and ensures that tomorrow's Detroit will be defined by its embrace of the waterfront.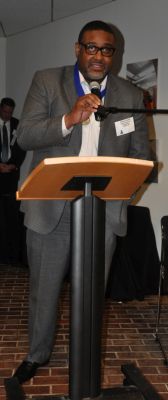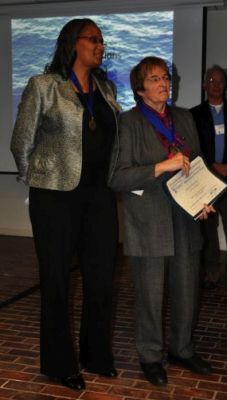 William Smith, Karen Slaughter-DuPerry and Harriet Saperstein accepting the award
Category: Park/Walkway/Recreational Category Project Honor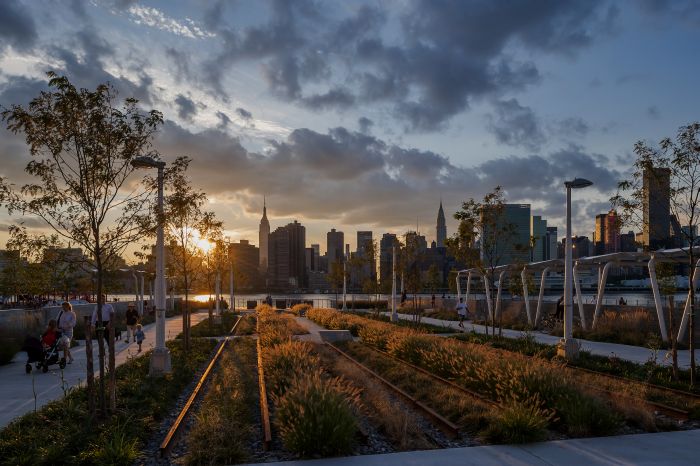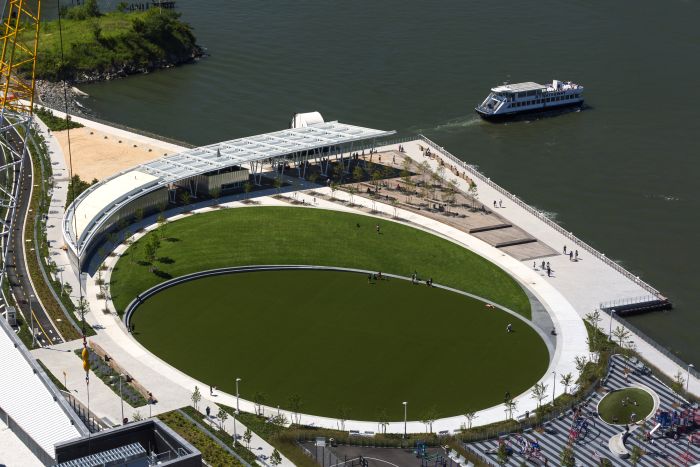 Hunter's Point South Waterfront Park
Entrants: Thomas Balsley Associates, WEISS/MANFREDI, Len Greco New York City Economic Development Corporation New York City, New York
Project Description and Jury Comments
As an outer borough of the city, Queens has too often been viewed by outsiders as a neglected urban backwater. However, with the addition of Hunter's Point South Waterfront Park (named after a new housing project), the area has gained a spectacular public space worthy of the city's best parks. The 5.5 acre park's central feature is an oval public space providing stunning views across the East River to Manhattan. The park has been an instant hit with residents who flock to its multiple attractions, including a play­ground, basketball court, a dog park, a plant garden among rail­road tracks, a "beach" near the water and a ferry dock. Pathways circulate throughout. The edge of the park features a natural grass covered berm while the center is a playing field of synthetic turf.
The park sits in a vulnerable location. It was originally a wetland before being converted to industrial use. As a result, the design incorporates innovative green infrastructure design and embraces its industrial heritage. The park was well under construction when Superstorm Sandy hit. It survived a four-foot surge because of its stone-filled metal cages buried among the grass plantings helped mitigate floodwaters. The jury was impressed with the park's de­sign and its connections to surrounding areas. It is a signature contribution to the Queens waterfront.
Note: Thomas Balsley Associates with Lee Weintraub designed Gantry Park and won Top Honor recognition from the Waterfront Center.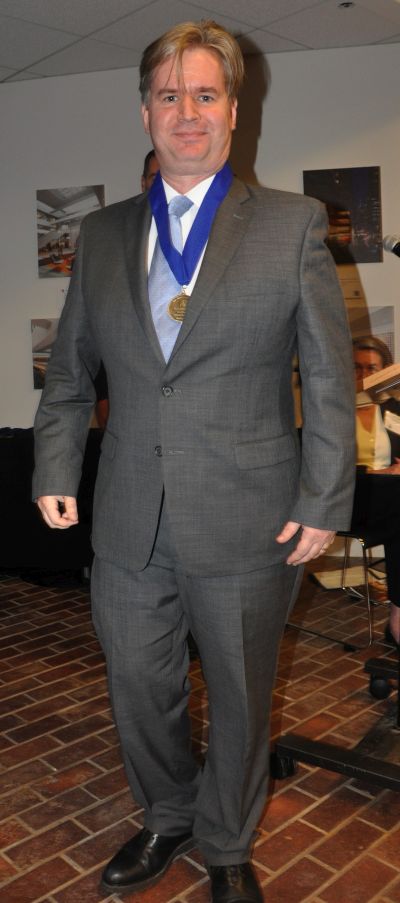 Michael Koontz accepting the award
Category: Public Works Project Honor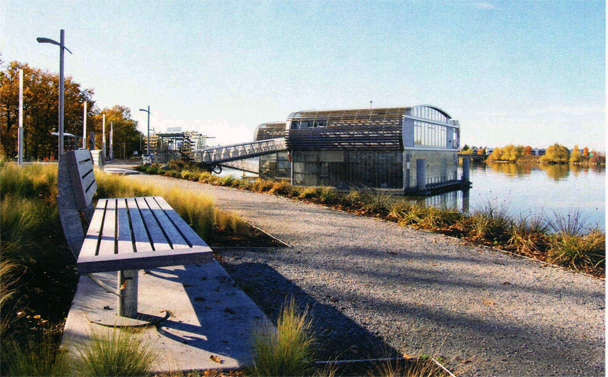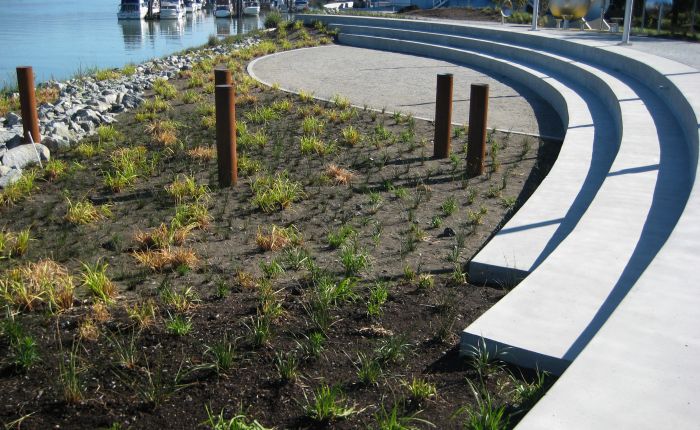 Richmond Middle Arm Waterfront
Entrants: Todd Bronk, AECOM Seattle, Washington, Doug Shearer City of Richmond Parks and Recreation
Project Description and Jury Comments
This project won jury plaudits for being early to recognize climate change and resulting sea level rise, anticipated to be as much as six and a half feet in the next 20 to 30 years. Key to the design is a storage system for spring runoffs, floods and tidal events. While offering protection, the rejuvenated waterfront is seen as the community's central gathering place -providing spaces for recreation, celebration, contemplation and a link to the Richmond downtown, new Civic Center and university campus.
In the first phase a green shoreline and park was established with seating and overlooks, and connected pathways. Artists were em­ployed to develop creative play areas. There is an event space for community gatherings such as the annual Dragon Boat Festival. Three plazas, each with different roles and character, permeable pavements and storm storage capacity underneath, occur along the Fraser River through the community.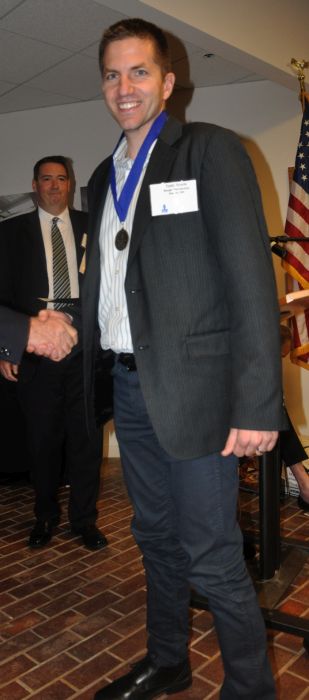 Todd Bronk, AECOM, Seattle, Washington accepting the award
Category: Mixed Use Project Honor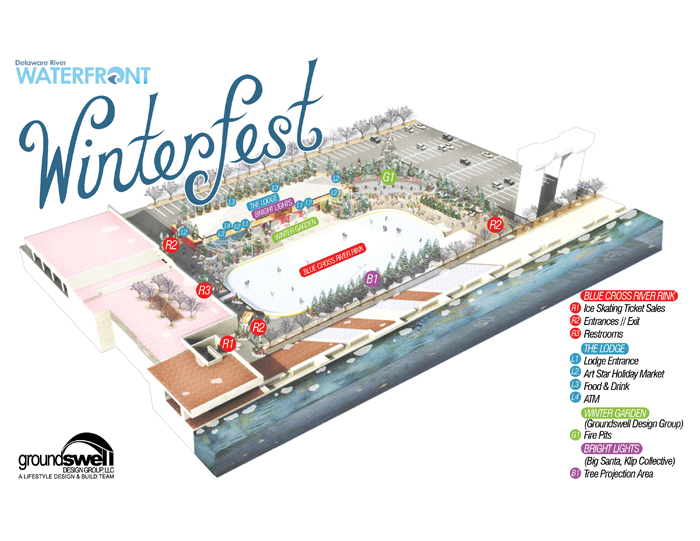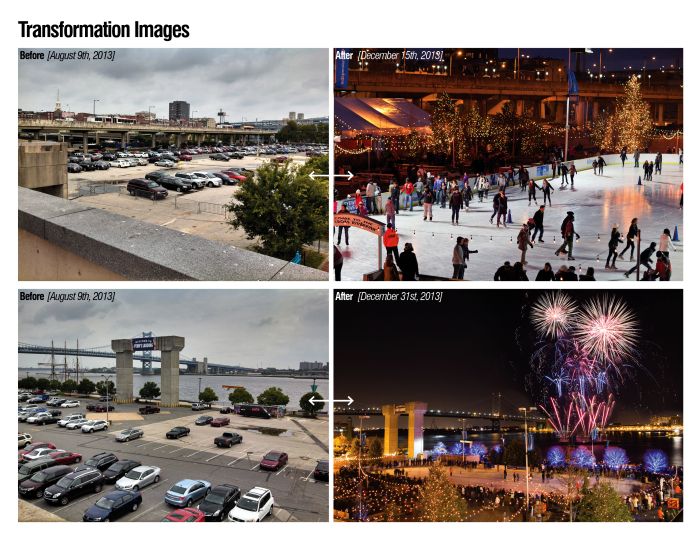 Waterfront Winterfest, Philadelphia, Pennsylvania
Entrants: David Fierabend Groundswell Design Group LLC. Hopewell, New Jersey, Joe Forkin Delaware River Waterfront Corporation Philadelphia, Pennsylvania
Project Description and Jury Comments
The basic idea here was straightforward: animate the space surrounding an ice skating rink installed over 20 years ago on the riverfront.
The rink, like most features there, is severed from the city by two major highways, including Interstate 95. Winterfest breaks ground by clustering multiple attractions around the rink in a coherent program that envisions shopping, food and drink and fire pits. A heated lodge is built from 14 shipping containers. Adjacent to the lodge is an area programmed to have a more natural feeling . Wood chips cover asphalt and evergreens help en­close seating areas.
There is an overwhelming impression of light, created by 10,000 linear feet of bulbs strung throughout the site. The Art Star Holiday Market features the work of Philadelphia crafts people. A major promotional effort was mounted to lure the public out in the cold of winter. Winterfest attracted a large attendance, in­cluding the coveted millennial age group. Feedback on the program included requests that the beer garden and fire pits be al­lowed to stay open past January and the programming extended.
A hallmark of the firm 's design work is extensive use of recycled materials such as the shipping containers and use of local resources. The jury found that Winterfest represented a very creative program to activate an urban waterfront in a cold weather setting. The use of recycled materials in the temporary elements of the festival can serve as a model for other communities.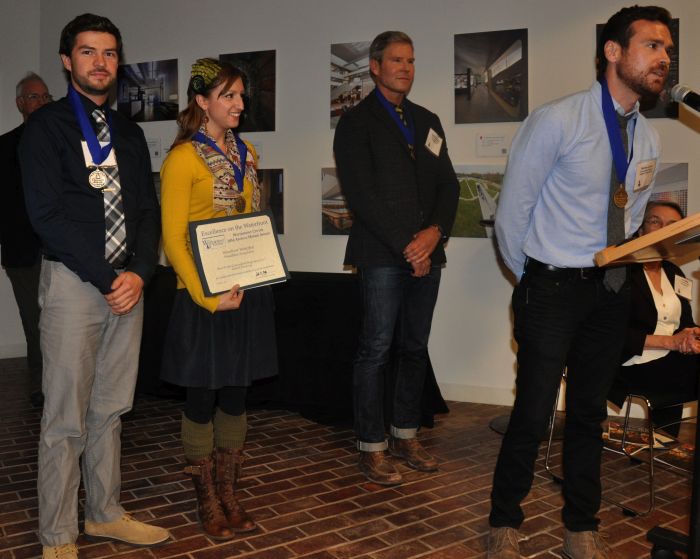 Michael Coyle, Laura Renekamp, David Fierabend and Robert Brady accepting the award

Category: Environmental/Mixed Use Project Honor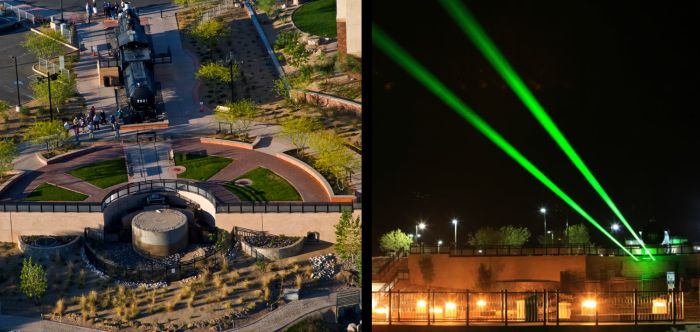 Yuma Crossing Riverfront Project, Yuma, Arizona
Entrants: Charles Flynn, Yuma Crossing National Heritage Area Corp. Yuma, Arizona, Howard Deardorff Deardorff Design Resources Ann Arbor, Michigan, Fred Phillips, Fred Phillips Con­sulting, Flagstaff, Arizona
Project Description and Jury Comments
This is a classic riverfront transformation story, stretching back over 30 years, where what was abandoned, neglected and inac­cessible has been transformed. It demonstrates the important role that waterfronts play in even the most environmentally constrained settings. It also demonstrates how environmental restoration and economic revitalization should go hand in hand on waterfronts. The Colorado riverfront now features a vast area of restored wet­lands, commercial development, major park and trail installations and commemoration of the historic Yuma Crossing, which took place in 1877.
A Waterfront Center strategic planning effort in 1997 sowed the seeds which led to the Plan for the Yuma Crossing National Heritage Area. It resulted in two riverfront parks and nine miles of riverfront trails. A former landfill was reclaimed to a park with a large lake, playgrounds, a hummingbird garden with beaches and a grove.
The Gateway Park, a 40-acre downtown park, features a restored 1907 Baldwin Locomotive, interpretive plaza and a laser "ghost train." $100 million in public and private investment stretching over a number of city administrations, including voter support in 2009 for a continued two percent hospitality tax for the riverfront has been raised. The jury found this project incredibly inspiring and a hopeful model for similar communities elsewhere.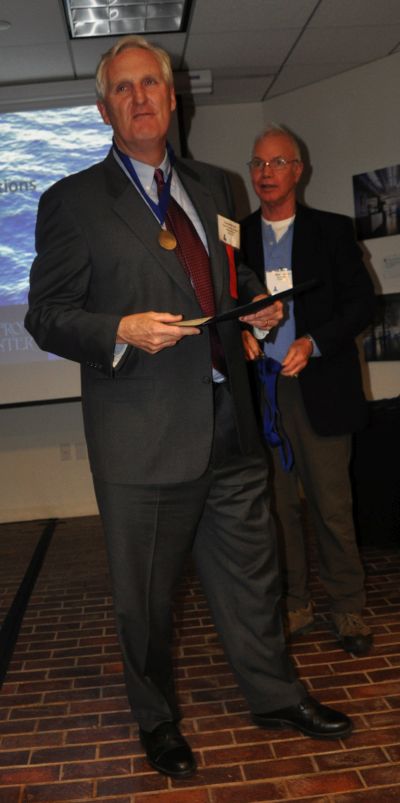 Charles Flynn accepting the award
Category: Student Award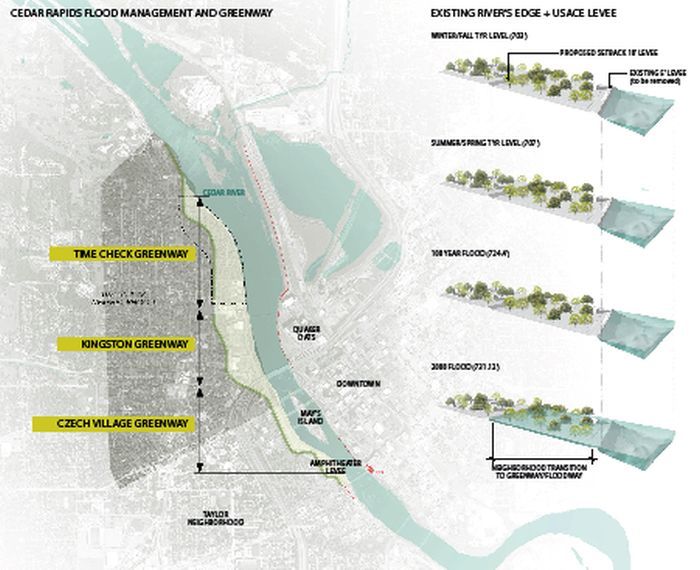 Floodable Cedar Rapids, Cedar Rapids, Iowa
Entrants: Amber Hill Master of Landscape Architecture program University of Minnesota St. Paul, Minnesota
Project Description and Jury Comments
In 2008, Cedar Rapids experienced historic flooding along its riverfront. As a result, the city implemented a voluntary plan to buyout vulnerable neighborhoods to allow its waterfront to serve more passive uses. The program presented planners and residents with tough ethical choices about how the historic community in the Time Check neighborhood should be acknowledged and remembered. As Floodable Cedar Rapids notes, "the resiliency of individuals and the community is at odds with the resiliency of the city." This plan represents a bold vision to tie community remembrance and identity to resiliency. Its conceptual framework and design suggestions commemorate neighborhood history and suggest reflection and meaning while acknowledging the reality of the area's vulnerability. The plan aims to recall the character of the lost neighborhood by leaving some foundations in place and using them as elements of public space, and using reclaimed materials from the community for other design elements. The plan is infused with thoughtful suggestions for producing meaning and identity in a very personal manner, as its author grew up in the Time Check neighborhood. If Amber Hill is representative of tomorrow's waterfront leaders, our future is in good hands.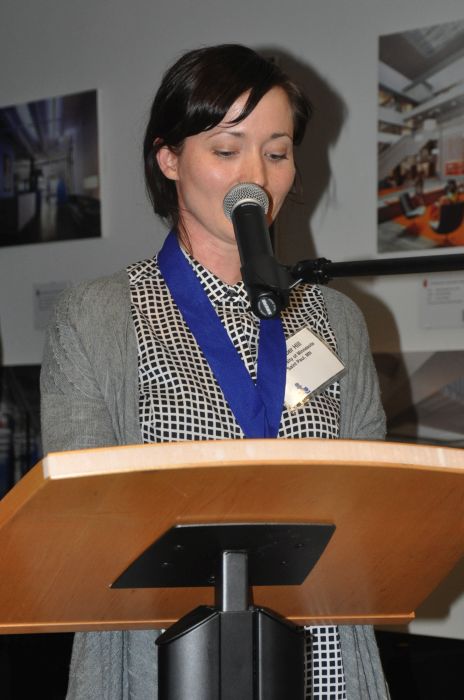 Amber Hill accepting the award
Category: Clearwater Award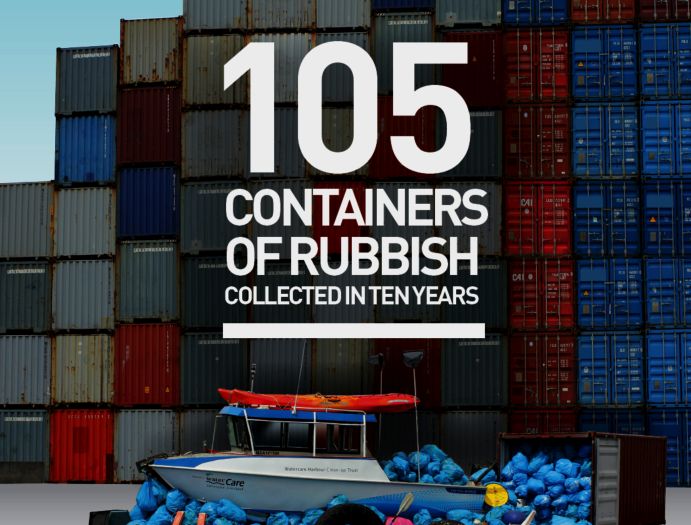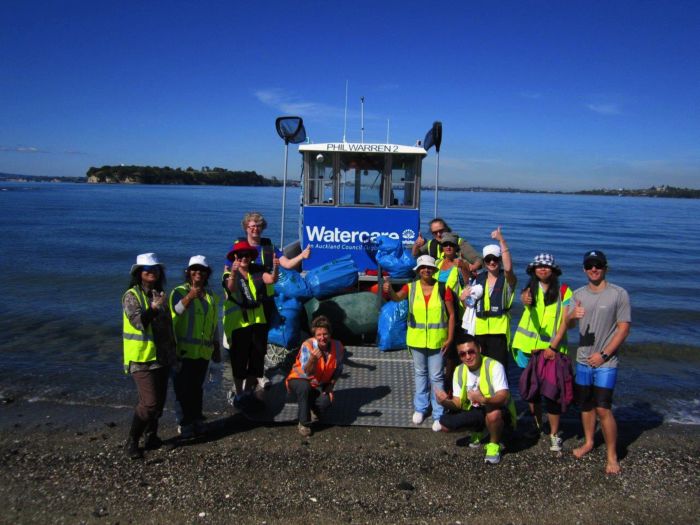 Watercare Harbour Clean Up Trust, Waitemata Harbour Auckland , New Zealand
Entrants: Mark Bourne, Watercare Harbor Cleanup Trust
Project Description and Jury Comments
WaterCare Harbour Clean Up Trust is the living embodiment of Margaret Mead's famous statement, "Never doubt that a small group of thought­ful, committed citizens can change the world; indeed, it's the only thing that ever has." This initiative galvanized hundreds of volunteers to actively participate in a sustained effort to protect the health of the harbor in Auckland. Sir Bob Harvey, one of the project's supporters, described the fragile condition of the harbor and its importance to the community: "The Waitemata sits at the centre of (the waterfront). It is the connection between the city and the sea that captures all the dif­ferent elements. Without a healthy harbor, Auckland is like a person with a failing heart." The impact of this effort is captured in the final numbers. Volunteers demonstrated their commitment to the harbor by donating over 90,000 hours to this effort over a 12-year period. During this time, they collected 28 million individual pieces of litter - enough to fill 115 shipping containers.

Ann Breen and Dick Rigby are the co-founders and co-directors of the Waterfront Center, organized in 1981.
For additional information and photographs, contact:
Ann Breen
The Waterfront Center
PO Box 32129
Washington, DC 20007
202-337-0356 Fax: 202-986-0448
© 2007 The Waterfront Center
Content and photographs on this site may not be reproduced without express permission from The Waterfront Center.