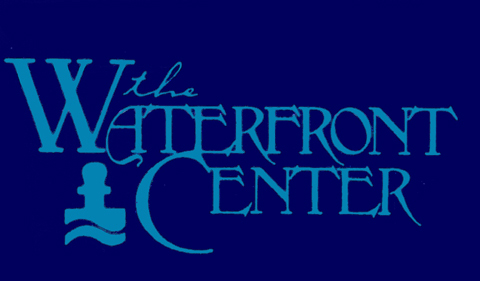 Printer Version
The Waterfront Center announces winners of the 2015
"Excellence on the Waterfront" Program
The Excellence on the Waterfront Awards Program was initiated in 1987 with grants from the National Endowment for the Arts Design Arts Program and the National Marine Manufacturers Association. The honor awards were developed to recognize top quality design and development work. Entries are accepted from around the world for comprehensive plans, built projects and student work. The Center also recognizes citizen's efforts through a Clearwater Award named for the non-profit group of that name working to clean up the Hudson River in New York.
2015 Excellence on the
Waterfront
Jury Members:
Jeffrey Parks, Chair, ArtsQuest Foundation, Bethlehem, Pennsylvania
Collette Crepelle, principal, Eskew + Dumez + Ripple, New Orleans, Louisiana
Charles Flynn, executive director, Yuma Crossing National Heritage Area, Yuma, Arizona
Anne McIlroy, principal, Brook-McIlroy, Toronto, Ontario, Canada
William Wenk, principal, William Wenk Associates, Denver, Colorado
2015 Waterfront Center Award Winners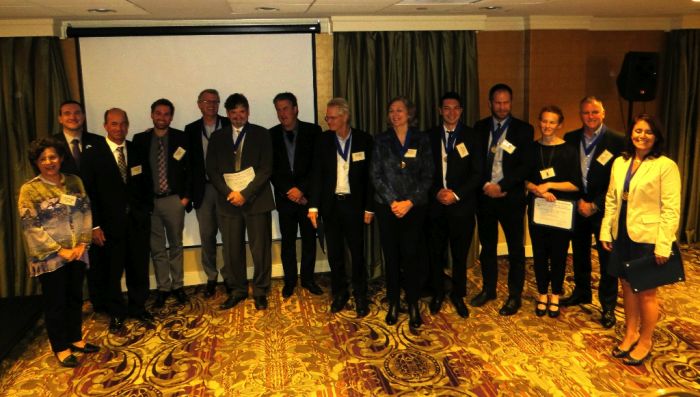 Top Honor Project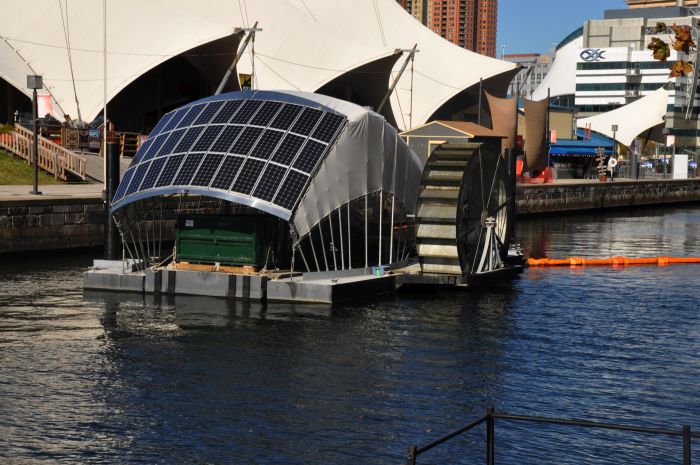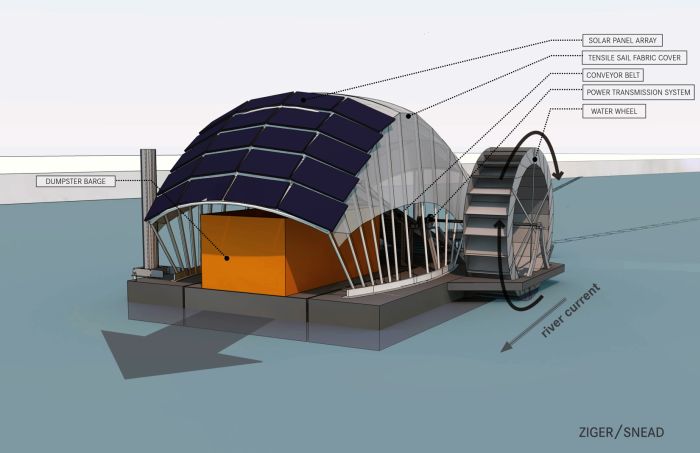 Baltimore Water Wheel, Baltimore, Maryland
Entrants: Steve Ziger, partner, Ziger/Snead LLP Architects, and Waterfront Partnership of Baltimore Inc., both Baltimore, Maryland
Project Description
As of June, 2015, this ingenious device had collected 205 tons of trash since beginning operation in May, 2014! Trash which otherwise would have poured out of Jones Falls River into the edge of the Inner Harbor.
It is a contributor to the Healthy Harbor initiative of the Waterfront Partnership which aims to make the Inner Harbor fishable and swimmable by the year 2020. Clearwater Mills LLC was engaged by the Partnership to design a water-and-sun powered trash interceptor. Ziger/Snead then designed an enclosure, both for the water wheel to contain the trash ,and to protect the mechanical equipment. Their design also exposes the functionality of the machine, which occupies a prominent and very visible spot on the harbor.
The water wheel calls itself the world's first permanent solar-powered trash interception in the world. The Department of Public Works states that the project has attracted worldwide attention.
The project cost $800,000. It was funded in a public-private partnership of Constellation Energy ($300,000) and the Maryland Port Administration ($500,000).
Jury Comments
Practical and delightful
Has an element of whimsy
50,000 tons of trash a day from inner city river!
Great video demonstrating operations
Addresses a major issue in waterfronts – non-point source pollution
Design is practical and innovative using both water power and solar
This project is adaptable to other river and large stream environments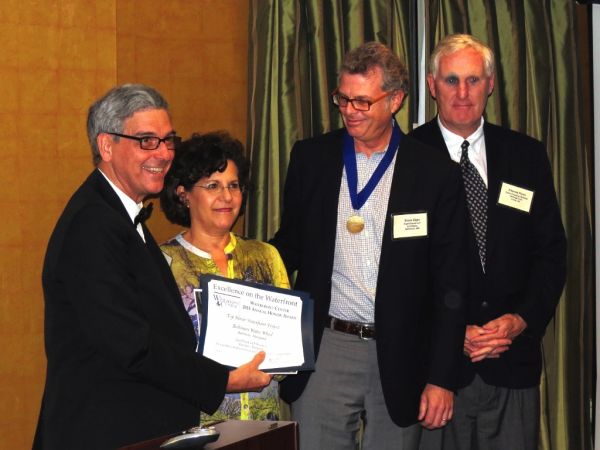 Laurie Schwartz, Waterfront Partnership of Baltimore, Inc. , Baltimore, Maryland
Steve Ziger, Ziger/Snead LLP Architects, Baltimore, Maryland receive the award
HONOR AWARDS:
Category: Plan Honor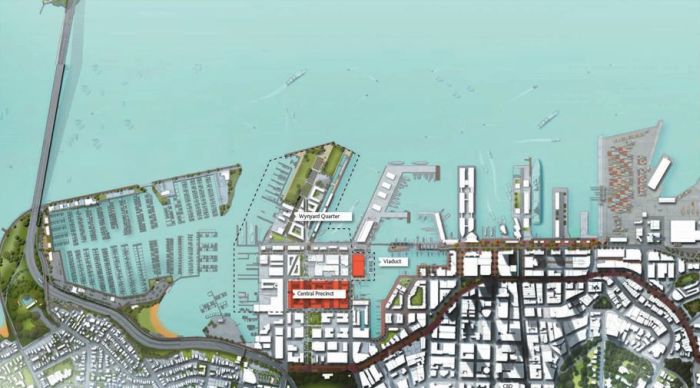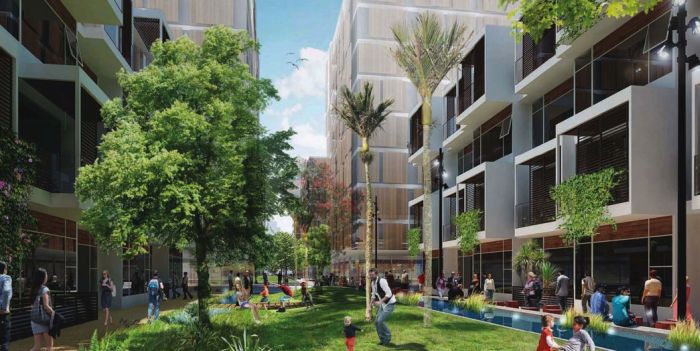 Wynyard Central Integrated Development Plan, Auckland, New Zealand
Entrants: John Dalzell, Waterfront Auckland, and Harry Crothers, Architectus (now of LandLab), both Auckland, New Zealand.
Project Description
To say this is a comprehensive plan document is a major understatement. To place this in context, the revitalization of the Auckland waterfront is the largest such undertaking in New Zealand outside of the rebuilding of Christchurch after an earthquake in 2012.
To convey an idea of how well-thought out and progressive the plan is, take the final component of the document as a for instance – The Sustainable Development Framework 2013 – is 80 pages and would constitute a waterfront plan document for many jurisdictions. It is but the final chapter. Well-illustrated, here is what if contains:

• Introduction and Purpose.
• Approach to Sustainable Development.
• Background and Strategic Context.
• Vision, Objectives and Strategies.
• Issues, Development Expectations and Actions. under which come hazards, climate, transportation, economic viability and social well-being, among other topics.
• Implementation Approaches.
• Targets.

One of the hallmarks is not only incorporation of working waterfront elements in redeveloping Wynyard Quarter – such as the silos at Silo Park – but by maintaining and advancing the marine and fishing industries . This includes a major boat repair facility, a dock for very large private vessels and a huge marina.
That the approach taken in this plan has succeeded can be verified by the sheer popularity of the core area of Wynyard Quarter, where promenading has taken hold in a big way, and the fact the 2012 Waterfront Center awards jury gave the Top Honor that year to Auckland for Jellico Street, North Wharf Promenade and Silo Park. These components are knit together and comprise the core of the initial public attractions to the newly developing waterfront. North Wharf houses 10 carefully chosen restaurants.
To illustrate the level of detail and thought contained in the plan –- to pick one component arbitrarily from the Design Guidelines chapter of 34 pages – we have "Roofscape." This calls for integrating the rooftop plant, to include PV panels woven into the design rather then tacked on. Where energy generation is not possible, the guideline suggests making roofs accessible, landscaped and usable, particularly in residential buildings.
Twenty-four firms, many of them architecture studios, formed the "talent pool" that worked on the plan.
Jury Comments
Urban infill in former industrial waterfront area.
Design brings water from the waterfront into the residential area.
Scale is appropriate; green elements included in this mid-rise plan
Progressive, contemporary design with warm building materials included in design guidelines.
Guidelines are comprehensive, including design standards.
Sustainability goals are clear and are represented in the building renderings.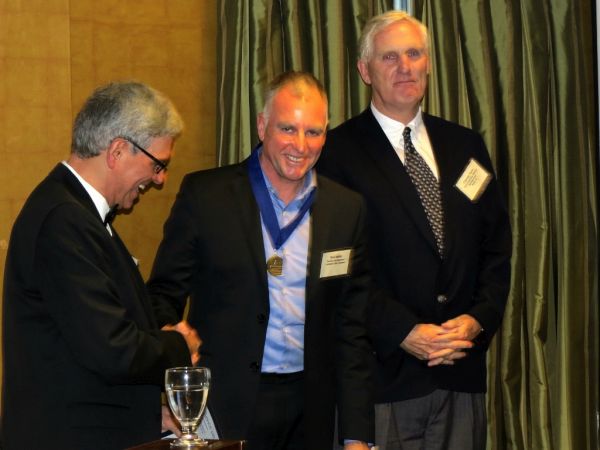 Rod Marler, Waterfront Auckland, Auckland, New Zealand receives the award
PROJECT HONOR AWARDS:
Category: Park/Walkway/Recreational Project Honor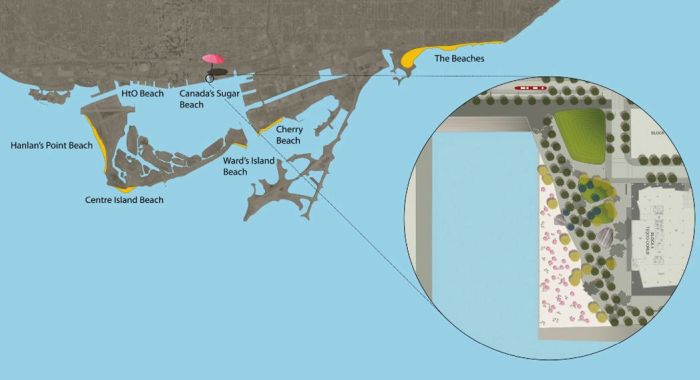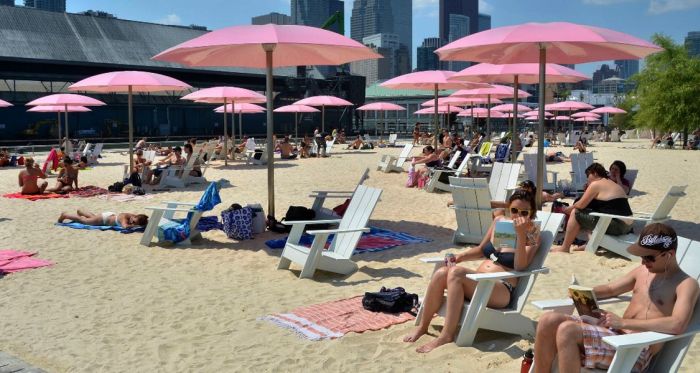 Canada's Sugar Beach, Toronto, Ontario, Canada
Entrants: Claude Cormier, Claude Cormier et Associes, Montreal, Quebec, and Waterfront Toronto, Toronto, Ontario, both Canada.
Project Description
This a bold, colorful conversion of what had been a parking lot in a once faded industrial area. It takes its name from a sugar refinery across the street. This is Toronto's second urban beach on the downtown lakefront, adding bright pink umbrellas and sand to the emerging neighborhood of East Bayfront. Much of Toronto's public spaces are generally for active recreation or dog-walking. Sugar Beach by contrast is more for contemplation, engaging with others – a form of "urban escape."
The two-acre park has three distinct areas: an urban beach, a plaza space and a tree-lined promenade. A major feature is provision of 150 movable plastic Adirondack chairs. A design touch is a water feature set in a granite maple leaf, good for cooling off and is lit at night. There is a plaza space for public events, formed by a granite outcropping and three grass mounds.
Sugar Beach was completed in July, 2010, is 2.1 acres and built at a cost of $12 million Canadian.
Jury Comments
Whimsical, yet related to historic waterfront with sugar refinery
Brands waterfront in ways often difficult to do with conventional development
Borrows local geological feature – granite bedrock for "Rock Candy"
Uses regional furniture "Muskoka Chairs" (aka Adirondack chairs for those who live south of the border)
Practical in terms of location near high rise housing in downtown area
High usage in all seasons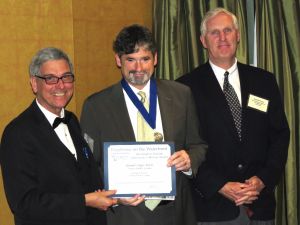 Chris Glaisek, Waterfront Toronto, Toronto, Ontario, Canada receives the award
Category: Artistic/Cultural/Educational Project Honor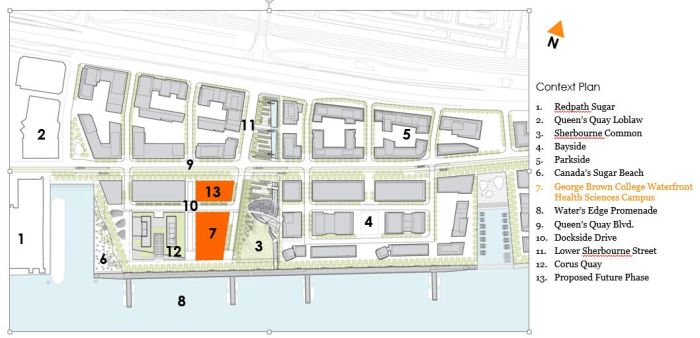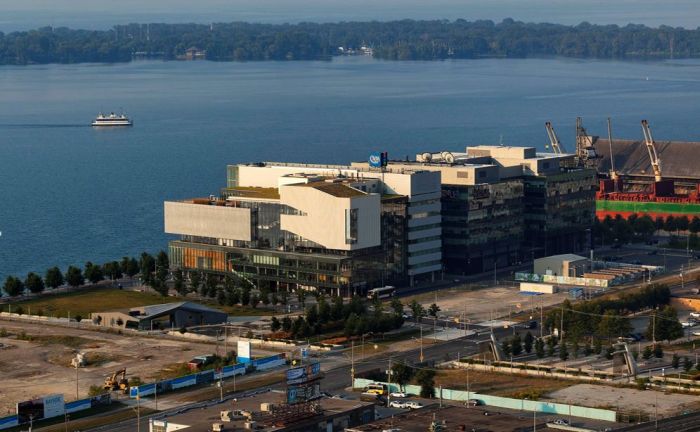 George Brown College, Waterfront Health Sciences Campus, Toronto, Ontario, Canada
Entrants: Stuart Elgie, principal, Stantec Architecture/KPMB Architects in Joint Venture and Terry Comeau, executive director Waterfront Campus Development, The George Brown College of Applied Arts and Technology, both Toronto, Ontario, Canada.
Project Description
The striking feature of this classroom and lab center is its transparency. It opens to the city and connects to the lakefront. The public is welcomed. The ground plan is intentionally open. The stair cases are broad and encourage people to sit and take in the view.
The building is 300,000 square feet and allows the college to consolidate dental, nursing and health services management plus programs in community care, home care and health promotion. It serves as an anchor of lower east side redevelopment. Its 3,500 students add a dynamism to the area.
George Brown Waterfront Health Sciences is a LEED Gold target. As such it incorporates maximum exposure to fresh air and natural light and views, plus transit connectivity and provision for alternative modes of transportation.
Support for the project came from the provincial government ($61.5 million), federal government ($30 million) as well as the college itself, Waterfront Toronto, the general public and the private sector.
Jury Comments
Waterfront educational building has transparency, and connectivity with the water
Public nature of the ground floor considered in connectivity with water
Designers took full advantage of the relationship with the water to enhance the collegial, campus environment.
Designers faced challenges of a very urban environment on one side and the full waterfront on the other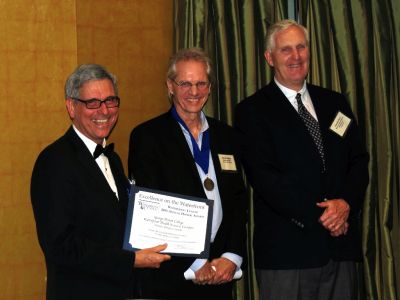 Michael Moxam, Stantec, Toronto, Ontario, Canada receives the award
Category: Commercial Category Project Honor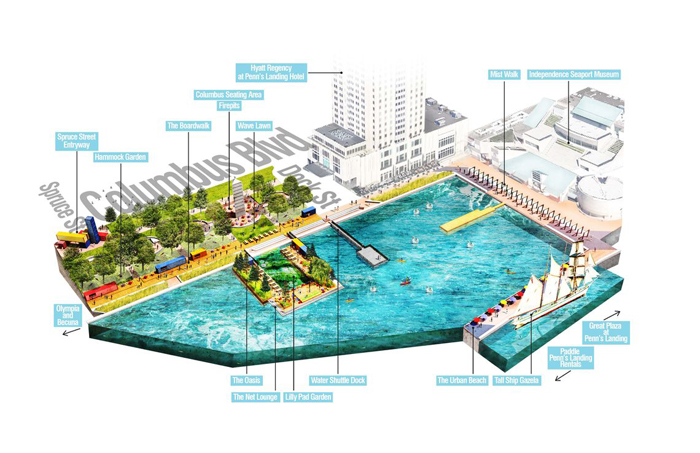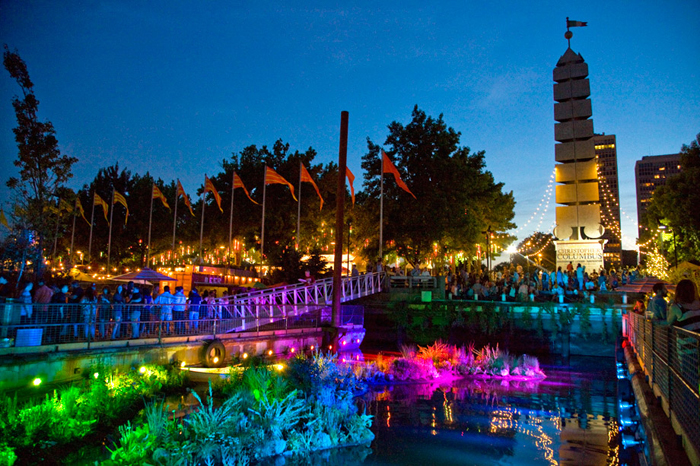 Spruce Street Harbor Park, Philadelphia, Pennsylvania
Entrants: David Fierabend, Groundswell Design Group LLC, Hopewell, New Jersey, and Joe Forkin, CEO, Delaware River Waterfront Corporation, Philadelphia, Pennsylvania
Project Description
This project is as dramatic a turnaround as occurs on waterfronts anywhere. A tired and underused riverfront park space has been transformed into a lively Philadelphia summertime destination. It was cited in a national publication as why Philadelphia was the number three go-to destination this summer (of 100).
The focal point is an enclosed floating garden which replicates a natural wetland. It is created by joining together three barges tugged 20 miles up the river from Chester, Pennsylvania, and six shipping containers. There are seven islands made of recycled plastic that draw water and nutrients to plants. Two shipping containers are used as a bar and restaurant, continuing the incorporation of elements of the working waterfront. There is also a cantilevered "net lounge" out over the river permitting a unique over-water experience.
Among the attractions is a popular hammock garden, a fire pit, and a boardwalk at the water's edge..
At a marina are pipe-fitted trees designed by local artists, equipped with LED lights and misters to create a Mist Walk, leading to an urban beach. Amenities for recreation, relaxation, food and drink are integrated into the whole experience. There are intimate spaces with Adirondack chairs and umbrellas as well as the brightly colored hammocks.
The park attracts a diverse crowd, drawn by local artists, vendors, face-painting, acoustic performances and paddleboard yoga, among other lures.
Jury Comments
Catalytic project for low cost
Activates unused portion of waterfront
Eclectic and fun
Hammocks
Lounge Nets cantilevered over the Delaware River
Creative programming
This civic space on water takes an unused park and makes it vital space
Ties to the industrial past but is part of community life in the present
Project puts a layer of fun on to poorly designed park, so that now people feel comfortable in this space.
Category: Mixed-use Category Project Honor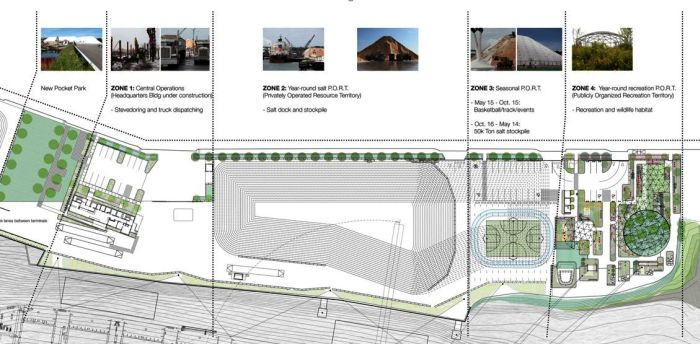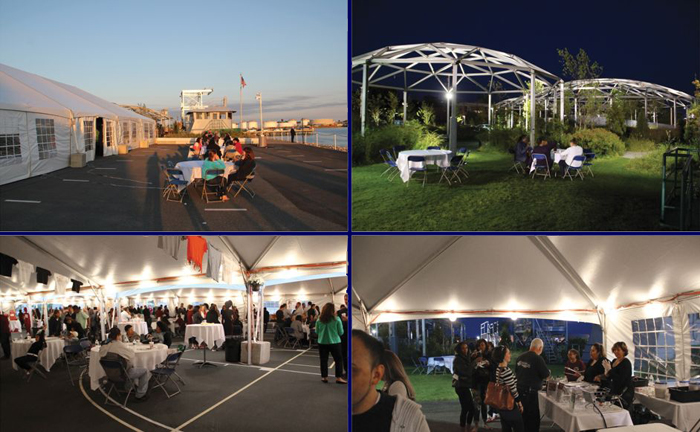 The P.O.R.T at Rock Chapel Marine, Chelsea, Massachusetts
Entrants: Dan Adams, Landing Studio, Somerville, and Shelagh Mahoney, Eastern Salt Company Inc,. Lowell, both Massachusetts
Project Description
This project is proof – if needed – that the working waterfront is an attraction. Many jurisdictions seal off industrial or port functions. Chelsea by contrast celebrates its role as Boston's salt resource for winter de-icing, as well a port for fuels.
After a tank farm was removed, the immediate six-acre site was divided into three zones: one is the salt dock, two is a shared dock and public access space, and three is a year-round public space. The latter opens the city of Chelsea to its water body for the first time in decades, and includes such features as plantings, viewing platforms, fountains and a children's playground. The site is privately owned. Across Chelsea Creek are varied industries, with geodesic oil tank roofs and barge unloading racks. The shared space stores salt in the winter, and converts to a waterfront recreation area in the summer, with a basketball court, bike track and event space. When not in maritime use, it provides one of the largest event spaces in the city, site of such events as the Taste of Chelsea charity event, Chelsea Art Walk, movie night and theater in the park.
P.O.R.T. integrates the working waterfront into the public landscape. It allows residents a close-up of the industries that fuel the local economy. Bilingual signs identify the structures repurposed from the former oil tank farm. A tug boat cabin was installed in the public access area and is used as a waterfront classroom, further evidence of the imagination that this project exhibits.
Incidentally, the Rock Chapel name comes from the town in Ireland where developer Mahoney's father was born.
Jury Comments
Innovative and cost effective
Public Private Partnership – City, State, for profit company
Addresses interpretive and recreational functions in all seasons
Creative re-use of industrial structures
You rub up against the industrial past
Industry, recreation and wildlife habitat in one project
A place for all ages
A replicable model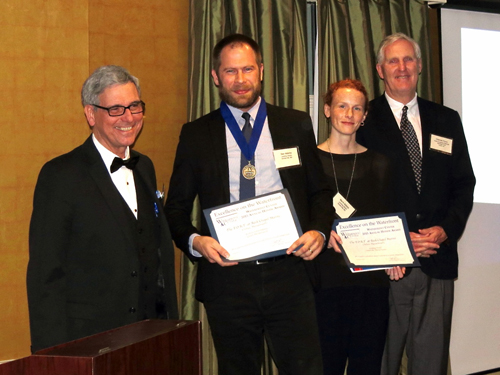 Dan and Marie Adams, Landings Studio, Somerville, Massachusetts receive the award
Category: Park/Walkway/Recreational Project Honor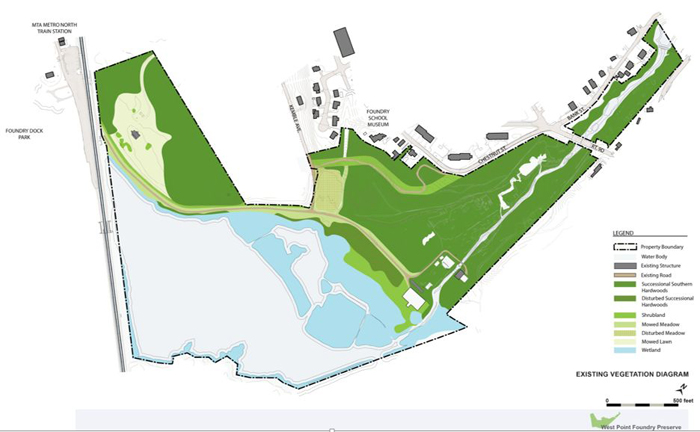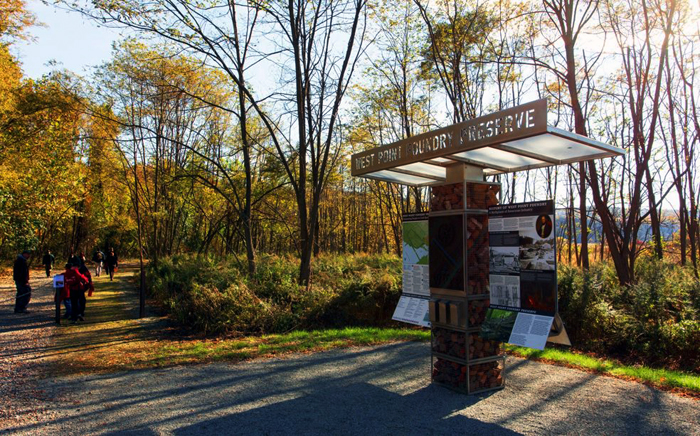 West Point Foundry Preserve, Cold Spring,, New York.
Entrants: Kim Matthews, Matthews Nielsen Landscape Architects P.C., New York and Rita Shaheen Director of Parks, Scenic Hudson Inc., Poughkeepsie, both New York.
Project Description
This 87-acre site at a dramatic juncture on the Hudson River was the site of a Civil War artillery foundry. After a varied and checkered history, it is now a public park and land preserve, rich in a history that is carefully interpreted.
Foundry Brook runs the length of the site. It powered a water wheel and is celebrated at Foundry Cove, a tidal wetland. Key for public enjoyment of the site is an ADA-accessible coastal path which follows a rail bed that once connected an artillery testing platform to the river docks.
Planning, site visits and archeological field investigations as well as multiple municipal reviews occurred over seven years. Thousands of artifacts have been removed from the site which the Village of Cold Spring will house and display. Gabions are filled with reused foundry brick, cast iron pieces and renewable timber.
Pedestrian routes were organized around a central spine running down the interior of the site, following the footprint of a second rail line that once inked the foundry complex to the Hudson.
The design team succeeded in gaining permission to install the Village's first composting toilet, a point of pride.
Work begun in 2006 was completed in 2013 at a cost of $3.6 million.
Jury Comments
Historic preservation and interpretation with riverfront and creek
Unique approach considering the "sound of water" from Foundry Brook for visitors to enjoy
Design is calculated to achieve connection
Stainless steel interpretation of water wheel with laser cut paddles demonstrates creative approach to interpretation, more likely to engage some visitors.
Preserved gun platform with view of the Hudson and laser cut roof also blends interpretation with contemporary technology and art.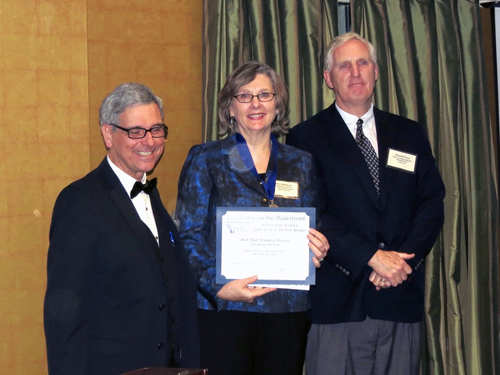 Kim Mathews, Mathews Nielsen Landscape Architects, New York, New York receives the award
Category: Park/Walkway/Recreational Project Honor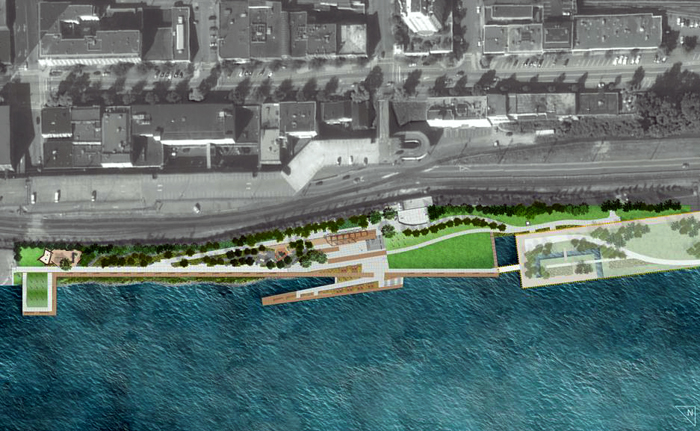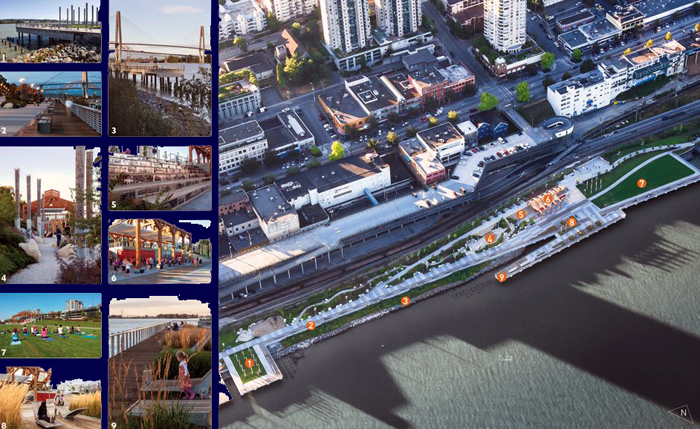 Westminster Pier Park, New Westminster, British Columbia, Canada
Entrants: Bruce Hemstock, PWL Partnership Landscape Architects Inc., Vancouver, B.C., and Dean Gibson, Director of Parks, Culture and Recreation, City of New Westminster, B.C., both Canada
Project Description
The key here was overcoming severe site constraints to establish a centrally-located public riverfront park. It is served buy two Skytrain stations with pedestrian connections from a major city street. The site is long and thin, overcome in part with walkways of varying widths, grade changes and differing materials.
The big intervention was to build the park on new piers, replacing 60-to-100-year old piers, matching their configuration. This has served to reconnect the city with the Fraser River. Nearly three quarters of the park is on piers.
The 9 1/2-acre site was formerly industrial and had become derelict and toxic. Tons of contaminated soil were removed, remediated and replaced. The foreshore was planted with native species, both to re-establish habitat and begin cleaning the river.
The park is programmed and includes a playground, basketball courts, a festival lawn and seating. Materials were chosen to reflect the industrial past, including heavy timbers, weathering steel, handcranks and windsocks.
New Westminster has a rich history, serving for a time as the capital of British Columbia and before that, as a First Nations community. The history is called out in a weathering steel memory band, with historic references, that runs the length of the park. There are also historic photo panels set into seat steps.
The project budget was $25 million and the landscape budget was $8 million.
Jury Comments
Industrial waterfront revitalization using rebuilt piers
Only 20% of park is on land
Removed 3500 tons of industrial waste
Serviced by two Skytrain stations to enhance access and usage
"Memory Band" is effective tribute to first nations
Playful elements are welcoming: tilting loungers, windsocks, hand cranks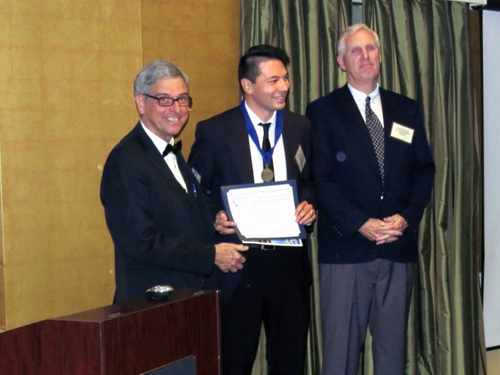 Derek Lee, PWL Partnership, Vancouver, British Columbia, Canada receives the award
Category: Park/Walkway/Recreational Project Honor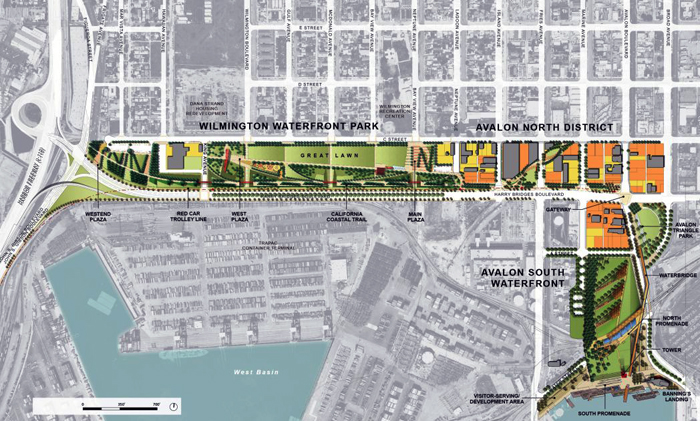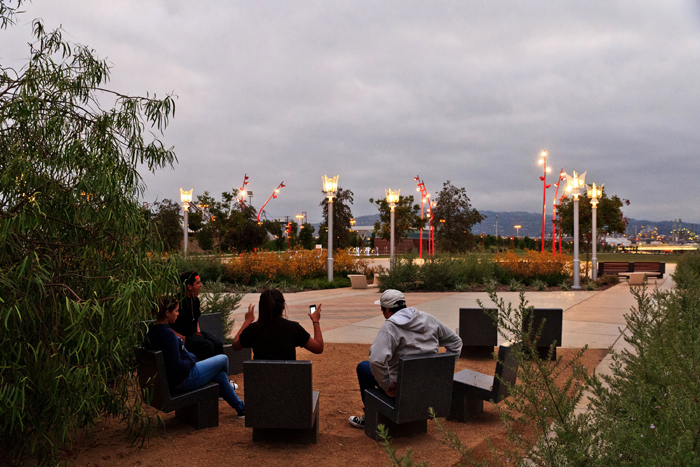 Wilmington Waterfront Park, Port of Los Angeles, Wilmington, California
Entrants: Antonio Gioiello, chief harbor engineer, Port of Los Angeles, San Pedro, California, and Sasaki Associates Inc., Watertown, Massachusetts
Project Description
What this park does is buffer the City of Wilmington from its huge, 24/7 neighbor, a container terminal of the Port of Los Angeles. The port facility is 173 acres in size, with over 4,000 linear feet of water frontage.
The buffer itself is large: a 30-acre linear park, including raised land forms that provide views of the container terminal and the coast beyond. The park also offers never-before seen views of Wilmington and the harbor. The park includes wide promenades, an iconic cable bridge painted a vivid red, performance/gathering venues, picnic areas and three water features, including one with 40 water jets, among other components. The park basically provides breathing space and amenities for a nearby underserved community.
The park encourages family gatherings, children's play, performing arts, walking, biking, sitting taking in the view, and communitywide events. There is also passive recreation such as sun bathing, picnicking, and lounging under one or more of 653 shade trees.
Integrated throughout are shade trees and other sustainable features such as reclaimed water irrigation, stormwater infiltration plus use of recycled materials. There are 5,000 linear feet of subsurface drains that promote the infiltration of stormwater into the ground rather than into the city's storm drains. In parking lots there are subsurface sand filtration chambers designed to remove oils and suspend sediment from runoff so it is not discharged into the harbor.
While very much Wilmington's park, it also serves the wider Los Angeles region. Hundreds of people use the park on a daily basis to stroll, picnic or play. The park opened on June 4, 2011. Planning workshops began in 2004.
Jury Comments
Serves a neighborhood adjacent to the active port that has been decimated by job losses due to switch to containers
"Breaks through" to the water with initial section being raised to provide water views for the park.
This is an oasis for the residents of this underserved community.
This is a fairly difficult project given the size, density of community and activity of waterfront.
Demonstrates a collaboration between Port of LA and community.
Category: Clearwater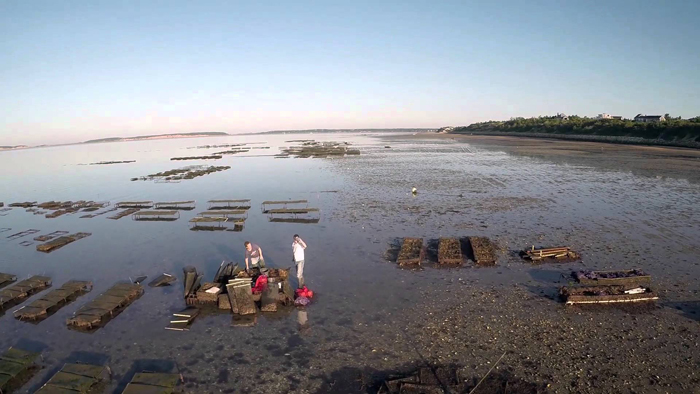 Wellfleet Shellfish Promotion and Tasting Inc. (SPAT)
Entrants: Charlotte DeWitt, president, International Events Ltd., Boston, Massachusetts.
Project Description
This small non-profit organization works to promote the town's shellfishing industry and to protect its harbor and honor the history of the industry.
SPAT produces the annual Wellfleet OysterFest, begun in 2001. It features raw bars run by members of the fishing community, lectures, cooking demonstrations, music, road races and culminates in an Oyster Shuckoff Competition. It attracts as many as 25,000 visitors to Wellfleet, generating major revenues for the town. The event also reintroduces tons of shells back into the harbor, helping to boost the oyster population.
The event helps support the organization's educational activities and environmental improvements. SPAT has given back to the community $340,000, including $175,000 divided between high school scholarships and community grants.
SPAT has a staff of five, an active board of directors and year-round volunteers plus hundreds of volunteers for festival weekend.


Ann Breen and Dick Rigby are the co-founders and co-directors of the Waterfront Center, organized in 1981.
For additional information and photographs, contact:
Ann Breen
The Waterfront Center
PO Box 32129
Washington, DC 20007
202-337-0356 Fax: 202-986-0448
© 2007 The Waterfront Center
Content and photographs on this site may not be reproduced without express permission from The Waterfront Center.