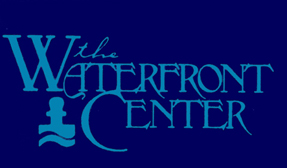 Printer Version
Annual Awards: Waterfront Plans

Back to main Annual Awards page

Entry Form [PDF]
*If PDF does not open try HERE

Waterfront Plans: Entry Requirements
Waterfront plan entries are restricted to comprehensive and long-range visions for the waterfront in question. Plans for individual sites/projects are not appropriate. Plans must have been officially approved by a relevant government entity, when not prepared by same, even when for a private project. The jury will pay close attention to the quality of environmental analysis contained in the plan and to the strength of the underlying science. An important factor for the jury is the readability of the plan, that is, its accessibility to the general public.

•A completed entry form. An entrant AND co-entrant required, with signatures, one entrant a sponsor (government agency, developer), the other a planning/design firm. Send signatures separately if necessary.

• Entry fee by check payable to The Waterfront Center in US dollars. VISA, MasterCard and American Express accepted. The fee for all entries is $200.00. Additional entries from the same organization/office are $100.00.

•The planning document itself, from any time period. A summary document, if available, is helpful.

• A two-page narrative discussing the plan philosophy and implementation strategy, how the plan is significant, and why it is deserving of an award. The narrative should address the strength of the vision, demonstrate a comprehensive approach to waterfront resource use, and show how that use relates to the city or town adjoining. Describe the process used to involve stakeholders and the public.

• Additional materials, such as CDs, slides, photographs, letters, etc., may be submitted in a folder or envelope.


Deadline: Entries must be Postmarked by July 15, 2020. Overseas entries should use an express mail service to insure timely delivery.
Back to main Annual Awards page

Entry Form [PDF]
*If PDF does not open try HERE
e-mail: mail@waterfrontcenter.org © 2005 The Waterfront Center
Content and photographs on this site may not be reproduced without express permission from The Waterfront Center.