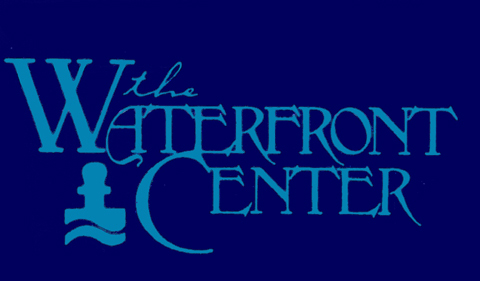 Printer Version
The Waterfront Center announces winners of the 2016
"Excellence on the Waterfront" Program
The Excellence on the Waterfront Awards Program was initiated in 1987 with grants from the National Endowment for the Arts Design Arts Program and the National Marine Manufacturers Association. The honor awards were developed to recognize top quality design and development work. Entries are accepted from around the world for comprehensive plans, built projects and student work. The Center also recognizes citizen's efforts through a Clearwater Award named for the non-profit group of that name working to clean up the Hudson River in New York.
2016 Excellence on the
Waterfront
Jury Members:
The 2016 Jury: from l-r: Ray Gastil, planning director, City of Pittsburgh, Pittsburgh, Pennsylvania; Kim Mathews, principal, Mathews Nielsen Landscape Architects, New York, New York, Charles Flynn, executive director, Yuma Cross National Heritage Area, Yuma, Arizona, jury chair and Werner Plessl, executive director, Hamilton Waterfront Trust, Hamilton, Ontario, Canada.

2016 Waterfront Center Award Winners

Top Honor Plan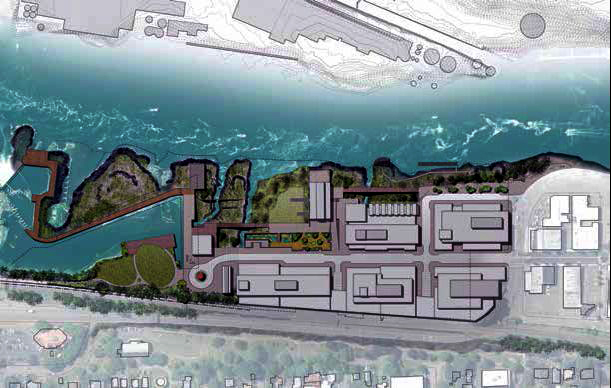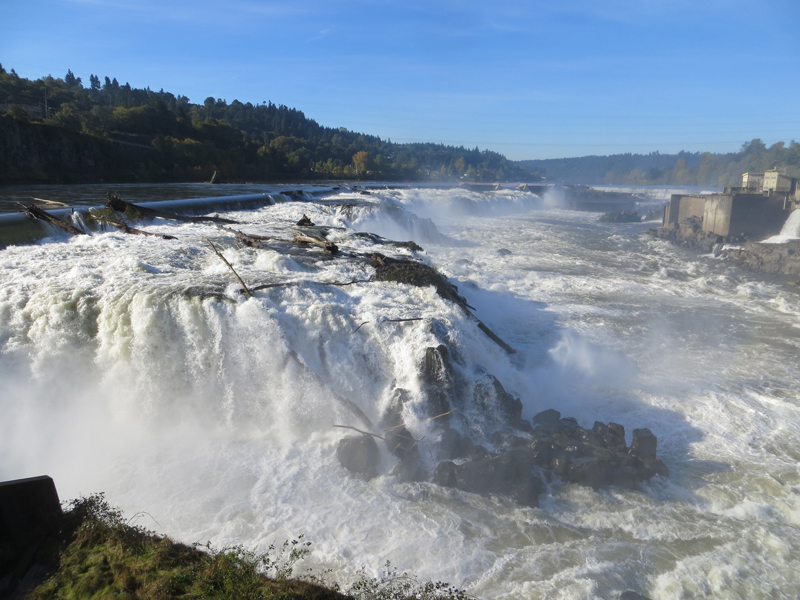 A Vision for the Willamette Falls Legacy Project, Oregon City, Oregon
Entrants: Submitted by:
Ken Pirie, Walker Macy Portland, Oregon
Christina Robertson-Gardiner City of Oregon City, Oregon
Project Description
This master plan will transform a 22-acre paper mill site next to the largest waterfall in the Pacific Northwest into mixeduse
development. Extensive and dramatic public access to the site and falls, a strong connection to downtown Oregon City, and a variety of private initiatives driven by the market place comprise the plan.

Four core values will govern its development:
• Historic and Cultural Interpretation, including Native American heritage and industrial history.
• Public Access, especially to Willamette Falls, which was effectively cut off from the public for 150 years.
• Healthy Habitat, including protection of water quality and reestablishment of native plant species.
• Economic Redevelopment to help overcome the loss of 175 jobs when the last paper mill shut in 2011, and to help downtown Oregon City become an employment, shopping, business and tourist destination.
Shops, restaurants, offices and housing, with flexibility to include museums, markets, offices or light industry are envisioned
for the site, all within a network of pedestrian and bike friendly streets. A first step is development of a riverwalk that connects downtown to the falls. The state has pledged $5 million in seed money for this initiative. A total investment of $70 million is
contemplated.
Jury Comments
The jury labeled this master plan "a big idea" and had high praise for the document's "handsome presentation".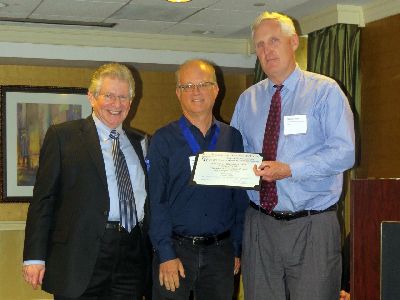 Mike Zilis, principal, Walker Macy, receives the award
HONOR AWARDS:
Category: Top Honor Project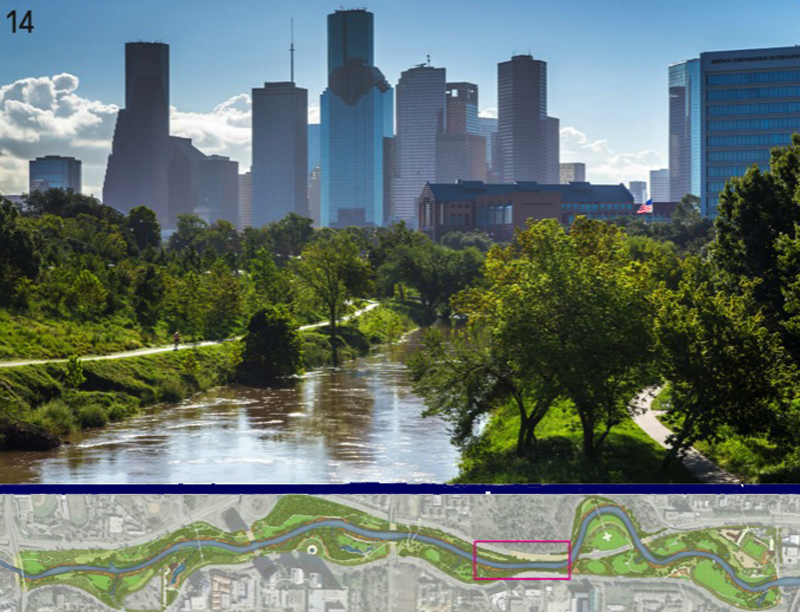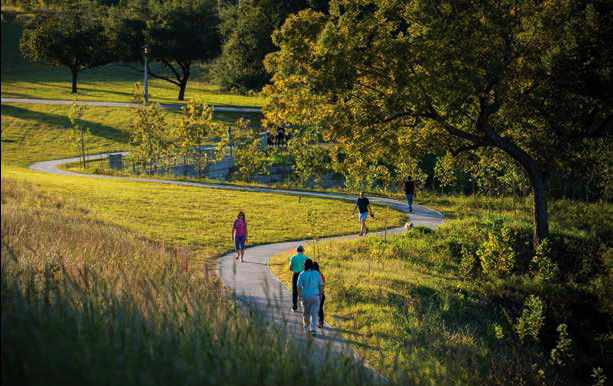 Buffalo Bayou Park, Houston, Texas
Entrants: Kinder Baumgardner, SWA Group, Houston, Texas
Anne Olson, Buffalo Bayou Partnership, Houston, Texas
Project Description
This 160-acre park runs along 2.3 miles of Buffalo Bayou in the heart of Houston. After thirty years of continued work on the project, this once abandoned urban stream corridor infested with invasive species, garbage and erosion riddled banks, now thrives as a busy, healthy series of green oases serving our fourth largest city.

Buffalo Bayou Park contains bike and pedestrian trails, a boat launch, large lawns for hosting events, a dog park, and pedestrian bridges over the bayou. Native meadows, wetlands, restored ponds and over 14,000 planted trees create a useable pastoral landscape for a diverse population of active and passive users. The Water Works, an elevated 'skylawn' and pavilion, and the Lost Lake kitchen and event space, provide restrooms and food service. An historic cistern is also now open for public tours. Major art works exist throughout the park, such as bridge lighting that shifts from white to blue to reflect the moon's changes. Trails connect Sesquicentennial Park, Allen's Landing, Buffalo Nature Park and neighborhood parks along and near the Bayou.
Jury Comments
The jury salutes the project as one of the most dramatic transformations that has occurred anywhere in the US, calling it "incredible."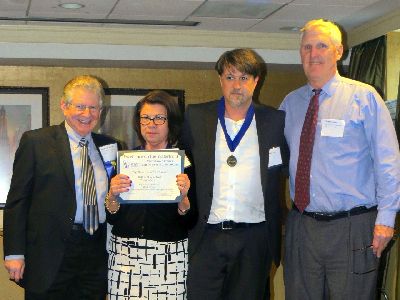 Anne Olson, Buffalo Bayou Partnership and Scott McCready, SWA Group, receive the award
PROJECT HONOR AWARDS:
Category: Park/Walkway/Recreational Project Honor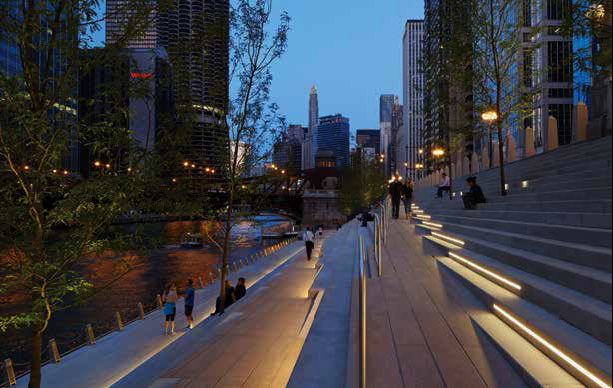 Chicago Riverwalk/State Street to LaSalle Street, Chicago, Illinois
Entrants:
Gina Ford
Sasaki Associates Inc., Watertown, Massachusetts
Carol Ross Barney, Ross Barney Architects, Chicago, Illinois
Michael Claffey, Chicago Department of Transportation, Chicago, Illinois
Project Description
Before this $42.5-million project, there was no pedestrian circulation along this stretch of the Chicago River through downtown, and no direct access to the water's edge. This project – part of the larger initiative to reclaim the river for the ecological, recreational and economic benefit of the city – includes the final six blocks of development along the river's main branch from State Street to LaSalle. It represents the realization of decades of planning for a continuous public walkway along the infamous Arcade District.

The spaces along the river now reflect the vibrancy of the city and growing recreation use of the river. A continuous promenade under street bridges connects a 25-foot grand staircase from Wacker Driver to the river's edge and the Cove, a low, broad space dedicated to kayakers and canoes. Marina Plaza, between State and Dearborn Streets and directly across from the Marina City towers provides restaurants and outdoor seating above the staircase. Materials at the water's edge can withstand flooding. Materials on the upper level match the limestone and granite of the Wacker Drive viaduct and bridgehouses. Elegantly detailed teak benches along the promenade provide welcome seating.

Project construction had to overcome significant obstacles, including complex subsurface conditions and the use of barges only to stage the work.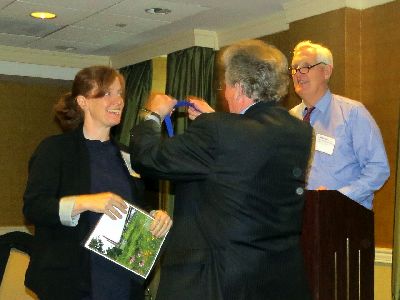 Sara Cohen, Sasaki Associates receives the award
Category: Envionmental/Public Works Category Project Honor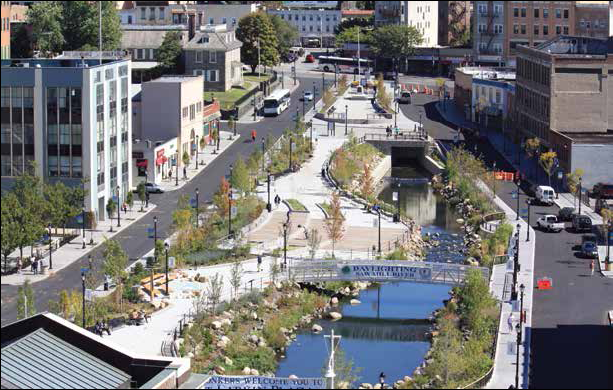 Daylighting the Saw Mill River, Van der Donck Park, Yonkers, New York
Entrants:
William Kuhl, Saratoga Associates, New York, New York
The Mayor's Office, City of Yonkers, New York
Project Description
The daylighting of this section of the Saw Mill River in the heart of downtown Yonkers, NY, channeled underground by the Army Corps of Engineers in 1922 to prevent flooding, has been a long-term vision of the city and Groundwork Hudson Valley. Freeing the river from its underground flume and redesigning its banks, gradients, overlooks and vegetation to manage flooding and provide
access for all has created a central park and visible river corridor through Yonkers.

The park is revitalizing the city center, reconnecting it to its industrial past and providing needed recreation space, river habitat and natural settings for citizens. A farmer's market uses the park on Fridays. Walkways, a pedestrian bridge and key river crossings connect
the park to downtown. Sitting and observation areas create intimate and larger scale spaces. Plaques throughout the park display historic and environmental information. A stepped weir supplies oxygen to the brackish riverwater flowing under railroad tracks to the Hudson River.

The park has successfully reknit the river back into the daily life of Yonkers and serves as an important outdoor environmental
laboratory, research resource and educational center for Groundwork Hudson Valley. It is a highly popular
social node and anchor for the downtown.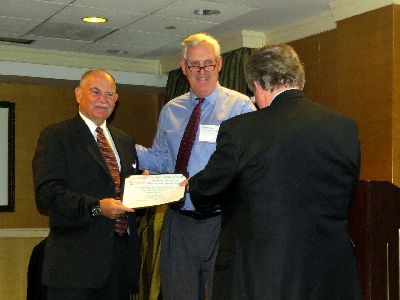 Bill Kuhl, Saratoga Associates receives the award
Category: Industrial/Mixed Use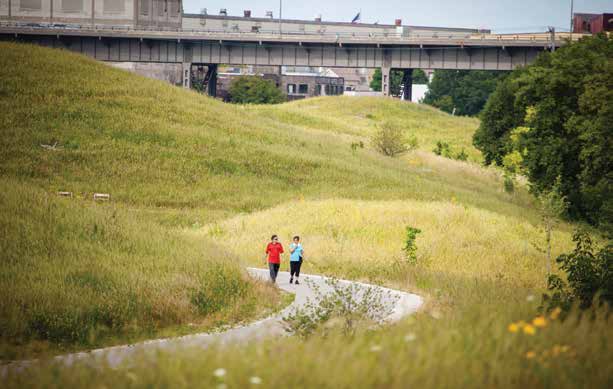 Menomonee Valley Industrial Center and Community Park, Milwaukee, Wisconsin
Entrants:
William E. Wenk, Wenk Associates Inc., Denver, Colorado
Dave Misky, Redevelopment Authority of the City of Milwaukee
Corey Zetts, Menomonee Valley Partners, Milwaukee, Wisconsin
Project Description
A former industrial valley and railroad corridor in the heart of Milwaukee creatively combines park spaces, green infrastructure and continued industry in this multi-functional project. The result, over 15 years, is a 140-acre thriving multiple use district - a stormwater park, two sites for advanced technology and light industry, a linear park along the restored Menomonee River, and restored natural
areas. The industrial sites still employ 1,300 workers who can now reach the site via pedestrian bridges and a reopened historic railroad tunnel.

The forefront of the design is management of stormwater quality and flooding of the Menomonee Valley. After years of remediation, fill caps contaminated soils in a series of glacial landforms. New wetlands, ponds and indigenous plants treat stormwater and recreate ecologies native to southwestern Wisconsin.

No development occurs in the floodplain. More than 5,000 trees planted in Three Bridges Park and along the river shelter plant communities evolving more slowly. More than 200 native plant species have been reintroduced to the area. For the first time in over 100
years, boating and fishing occur on the river. The Hank Aaron State Trail provides bike and pedestrian access through the park, completing a larger regional network connecting the north, central and south sides of the city.

An on site Urban Ecology Center, which has partnered with 20+ neighboring schools, serves inner city youth. Some 70,000 students visit the park annually for environmental education activities. Urban and industrial design of the park reinforces higher density and light industrial redevelopment within a "valley grid" that reflects the scale and orientation of surrounding neighborhoods around a walkable
environment. The park also houses art installations, including the use of recycled glass from a local brewery on a fence railing and chimneys from former industries that now serve as signatures for new uses.

The project has won numerous awards and the site is considered one of the best examples of successful native planting in an urban environment. It is nationally recognized for green infrastructure, brownfield redevelopment and community revitalization. The Sierra Club cites it among the 10 best developments in the nation.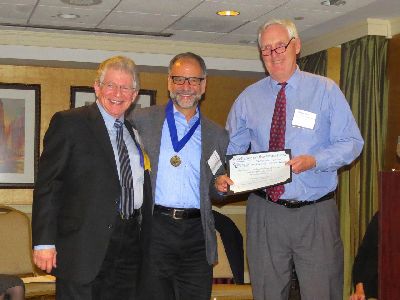 Bill Wenk, Wenk Associates, receives the award
Category: Walkway/Public Works Project Honor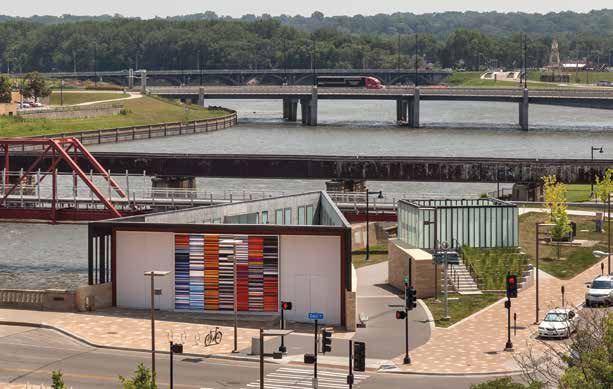 Principal Riverwalk Pump Station, Des Moines, Iowa
Entrants:
Paul Mankins, substancearchitecture, Des Moines, Iowa
Pam Cooksey, City of Des Moines Engineering Department, Des Moines, Iowa
Project Description
Two triangular structures located on the new Principal Riverwalk along the west bank of the Des Moines River in Iowa's capital serve double functional and visual duty as flood control infrastructure and as elegant frames for the city's Court Avenue Historic District.

The twin facility – a Pump House and a Gate Valve Platform - work together to reinforce the Riverwalk as a place. The Pump House compliments the existing open and transparent Café Pavilion in material and scale but is closed and opaque. Together the two form a public plaza and gateway to the Historic District.

The Gate Valve Platform glows atop a cast in place concrete base and helps mark the street level promenade. Art work by Jun Kaneko ties the buildings together in a single composition using large scale ceramic works, called Dangos, on the Café Pavilion side of Court Avenue, and an internally illuminated glass mural entitled Expansion, mounted to the north face of the Pump House.

The Principal Riverwalk, named for its sponsoring insurance company, is a $50-million public/private partnership designed to revitalize the riverfront and provide much needed outdoor amenities for residents and downtown employees. The Pump Station cost $1 million and the infrastructure cost $5.5 million.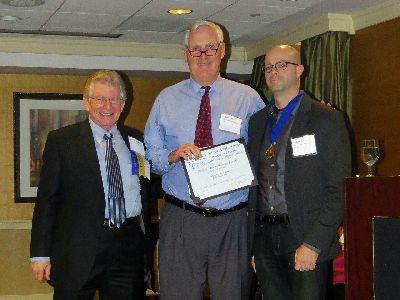 Joshua Baker, substance architecture, receives the award
Category: Park/Walkway/Recreational Project Honor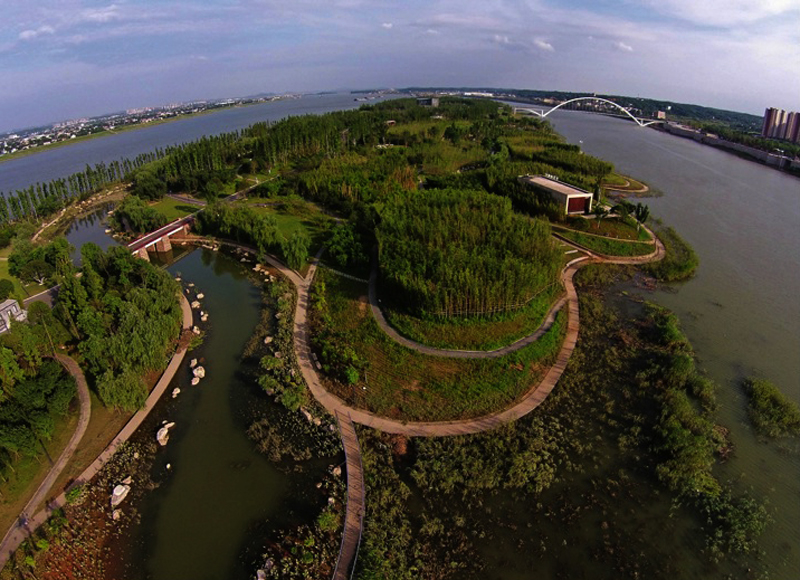 River Forest Island, BaJiZhou, Changsha, Hunan Province, China
Entrants:
Xiao Zheng, SWA Group, Laguna Beach, California
Xi Yun, Xiangjiang New City District Administration Commission, Changsha, Hunan Province, China
Project Description
This project removes concrete barriers along the Xiang River and lets natural processes recreate the river's currents, wetlands and riparian lowlands. Portions of the two-mile island are allowed to flood, celebrating its seasonal changes. Over 20,000 native trees help to
reestablish the river's native ecology. Local and migrating birds use repositioned logs as perches throughout the island and along the river.

The island park contains a system of trails and gardens. The trails include 3.4 miles of boardwalk using condensed bamboo material resistant to flooding, 4.3 miles of bicycle trail and another 4.7 miles of forest trail. The trail system and meandering landform lead visitors through gardens, plazas and up to museum, recreation and education centers located on the island's higher elevation. Other park features include an amphitheater, river outlooks and wildlife interpretation.

River Forest Island blends the forces of science and nature into an artful experience, resulting in a new central river park in the middle of Changsha.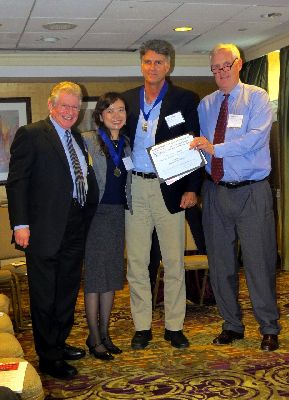 Xiao Zheng and Sean O'Malley, SWA Group, receive the award
Category: Park/Walkway/Recreational Project Honor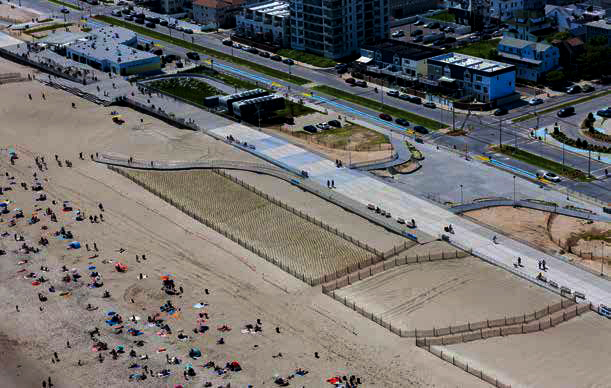 The Rockaway Boardwalk Reconstruction, Rockaway, Queens, New York
Entrants:
Jonathan Goldstick, CH2M, New York, New York
Dan Colangione, New York City Economic Development Corp., New York, New York
Project Description
The iconic Rockaway Boardwalk was battered by Hurricane Sandy in 2012. City agencies working with the Army Corps of Engineers decided to rebuild the five-mile long walkway and to reopen it in the summer of 2015.

Intact sections of the boardwalk were repaired, damaged beach buildings renovated with new boardwalk islands constructed
around them, public restrooms and lifeguard stations installed to replace those destroyed, and interim shoreline and anti-erosion measures created.

Destroyed sections of boardwalk are being replaced with more resilient steel-reinforced concrete planks on steel piles, a 6-mile sand retaining wall, dune plantings, and a dune "betterment" which increases the overall height of the dune with sand infill underneath. The
boardwalk is now three feet above the 100-year flood level.

Bike lanes and multiple handicapped ramps now populate the boardwalk. Citizens have also requested playgrounds, performance spaces and skate parks. As a result, the new boardwalk has become a pedestrian 'main street' linking Rockaway Peninsula communities.
It is at once a major waterfront amenity, replete with custom furnishings made from wood salvaged from the former boardwalk, and a recreational destination serving the varied communities in the area.

The most dramatic new feature is a community sign "Rockaways" in 30-foot high letters stretching over 4,000 feet.
Further reconstruction is scheduled for 2017. Completed work is stimulating an economic resurgence. Residents are returning, business and shops have recovered and new buildings have been erected. Visitation is now reaching 4.17 million annually.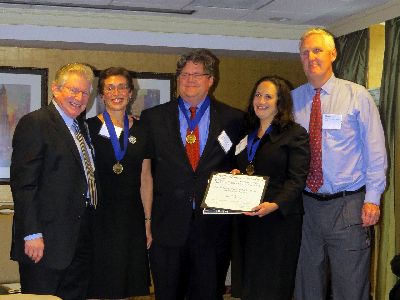 Sandy Collins, AKRF, Layng Pew, WXY Architecture and Urban Design and Domenica Stasiak, CH2M, receive the award
Category: Park/Walkway/Recreational Project Honor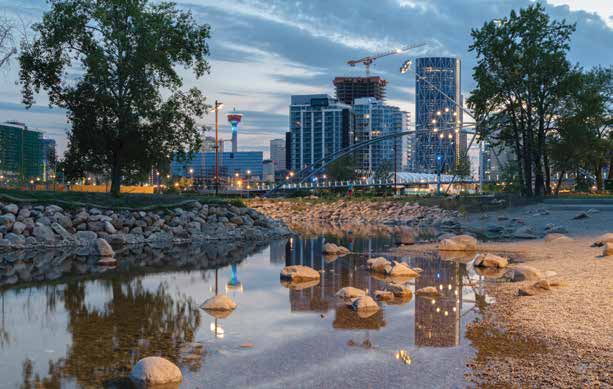 St. Patrick's Island Park, Calgary, Alberta, Canada
Entrants:
Civitas, Inc., Denver, Colorado
W Architecture & Landscape Architecture LLC, Brooklyn, New York
Calgary Municipal Land Corporation, Calgary, Alberta, Canada
Project Description
St. Patrick's Island is a new regional park offering 31 acres of outdoor recreation and nature appreciation in Calgary's city centre. Developed as one of Calgary's oldest parks in the 1890s, the island then languished. In 2010, the Calgary Municipal Land Corporation determined to remake the park's 30 acres into a nature-based landscape park that focuses on the ecological history of the island, restores its biodiversity and the natural processes of the Bow River. It also provides new amenities for Calgary's growing population.
Key features of St. Patrick's Island include:

• A new bike and pedestrian bridge that connects the redeveloped East Village with downtown.

• The Tip, a vantage point and flood resilient seating area with great views of the river and downtown.

• The Seasonal Breach, a restored channel where visitors can wade into the river and safely reach a gravel bar.

• The Lowland Channel, a seasonal riparian wetland using an elevated boardwalk to access the wetland and the Gallery Forest, important old growth habitat for nesting eagles, owls and songbirds.

• The Cove, river access perfect for fishing or rafting.

• The Rise, a 30 ft. high grassy knoll serving as amphitheater and sledding site.

• The Picnic Grove and The Playmound, family-oriented accessible spots.

• Confluence Plaza, featuring washrooms, parking, interpretive signs, electric outlets and other facilities.

The island is now a well-used oasis for residents and visitors from throughout the region.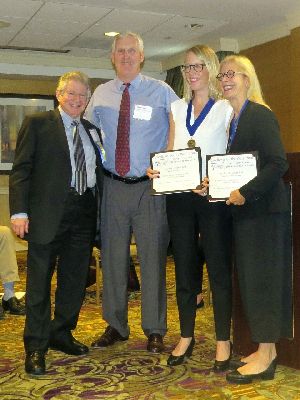 Kate Thompson, Calgary Municipal Land Corporation and Barbara Wilks, W Architecture and Landscape Architecture, receive the award
Category: Industrial/Public Works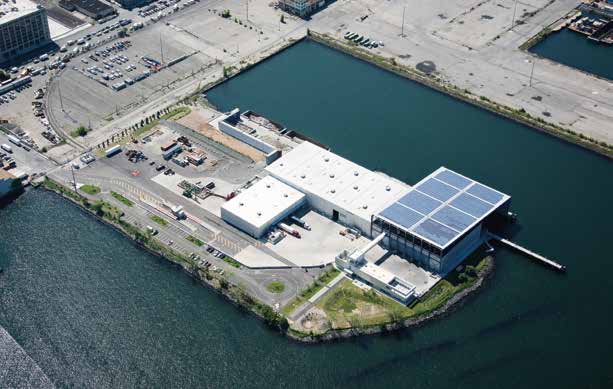 Sims Sunset Park Material Recovery Facility Brooklyn, New York
Entrants:
Annabelle Selldorf, Selldorf Architects, New York, New York
Tom Outerbridge, Sims Municipal Recycling, Brooklyn, New York
Project Description
The Sunset Park Material Recovery Facility is a processing center for New York City's curbside metal, glass and plastic recyclables, and is the largest facility of its kind in the US. Located on an 11-acre waterfront pier in Sunset Park, the design literally reflects
its programmatic use as a recycling center, including its construction out of recycled materials.

The master plan organizes buildings to support their uses. Distinct circulation systems separate visitors from operations. A Tipping
Building receives recyclables by barge, eliminating 240,000 miles of annual truck traffic through congested Brooklyn.
A Processing Building houses complex sorting equipment and other operational facilities. A Bale Storage building services 8 loading docks and building personnel. An Education Center provides programs for school children, conservation related exhibits and interactive
demonstration displays. A steel bridge connects the Center to a viewing platform inside the Tipping Building so students
and visitors can see the recycling process in action.

The architecture is straightforward and environmentally sound. Structural elements are inverted to appear on the exterior of a pre-engineered building, giving recycled steel girders and lateral bracing greater visual impact. Site fill uses recycled materials, bioswales control stormwater and native plants are used throughout. The buildings use photovoltaics and a wind turbine to generate some
of the plant's energy. Finally, many of its 80 employees live in nearby Sunset Park and can walk to work.

An architecture critic for The New York Times termed the facility "elegant and not just for a garbage site."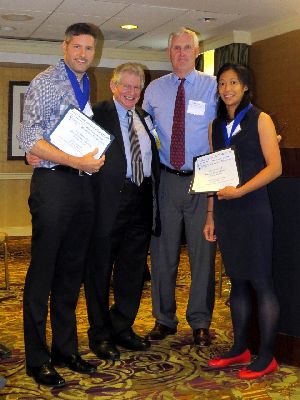 Kevin Keating and Amy Uong, Seldorf Architects, receive the award
Category: Clearwater Award, Citizen and non-profit group waterfront accomplishments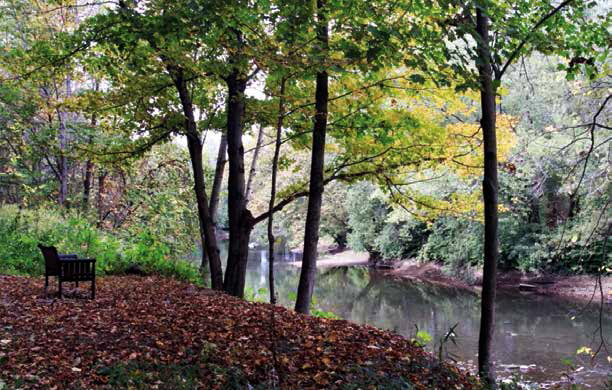 The Ernst Trail Group, Meadville City, Vernon Township, Union Township, Pennsylvania
Entrants:
Dick Eglinton, Meadville, PA.
Project Description
The Ernst Trail Group was organized in 1995 to develop an 11-mile recreational trail through the rich, pastoral French Creek Valley that connects Meadville with Conneaut Lake. The trail follows the Meadville-Linesville Railroad, built beginning in 1880 and abandoned by the Bessemer & Lake Erie Railroad in 1976. In 1996, Calvin Ernst, the right-of-way owner donated the property to French Creek Recreational Trails for trail development.

Local contractors helped the volunteers clear and grade the trail and install culverts and bridges. In 1999 they built a covered bridge over Van Horne Run. A local crane service donated and installed beams and a local slate specialist laid the roof. The bridge has become the symbol of the trail and is used for a variety of local events. In 2000 the group used a grant to pave more than 5 miles of the trail, opening it up to a range of users. Plans to extend the paved trail from Conneaut Lake along Conneaut Marsh continue. Recently a 1.9 mile extension opened, including a new trailhead.

The Ernst Trail represents over 20 years of continuous volunteer work in a stellar grassroots effort that provides users with bike
and pedestrian travel through a rich array of natural habitats.
Ann Breen and Dick Rigby are the co-founders and co-directors of the Waterfront Center, organized in 1981.
For additional information and photographs, contact:
Ann Breen
The Waterfront Center
PO Box 32129
Washington, DC 20007
202-337-0356 Fax: 202-986-0448
© 2007 The Waterfront Center
Content and photographs on this site may not be reproduced without express permission from The Waterfront Center.