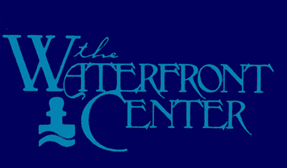 Excellence on the Waterfront - 2004

Order Information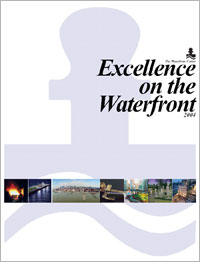 Top urban waterfront planning and development work of 2004 is now available in a lavishly illustrated booklet produced by the Waterfront Center. Containing 109 four-color photos, maps and diagrams, as well as capsule descriptions of each award-winning project and plan, the high-quality paperbound booklet is available for just $10 (plus $2 for postage).
The publication would be extremely useful for any city or organization undertaking urban waterfront planning or development. By featuring work that has undergone scrutiny from an interdisciplinary jury, the booklet serves to put communities everywhere in touch with current best practices. Great to pass around to city council members or city staff. It would quickly educate a city or town's governing body, for example, to the wide range of exciting work that is taking place in other communities both here and abroad. All city sizes are represented in the projects and plans included.
The 20-page booklet features the winners of the Waterfront Center's annual Excellence on the Waterfront competition, a program begun in 1987 with assistance from the National Endowment for the Arts.
The Top Honors for 2004 went to the Mill City Museum and Minneapolis Riverfront District in a joint award. Top Honors in planning went to the Eastshore State Park and Oakland Waterfront Trail plans along San Francisco Bay, also a joint award.
Ten additional works were recognized, including two plans, seven projects ranging from parks to residential developments, and one award to a grassroots initiative in what the Center terms its Clearwater Award. The winners were selected from 73 entries. Heading the 2004 jury was Alex Lifschutz, director Lifschutz Davidson Ltd., London, England. Other jurors were from Berkeley, Calif.; Littleton, Colo.; Toronto, Ontario, Canada,, and Columbia, S.C. with backgrounds including civic activism, engineering, greenway planning and landscape architecture.
The deadline for the next Excellence on the Waterfront awards program is July 1, 2005. The 2005 Jury Chair is George Stockton, president of Moriyama and Teshima, Toronto, Ontario, Canada. Details about entering will appear on this Web site.