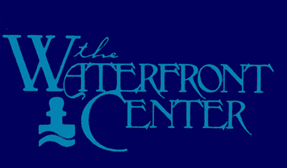 Publications and Educational Materials


THE NEW WATERFRONT: A WORLDWIDE URBAN SUCCESS STORY
by Ann Breen and Dick Rigby
(London: Thames and Hudson; New York: McGraw-Hill, Inc. 1996. 224 pp.)
$79.95. ($75.00 for members). Shipping in U.S. $10.00.

Analyzes key waterfront developments from around the world. Includes 39 featured projects in two or more pages of layout and 90 projects summarized in a gazetteer that includes contact names, addresses, and phone numbers. Also includes 363 illustrations (177 color), a bibliography, resources, and introductory essay. Order
WATERFRONTS: CITIES RECLAIM THEIR EDGE
by Ann Breen and Dick Rigby
Second Edition (Washington, D.C.: The Waterfront Press. 1997, 333 pp.)
$39.00 ($35.00 for members). Shipping in U.S. $10.00.

Presents the definitive work on urban waterfront development taking place over the last 30 years in cities and towns primarily in North America. Features 75 case studies. Traces the history and factors involved in waterfront development and looks at the broader context in which the work is occurring. Includes a 300 entry bibliography and contacts at each project. It contains 220 illustrations and site maps. Order

INTOWN LIVING: A DIFFERENT AMERICAN DREAM (PAPERBACK)
by Ann Breen and Dick Rigby
(Washington, D.C.: Island Press, 2005. 298 pp. with maps)
$29.95.

After decades of abandonment, cities across North America are experiencing a renaissance. A new generation is seeking greater excitement and diversity than the typical suburban subdivision offers and many people are instead looking to make their homes in lively urban environments. In Intown Living, authors Ann Breen and Dick Rigby document this movement, arguing that if properly nurtured, it could help slow current patterns of sprawling development and help revitalize America's cities. They illustrate the many benefits of city living and offer strategies and encouragement for public officials and private developers to team up and expand central city housing opportunities. The authors present in-depth studies of eight cities—Atlanta; Dallas; Houston; Memphis; Minneapolis; New Orleans; Portland, Oregon; and Vancouver, British Columbia—that are experiencing this type of renaissance, and consider common elements shared by the cities, as well as their differences. Intown Living is an important new resource for a wide audience of professionals involved with urban design and planning. It will also be of interest to the many people concerned with historic preservation or smart growth, and for students and researchers involved with urban studies and related fields. Favorably reviewed in New Urban News.
Order from Island Publishing

INTOWN LIVING: A DIFFERENT AMERICAN DREAM (HARDCOVER)
by Ann Breen and Dick Rigby
(Westport, Conn. and London: Praeger Publishers, 2004. 300 pp.)
$69.95.

The American dream of a single family home on its own lot is still strong, but a different dream of living and prospering in a major city is beginning to take hold. After decades of abandonment by the middle class, a detectable number of people are moving into urban downtown areas. The Intown Living phenomenon is generally powered by people under the age of 40 who are seeking more stimulation than offered in the typical subdivision lifestyle. This book encourages cities and the private development community to team up and expand central city housing opportunities and illustrates the upside of Intown Living to those considering moving to a city. Includes 16 detailed maps and an in-depth look at the cities of Atlanta, Dallas, Houston, Memphis, Minneapolis, New Orleans, Portland, Oregon, and Vancouver, B.C. Order from Greenwood Publishing



The Excellence on the Waterfront Series


These booklets feature the winners of the Waterfront Center's annual Excellence on the Waterfront competition, a program begun in 1987 with assistance from the National Endowment for the Arts.

These publications are extremely useful for any city or organization undertaking urban waterfront planning or development. By featuring work that has undergone scrutiny from interdisciplinary juries, the booklets serve to put communities everywhere in touch with current best practices. Great to pass around to city council members or city staff. It will quickly educate a city or town's governing body, for example, to the wide range of exciting work that is taking place in other communities both here and abroad. All city sizes are represented in the projects and plans included.



To order, print out the order form, fill it out, and fax to 202-986-0448 or mail to:
The Waterfront Center
P.O. Box 53351
Washington, D.C. 20009


Waterfront Center Books on Specific Topics

Ann Breen and Dick Rigby (Washington, D.C.: The Waterfront Press. $15.00 each or $12.00 for two or more.) Shipping in U.S. $7.00/book.

____ CAUTION: WORKING WATERFRONT. 82 pp. 1985, The Waterfront Press, Washington, D.C.
Examines the clash between small traditional marine businesses and new commercial pressures. Includes chapters on physical, visual, and interpretive access. Features Miami, Portland, Me., Sausalito, and Seattle. Order

____ FISHING PIERS: WHAT CITIES CAN DO. 76 pp. 1986, The Waterfront Press, Washington, D.C.
Covers all aspects of recreational fishing piers — operations, design, location, economics, and management. Recommended for anyone considering a recreational pier facility. Order

e-mail: mail@waterfrontcenter.org © 2007 The Waterfront Center
Content and photographs on this site may not be reproduced without express permission from The Waterfront Center.