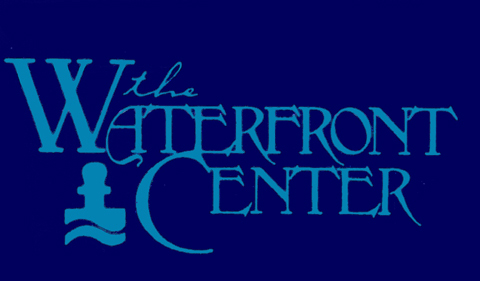 Printer Version
The Waterfront Center
31st Annual Excellence on the Waterfront

Mini-Conference, Awards Ceremony and Reception
Friday, September 21, 2018
1:30 – 7:00 p.m.
The Churchill Hotel
1914 Connecticut Ave. NW, Washington, D.C.
Sign up to attend HERE
Sign up as a supporter HERE

Mini Conference Schedule
Friday, September 21, 2018
1:30 Registration
2:00 Welcome – Ann Breen and Dick Rigby, co-directors, The Waterfront Center
2:30 2018 Awards Ceremony and Presentations Donna Walcavage, princiapal, Stantec, jury Chair, presiding
Clearwater Award

• The Billion Oyster Project, New York State. Blyss Buitrago,
Community, Stewardship and Engagement Manager, Governors Island, New York.
Presenting: TBA
Honor Award – Plan
• San Francisco Bay Trail Design Guidelines and Tool Kit, San Francisco
Bay (Nine Counties), California. Submitted by Lee Huo, Association of Bay
Area Governments, San Francisco, and Patrick Miller, Landscape Station,
Berkeley, both California.
Presenting: Patrick Miller and Lee Huo
Honor Awards – Projects (in alphabetical order)

• Newark Riverfront Park, Newark New Jersey. Submitted by Weintraub Diaz
Landscape Architecture, Nyack New York.and The Trust of Public Land,
Newark, New Jersey.
Presenting: Leonard Hopper, Weintraub Diaz Landscape Architecture
• Refuge Gateway and Humbug Marsh, Trenton and Gilbraltar,
Michigan. Submitted by John Hartig, Fish and Wildlife Service, GrossIsle, and A. Hicks, Hamilton Anderson Associates, Detroit, both Michigan.
Presenting: TBA
• South Waterfront Greenway, Portland, Oregon. Submitted byChelsea
McCann, Walker Macy, Portland, Oregon, and Thomas Balsley, SWA/Thomas
Balsley, New York, N.Y.
Presenting: Mike Zilis, Walker-Macy and Tom Balsley
•Sea Lab and Campus Plan, Virginia Institute of Marine Science (VIMS), Wachapreague, Virginia, Submitted by Donna Phaneuf, VIA design architects, Norfolk,and Dr. Richard Snyder, VIMS, Wachapreague, both Virginia.
Presenting: Donna Phaneuf.

• The Wharf, Washington D.C. Submitted by Mathew Jahromi, Hoffman Madison
Waterfront, Washington, D.C., and Justin Wolf, Perkins Eastman, New York,
New York.
Presenting: TBA

Top Honor Plan.
Willamette Falls Riverwalk Master Plan, Oregon City,
Oregon. Submitted by Laura Terway, Metro and City of Oregon City and
Carol Mayer-Reed, Mayer/Reed Inc., Portland, Oregon.

• Top Honor Project.
Senator Joseph Finnegan Park at Port Norfolk,
Boston, Massachusetts. Submitted by Iris Lin, Halvorson Design
Partnership, and Dan Driscoll, Mass. Dept.
of Conservation + Recreation, both Boston, Massachusetts.
Presenting: Cynthia Smith, vice president, Halvorson Design Partnership.
Reception in honor of the 2018 Winners follows immediately in the bar area across the hall
7:30 Gala Dinner Honoring the 2016 Winners
2101 Connecticut Avenue NW – Lobby level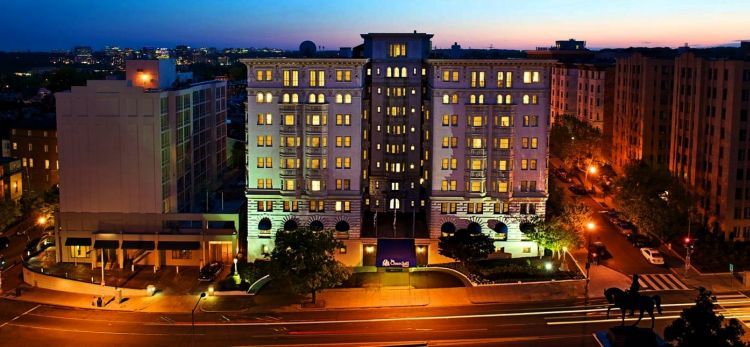 Churchill Hotel
HOTEL
. Rooms have been blocked at the hotel. The
cut-off date is August 20 to secure the special rate.
Make your own reservations by calling 202 797 2000 and mention the Waterfront Center.
Our contact is Stevie Barbee.
RATES: $159 for single/double; $179 for Junior Suite.
Friday afternoon attendees at the mini-conference will hear presentations by the 2018 award winners. The winners will be announced on the Center's web site in August and the list of speakers posted. They will receive their awards and be feted at a champagne reception at 6:00 p.m. Donna Walcavage, principal, Stantec, New York, New York, this year's jury chair, will preside. Fee will include conference attendance and the reception.

Gala Dinner Honoring the 2018 Winners

7:30 p.m.
2101 Connecticut Avenue NW, Washington, D.C.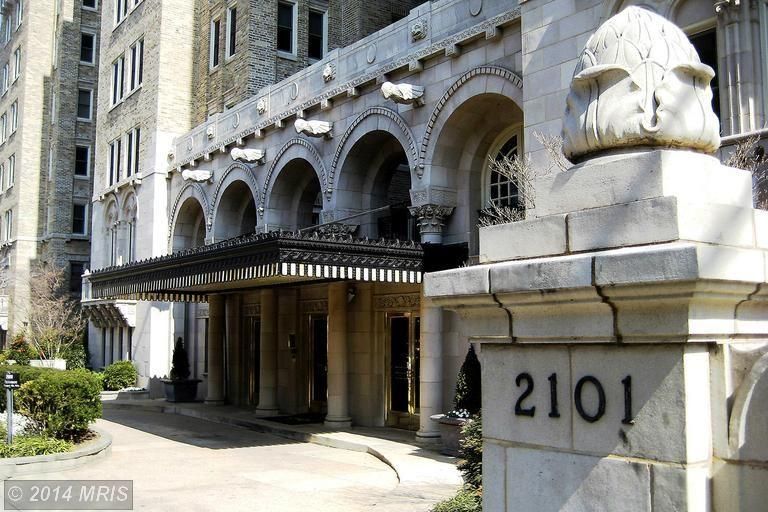 2101 Connecticut Avenue

The Optional Gala Dinner, always a convivial evening will include a delicious multi-course meal with wine and champagne toasts. The venue is very short walk from the hotel.
30th Annual Excellence on the Waterfront 2017Awards posted see HERE
This is a digital version of the Awards booklet which summarizes the winning awards
Conference Awards Presentation posted see HERE
This is the PowerPoint presentaion from the awards ceremony which provides many more images of the winning projects and plans
2016 EXCELLENCE ON THE WATERFRONT AWARD WINNERS SEE HERE
Waterfront Center's Annual Conference Urban Waterfronts 2014
The Welcoming Presetation at the Waterfront Center 2014 Conference
Click image above to advance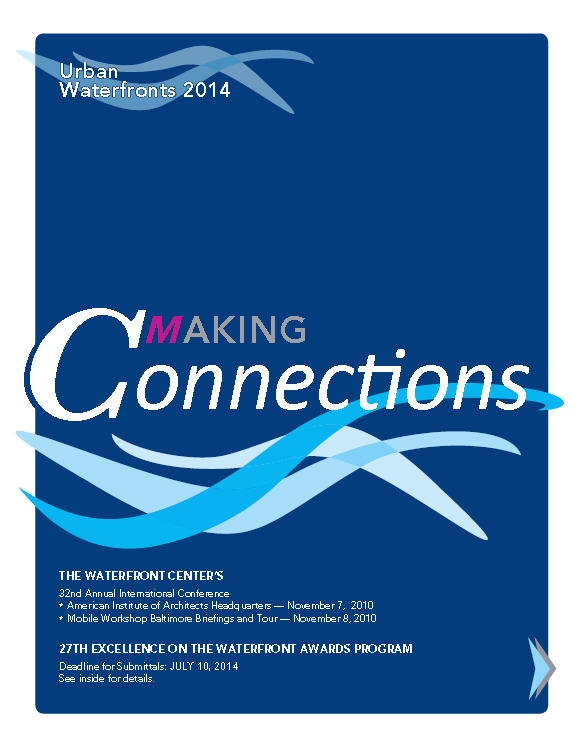 The Waterfront Center 2014 Conference Brochure
The Waterfront Center 2014 Conference Presentations
The Baltimore Walking Tour at the Waterfront Center 2014 Conference
The Waterfront Center Excellence on the Waterfront 2014 Awards Presentation
Click image above to advance
2014 Sponsors
American Institute of Architects/Communities by Design, Washington, D.C.
Cambridge Seven Associates, Inc. Cambridge
Cho Benn Holback, Baltimore, Maryland
McLaren Engineering Group, West Nyack, New York
RBC Wealth Management, Washington, District of Columbia
Sasaki Associates, Watertown, Massachusetts
SF Marina, Portland, Maine
Walker Macy, Portland, Oregon
Waterfront Partnership of Baltimore, Baltimore, Maryland
Waterfront Center's Annual Conference Urban Waterfronts 2013
"CREATIVE COLLABORATIONS"
Sept. 25 to 28, 2013, River Center, Davenport, Iowa.
Combined with Upper Mississippi River Conference Sept. 25-27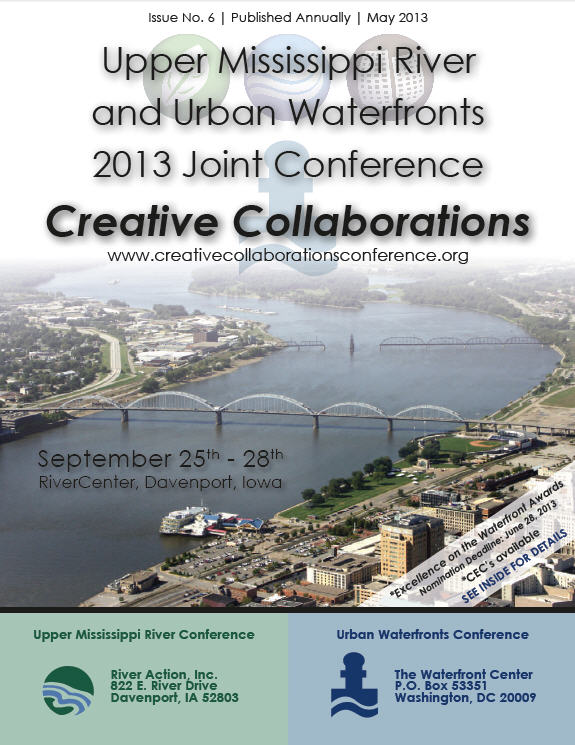 Click here too see 2013 Conference Brochure
The Waterfront Center wishes to acknowledge and thank the following firms, organizations and agencies for their generous support:
URBAN WATERFRONTS 2013
EARLY CONFERENCE SUPPORTERS
Support confirmed as of April 19, 2013
AMERICAN INSITITUTE OF ARCHITECTS/CENTER FOR COMMUNITIES BY DESIGN, Washington, District of Columbia
CH2M Hill, New York, New York
CAMBRIDGE 7 ASSOCIATES, Cambridge, Massachusetts
EDSA, Fort Lauderdale, Florida
THE FORKS NORTH PORTAGE PARTNERSHIP, Winnipeg, Manitoba, Canada
MCLAREN ENGINEERING GROUP, West Nyack, New York
SASAKI ASSOCIATES, INC., Watertown Massachusetts
SF MARINA SYSTEMS USA. LLC, Portland, Maine
WALKER MACY, Portland, Oregon
THE WATERFRONT CENTER, Washington, District of Columbia
For information on Conference Support Opportunities and Benefits contact The Center at 202/337-0356 click on Sponsorship Opportunities above.
Please help us to make future conferences a success.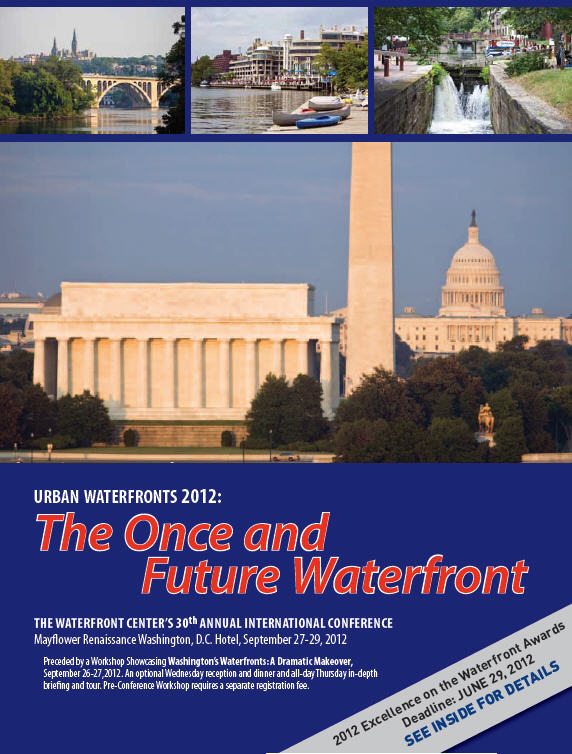 URBAN WATERFRONTS 2012 CONFERENCE
The Once and Future Waterfront
Washington DC, September 2012
The Waterfront Center Urban Waterfronts 2012 – its 30th annual international conference -- was a singular inspirational event bringing together over 25 top planners, designers, developers and civic decision makers to share their experiences and thoughts on the past quarter century in interactive sessions facilitated by provocative and knowledgeable moderators. The attendees were, as with past 29 Center conferences, given a chance to network with an interdisciplinary community from all over the world with a shared passion and concern for waterfronts to reflect with each other on where the movement has been and where it is poised to go.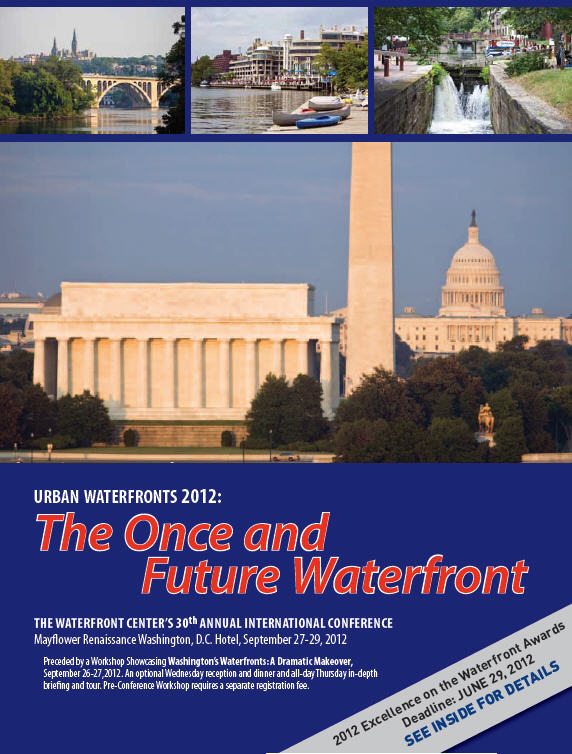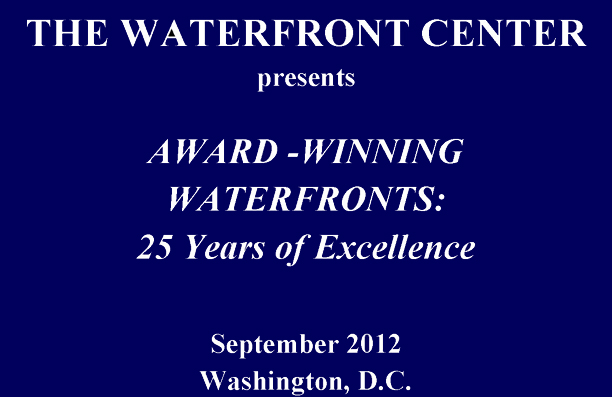 Click here to see the presentation of 25 years of awards
Washington DC Conference Walking Tour
URBAN WATERFRONTS 2011 CONFERENCE
Thirty Years and Counting
A Memorable Conference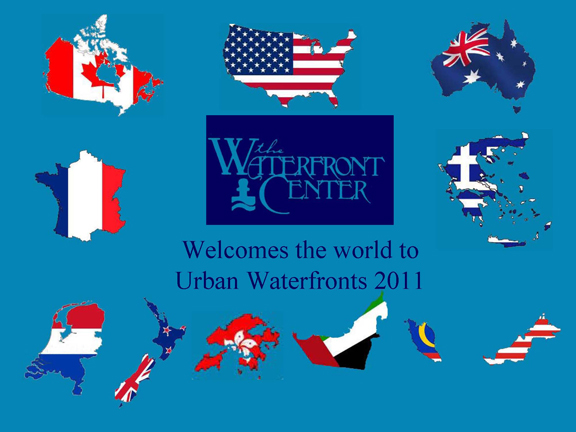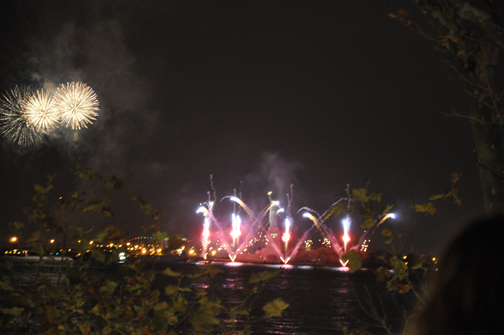 New York City, October 27-29, 2011
PowerPoint Presentations from the 2011 Conference
New York Conference Boat Tour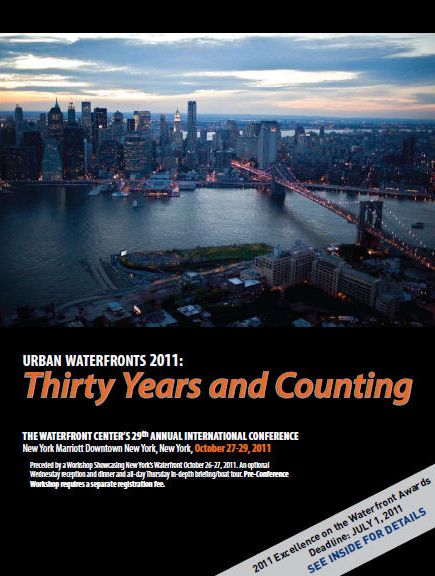 "THIRTY YEARS AND COUNTING" was the theme of this year's Waterfront Center conference held in New York City in October. This is in recognition of the Center's 30th anniversary in 2011 as well as the approximate date when the waterfront redevelopment phenomenon took hold in this country and abroad.
To reflect the theme, one of the conference's 12 panels featured cities whose waterfront work dates back at least 30 years. Candidates include London and Liverpool UK, Newport, R.I., Oakland, Calif., Seattle, Wash. and St. Louis, Mo.

For over 25 years the Center's conference has been recognized as the premier international waterfront meeting, bringing together a wide range of practitioners from varied disciplines and geography. In all the Urban Waterfronts 2011 featured 33 presenters, from cities of all sizes and from a range of geography including overseas. In addition there was a keynote feature and a closing presentation. A conference highlight was the first announcement of the winners of the Center's annual awards program. The 2001 jury chairman was Jonathan Goldstick, senior vice president, Halcrow Inc., New York, N.Y.

A pre-conference workshop featured a sampling of the New York area's waterfront projects was conducted all day on Thursday, Oct. 27. Special briefings and on-site tours were organized by a host local committee, headed by Donna Walcavage, principal/vice president at AECOM and Roland Lewis, president and CEO, Metropolitan Waterfront Alliance, both New York City.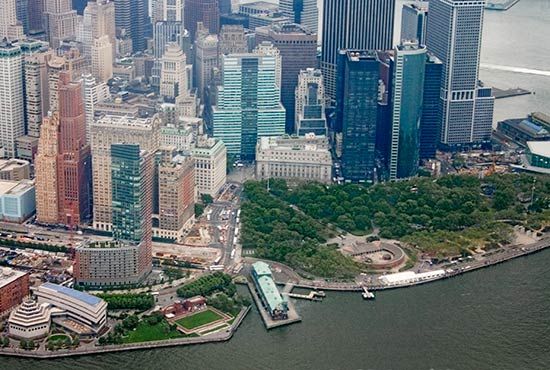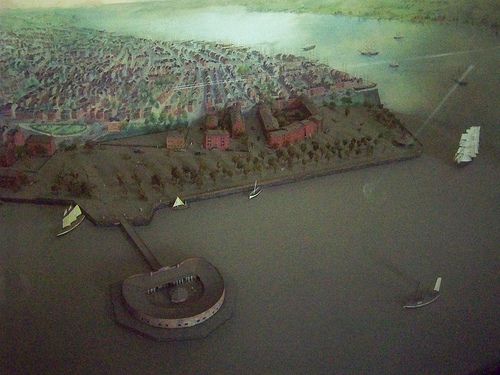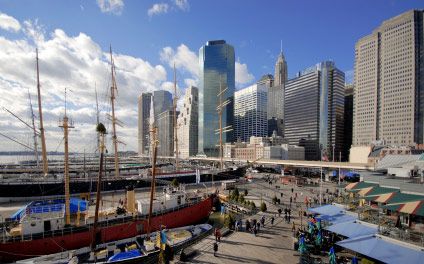 URBAN WATERFRONTS 2010
The City Resurgent
PowerPoint Presentations from the 2010 Conference
Baltimore Conference Boat Tour
Urban Waterfronts 27 Conference 2009
Sustainable Solutions
Seattle Marriott Waterfront
October 22-24, 2009
Seattle Conference Boat Tour
QUESTIONS
Contact the Waterfront Center
Telephone 202/337 0356
email: mail@waterfrontcenter.org
Conference Brochure— Urban Waterfronts 30
Conference Brochure— Urban Waterfronts 29
Conference Brochure— Urban Waterfronts 28
Conference Brochure— Urban Waterfronts 27
Conference Brochure — Urban Waterfronts 26
Conference Brochure — Urban Waterfronts 25