Announcing the 2017 Award Winners!
The Waterfront Center is pleased to announce the winners of the 30th Annual Excellence on the Waterfront Awards program. As usual there is a range of geography and type of project. We are looking forward to an exciting awards ceremony and program at the Churchill Hotel in Washington, D.C. Visit HERE for more information and sign-up forms.
CAPE MAY, New Jersey – The 2017 'EXCELLENCE ON THE WATERFRONT' awards program, organized by the non-profit Waterfront Center of Washington, District of Columbia., for the past 30 years, recognized seven built projects and two plans. The jury, led by Bill Wenk of Wenk Associates, Denver, Colorado, met for a day-and-a-half at Congress Hall in this seaside resort.
Winners will be recognized at an Awards Ceremony on September 8 in Washington, District of Columbia, followed by a reception and dinner. Each entrant will be given 20 minutes to describe their entry, usually with a power point illustration.
BIG RIVER CROSSING' IN MEMPHIS
RECEIVES 2017 TOP HONOR AWARD
• Big River Crossing, submitted by Friends of Our River, Memphis, Tennessee. Entrant: Charles McVean, McVean Trading and Investments LLC, and co-entrant, Harry Pratt, Allen & Hosall, both Memphis.
Owner/developer Robert Knecht, City of Memphis, and Paul Luker, Crittenden County, Arkansas.

Honor Awards/Projects in alphabetical order.
• Infra-Space 1, Boston, Massachusetts. Submitted by Dan Adams and Marie Law Adams, Landing Studio, Somerville, Massachusetts., and Robin Blatt-Eisengart, Massachusetts Department of Transportation, Boston.
• Light City, Baltimore, Maryland. Submitted by Ashley Molese, Baltimore Office of Promotion and the Arts, and Bill Cole, Baltimore Development Corporation, both Baltimore.
• Old Mill District, Bend, Oregon. Submitted by Bill Smith, Old Mill District, Bend, and Carol Mayer-Reed, Mayer-Reed Inc., Portland, both Oregon.
• Point State Park, Pittsburgh, Pennsylvania. Submitted by Marion Pressley, Pressley Associates Inc., Boston, Massachusetts, and John P. Jaskolka, Department of Conservation and Natural Resources, Prospect, Pennsylvania.
• Principal Riverwalk Pavilion, Des Moines, Iowa. Submitted by Paul Mankins, substancearchitecture (cq), and Pam Cooksey, City of Des Moines Engineering Department, both Des Moines, Iowa.
• Phyllis J. Tilley Memorial Bridge, Fort Worth, Texas, Submitted by Miguel Rosales, Rosales + Partners, Boston, Massachusetts., and Stacey Pierce, Streams and Valleys, Fort Worth, Texas.
Honor Awards/Plans, in alphabetical order
• Master Plan for the Burlington Beach Regional Waterfront Park. Submitted by Cal Brook, Brook McIlroy, Toronto, Ontario, Canada, and Stirling L. W. Todd, The Regional Municipality of Halton, Oakville, Ontario, Canada
• Tar River Legacy Plan, Greenville. North Carolina. Submitted by Ron Sessoms, Rhodeside & Harwell, Alexandria, Lamarco Morrison, City of Greenville Recreation and Parks, Greenville, North Carolina.



Clearwater Award



• Mike Houck, Urban Green Spaces Institute, Portland, Oregon
The Waterfront Center 30th Annual Excellence on the Waterfront Mini-Conference,
Awards Ceremony and Reception

Friday, September 8, 2017

1:30 – 7:00 p.m.

The Churchill Hotel

1914 Connecticut Ave. NW, Washington, D.C.
Friday afternoon attendees at the mini-conference will hear presentations by the 2017 award winners. The winners will be announced on the Center's web site in August and the list of speakers posted. They will receive their awards and be feted at a champagne reception at 6:00 p.m. Bill Wenk, Wenk Associates, Denver, Colorado, this year's jury chair, will preside. Fee will include conference attendance and the reception.
Gala Dinner Honoring the 2017 Winners

and Celebrating the 30th Anniversary of the Awards Program

7:30 p.m.

2101 Connecticut Avenue NW, Washington, D.C.
The Optional Gala Dinner, always a convivial evening will include a delicious multi-course meal with wine and champagne toasts.
Sign up form for the Mini-Conference and Gala Dinner found HERE
Sign up form for the Mini-Conference, Gala Dinner, Publicity, and Donation found HERE
A small block of rooms has been reserved at the hotel. Call 202/797 2000 and ask for The Waterfront Center room rate of $165.76.
Waterfronts Reborn: A Documentary Film – Launched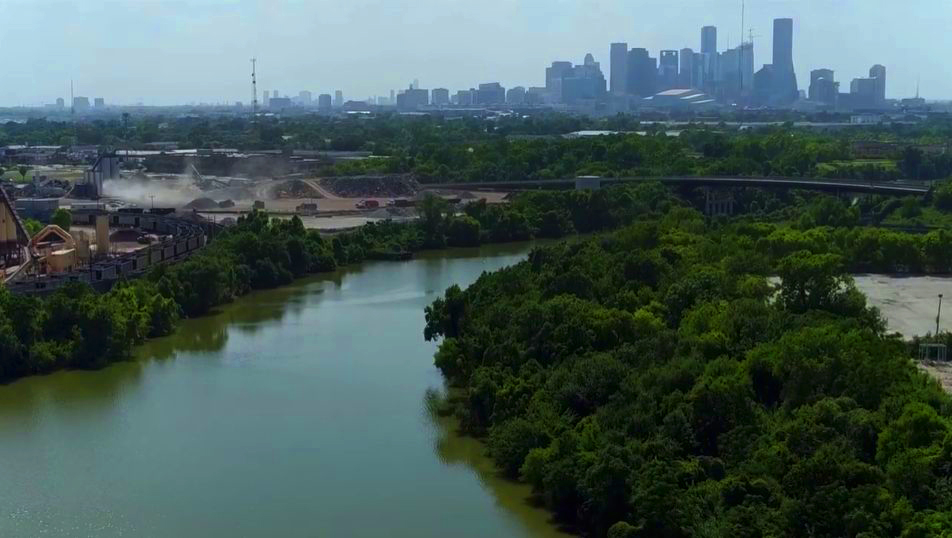 See the trailer HERE
On May 20-22, 2016 the Center co-directors, Ann Breen and Dick Rigby, joined Jonathan Dann, the executive producer of the film met up in Houston, Texas to begin shooting the trailer for a planned hour-long documentary on the waterfront phenomenon of the last 35+ years. The 10-minute trailer will set the stage for the fuller story and focuses on the Buffalo Bayou as a mini-case study.. Read more about it HERE.
2016 Winners of the Waterfront Center Excellence on the Waterfront Awards are now in the search database.
Go HERE and enter 2016 into the search box
2016 EXCELLENCE ON THE WATERFRONT AWARD WINNERS SEE HERE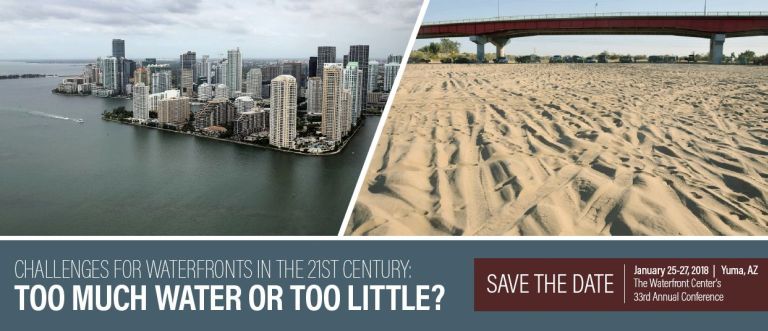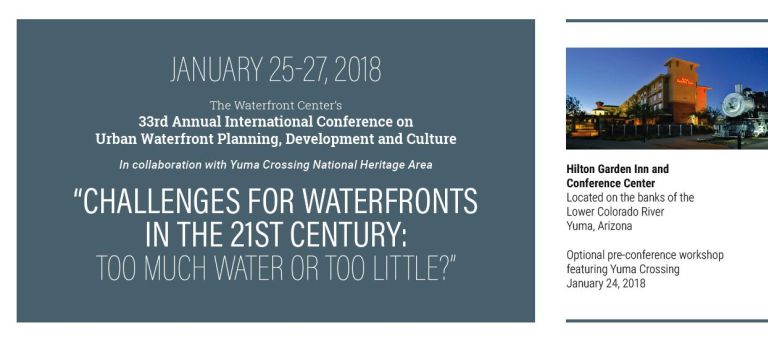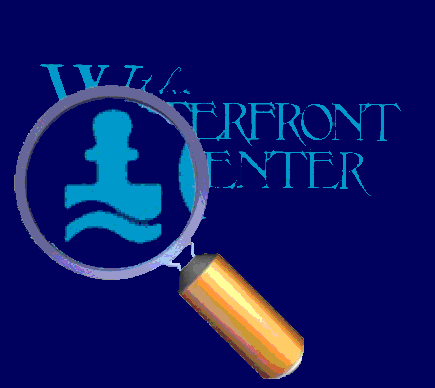 Images and information about winners of the Waterfront Center's excellence on the waterfront awards program can be found in a searchable database. Guidelines to the search engine's use can be found HERE and the page to enter queries can be found HERE
Top Honor Award Winners
Since 1987 the Waterfront Center has given awards to waterfront projects of outstanding excellence. The pictures below show the top honor award winners of the last ten years.
For more information click "Conference" and "Awards". Click pictures below for more on award winners.
In the River Action Inc. Eddy Magazine